Greenbeanz Photography
Summer Sizzler 2 Plymouth | UK Professional Boxing | Blog | Outside of the frame
29 JULY 2017 | Summer Sizzler 2 | UK Professional Boxing | Plymouth Guildhall 7:30 PM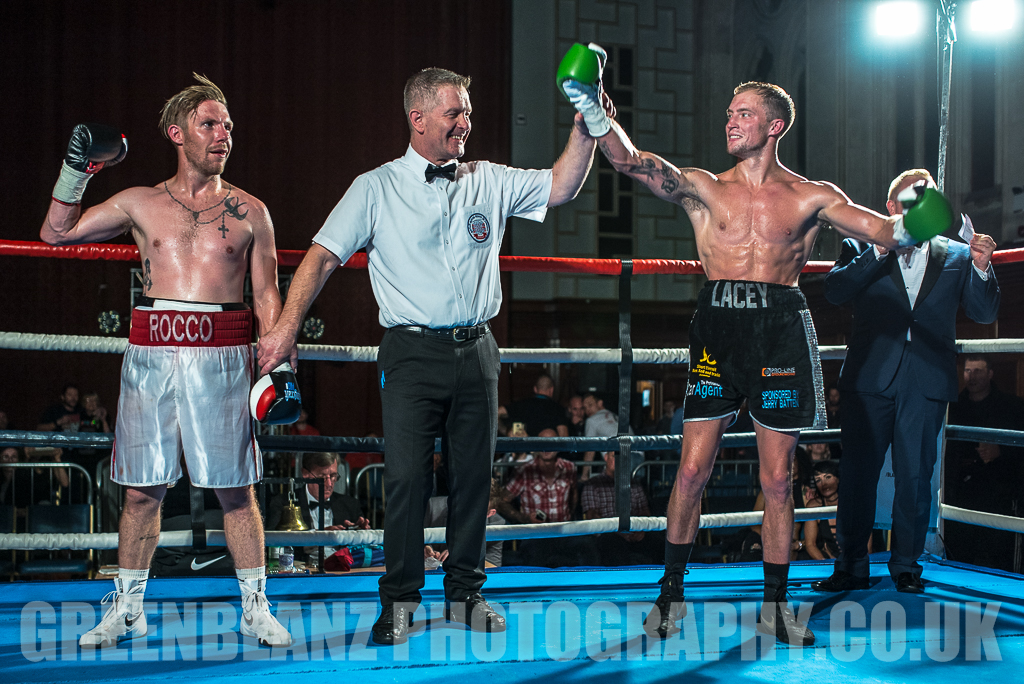 ABOVE : Professional Boxing at Plymouth Guildhall. Des 'The Destroyer' Newton beats Liam Richards
SUMMER SIZZLER 2 | PROFESSIONAL BOXING | PLYMOUTH GUILDHALL
On July 29 2017, Plymouth's Guildhall once again rocked to the sound of local fight fans cheering on their favourites in an action packed night for local and UK boxing. Black Country Boxing and Carl's Boxing Stable Plympton put on a fantastic show displaying the best of the current crop of westcountry fighters.
The BBBOC regulated event featured Des "The Destroyer" Newton fighting Liam 'Rocco' Richards defending the British Challenge Lightweight Title he won against Andy Harris in May. Newton was composed and methodical breaking down Richards over the stretch and continued piling on the punishment for all 8 rounds but Richards proved a game, worthy, clever and never outclassed opponent till the end. The destroyer's hand was raised and the belt stayed with him.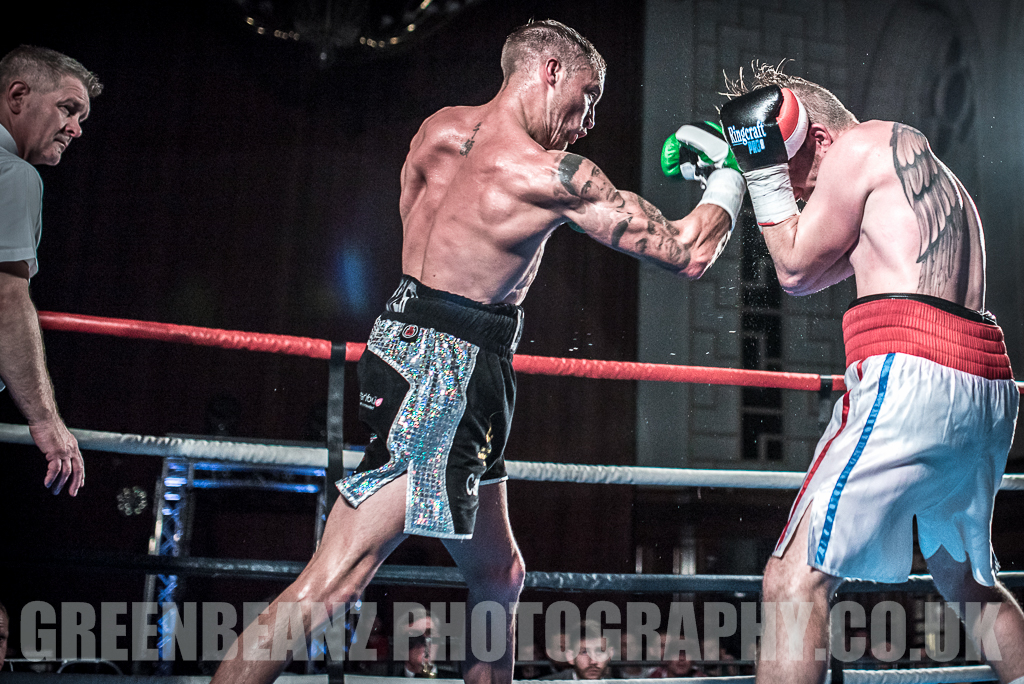 ABOVE : Des 'The DEStroyer' Newton smashes home an uppercut into a game Liam Richards
Darren "The Terminator" Townley lost his fight with Ibrar Riyaz for the International Lightweight belt. Not raising from the stool at the end of the sixth in a scheduled 8 rounder. It was a curious ending in a fight which started with a steady and confident display from Townley and in which he never seemed anything but frustrated at times. Readings Riyaz made it difficult for him and started to plant his feet and establish himself as the fight progressed but Townley was still catching him throughout and could well have won the belt with a strong finishing two rounds despite a sizeable swelling over his eye (possibly sustained in a head clash). Congratulations to Riyaz though, a travelling workhorse of a fighter who deserved his chance to win a belt.
Newquay's Brad Pauls could not continue his winning streak, with his opponent pulling out before the night and the popular fighter is now known for bringing a sizeable contingent of Cornish fight fans who were missed on what was a great night of westcountry boxing.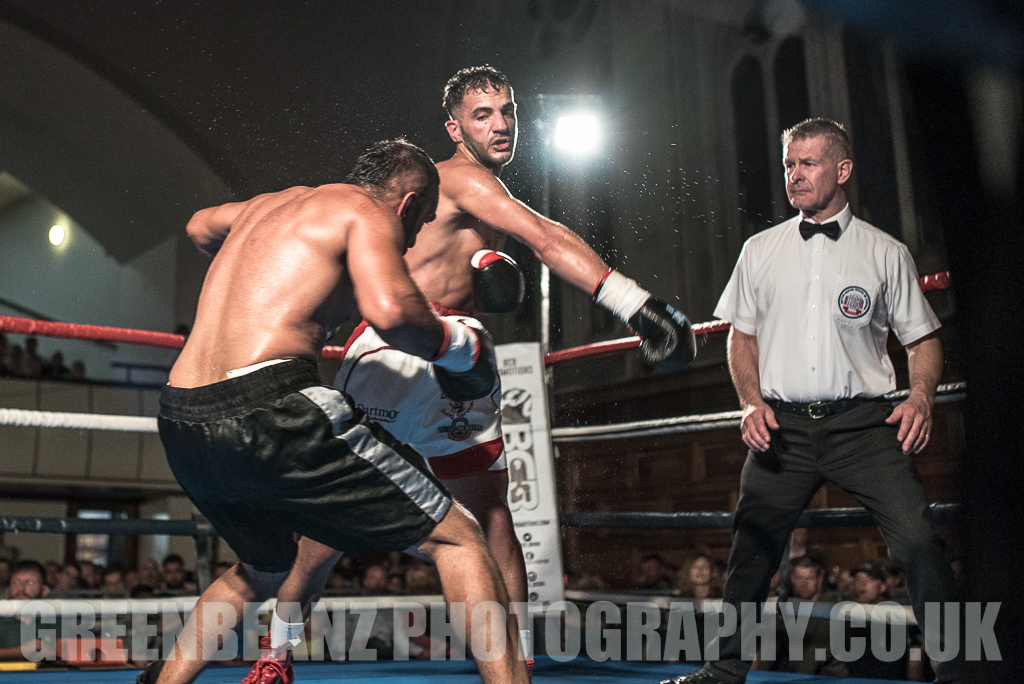 ABOVE : Plymouth's Darren Townley cracks Riyaz with a right at Plymouth Guildhall watched by referee Lee Cook
The card was somewhat delayed with the late arrival of the Doctor but opened up with Exeter's solid Faheem Khan proving too much for Essex's Dylan Draper. Khan a busy and purposeful puncher had to work hard to cut the ring off and pin Draper down, who was not at all eager to trade after having an early taster of Khan's work up close. It was a clear win for Faheem but he could maybe have stopped his opponent with a little more calculated and spiteful punching near the end of the bout.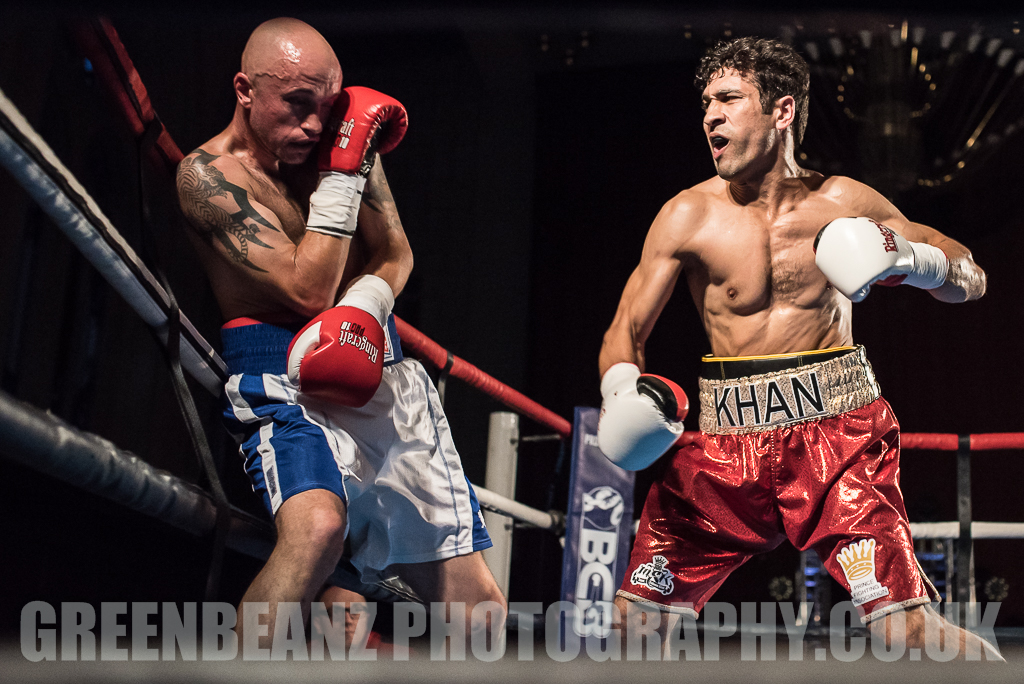 ABOVE : Exeter's Faheem Khan traps Essex's Dylan Draper against the ropes at Plymouth Guildhall.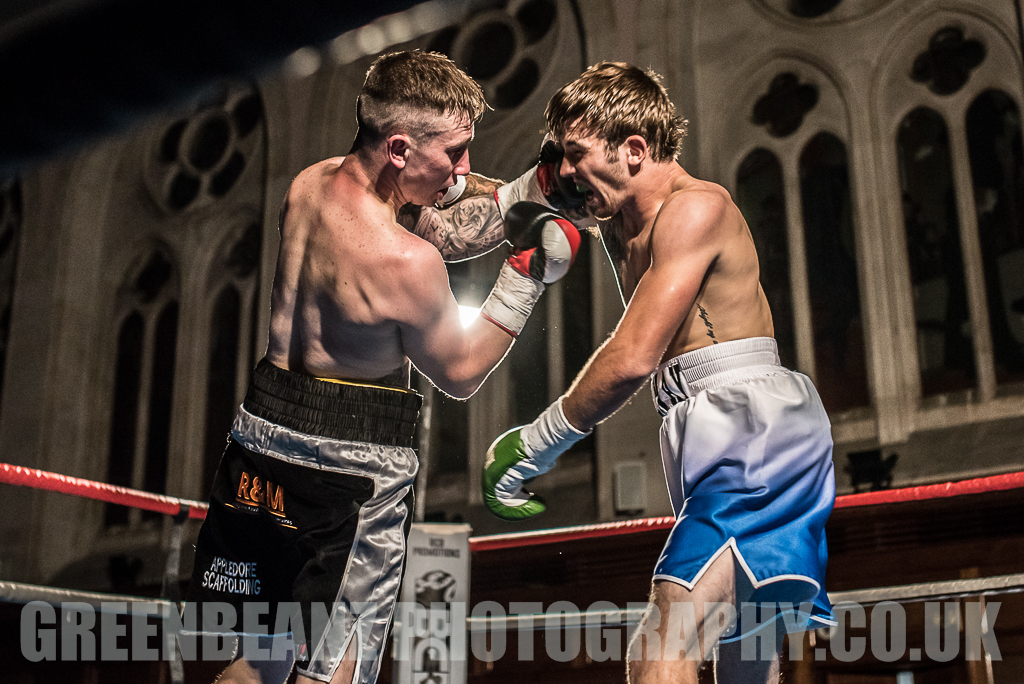 ABOVE : Rematch. Chris Adaway and Ben Owen share the ring at Plymouth Guildhall
Arguably the most entertaining fight of the night was local fighter Chris Adaway's rematch with Barnstaple boxer Ben Owen. Their previous meeting had ended somewhat controversially with a draw. Adaway was not leaving anything to chance this time and exploded from the blocks catching Owen with a straight right and then a barrage of shots that saw the visitor havng to take a standing count from Referee Lee Cook.

It was a dominant performance from Adaway there on in, but Owen never folded and had small spells of success counterpunching the marauding Plymouth Boxer. The result was never in doubt with Adaway being awarded 3 of the 4 action packed rounds. All in all an entertaining night of boxing and one where lessons will be learned. Newton has shown the ability to keep up a high and effective work rate against busy and skilful opponents like Richards who are not easy to get out of there, and whilst Townley and his team may have to re-examine a adjust a few things, Adaway and Khan had a good nights work setting them up for the next steps in their respective journies. Professional boxing returns to Plymouth Guildhall in October 2017.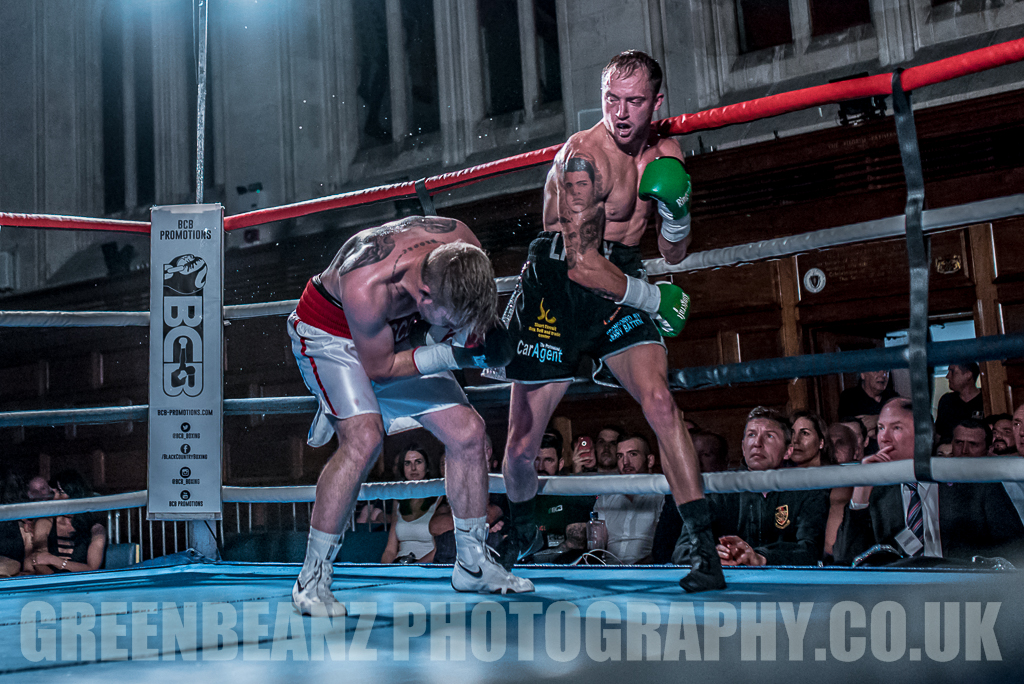 ABOVE : Des Newton lights up Plymouth Guildhall with a barnstomer against Liam Richards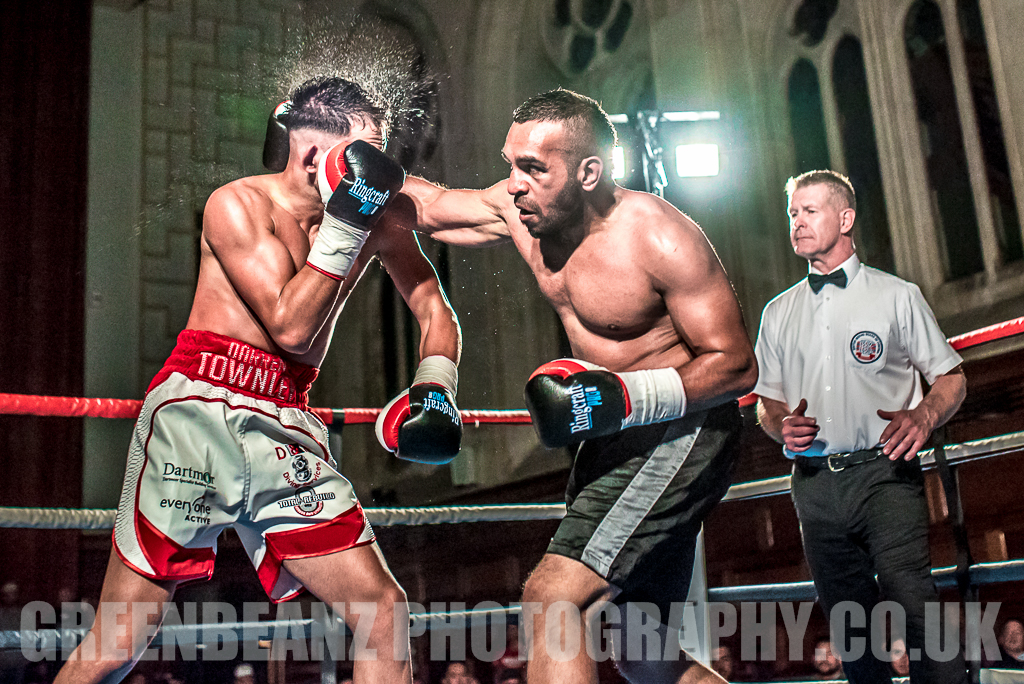 ABOVE : Darren Townley and Ibrar Riyaz fight for the International Lightweight belt at Plymouth Guildhall
BELOW: Chris Adaway at Plymouth Guildhall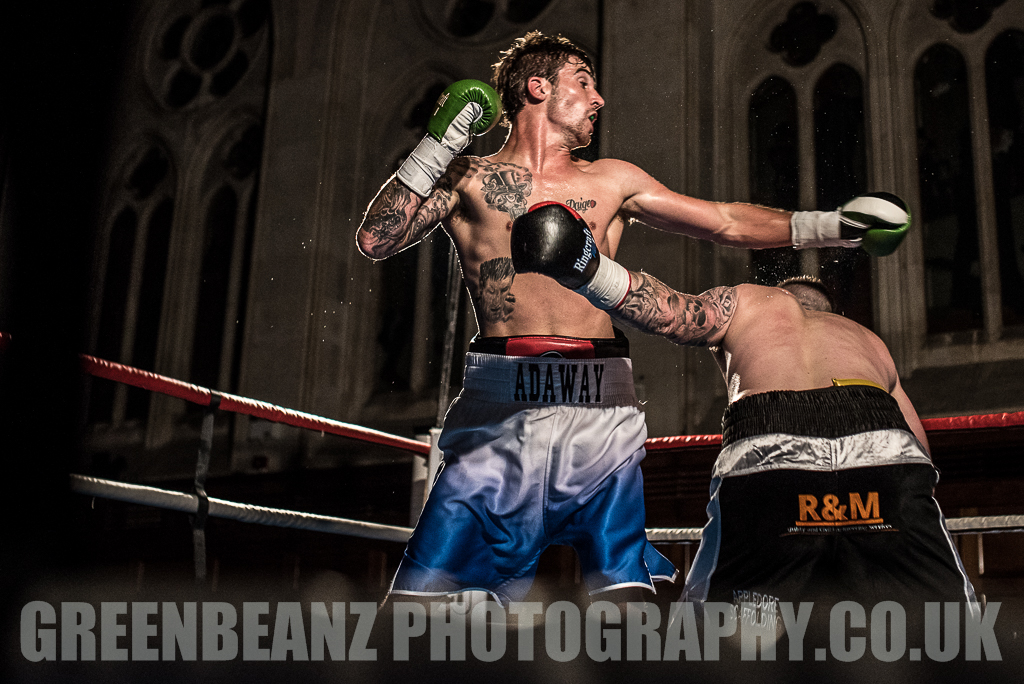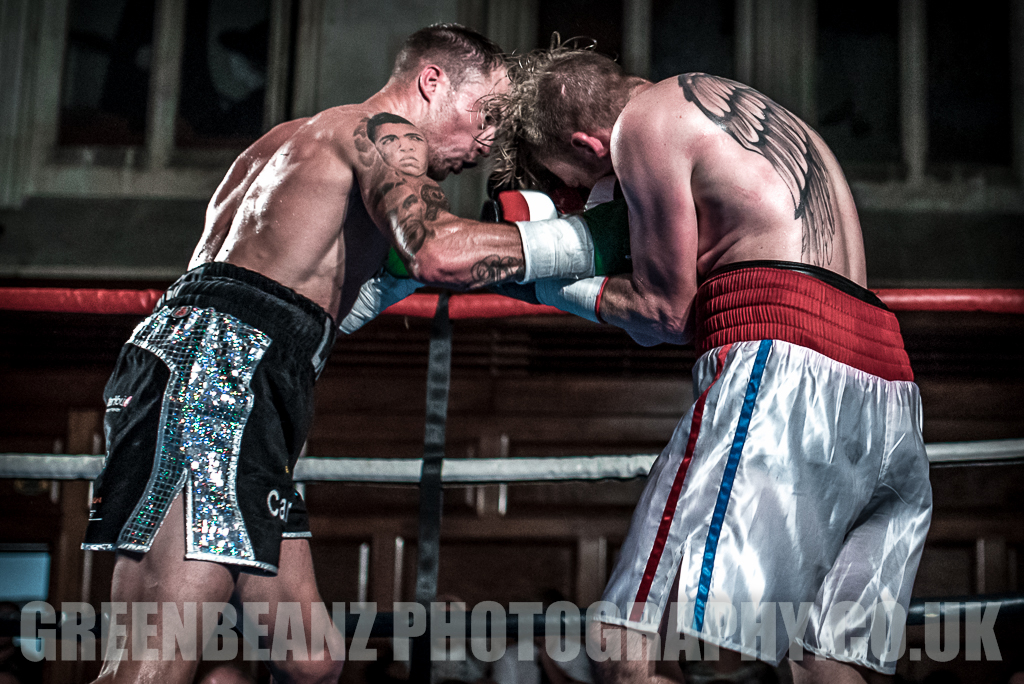 ABOVE : Des Newton goes toe to toe with Liam Richards at Summer Sizzler 2
ABOVE : Liam Richards connects with Des 'The Destoyer' Newton at the Plymouth Guildhall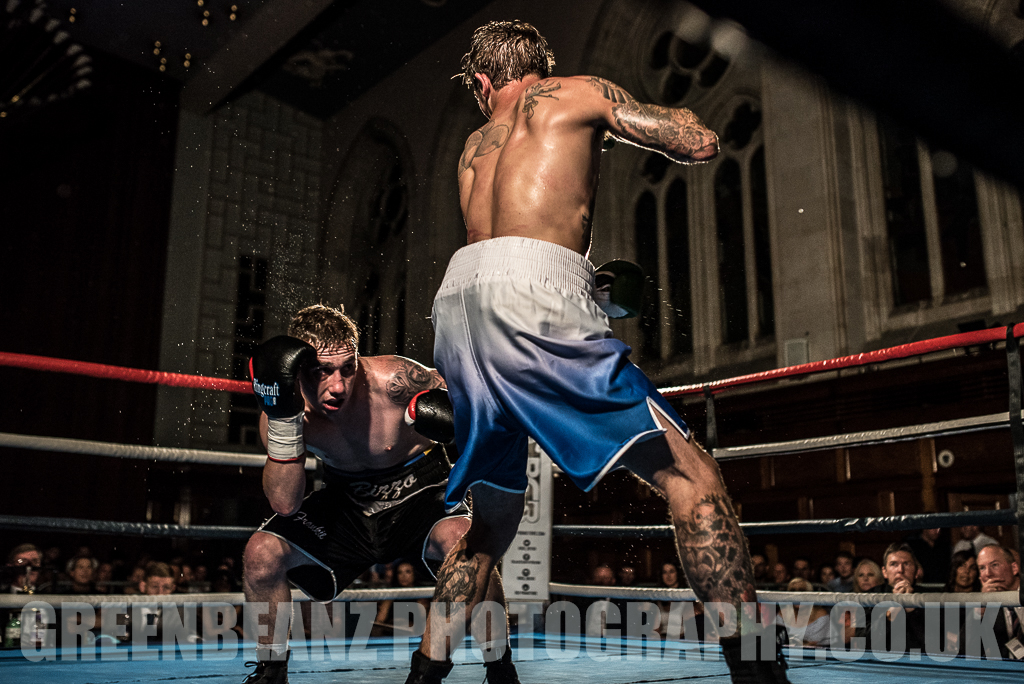 ABOVE : Chris Adaway and Ben Owen at the Plymouth Guildhall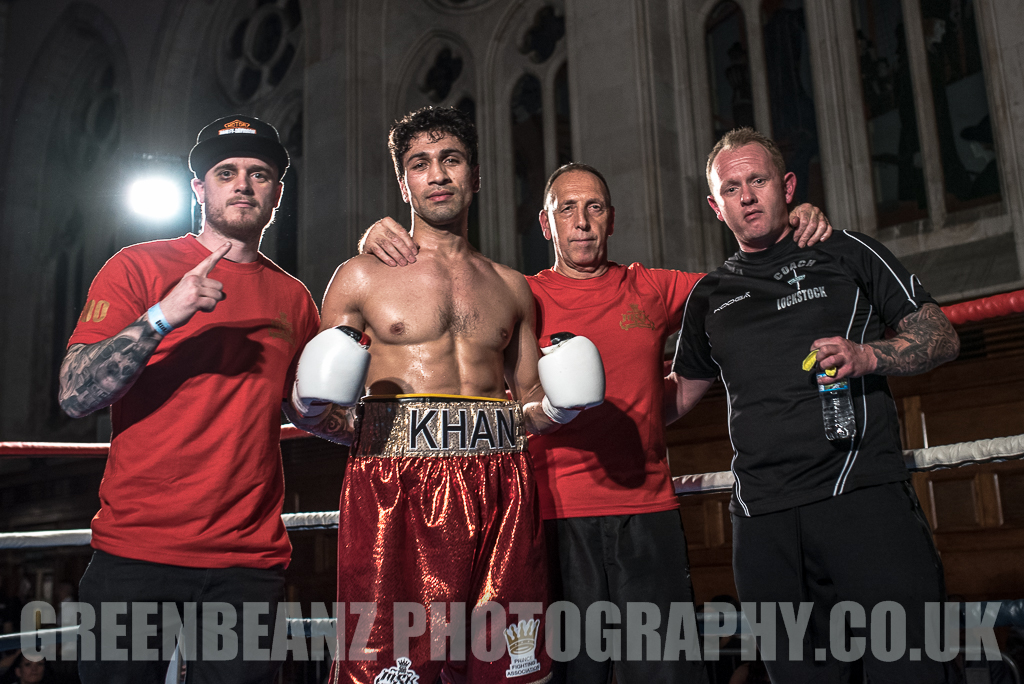 ABOVE : Team Khan at the Plymouth Guildhall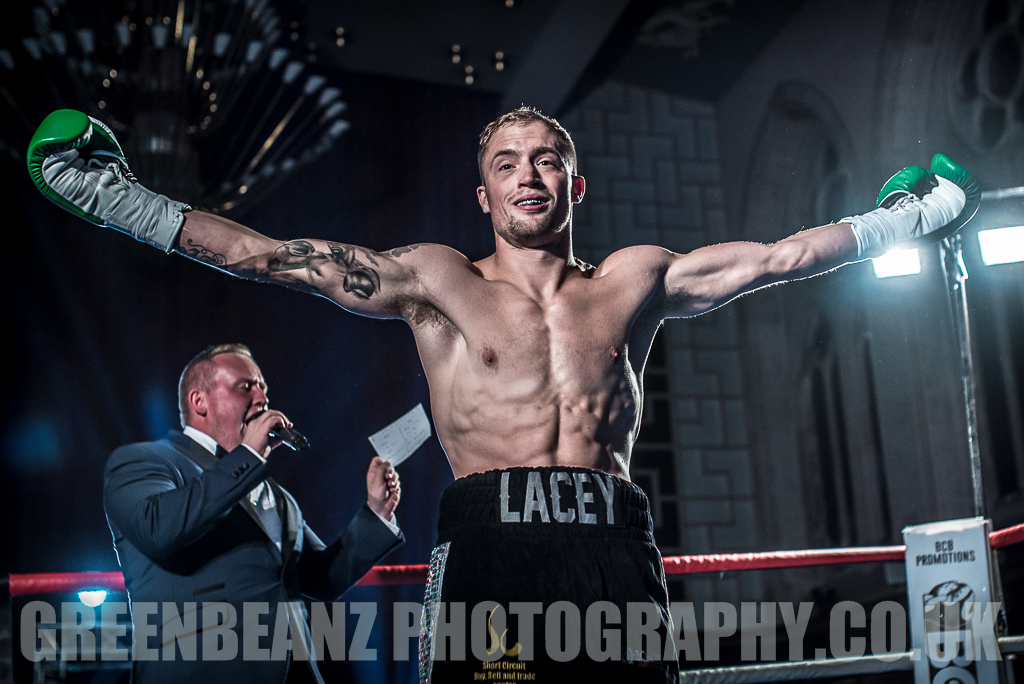 ABOVE : Des 'The Destoyer' Newton at the Plymouth Guildhall
Greenbeanz Photography has been shooting professional and amatuer boxing in Plymouth for a number of years now and you can find all the galleries including last nights photographs and editorial editions here
---