Haunt The Woods | 'Opaque' LP Tour | Carnglaze Caverns | Sunday 08 March 2020
Greenbeanz Photography
Haunt The Woods | Sunday 08 March 2020 | Carnglaze Caverns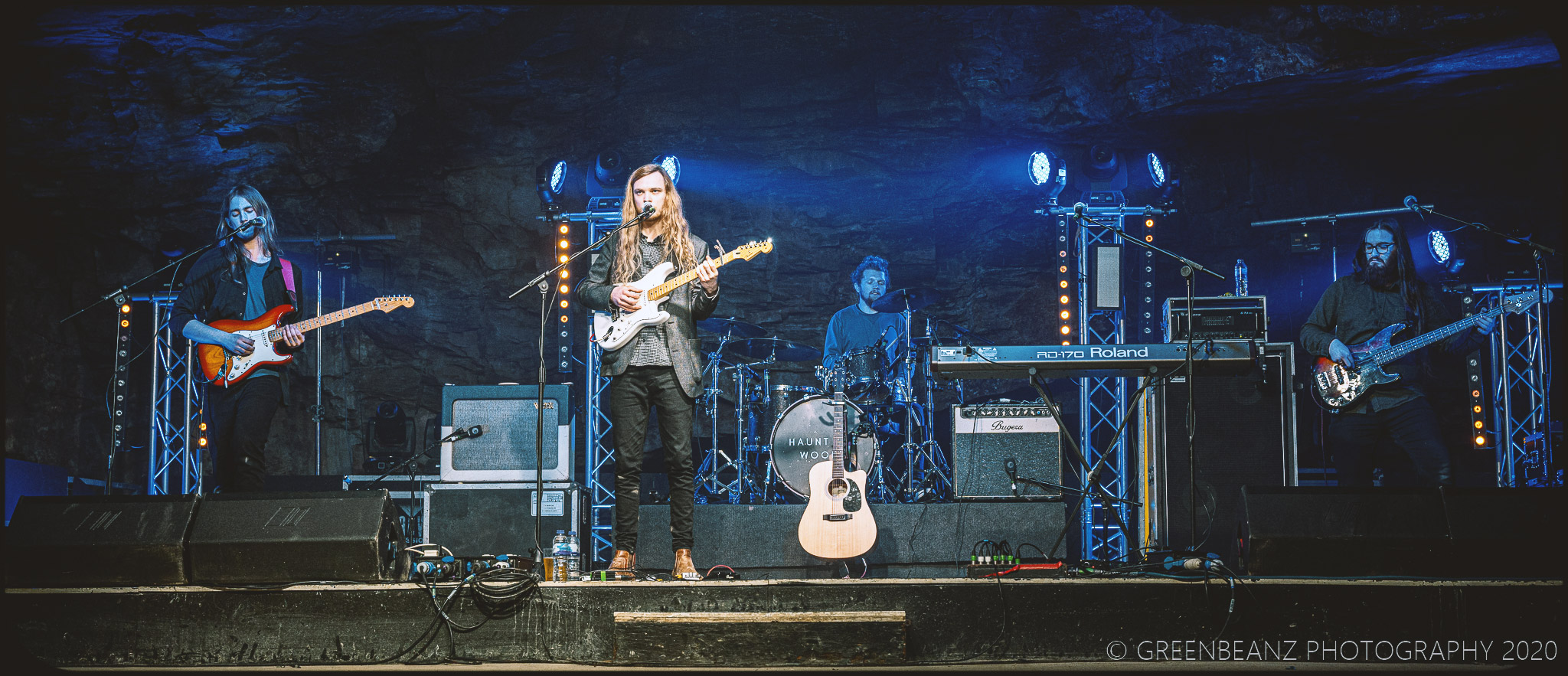 ABOVE : Haunt The Woods performing at Carnglaze Caverns on Sunday 08th March 2020
"One by one the moments come, they always lead to this" sings Jonathan Stafford on Elephant, the first song on Haunt the Woods newly released album 'Opaque'. He has a point. Two years on from when the band released their EP 'Circle' within this very same cavern at Carnglaze, they are celebrating the release of a very strong debut LP, and it is back here to Cornwall that they have returned. A fitting reward for the fans who helped get them here.
My hunch that there was "something more substantial than a fleeting fixation at work " back then in 2017 has been confirmed with the band going from strength to strength since their triumphant Pavilions gig last March, after supporting KT Tunstall , Embrace and Sunset Sons. It is a testament to their understanding of craft that they clearly recognised very early on the importance of quiet understatement and close intimacy in allowing the dramatic big crescendos a soft space to land back upon after such epic excursions.


ABOVE : Jonatahn Stafford live at Carnglaze Caverns in 2020
Back home in Cornwall these reverberant caves are such a fitting home for a band whose use of time...delay...reverb...doppler and chorus has built upon both the steady drip of the rock catalogue before them, and the growing affection of their fans. It has been said that writing about music is many things, including "like dancing about Architecture" but this is a band that actually sings about Architecture, and while any layering of dense description can never really reproduce the musical punctuation that leaves a note hanging, or the absence of an expected run or chord change, I will for the third time in three years, hope it serves as a ladder up to the diving board for which some of you will jump in and go and check out their music. Starting with the new album.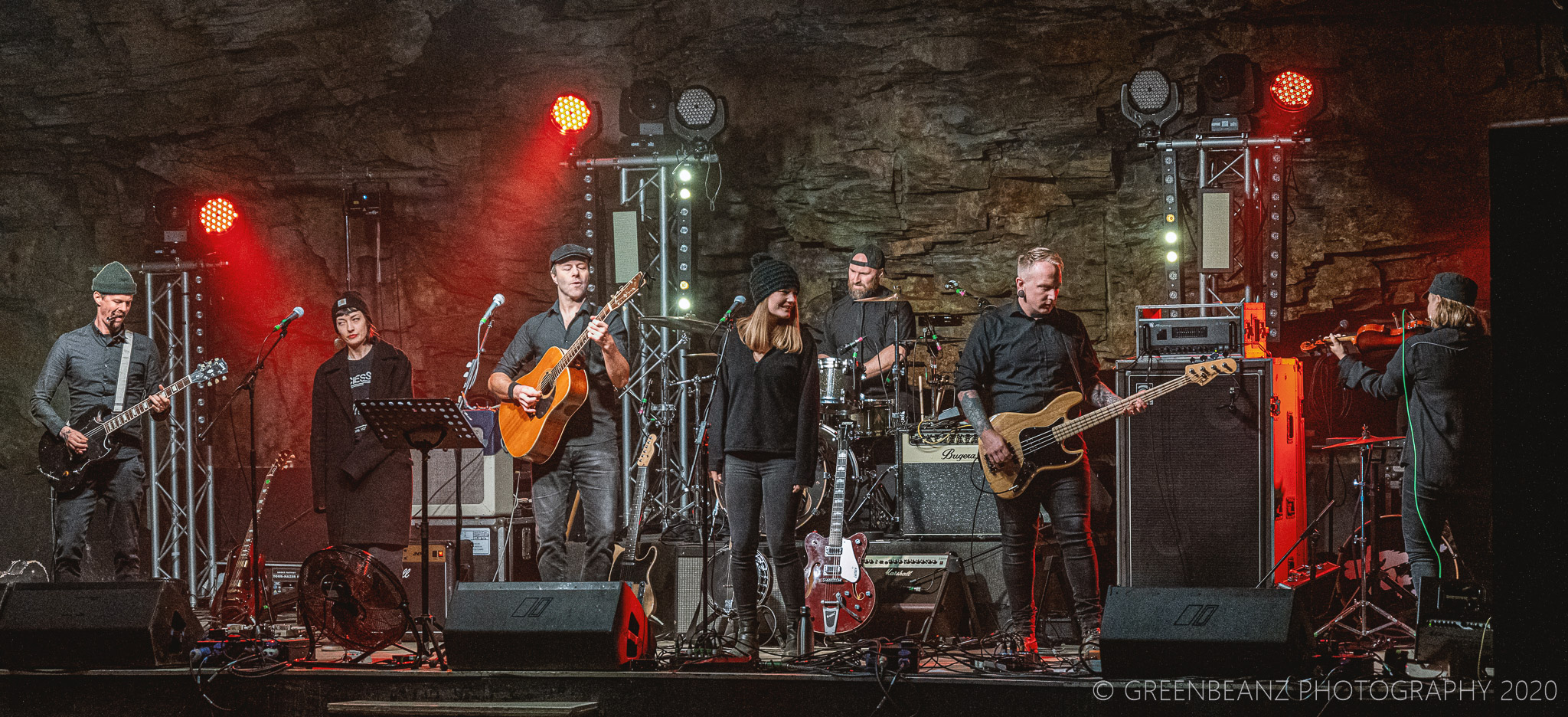 ABOVE : 'Crazy Arm' live at Carnglaze Caverns in March 2020
Before HTW take to the stage Plymouth Roots legends Crazy Arm open up proceedings with the elegiac Oh Death / Hell to Pay. There is a generosity deep within the heart of this band and this timeless song of lament reveals Johns affinity with the outsider Appalachian tradition to be much more than an affectation that he can take off like his train cap in the evening. I feel compelled to doff my own hat to him when a song from an album released seven years ago, can sound so fresh with this iteration of Crazy Arm.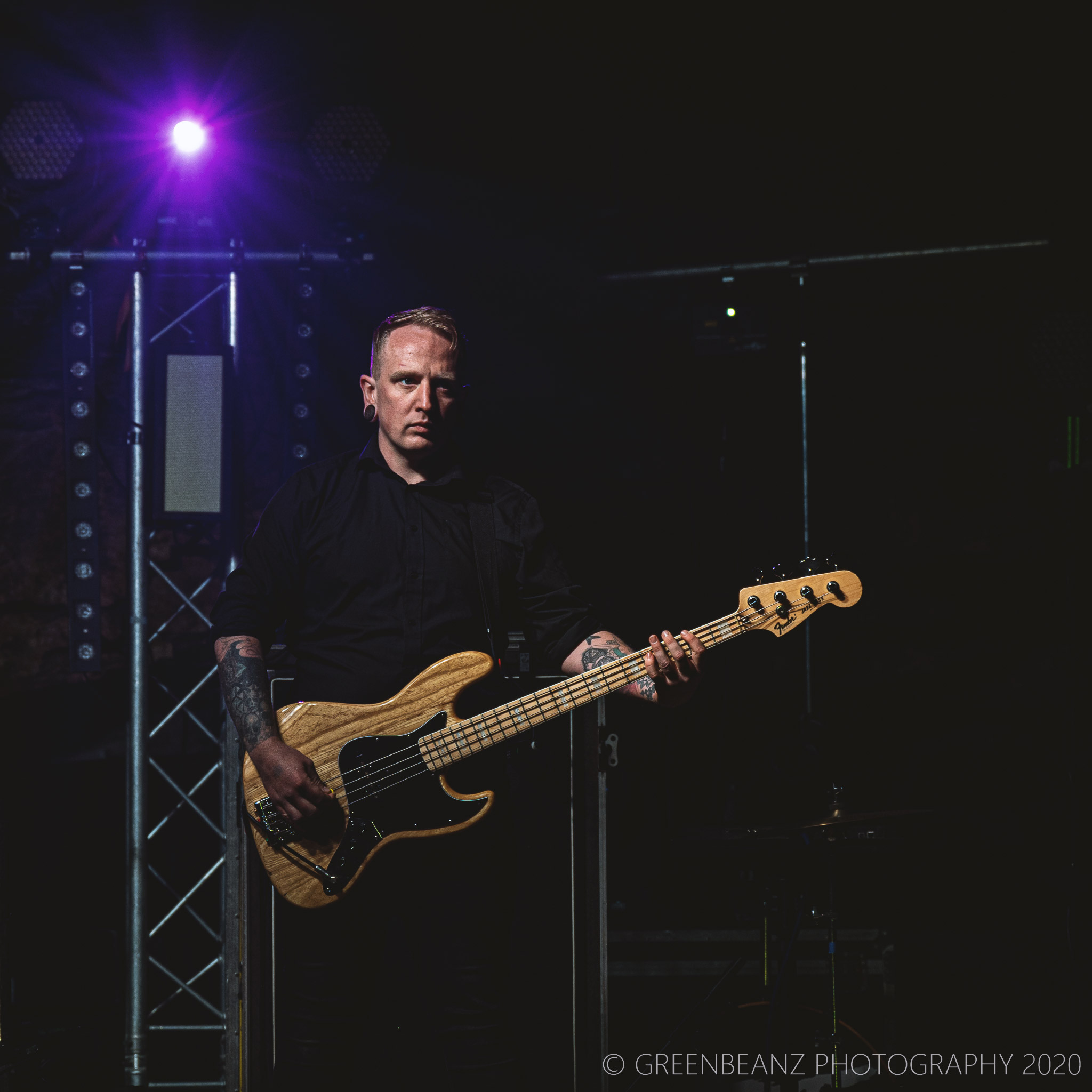 ABOVE : Dan James of Crazy Arm at Carnglaze Caverns
The warm way the Warshy warbler wraps his kisser around the verses of We Don't go there Anymore the second classic from the same album, and Don't Be Cruel another song from The Southern Wild is a comforting reminder of how authentic and genuine these songs are, but the addition of Becky Saxton and Tia Kalmaru has for some time now helped to add another dimension, particularly in this semi-acoustic version of the gnarly punk folk protest group.The ever excellent Fiddle player, Sam Spake is a crucial spoke in this wheel too.Dan James has become a solid fixture on which to hang that back line and along with Johnny Rad is as crucial as ever in providing both a foil and ally to the enigmatic engine driver, making sure the songs take off without falling apart.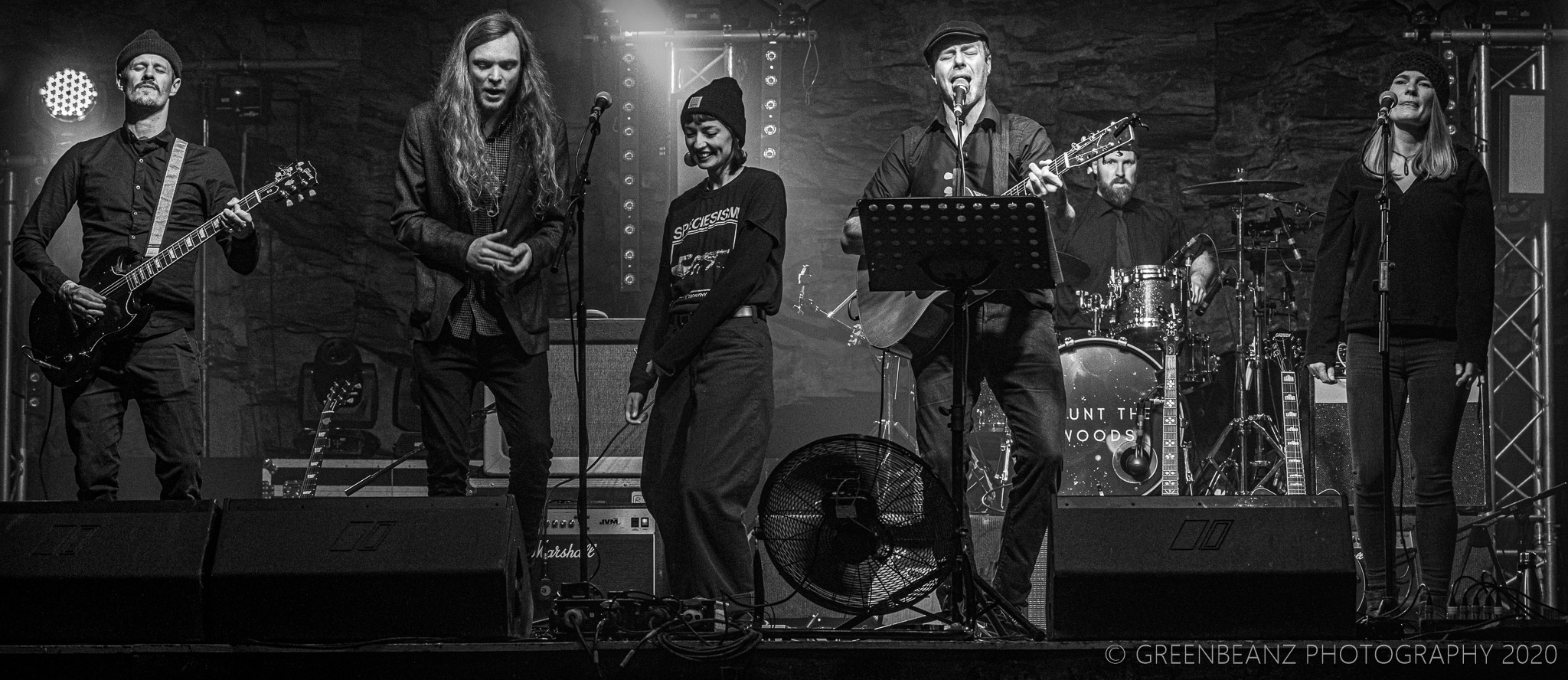 ABOVE : Haunt The Woods Jonathan Stafford with Crazy Arm on stage at Carnglaze
When fronted with our very own South Western protest singer, someone who has never been afraid to sing what he sees, and has never shied away from exposing his own social conscience, you can hardly be surprised when he sings Peggy Seeger's Song of Choice .It is a timely reminder of how our own complacency can allow the shoots of bigotry to flourish and choke the good until everyone become othered, relegated to 'Them'.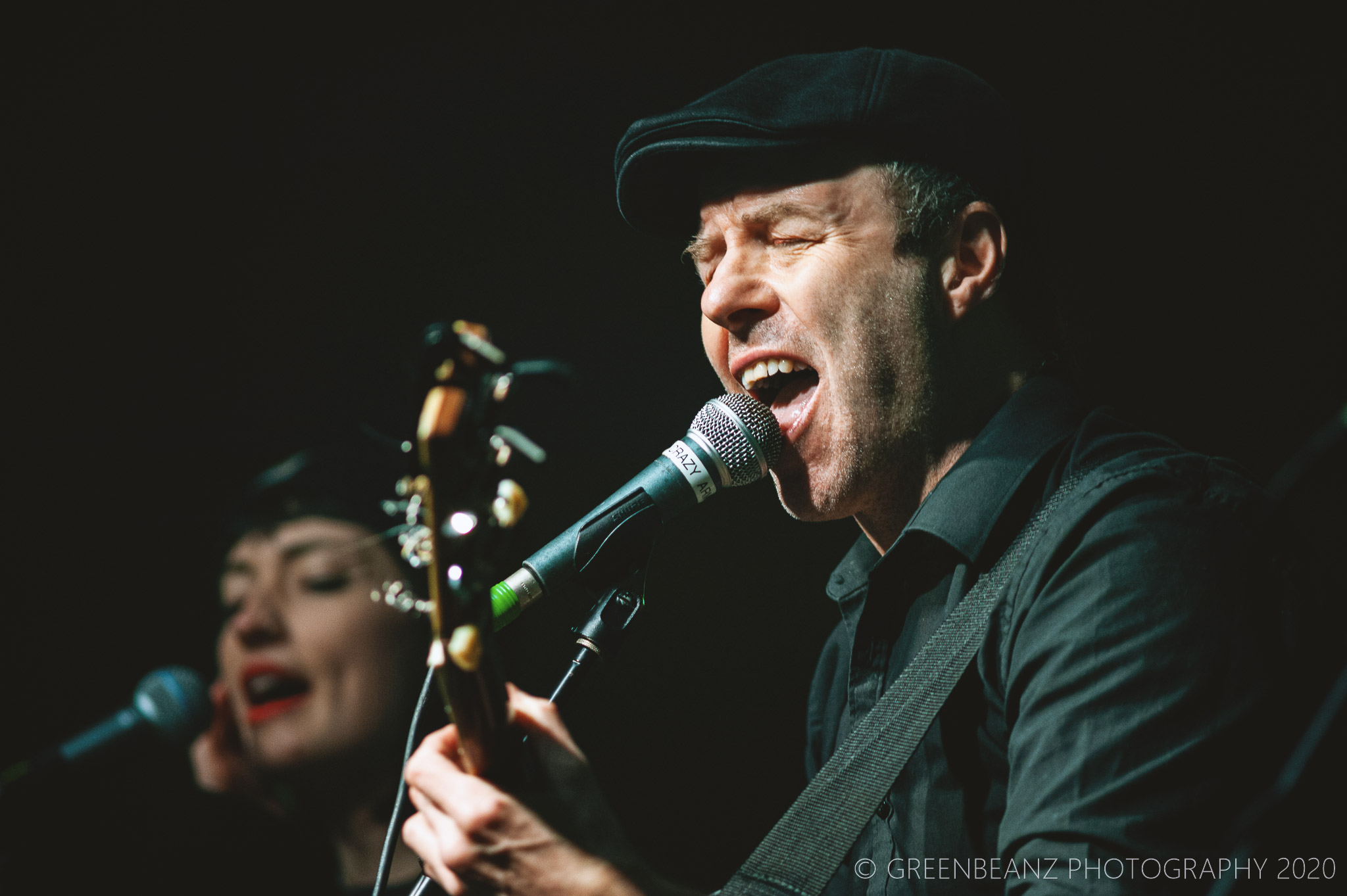 ABOVE : Darren Johns from 'Crazy Arm'
It is a teasing taster with the next couple of songs from the new album Dark Hands and Thunderbolts, which will hopefully hit our ears this summer, and before you know it the band end with Tribes the killer pile-driver anthem that feels like the best BMX ride of your life. The adrenaline coursing, dopamine triggering banger, pulls off the unique tick of making you want to stay out past your teatime, and then still gives you a hug at the end, even when you roll in late with grazed knees ,and mud on your best shorts. Like the Pirate Ship at the end of Goonies, Crazy Arm are a vessel for rebels everywhere to treasure and quest after. Check them out at a festival near you.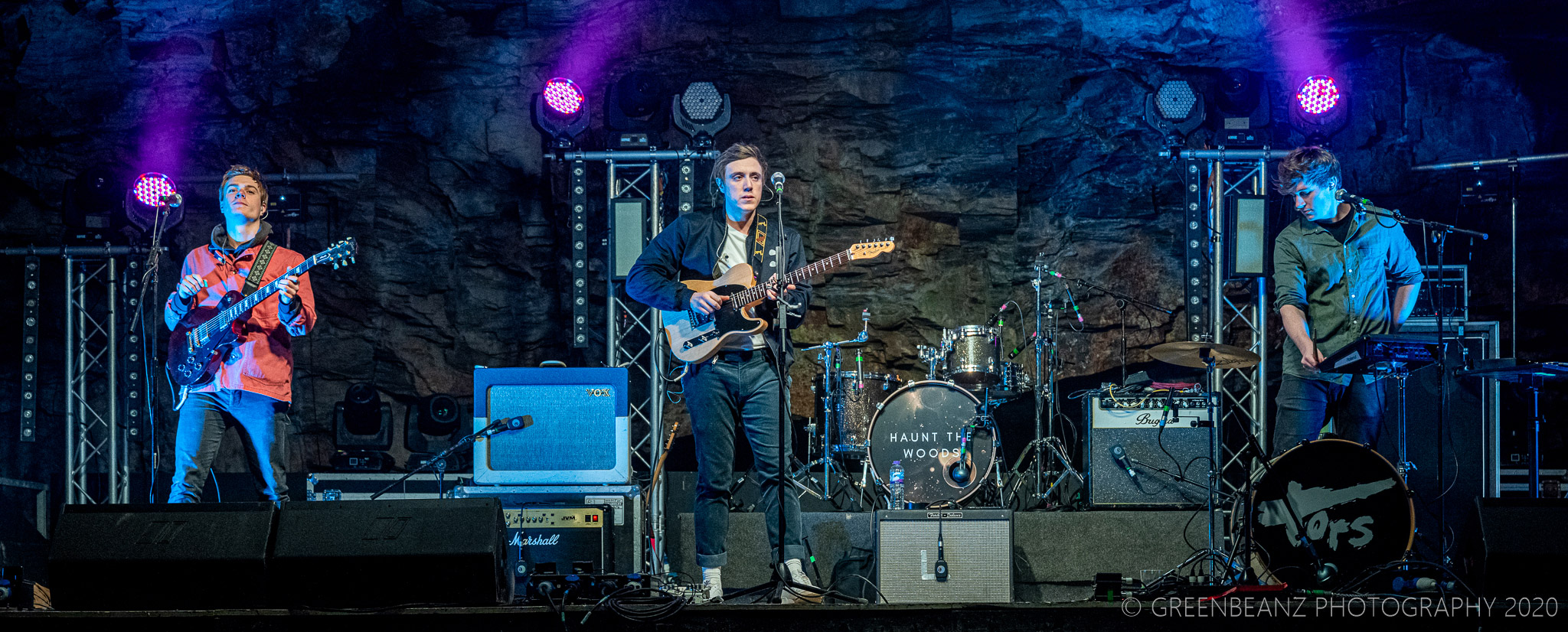 ABOVE : 'Tors' live in Cornwall at Carnglaze Caverns
On leaving Carnglaze Caverns and making our way back to the car, it felt somewhat like being in an episode of Scooby Doo. I kept expecting a masked caretaker from a local secondary school to jump out and go boo. No less surprising were Tors another Devon band this time at the start of their careers. Blessed with a frontman who is happy to drop a few one liners to keep what was a pretty subdued audience on their toes, the band back up their patter with a very polished and memorable set of songs that display not just promise but a very accomplished level of songwriting ability and musicianship.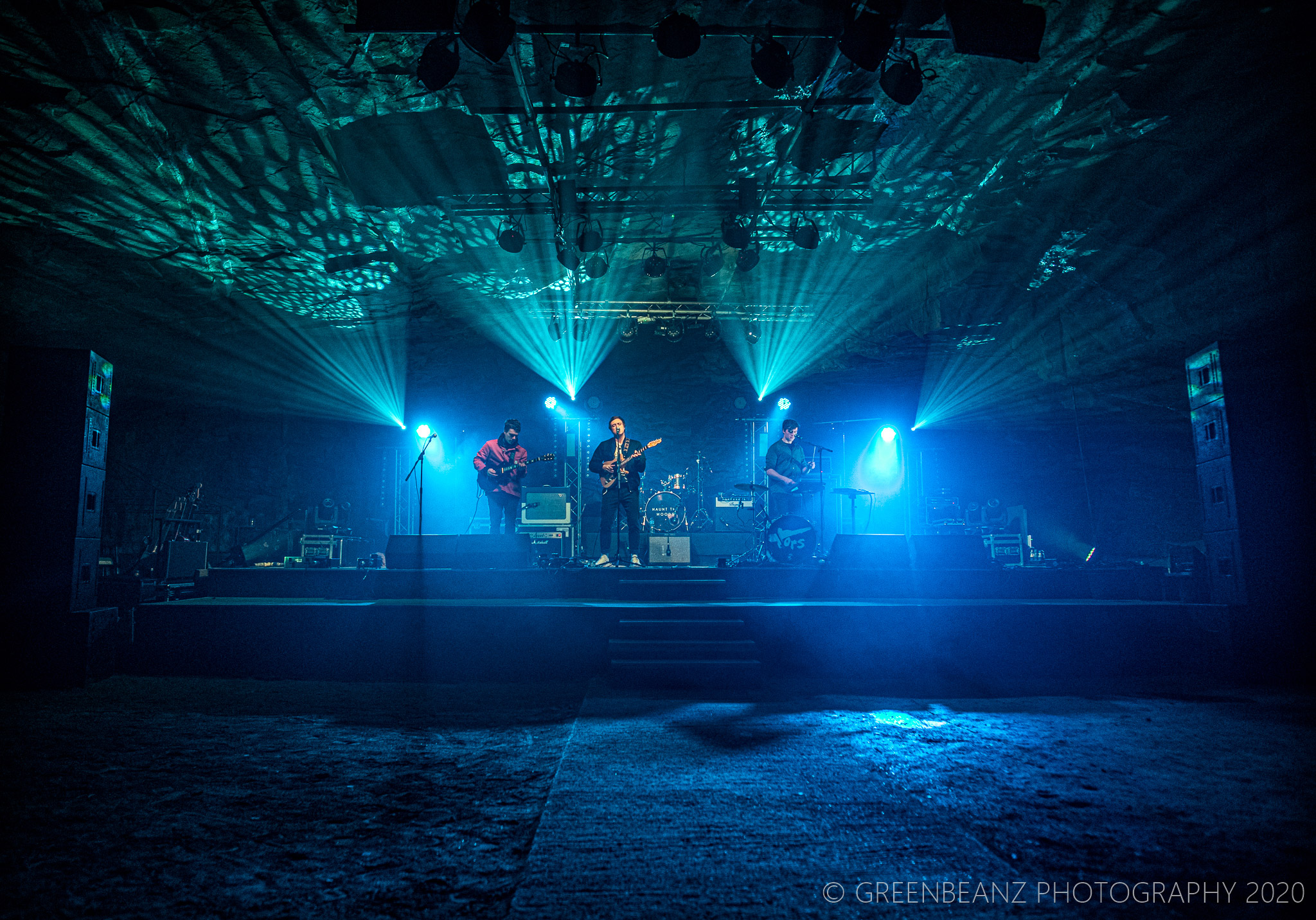 ABOVE : Tors support Haunt the Woods in 2020 at Carnglaze Caverns in Cornwall
We Say No is a fine song and reminder for all of us facing mental health issues that the reflections we see on the cave wall are not necessarily the scary monsters we make them out to be. For me the final number I Got Love and current single Look at Us were the strongest songs from a band I am sure we will all get to hear a lot more from in the future.

ABOVE : 'Haunt The Woods' launch their new album 'OPAQUE' at Carnglaze Caverns
The lights are dimmed and Haunt The Woods are silhouetted on stage as their set opens with the intro from the new album Opaque, seguing straight into the LPs first track Elephant. An epic cavern filler that blind sides you with a subtle and restrained opening verse before it unleashes the kind of lines that would have Matt Bellamy and Thom Yorke fighting to match the dramatic despair of the space opera that HTW guide you through. Keeping to the album running order, the Woods follow with Amethyst, a song that sparkles like the prism refractions in Billy Abbott and Dom Moore's geologically rich promo video. A song whose own jewel is Elleschild's bluesy west coast riff, and the ornate but unpretentious subtle little hammer on hooks which decorate and contrast with Stafford's plaintiff vocal.
BELOW : Haunt The Woods guitarist Phoenix Elleschild at Carnglave Caverns in 2020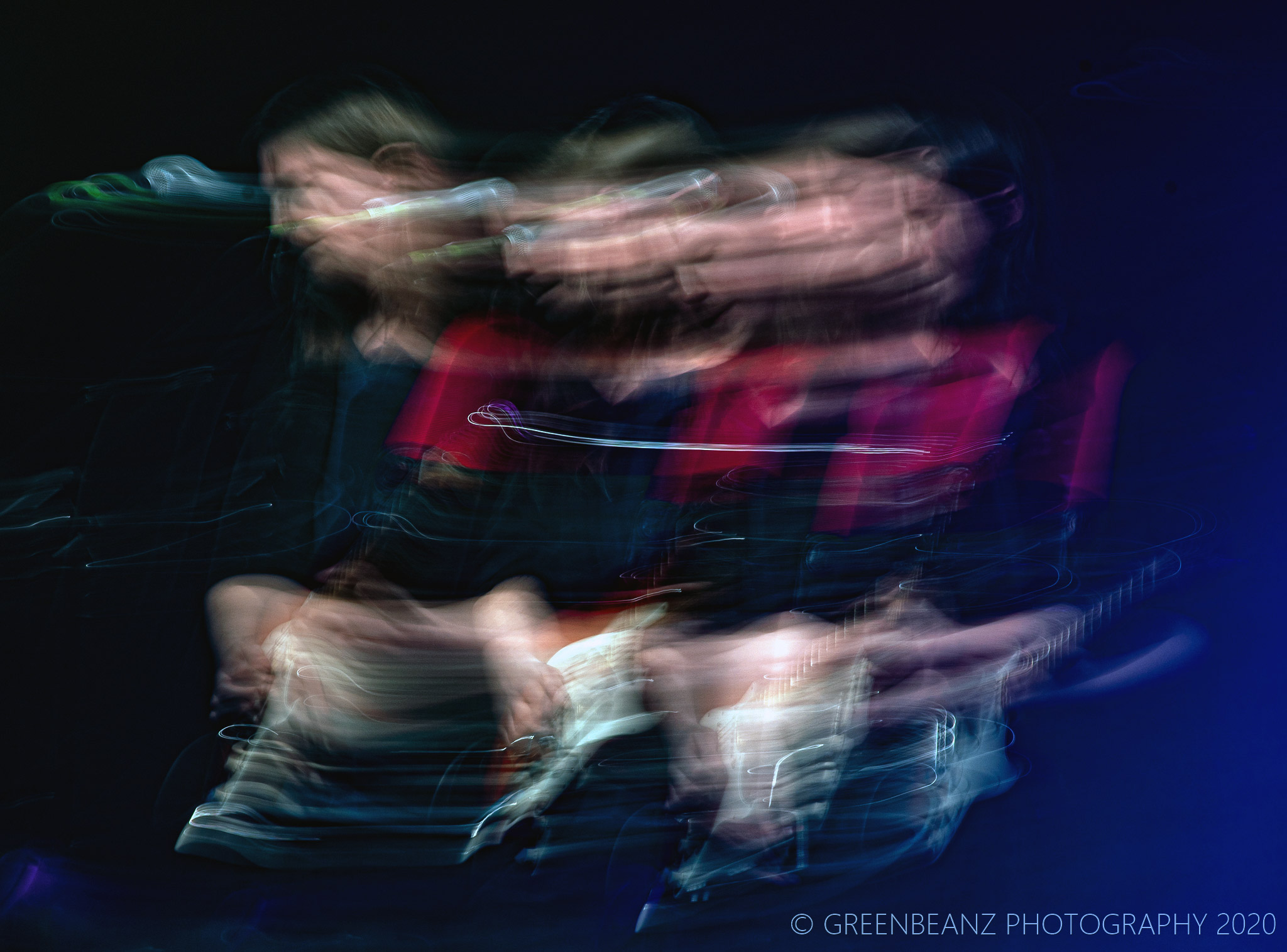 Sleepwalking, a song which insanely does not appear on either of the first two EP's or the excellent current debut album Opaque, strips away everything but the beautiful harmonies of Elleschild and Stafford. and there is, after the echoes of Cat Stevens, a real glimpse into the rural roots that underpin a lot of the bands more sci-fiesque journeys. After the Jeff Healy like roadhouse blues of Red and The Earth is a Rock, the band launch into Twisted and I still cannot help but be reminded of another Jeff. Jeff Buckleys 'Grace'. Jonathan Stafford must be sick of hearing it said, but his soaring vocals following similar acrobatic undulations accompanied so closely by a supremely supportive band that have invested so much into mastering the same impressive range of dynamic control.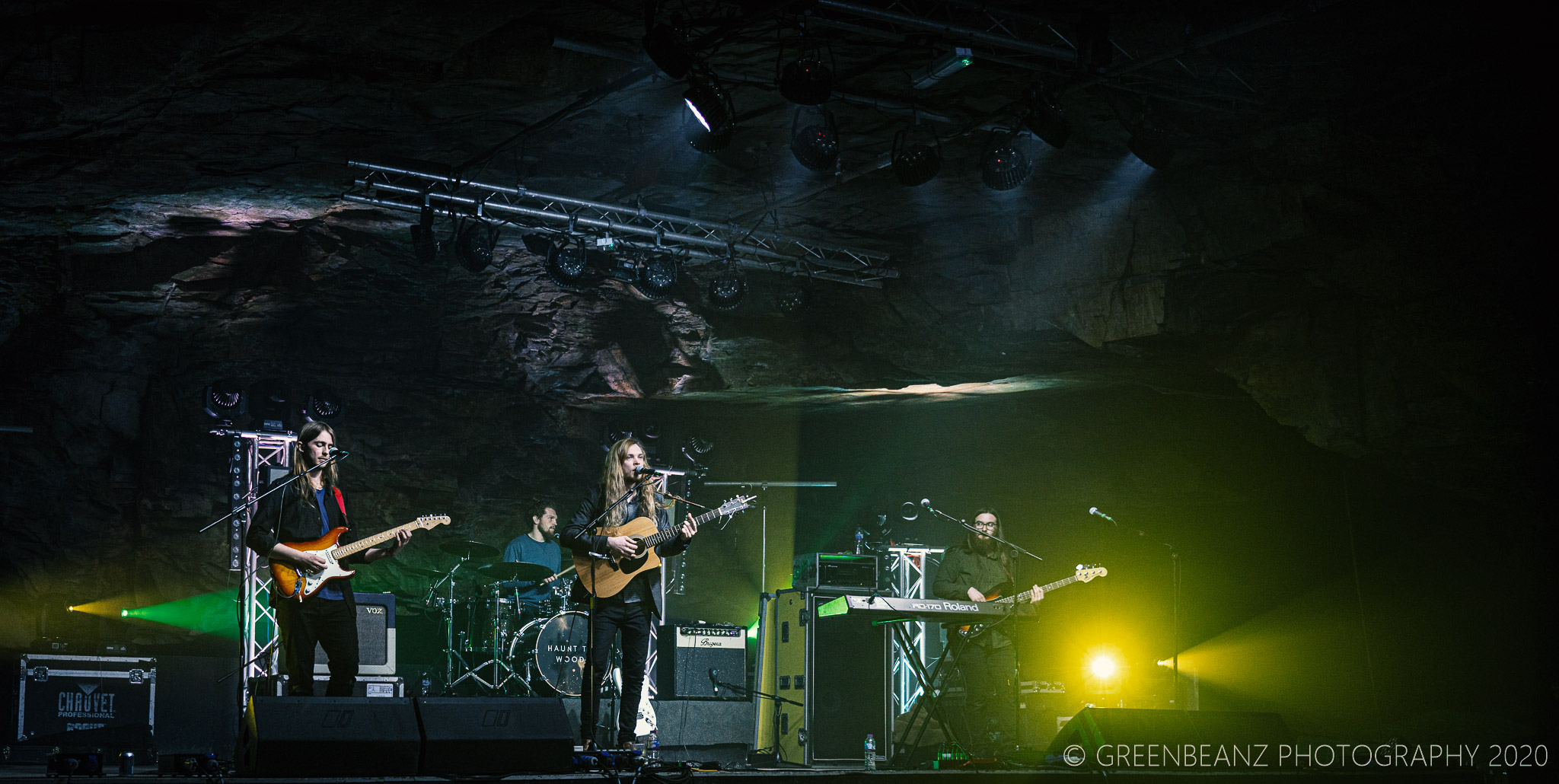 ABOVE : Haunt the Woods host bands from Devon and Cornwall at Carnglaze Caverns
Current release Supernova (check out the video here) begins with piano and like much of their catalogue takes you on a cinematic trip with it's widescreen ambitions. Their expansive sound can be hard to do justice to in a venue in which the acoustics and reverberant conditions are a lot more designed and controlled than here, but as a band clearly not 'governed by their limitations' the band manage to carry you along despite this.
The universal appeal of HTW is anchored here in the earth of this wild peninsula and it is nice to see in Vultures a more earthbound setting for their musings before Helter Skelter and The Box take off. The Line from the 2017 EP of the same name disperses it's delay laden magic across this hard edged slate venue setting up the audience for the ear catching Beautiful Catastrophe from the same iridescent debut.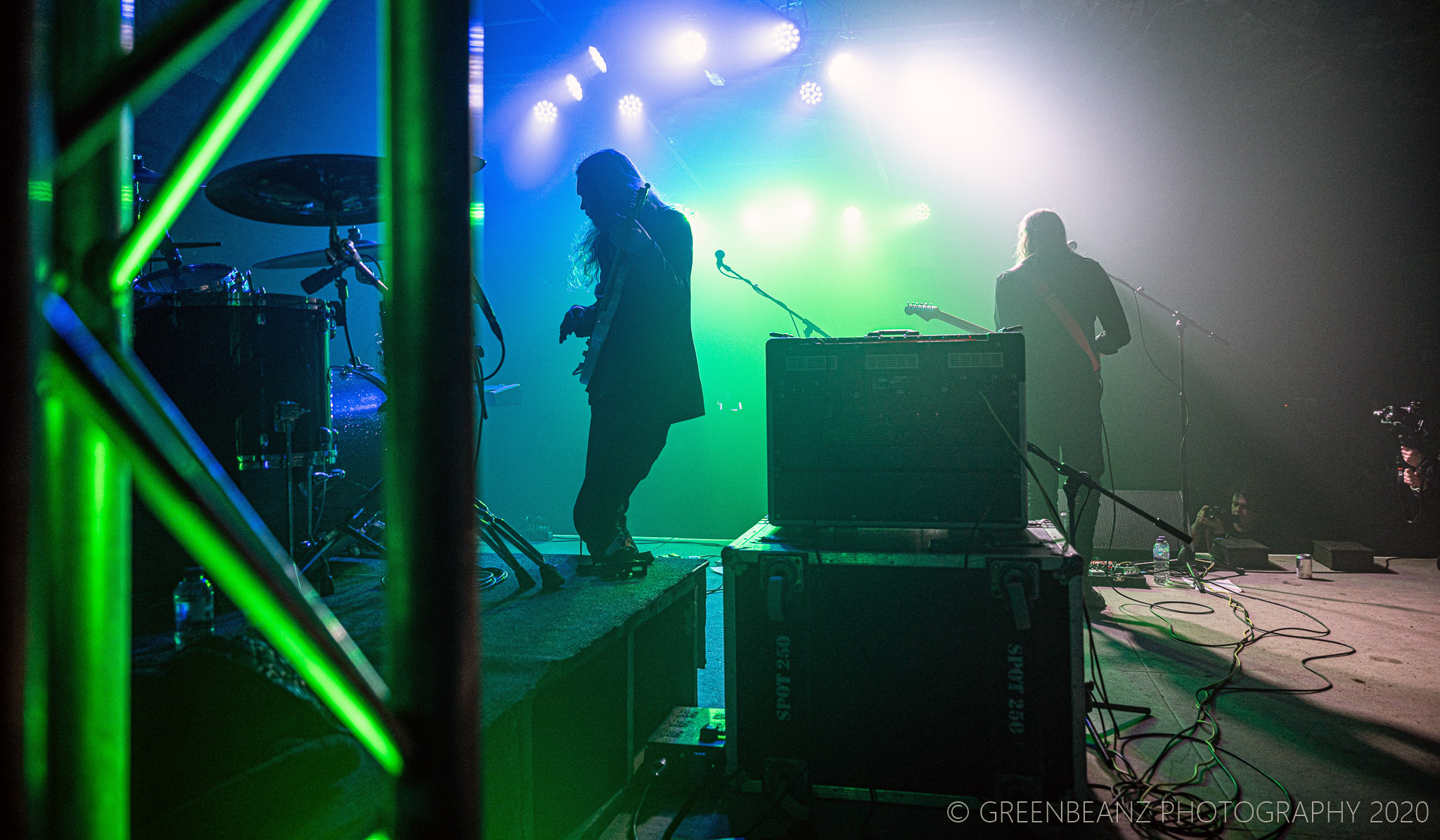 ABOVE : Haunt The Woods 4 piece Cornish Rock Band live at Carnglaze in 2020
The band return and encore with Opaque the title track from the LP released on February 28th this year and then they close with Feel a song that sums up the balancing act the Woods thrive upon. A tightrope of taut simple understated lines whilst carrying the potential for bold broad brushstrokes and fireworks that when deployed on such a thin line can threaten the same kind of fractures and fissures that blasted this space from the rock so many years ago. Hewn from slate and monolithic, but it is the intricate arpeggios of trickling water running along it that reveal the edges and beautiful patina of the facets that make up the whole.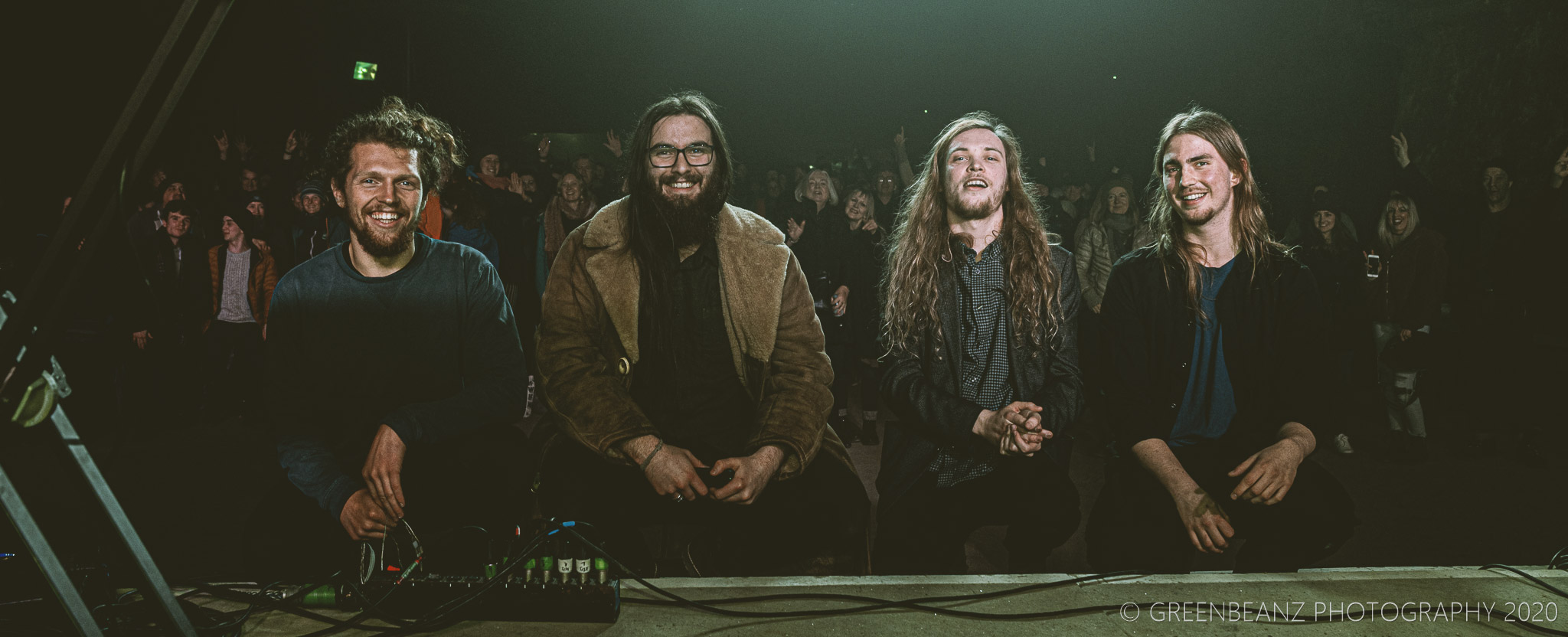 ABOVE : Haunt The Woods returned to Carnglaze on March 08th 2020