Greenbeanz Photography
Poetry Pioneers | Apples and Snakes : 35 Years | Ocean Studios | The Royal William Yard | 17 APRIL 2018
Poetry Pioneers | Apples and Snakes : 35 Years | Ocean Studios | The Royal William Yard | 17 April 2018

ABOVE : APPLES AND SNAKES 35 Years : Poetry Pioneers exhibition at Ocean Studios
I have photographed and written about a few shows now at Ocean Studios in the Royal William Yard in Plymouth. Everything from opening nights of photography and painter's exhibitions, to national art festivals. I have made a film here, shot fashion editorials and models all around the yard, and even exhibited my own installations in what was the Cooperage building and on the lawn in front, not long after the RWY opening to the public in 2008. Tonight though, was the first time I have seen the Ocean Studios Gallery used as both an exhibition and performance space....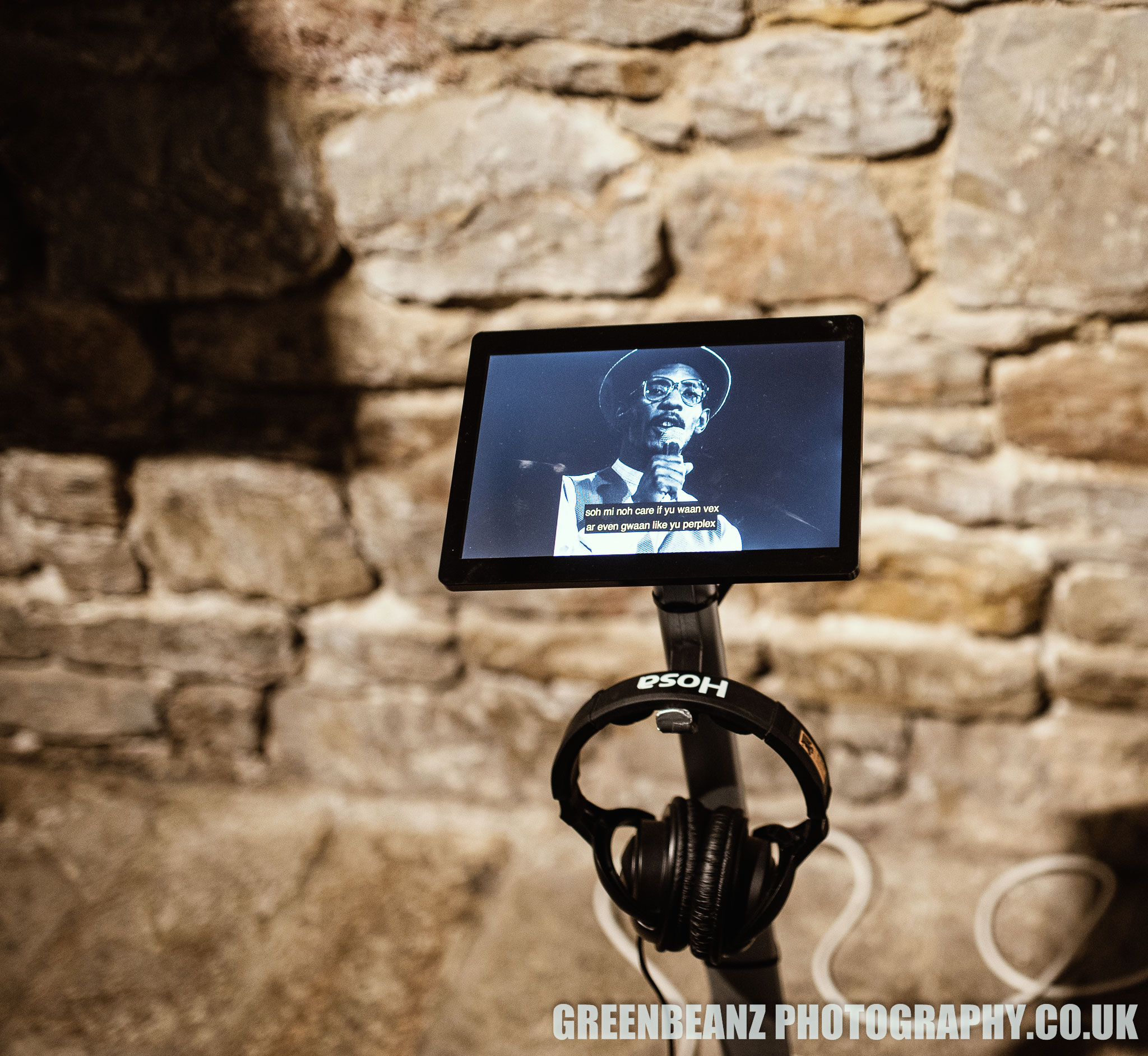 ABOVE : Apples and Snakes : Poetry Pioneers a listening/watching post from the show
This evening was about the spoken word, performance poetry and a celebration of 35 years since Apples and Snakes was set up in 1982 in a room above the Adams Arms in London as the leading proponent and supporter of performance poetry in the UK. In that time they have worked with Billy Bragg, Jackie Kay, Lemn Sissay, Malika Booker, Charlie Dark, Polarbear, Kate Tempest, Benjamin Zephaniah, Michael Rosen and Caleb Femi, and are marking the occasion with a touring exhibition.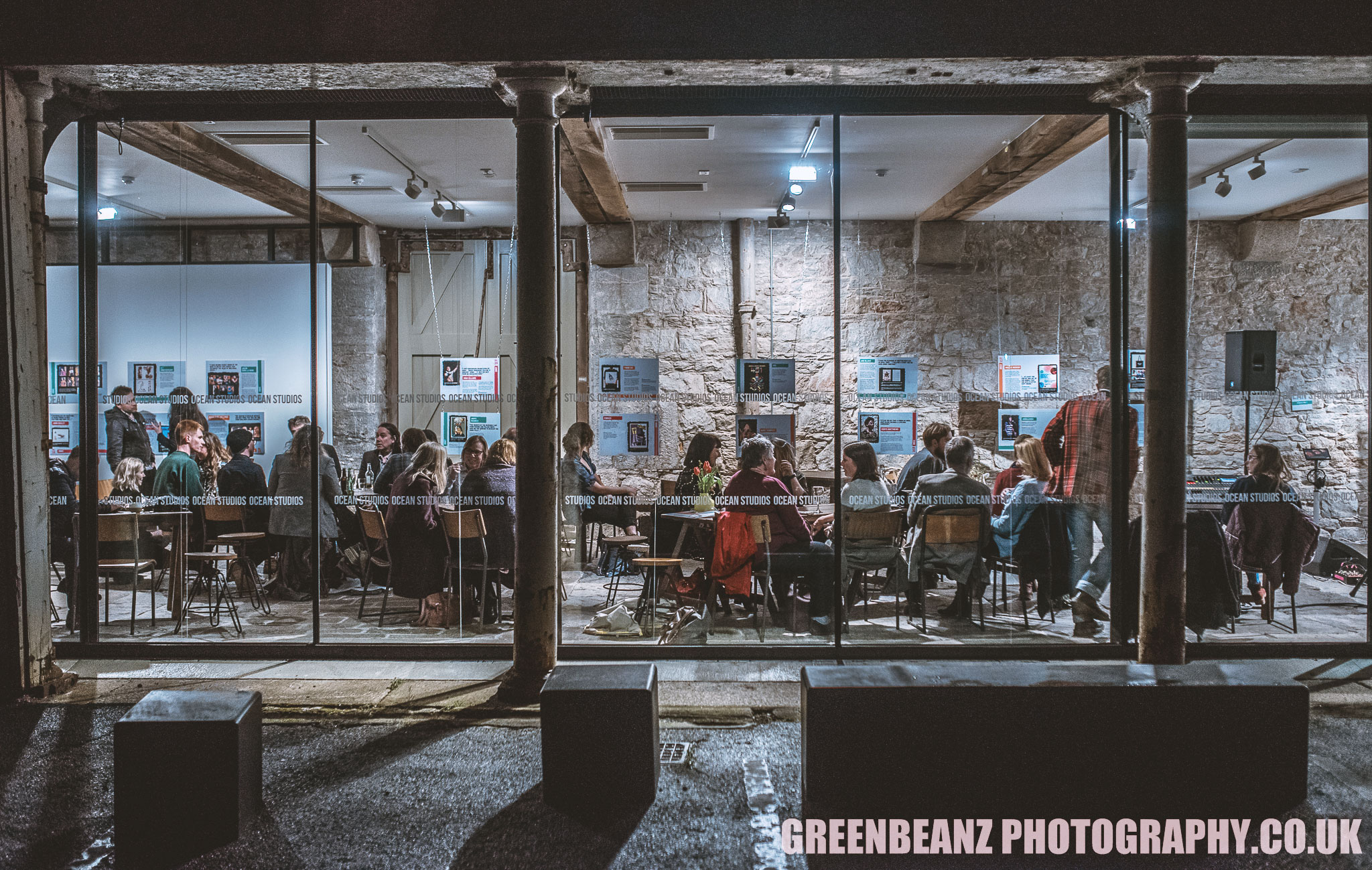 ABOVE : Poetry Pioneers. 35 years of Apples and Snakes a gig at The Royal William Yard
Apples and Snakes have helped to take poetry not just off the page, and onto the stage, but around the UK to audiences who may have previously thought that poetry was in some kind of fenced off no mans land, between literature and music. If performance can act like a bridge enabling access to poetry, then Apples and Snakes have been the architects of spoken word in this country, designing and organising events that contain within them the potential for artistic and social change.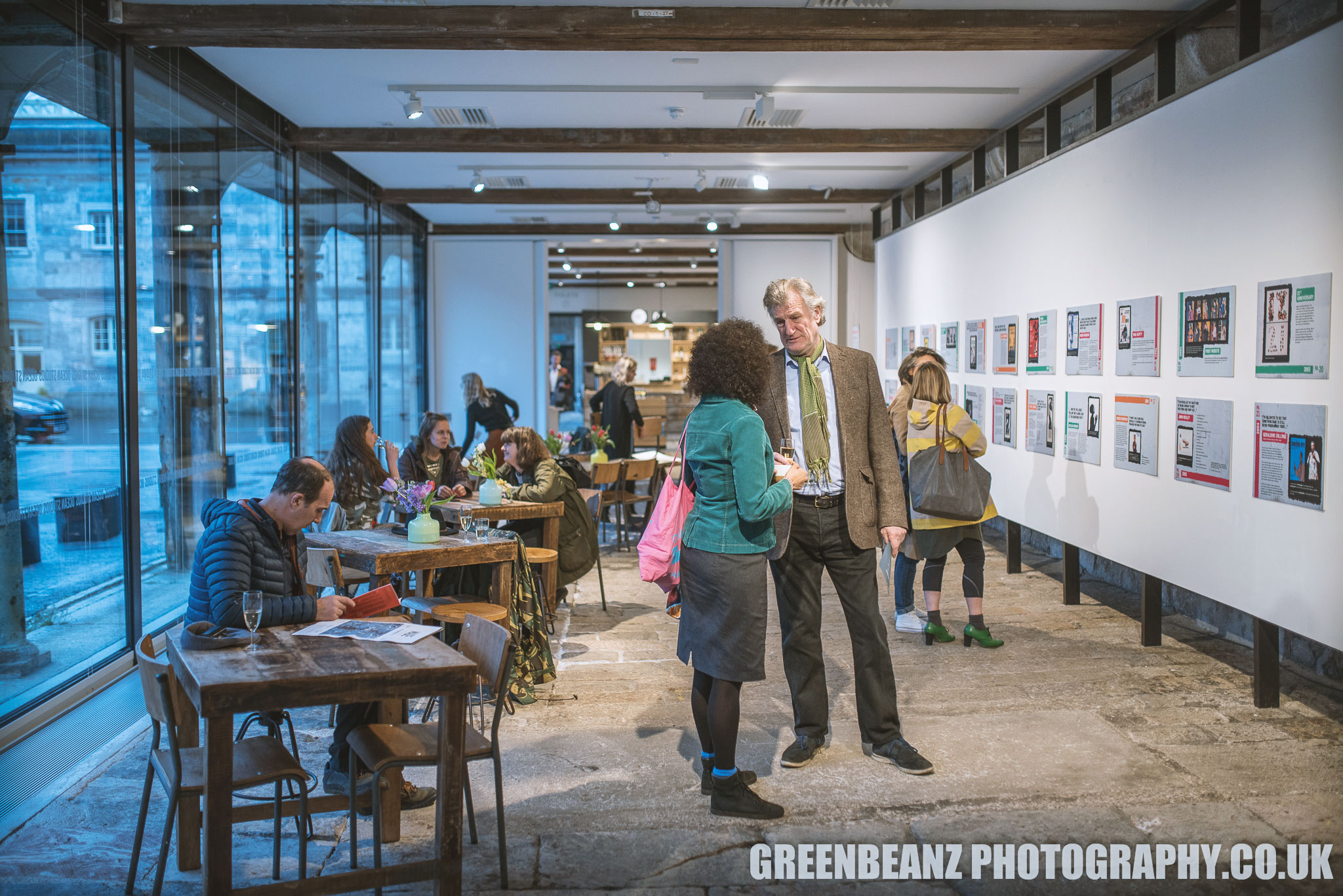 ABOVE : The launch show for Poetry Pioneers at The Royal William Yard Plymouth
For me stand up poetry, spoken word performance, call it what you will, is a kind of two way therapy. The poet elected as spokesperson for all our inner fears and joys, here to document what it is to be them, and in doing so shining a light on what it means to be us. National and working with a diverse portfolio in healthcare trusts, community centres and within education, Apples and Snakes have also born fruit around the UK in inspiring and supporting long running performance poetry nights at a very grass roots level locally.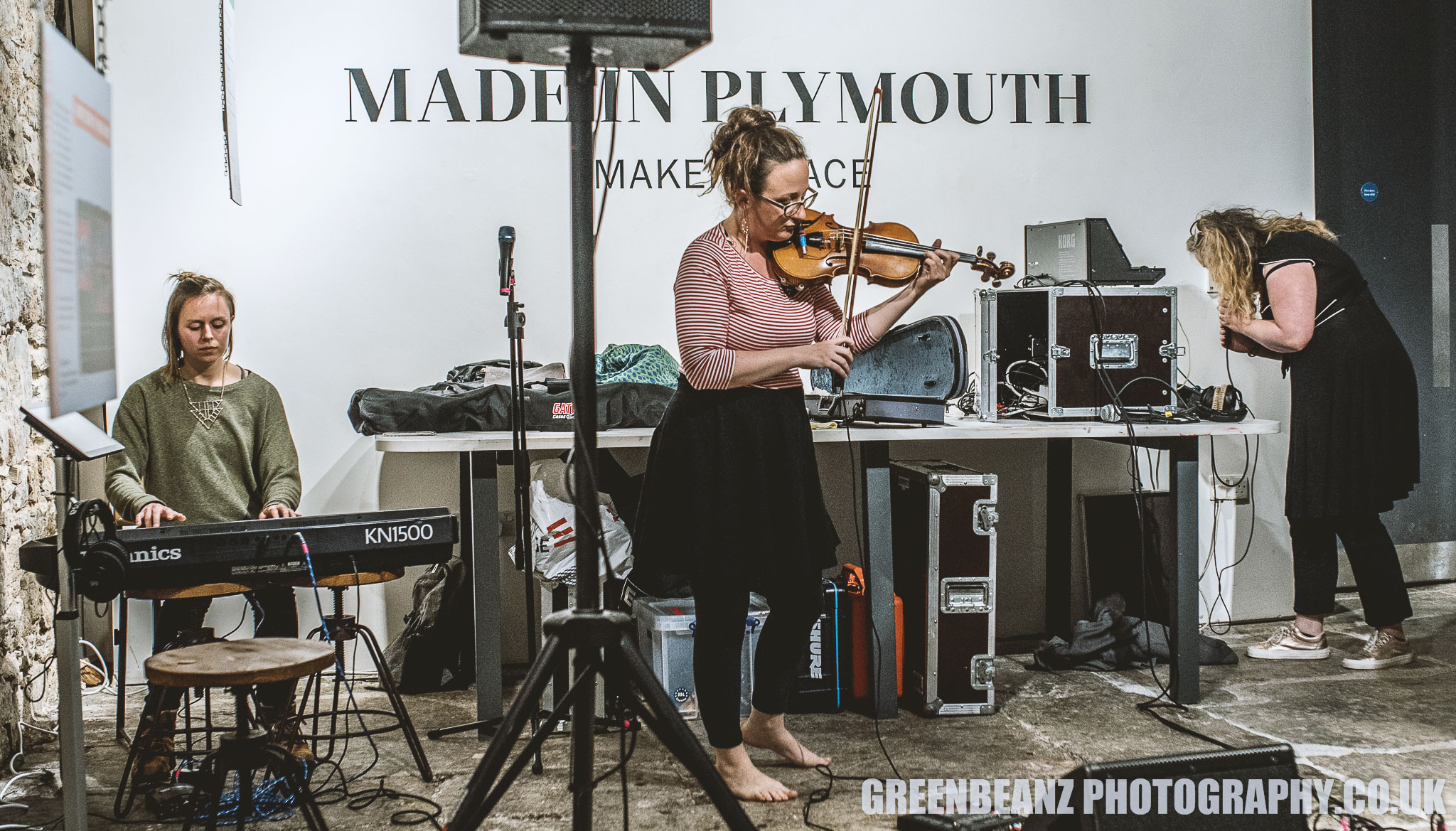 ABOVE : 'Check Out My Bad Self' Perform a specially Commissioned piece at Ocean Studios
Here in the South West we have hand 10 years+ of Forked in Plymouth, Spokes Amaze at the Bike Shed in Exeter, local poetry slams and festivals, and so to mark the launch night here at Ocean Studios in Plymouth, Apples and Snakes invited five local performance poets, the ebullient host Elvis McGonagall and local musical performance artists – 'Check Out My Bad Self'.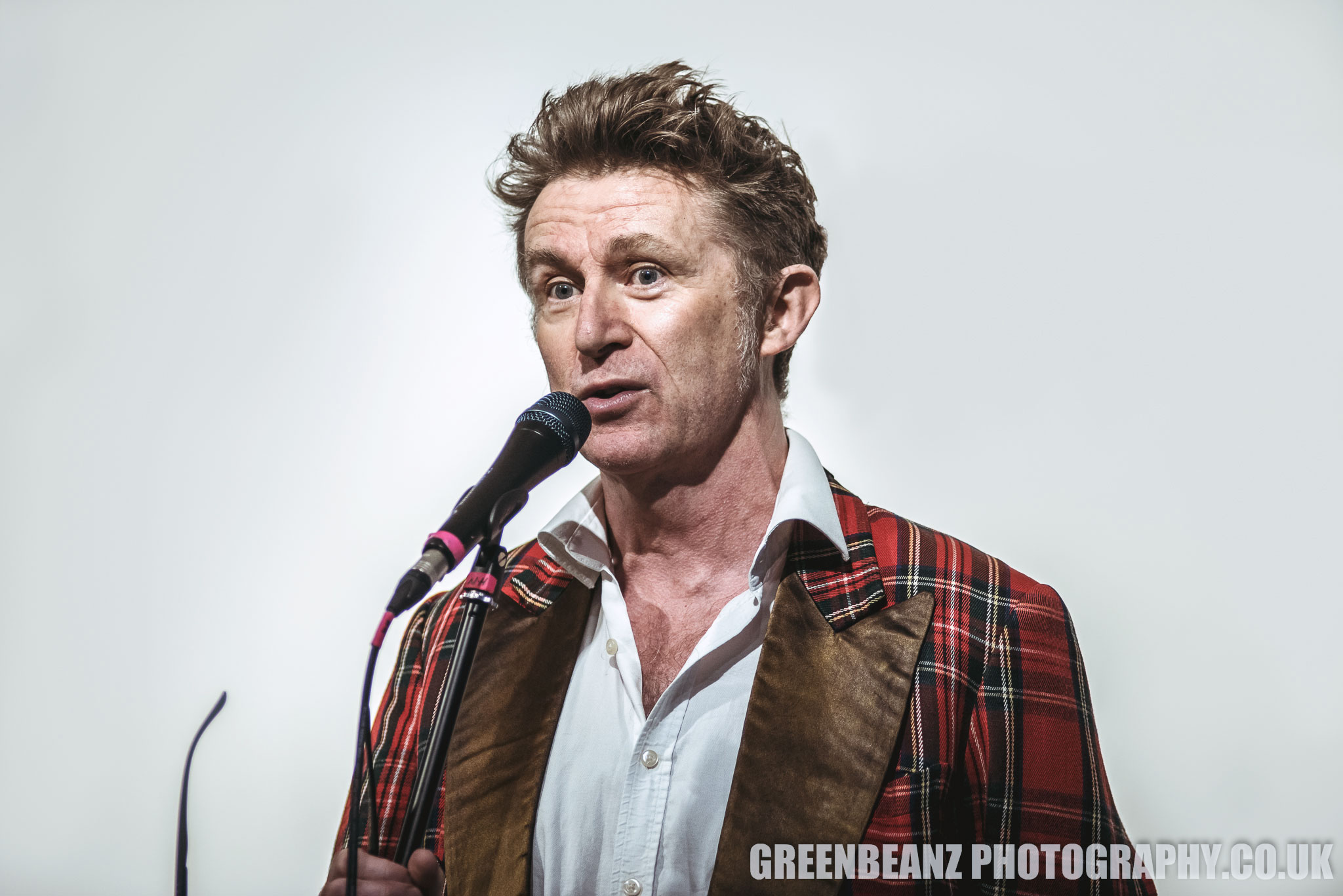 ABOVE : Elvis McGonagall hosts Poetry Pioneers launch The Royal William Yard Plymouth
Elvis, resplendent in red tartan jacket and turn-ups was a fantastic choice of host having taken the reins nearly a decade ago with the momentous youth slam project, 'Shake the dust'. I particularly enjoyed his more expletive laden lyrics, prone as I am myself, to voice more than the odd vicious vehement vociferation. His bombastic ranting never quite tipped into self righteous rhetoric. That is to say, he never made the mistake of stepping into the same malign magniloquence as his targets and his red, white ,blue and orange bashing was all the more enjoyable for it.
To witness him unleash 'Carry on up the Brexit', eyes alive and smiling at the ridiculousness of it all, whilst he spits out and voices the twisted logic of those facing backwards toward the imaginary future past, whilst railing at a world they refuse to acknowledge happening now is a joy. He is happy to flip sound bites, turning the mundane nugatory dogma of politics upon itself. He is happy to informalize their jargon, forcing it to share a sweaty room with slanguage, revealing the empty banality of politicians who sanitise language to the point of meaninglessness.
BELOW: Jane Slavin performs her poetry at Ocean Studios in Plymouth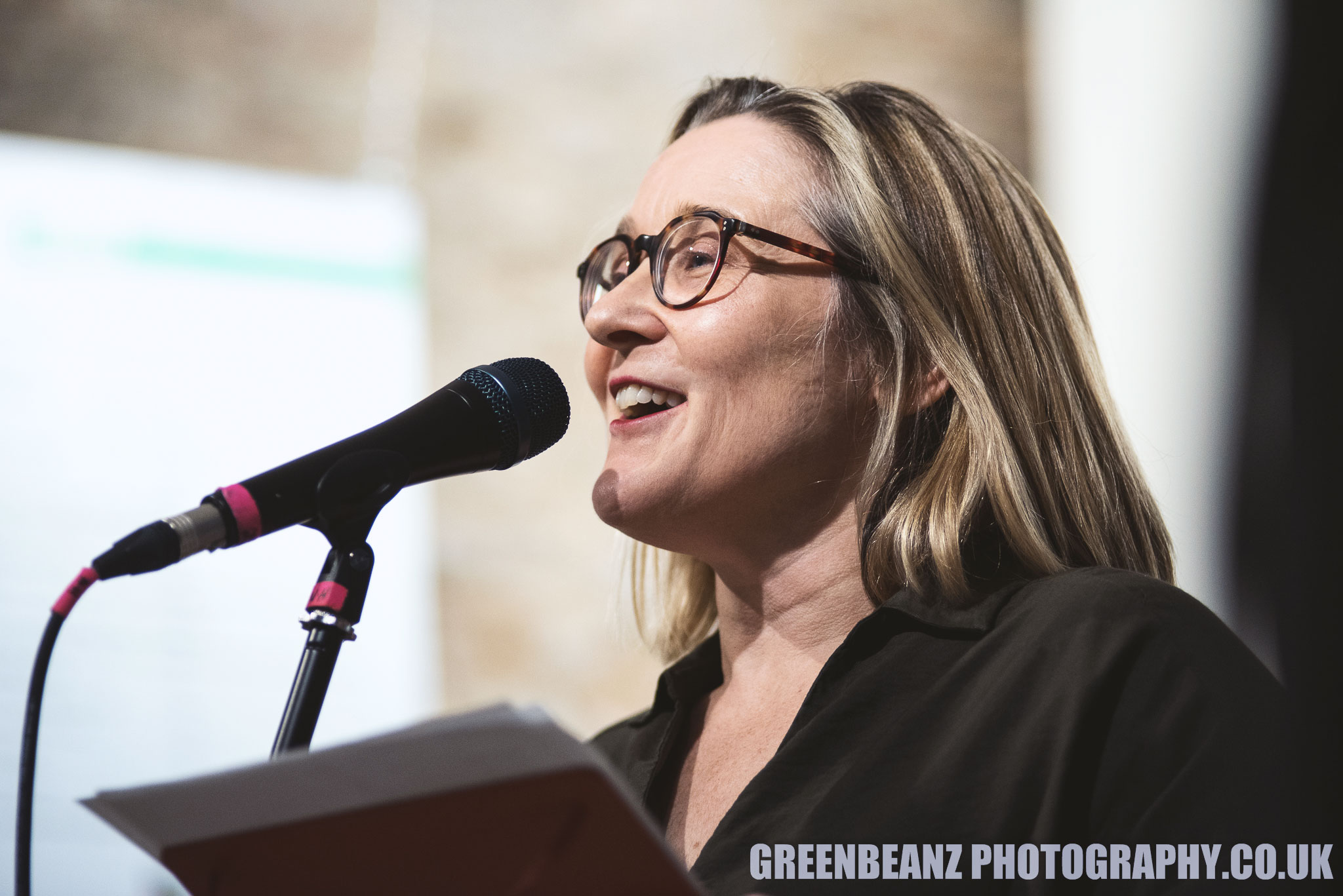 First up to perform was Plymouth poet Jane Slavin. She opened with her musings on Plymouth – 'Not a resort' , recalled to us all her school days in a most enlightening 'Nuns I have known', her award winning succinct and tightly packed brilliant evocation of the dehumanisation of women 'Perishable Goods' and her thoughts on Brexit and the UK with 'British Dream' ending with the poem on office diets 'Eat some Lard Love, Eat some Lard', a refreshingly frank reflection on the diet diehards whose office small talk seems to consist of little more than a life of almost religious eating habits, their self inflicted penance being elevated to some kind of life manual as prescribed by a modern day saint.
BELOW : Chris White 'Bard of Exeter' performs at Plymouth's Ocean Studios on 17/04/18
Next up was Chris White, the current bard of Exeter, who performed his Pen Poem. His superb notes on the humble pen had made him The Apples and Snakes South West Slam Champion with a well filled seven minutes of keenly observed annotations on the hand held weapon of choice, for those unaware of it's lesser known sword slaying qualities. Chris is a funny guy, but underneath there is a bubbling cauldron of ideas that sometimes rise quite unexpectedly to the surface. At times he can floor you with the keenly observed aptness of such unexpected insights. If furtive looks and raised eyebrows were bubble gum, you would be all out of pennies watching him perform, in an act in which he often seems quite surprised by how much both he and the audience are enjoying themselves.
ABOVE : Jack Dean on the subject of 'Poetry Pioneers' at the Ocean Studios Gallery

After a brief intermission, Jack Dean, a veteran of 'Spokes Amaze' at the Bike Shed Theatre, broke down the idea of Poetry Pioneers, deconstructing the idea of innovation being an ever upward march. The baby boomers leaving us, and following generations, with the holy mantra that progress is an upward line and newer is always better. As though innovation for it's own sake was somehow imbued without it's own magical privilege of superiority and Jack questioned this asking if, 'Tarmac, Service Stations, Facebook, Death Machines etc' are really improvments, or rather signs of an old fashioned malaise, 'a kind of pervasive neophilia is actually a kind of relic of a generation that believes things must inherently get better all the time'.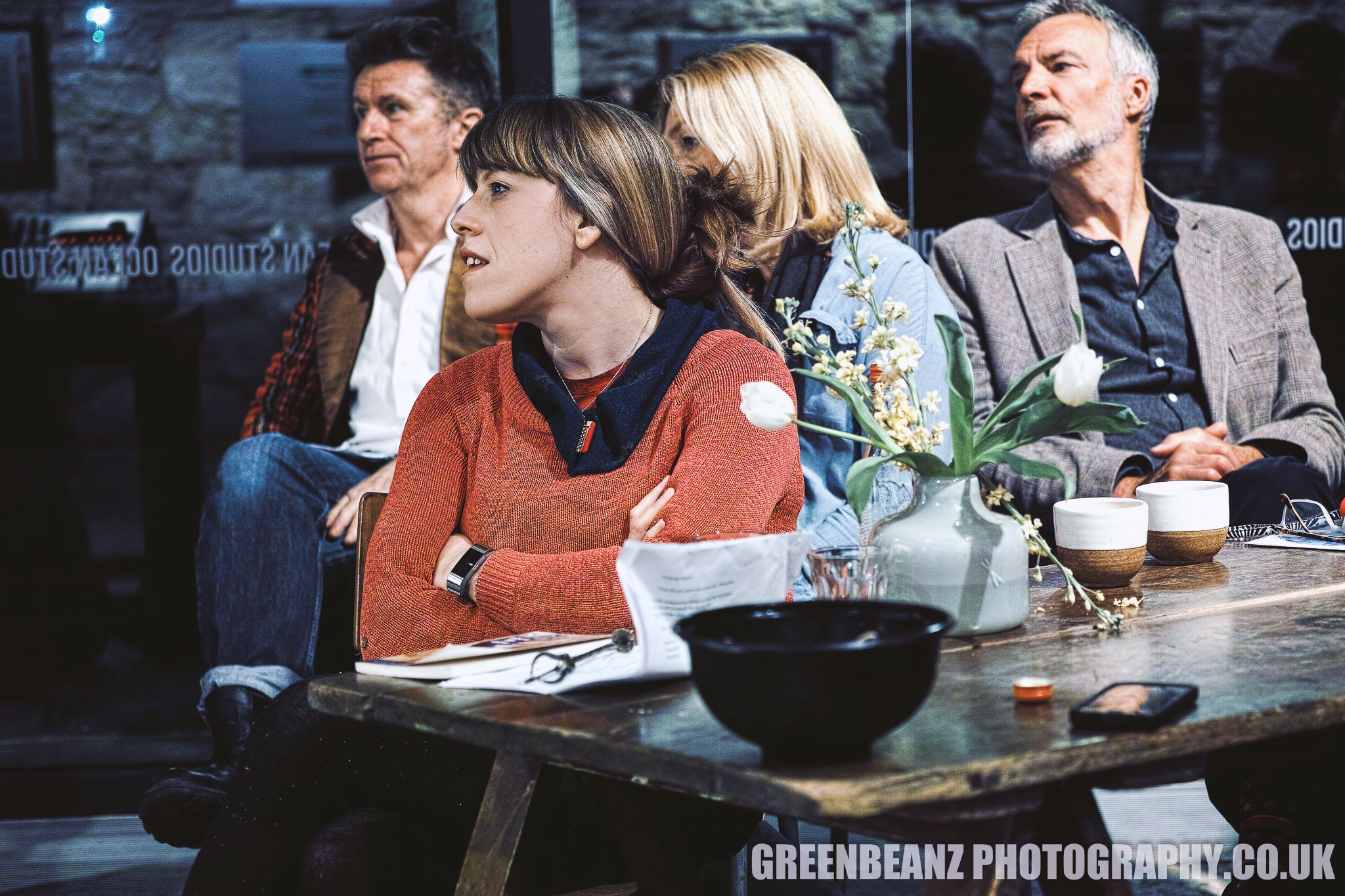 ABOVE : An attentive audience listens to Jack Dean's spoken word performance in Plymouth
He talked about the exhibition and rightly pointed out how trying to find a common theme between all the poets represented on the quote wall, and in filmed performances accessible on the watching/listening posts between, is not really the point. Poetry is laying down further footsteps on a path long worn, and the pioneering work of A& S is in getting the modern world to realise this, and help sometimes with very simple things, like making sure people get paid, or have a venue and the publicity to draw people toward it.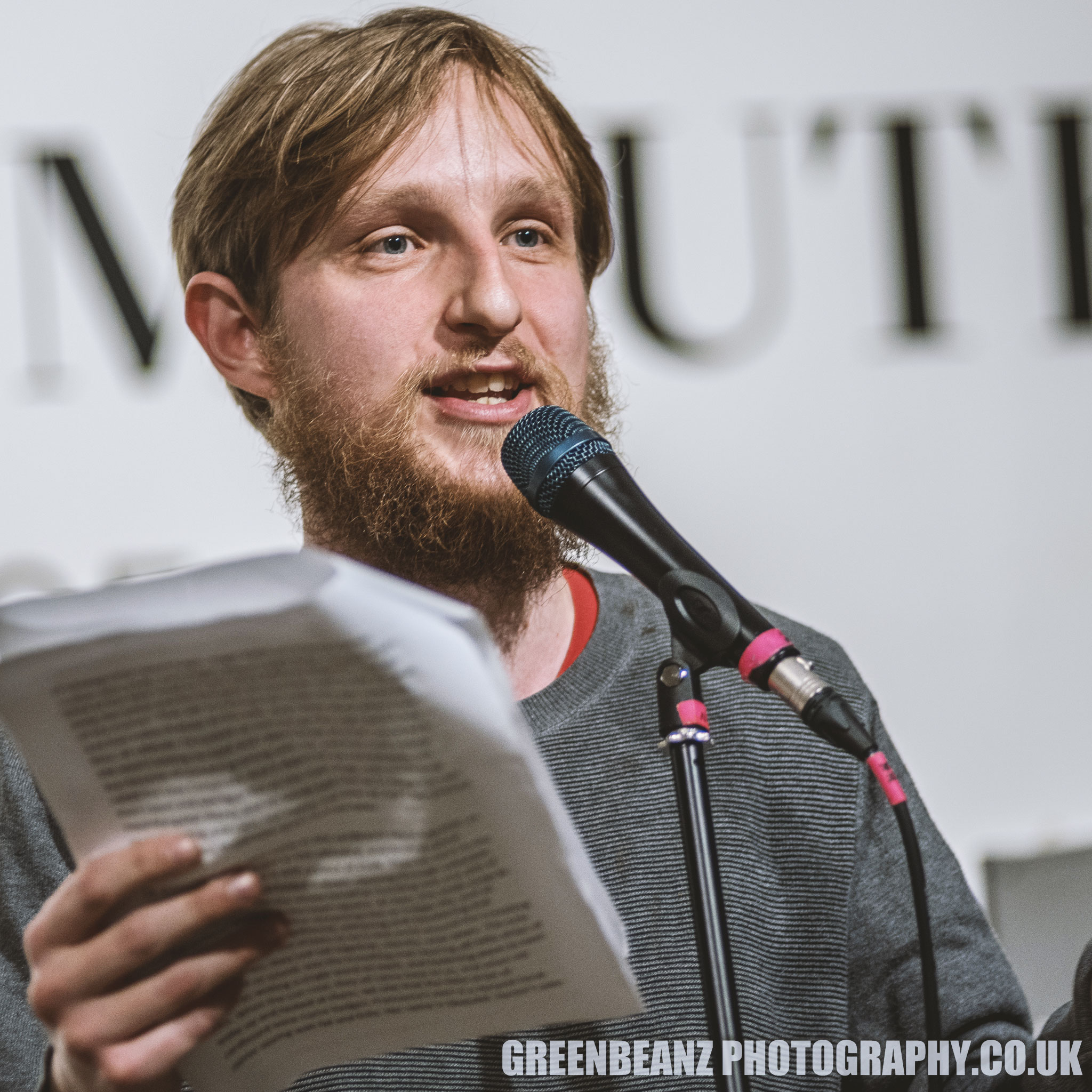 ABOVE : Jack Dean an Apples and Snakes veteran performs his commissioned piece

Jack Dean's investigation is one of a few commissions tonight and woven cleverly in-between the threads of exploration that he pulls at in undressing what is means to be a pioneer, are the sometimes quixotic, and sometimes pragmatic strands of his own personal experience. He thanks Gina from A & S for always having his back, and you can feel how real and genuine the support from the 35 year old organisation really has been for local poetry. You can sense that he has his feet in theatre and storytelling and there is a telling confidence in his rolling over words reeled out like catch nets from a confident trawler man riding breaking waves in familiar waters.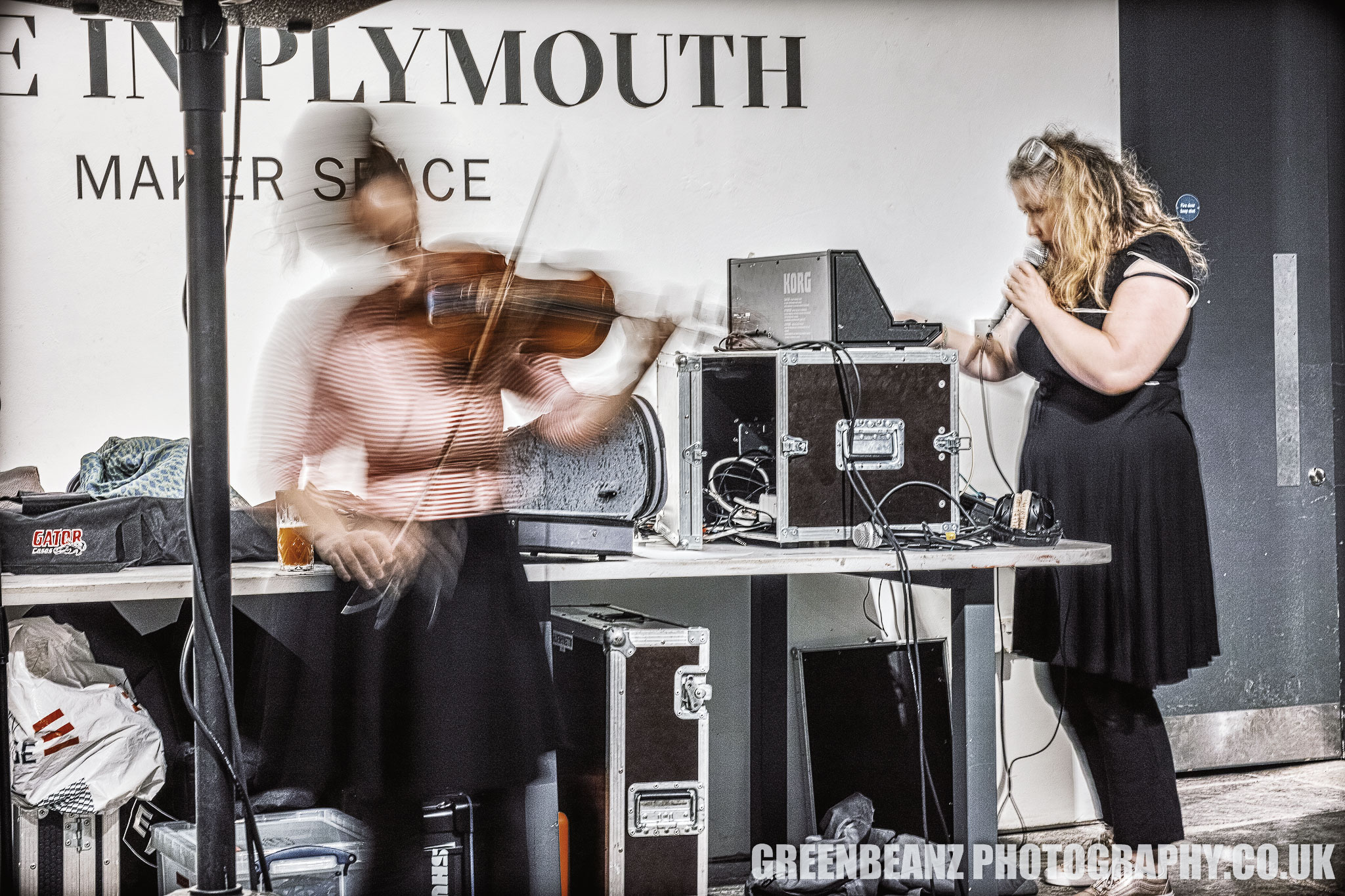 ABOVE : Check Out My Bad Self performing at Ocean Studios in Plymouth

'Check Out My Bad Self' broke up the evening with a musical performance that was nothing short of bloody marvellous. A big fan and proponent of manipulating and processing sounds live myself , as both a sound artist and musician, it was lovely to see the sound morphing and routing potential of what looked like a Korg MS-20 and a Kaoss pad put to good use in processing the sound of this four piece, three of whom play together as NSWAC.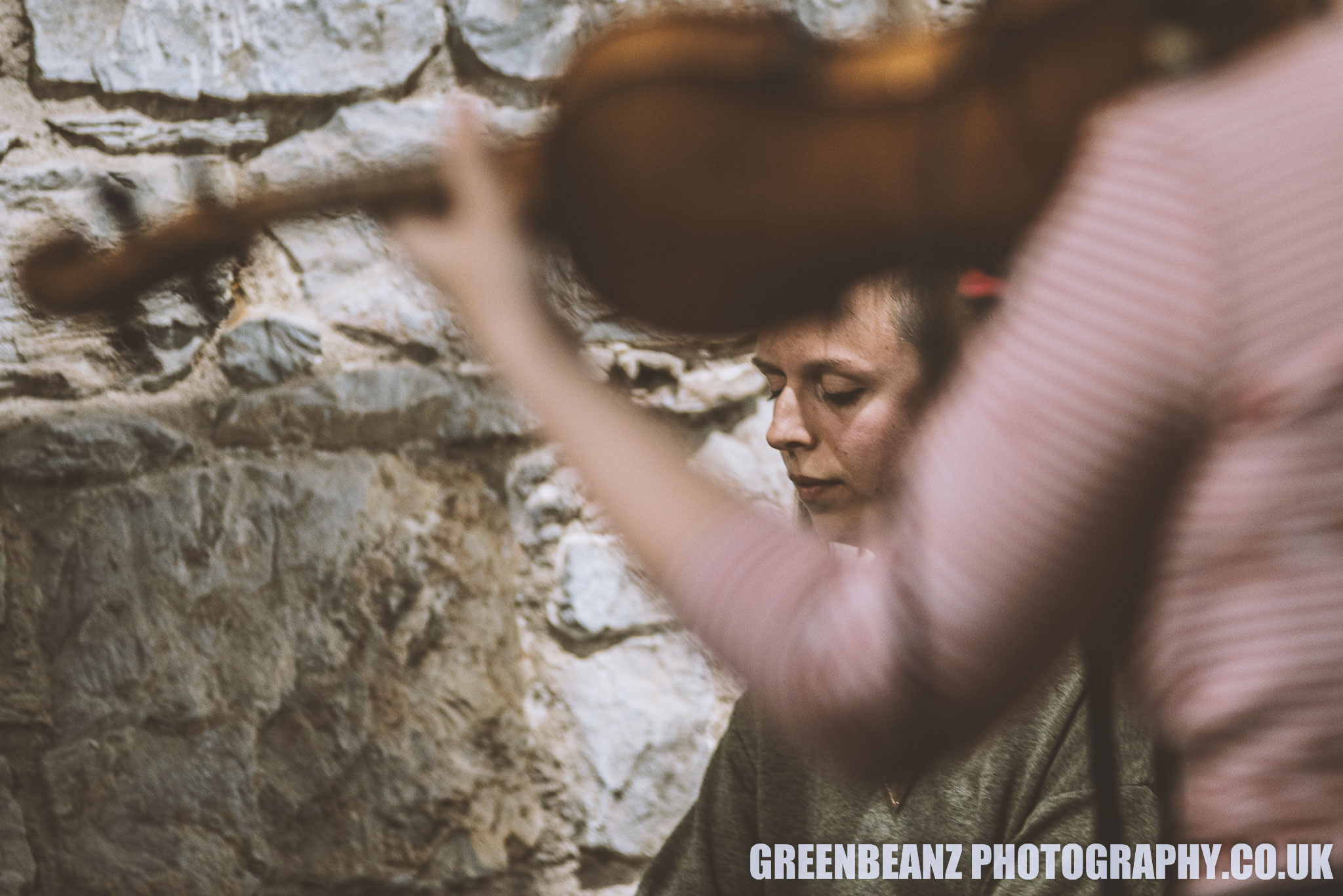 ABOVE : Check Out My Bad Self
The commissioned piece they played contained found material (text and sound) from the tremendous Apples and Snakes archive. I don't know if it was clever subterfuge, simple wit or just a tribute to the power of voice that the words read out were concealed within a Brian Blessed book, but the opportunity to mangle 'Gordon's Alive' being missed I would like to assume that the band were ,as they often do, employing their own trademark arch wit.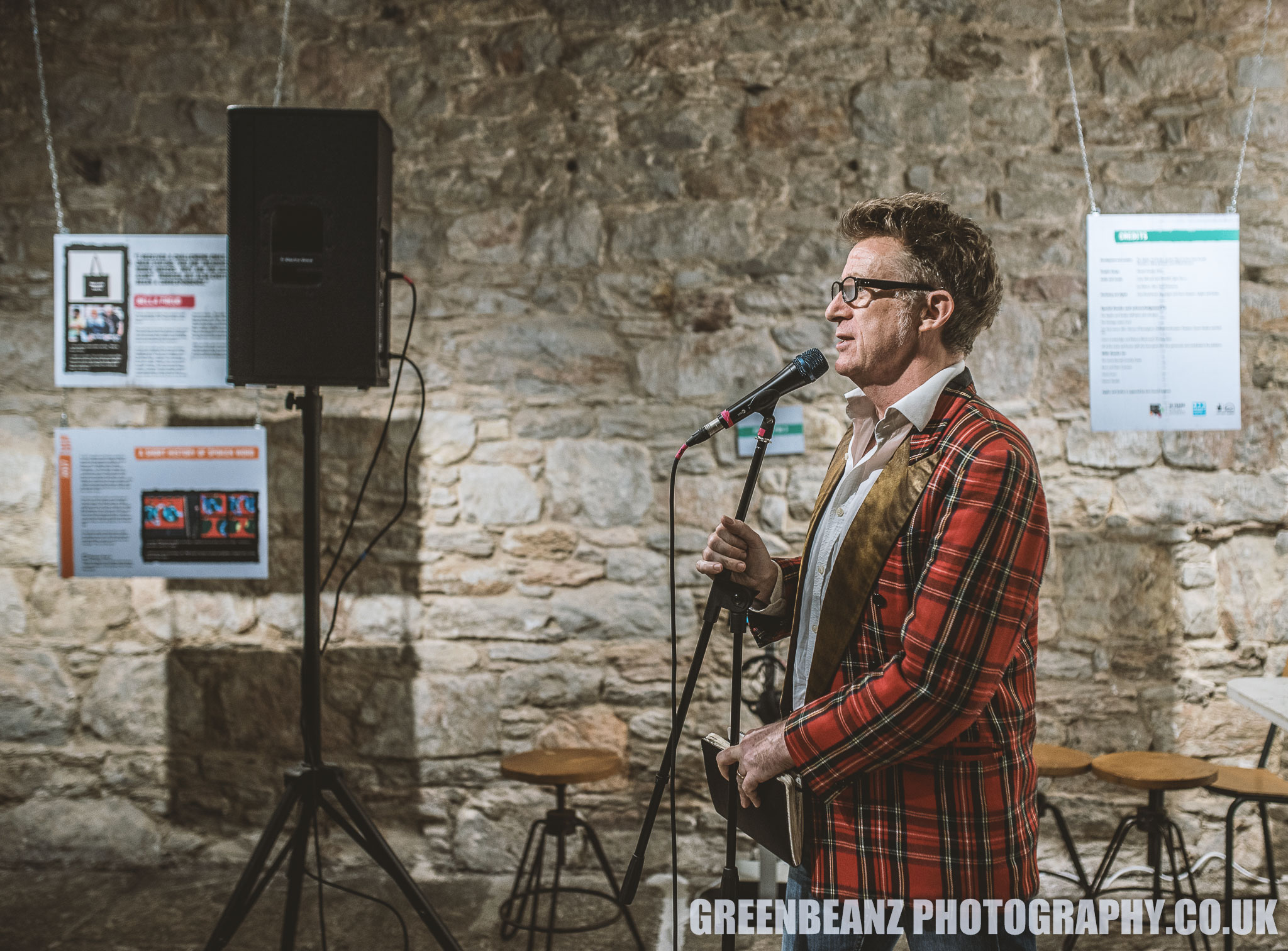 ABOVE : Elvis McGonagall spoken word performance at Ocean Studios in Plymouth
After a second break the shows final segment started with local punk poet Julian Isaacs, also known as Antie Pus, who rather unexpectedly for me, after trawling the archives for his comissioned piece, proved to be a master of the mash-up. Like Manray, Cornell and Höch, he combines not just found materials and themes but styles and approaches. A dapper gent himself in threads that pull together musical genres and styles, Rockabilly and punk, Jazz and the British look that informs all us gents of a certain age, from Noel Coward to the mods, rude boys and beyond, he dresses up wit in serious often, dark tones and juxtaposes far more complicated forms, styles and types of poetry than I could hope to grasp, with an easy laid back delivery akin to a panda tossing a bamboo salad.

He will hi-jack haiku with an eye for disguising shearing harangues on contemporary events, using Dadaesque kitchen knives in truncating treatise, dissecting dissertations, and lopping off the long form. He does all this, but not in a flippant social media friendly pruning of difficult realities. Maybe because he is not afraid of being the bushel that dampens the happy light, of abridging a bridge to far, or maybe simply because he can.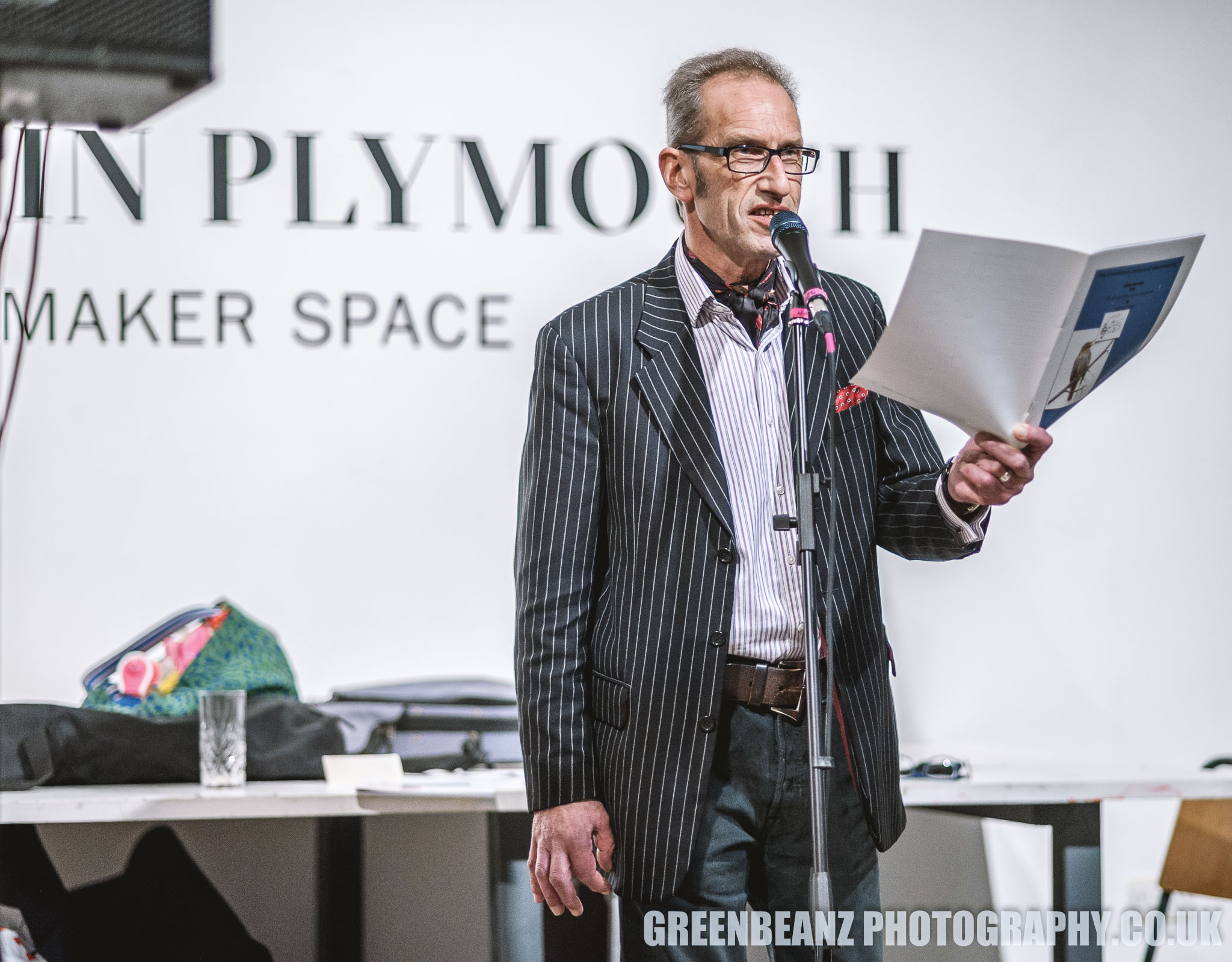 ABOVE : Julian Isaacs at 'Poetry Pioneers' Ocean Studios Gallery in Plymouth
It reminds me of how much I regret the Dr Feelgood support gig I could have played at the Plymouth Academy never happening, and I begin to wonder if their van really had broken down or if I had simply imagined it, and whether warming the stage for the uncorked brilliance that is Wilko Johnson in full flow would have made me jack it all in, or shoot off down another reality potentiality , with a funny walk and the confidence to use the words in my head, and not the substitutes that take their place, like trodden on Subbuteo players held together with sellotape.
BELOW : Julian Isaacs (Auntie Pus) The Punk Balladeer at The Royal William Yard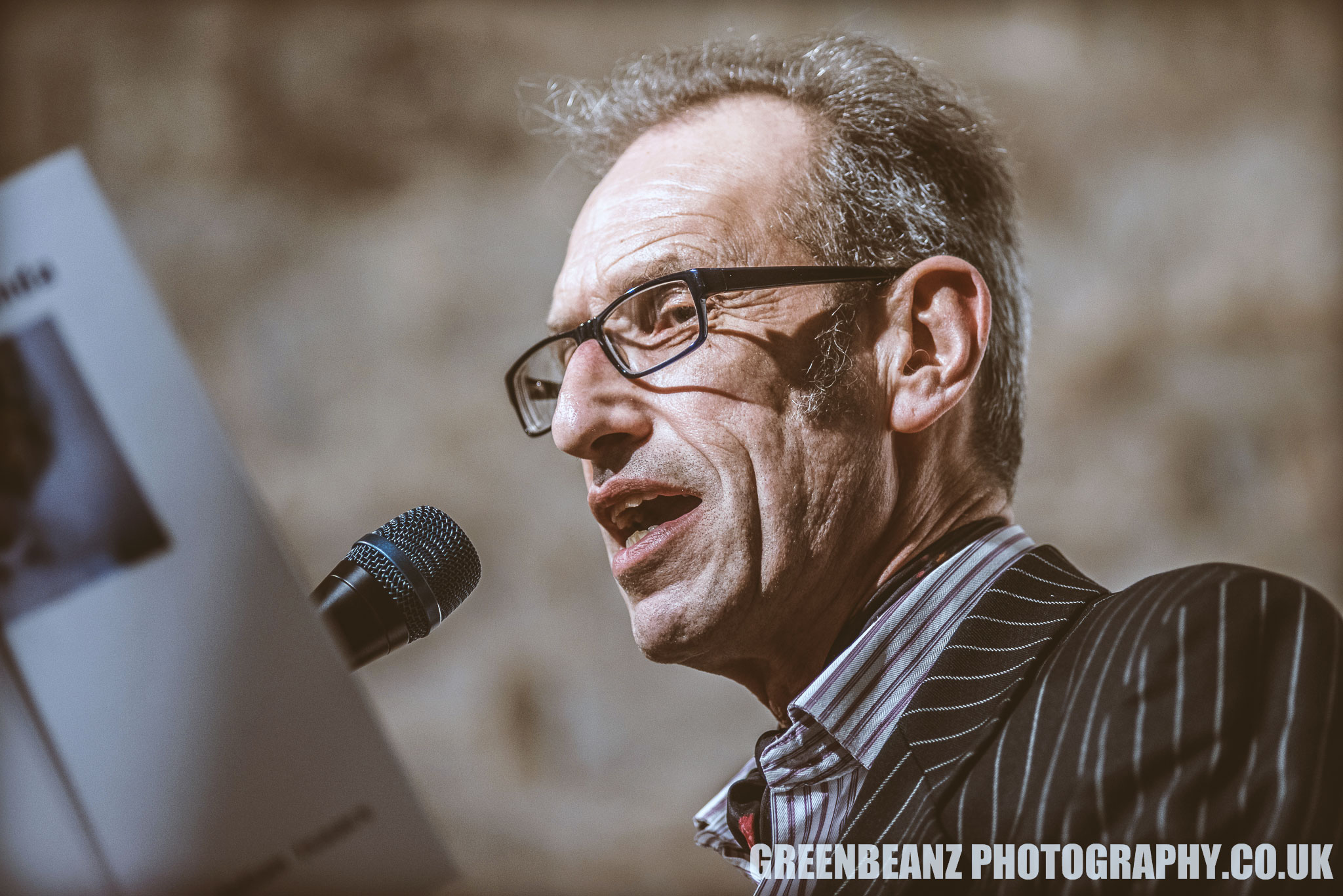 In stark contrast the evening closes with the ebullient Liv Torc, whose energetic always moving dramatic exultations expounded on everything from giving birth, family ties and her amazing luxuriant mane of golden hair. She moves effortlessly from the metaphysical to the physical, in a sometimes visceral evocation of the personal and local experience.
She reminisces on 'The Devon Poetry Scene Circa 2006 – 2013' explaining how the geography and people of this special place were often amazed and bewildered not just by the new age eco-friendly progression of the urban metropolis and northern scene above us, but also by their own sense of wonder when they realised we had been doing this stuff for years. She cleverly crafts tributes to poetry nights and venues, local nomenclature and rural epithets populating her verse like friends that rub shoulders with common experience,happy to share the lint from each others shoulders.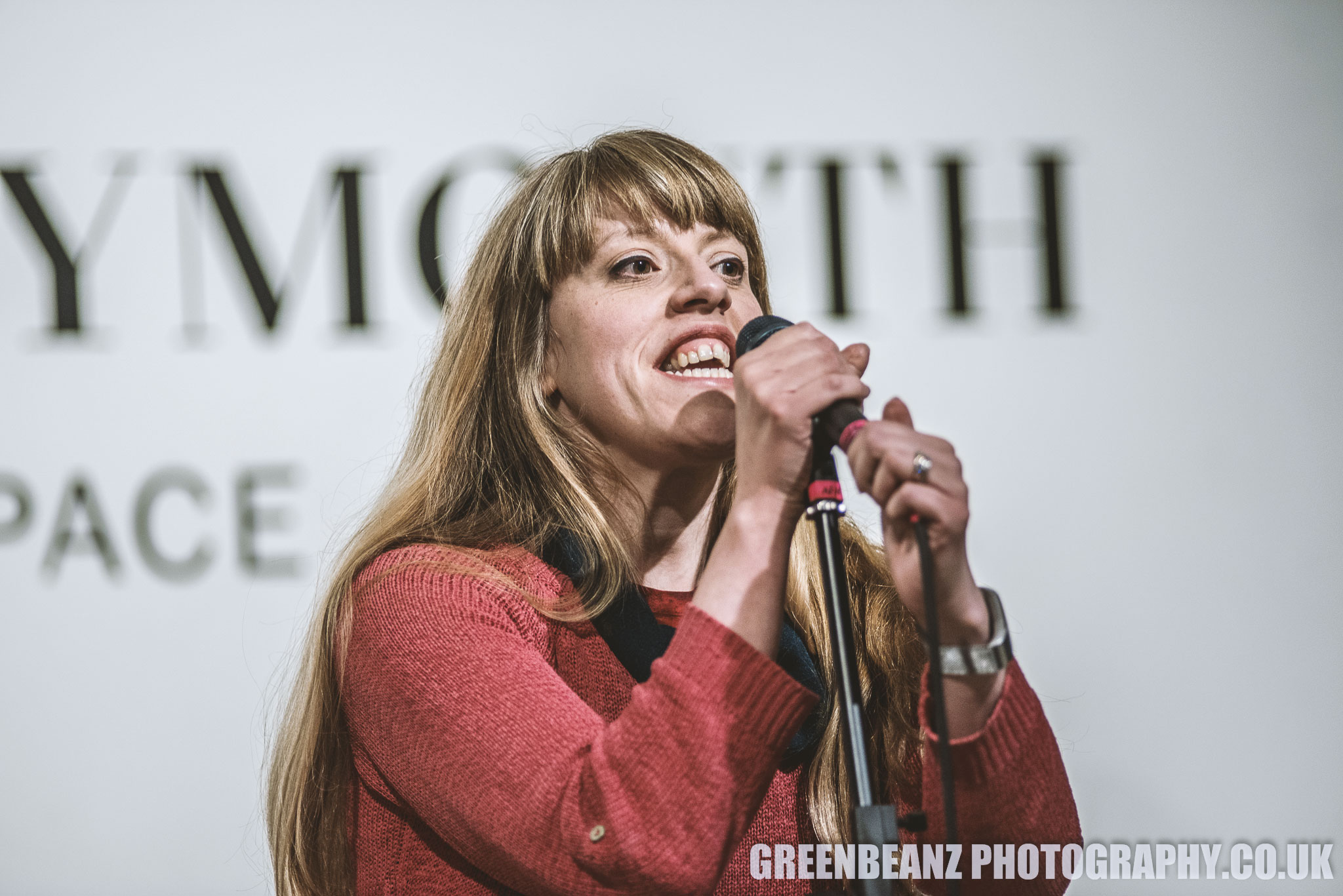 ABOVE : Liv Torc the embodiment of all that is special about the Devon Spoken word scene
Then with 'Hairloom' she extracts and unravels her connection with family and her magnificent thatch of tresses, which she plaits as she chants and repeats, 'blood over grit, time over blood, grit over time'. So effusive is her gesturing that it encompasses her golden strands, enlisting them as players in the performance, twisting and flowing like the words that unfurl and sway, sometimes hanging there, enlightening and framing the generational tale 'passed down from heir to hair'.
BELOW: Liv Torc talks about hairs and heirs with her poem 'Hairloom' in Plymouth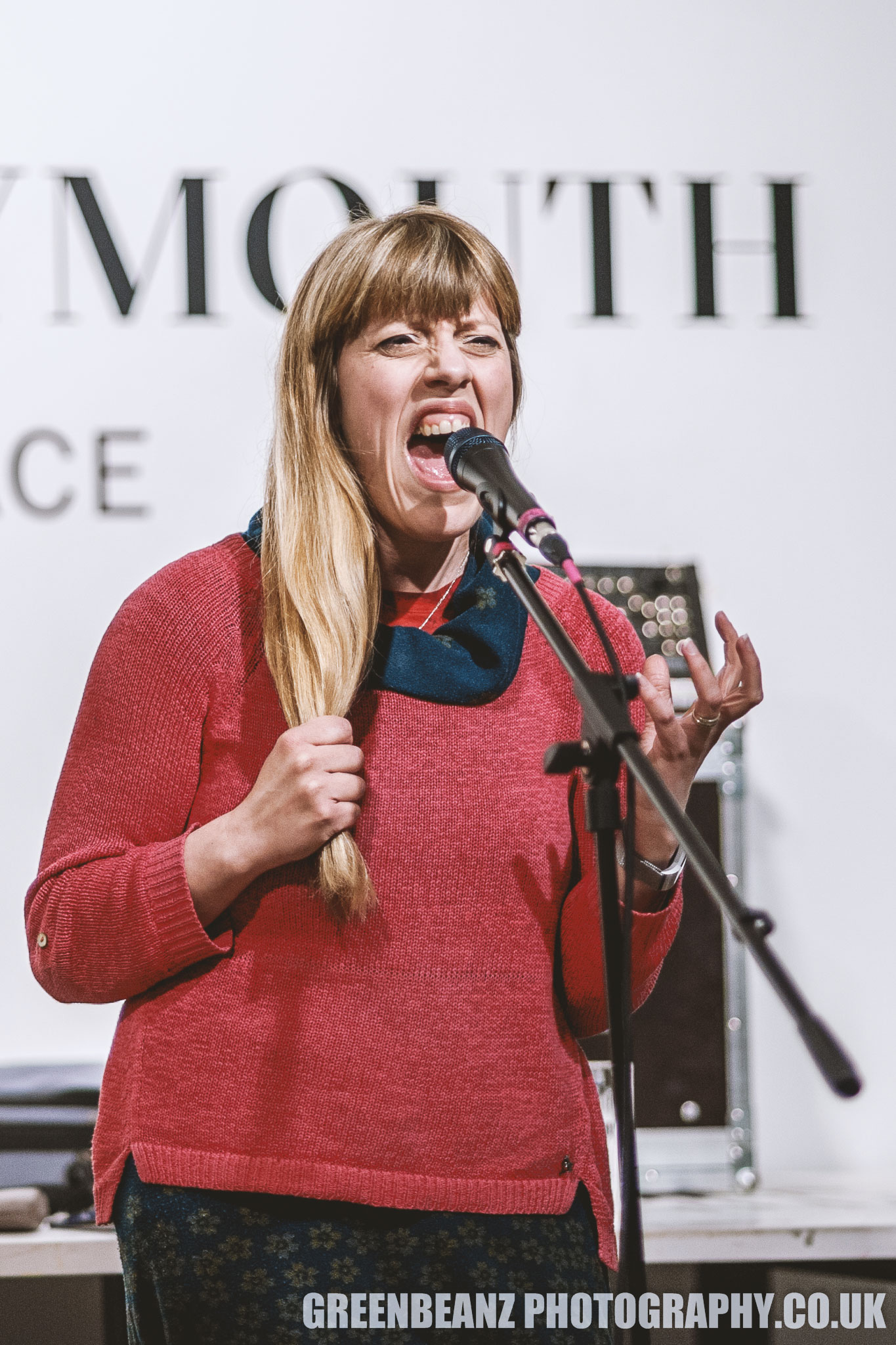 'The Crowning' manages to be painfully enjoyable and amusingly educational, which sounds horrific until you witness the force that is Liv Torc delivering it. (I realise now I could probably have phrased that better.) In a glorious cascade toward the inevitable coronation that awaits you at the end, Liv takes in Fred Dibnah, She-Rah, Artemis and the Lady Galadriel in a glorious gallop culminating in that momentous occasion that lends this poem it's title in the second stage of labour.
BELOW: Launch Night for The Apples and Snakes: Poetry Pioneers exhibition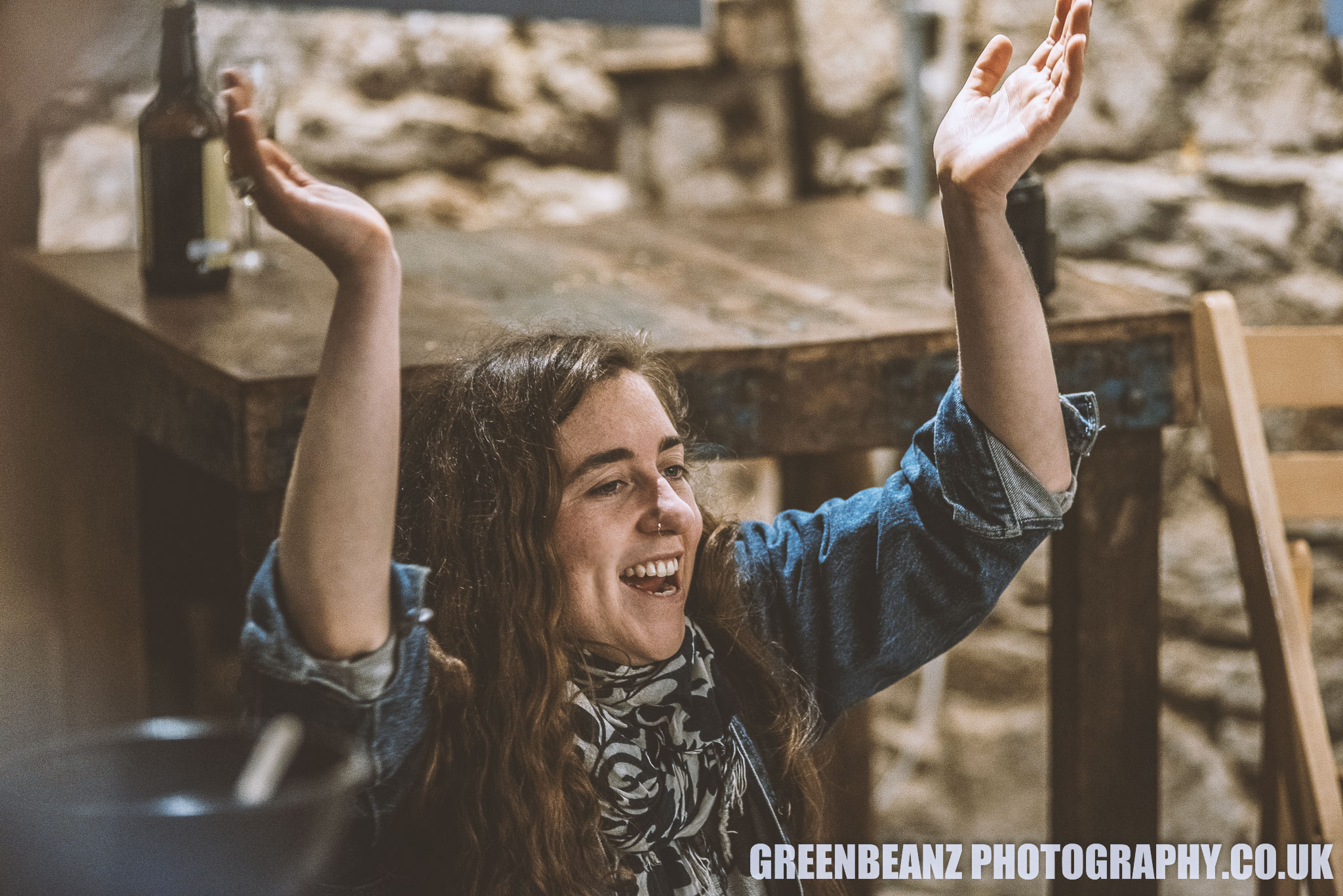 Liv's magic is that by that point, you are there with her and her cast of superheroes. You want to high five her "Grandmothers, grandmothers, grandmother" and " call up your own inner She-Ra", so irresistible and infectious is her performance.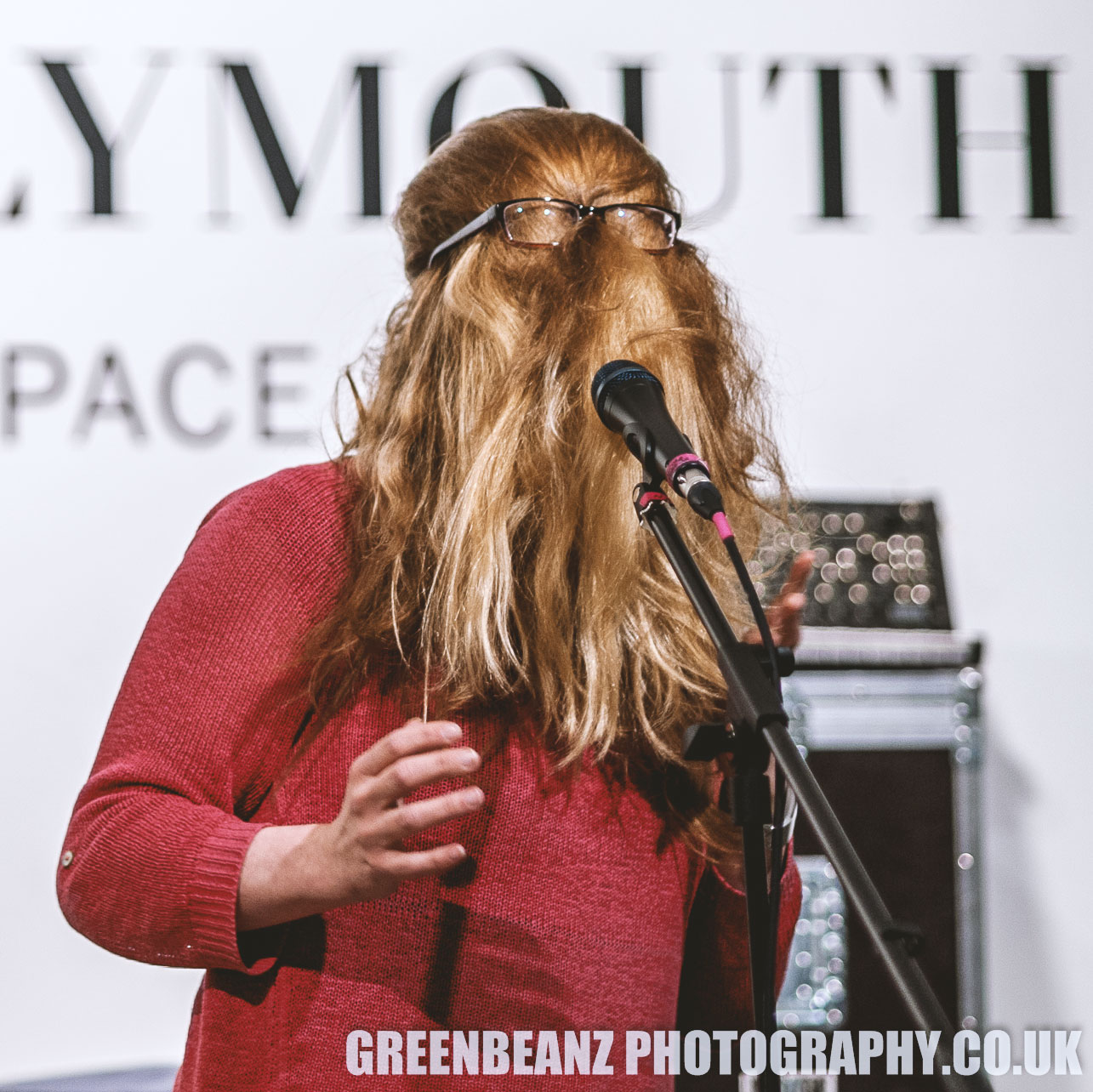 ABOVE: Liv Torc does her best 'Cousin It' during her performance in Plymouth

It was lovely to see so many poets there much like musicians at gigs, and of course many here are both. 'Mama' Tokus the Forked Host, Local poet Marion Clare of The Spoils Collective and of course Auntie Pus / Julian Issacs from Hot Club of Stonehouse.
Poetry Pioneers continues with Versify at 6:00pm at Ocean RWY on April 26th show before a ferry ride to Forked an evening of spoken word and poetry at the B-Bar on Plymouth's Barbican starting at 8pm
If you would like to book me to capture your performance, exhibition, gig or any other kind of event, you can contact me HERE
---