Greenbeanz Photography
Storms OCTOBER 2017 | Devon and Cornwall Action & Landscape Photography | Blog | Outside of the frame
OCTOBER 2017 | Ophelia and Brian| Plymouth Storms| Wind and Waves across Plymouth | Photojournalism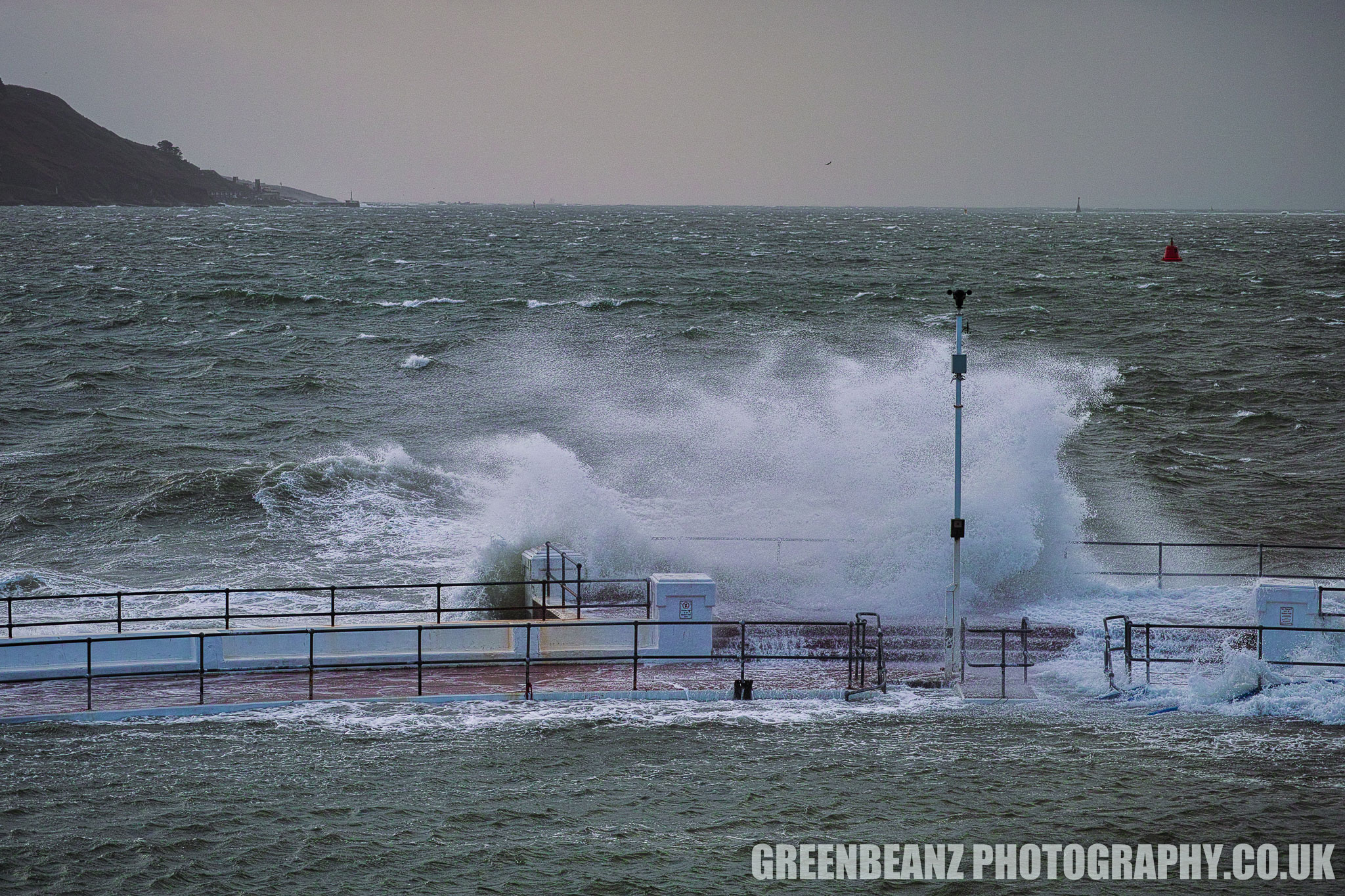 ABOVE : Plymouth Lido is hit by a wave during storm Brian in October 2017.
Plymouth Storms 2017 | Ophelia and Brian | Devon and Cornwall Photojournalism
In October 2017 the Devon and Cornwall coastline was visited by the tail end of Ophelia, a downgraded hurricane that had torn through Ireland. and then a couple of days later, Brian, another storm who although not expected to be as strong, coincided with a seasonal high tide.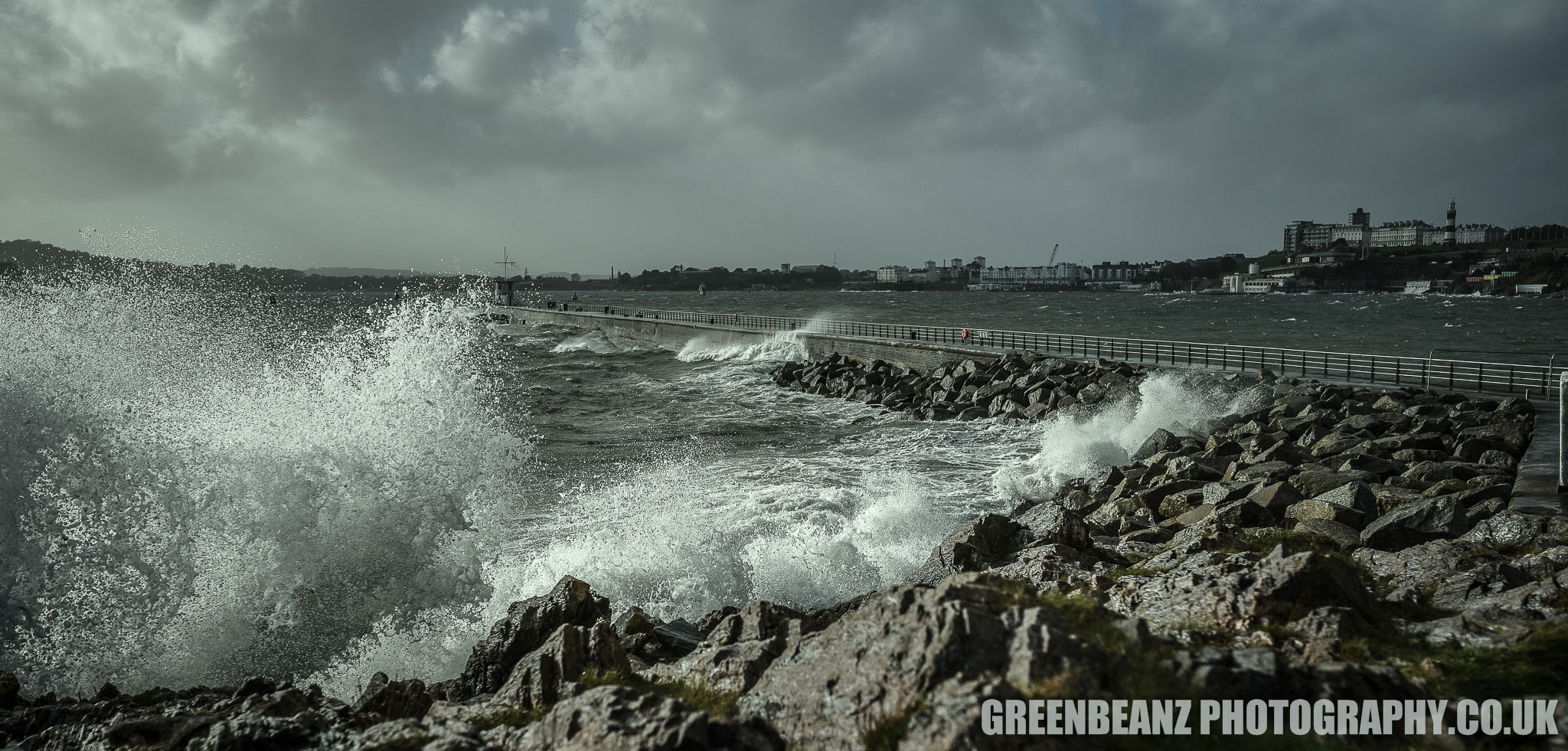 ABOVE : Mount Batten Pier in Plymouth under the tail end of storm Ophelia in 2017
One of the joys of living in Devon or Cornwall is the unique advantage of having coastlines on both sides of the counties, the peninsula being defined by the ruggedness and beauty of it's cliffs and the sheer multitude of beaches that serve as an interface between land and the channel on one side, and the Atlantic ocean on the other.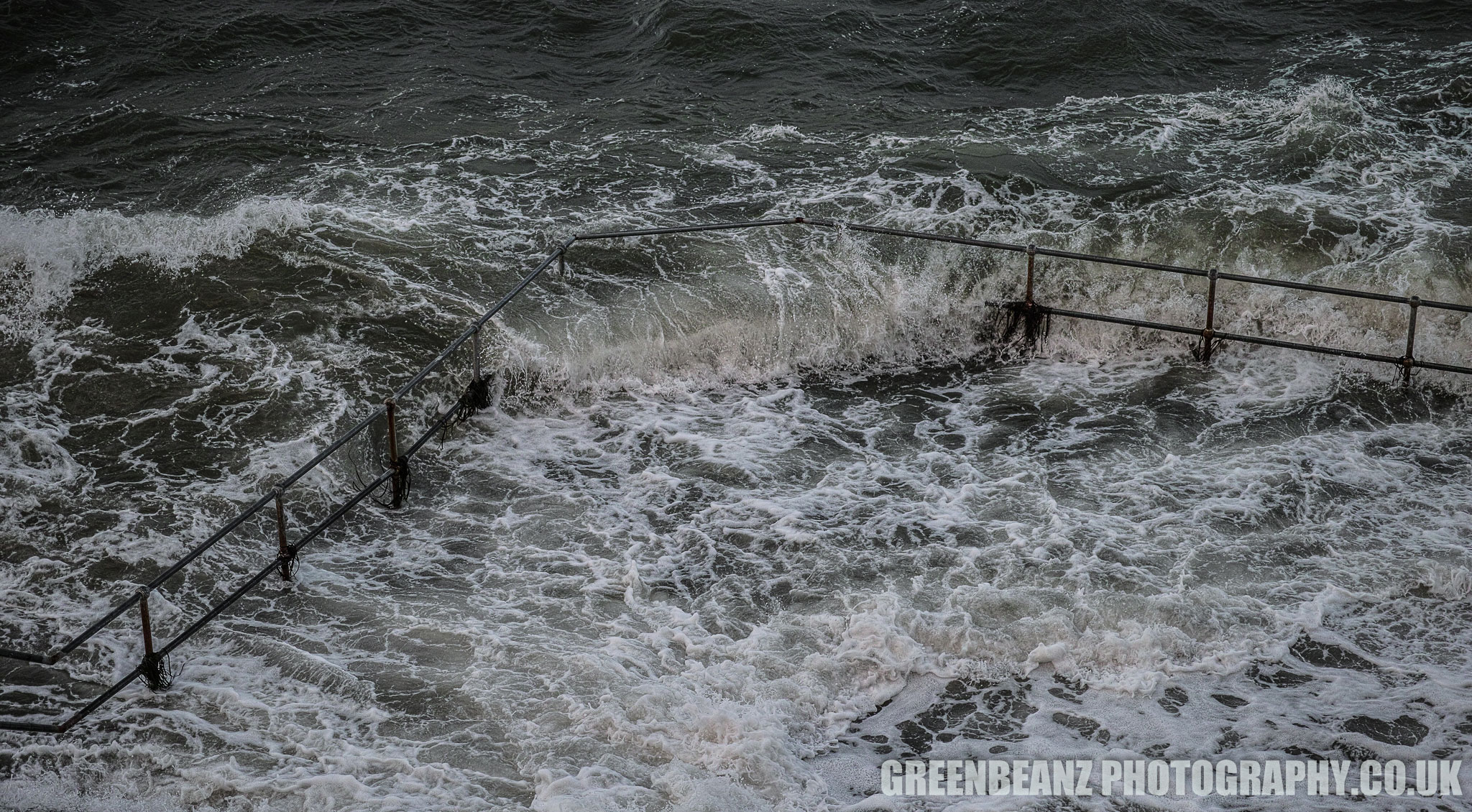 ABOVE : The Sea here on Plymouth Hoe during Storm Brian does not respect boundaries

This easy access and deep and lasting relationship with the sea comes with dangers and an innate respect from locals, that though it may provide a livelihood with Fishing , Ocean Science, Pleasure Cruises and the Tourists who flock to our shorelines every summer, the sea can be a cruel mistress. The power of storms to unleash waves capable of sweeping unsuspecting people off harbour walls, and even cliff edges ,is a sad reality that we have to remember each year that people refuse to heed warnings.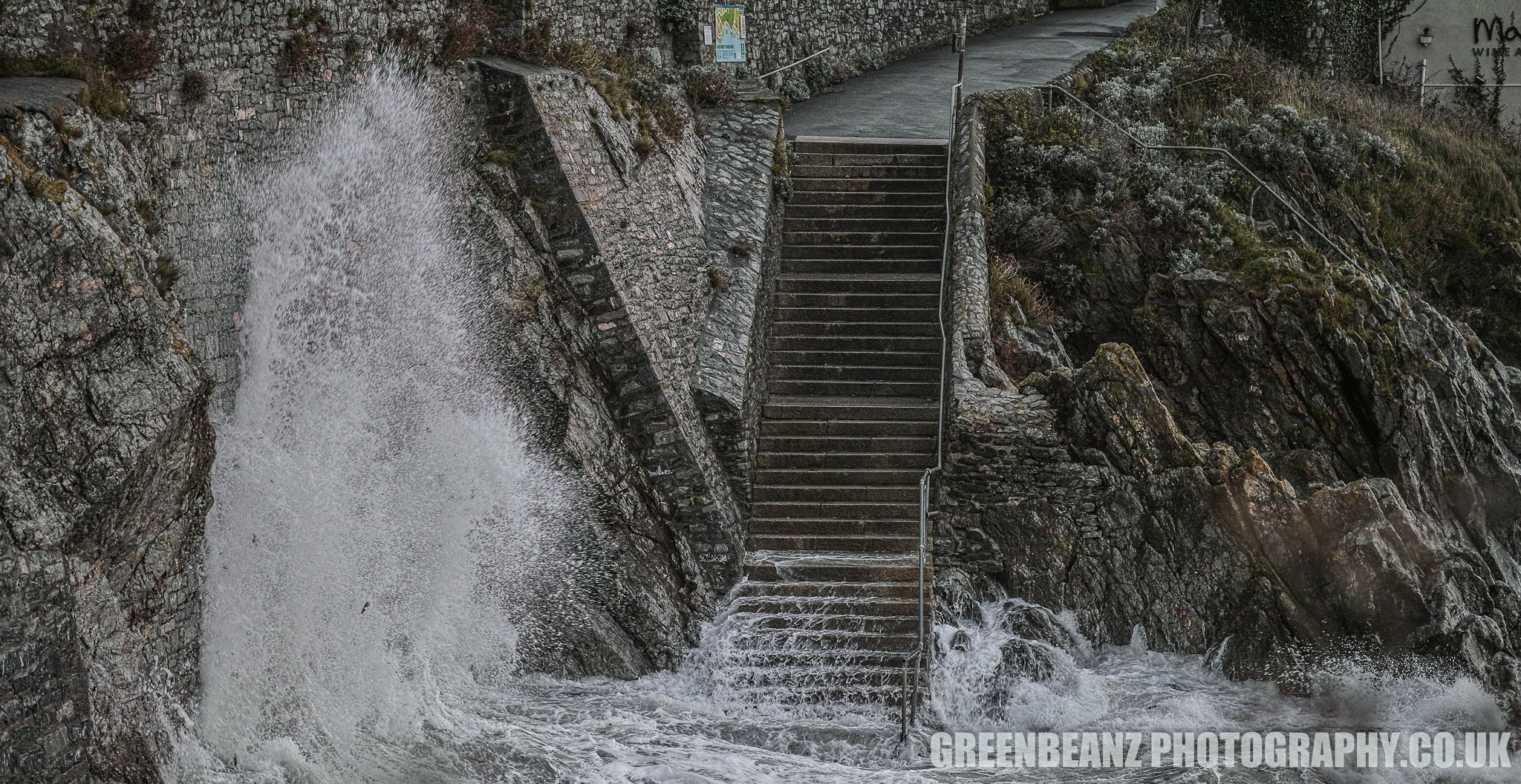 ABOVE : Wave crashing against the wall on Plymouth Hoe during Storm Brian 2017

The drama is magnetic though and photographers continue to venture out in an attempt to try and capture that angry motion whenever a storm visits these shores.This years two early storms were not as fierce around Plymouth has had been expected, and where the storms of a couple of years ago had breached the high walls of Plymouth Hoe, this year they were content to lap against the boundary reaching only about two thirds of the way up at their height.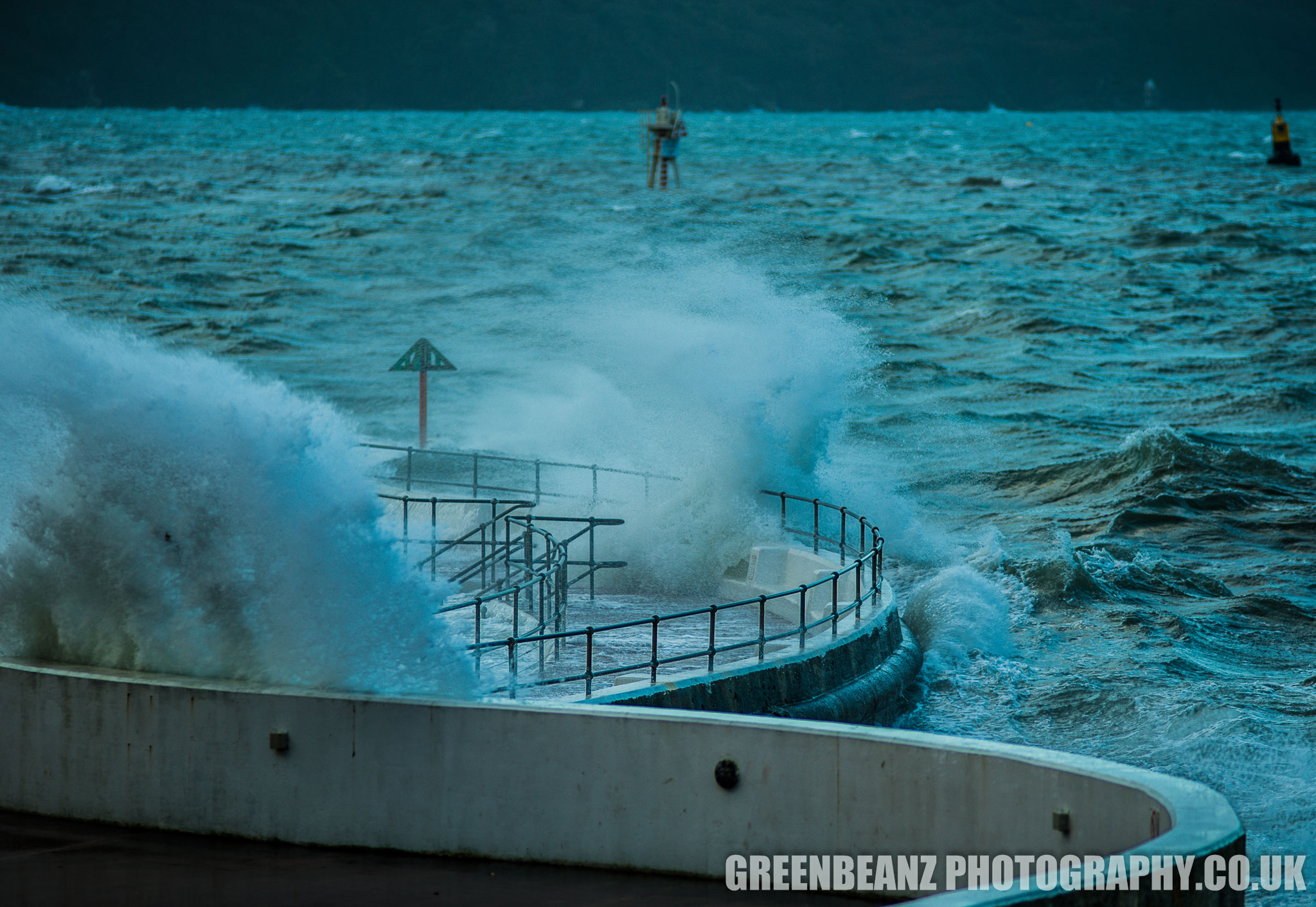 ABOVE : Storm Waves in Plymouth safely captured with a Nikon 180mm f2.8 telephoto

The safest place to be in a storm is inside watching it on the goggle box, but if you do venture out, please use common sense. A decent telephoto or zoom lens is the key to avoiding the hazardous waters edge, but even more important than that is a sense of respect and caution. Watch from a distance and see what is wet. Though the waves may not appear to reach were you are, if it is wet (and not raining) on the ground in front of you, the tide has been there, and even if you are lucky to survive a drenching, most cameras will be killed off by salt water inside the body.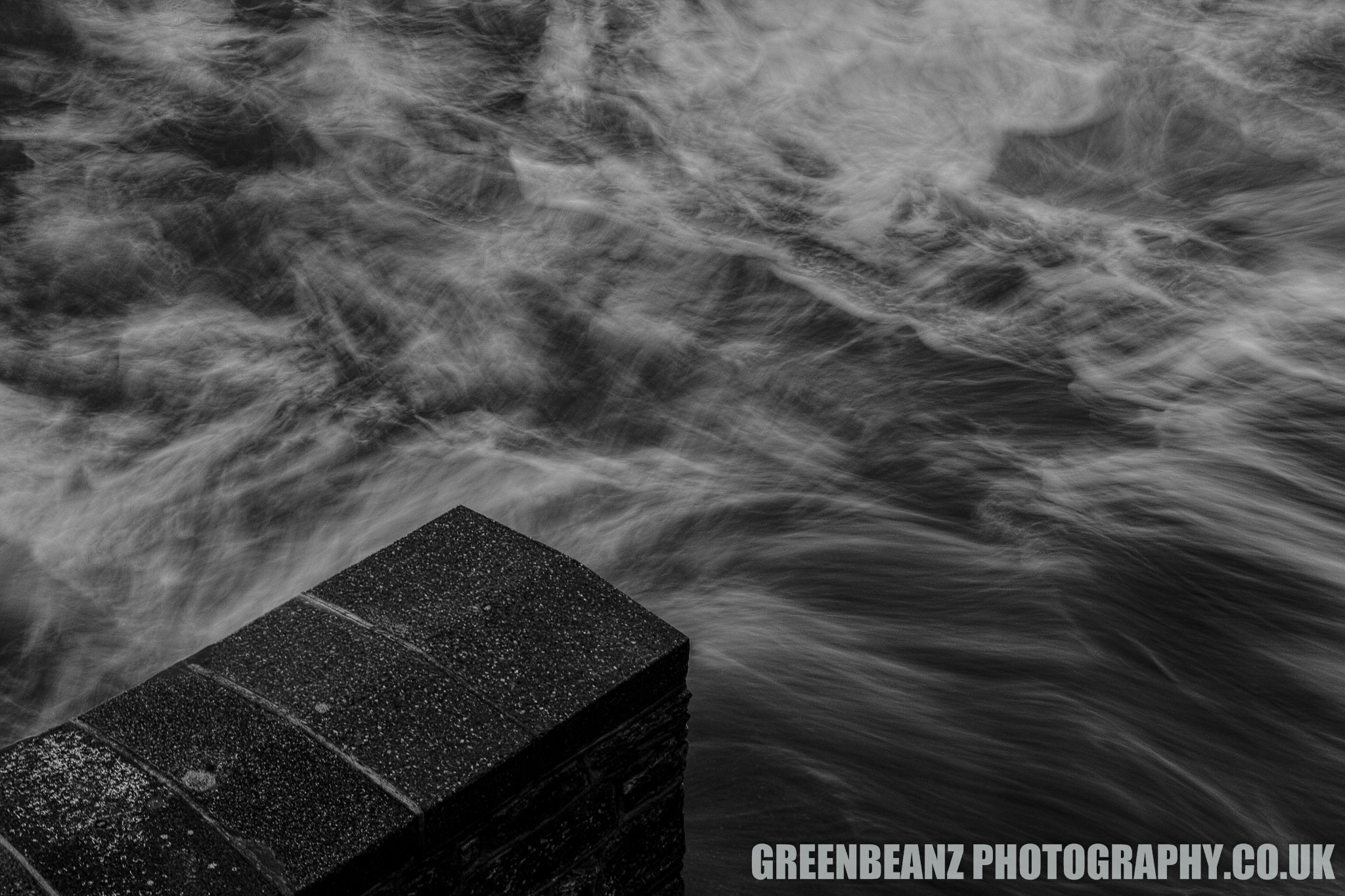 ABOVE : Long Exposure Photograph of Waves before sunrise on Plymouth Hoe Waterfront

The high tide for Brian happened before the sun was up and so long exposures were key at first. You will often find though that even the heaviest tripod with a sandbag attached will get blown over. If you are having trouble standing then you camera is not going to last long out of your hands. Fortunately Brian was not as full on as expected and so I could experiment a bit with some stock long exposures to form the basis of new artwork later in the year.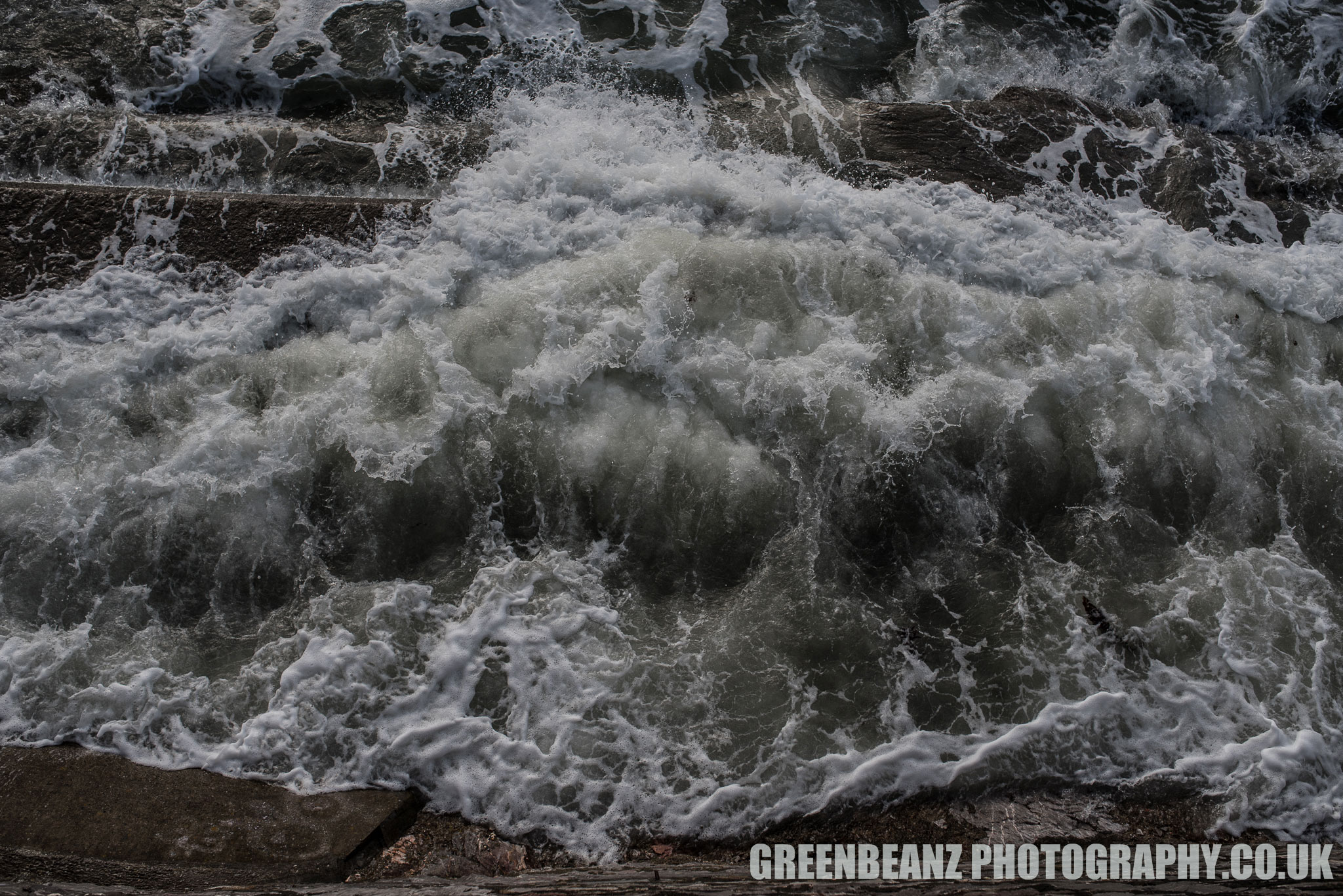 ABOVE : The Sea from above photographed from a wall above Plymouth Hoe Waterfront

Have fun in all the weathers that Britain provides for us, often in the space of one day. Be prepared though and stay safe.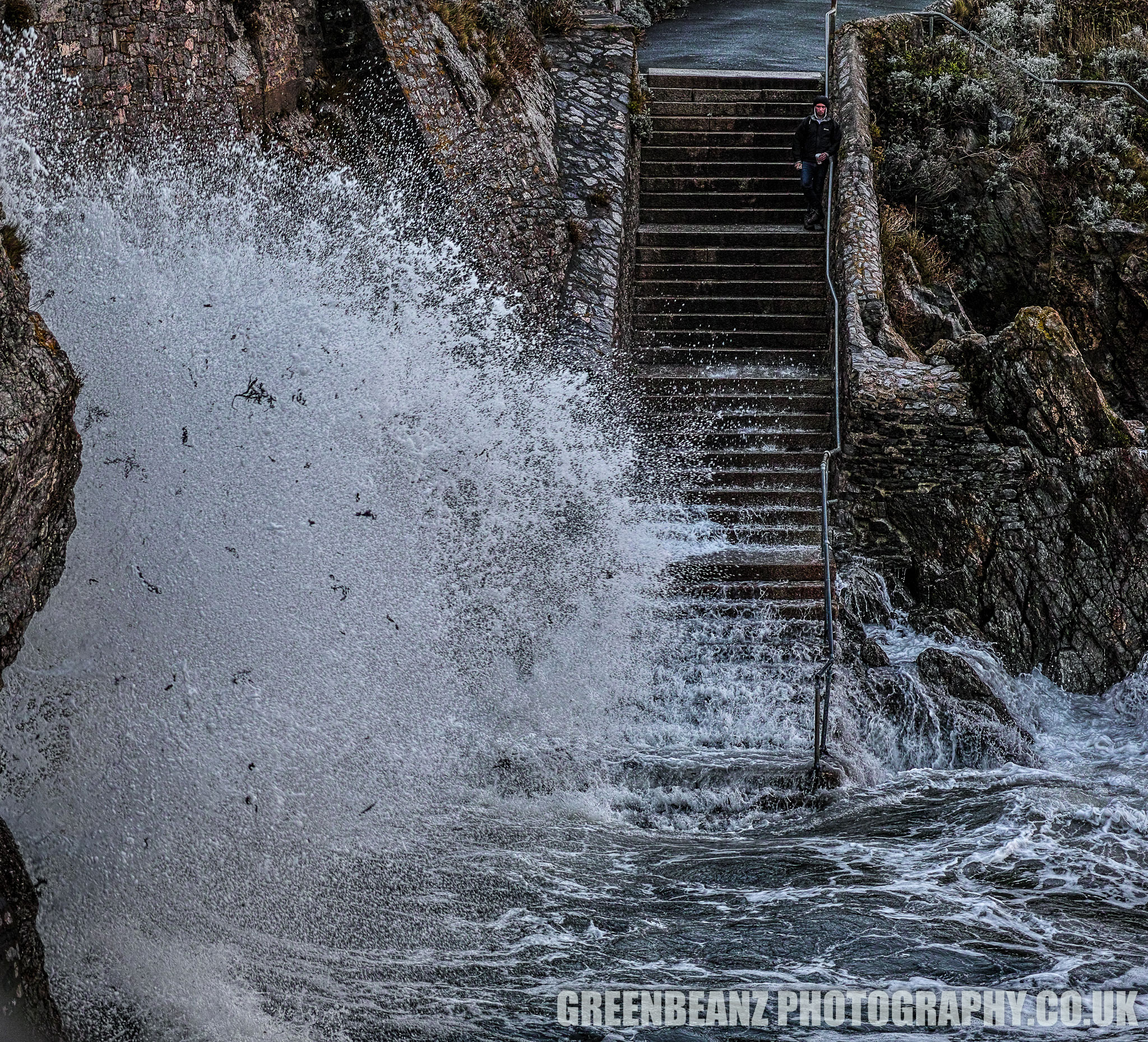 ABOVE : Not the safest of spots from which to photograph a storm on Plymouth Hoe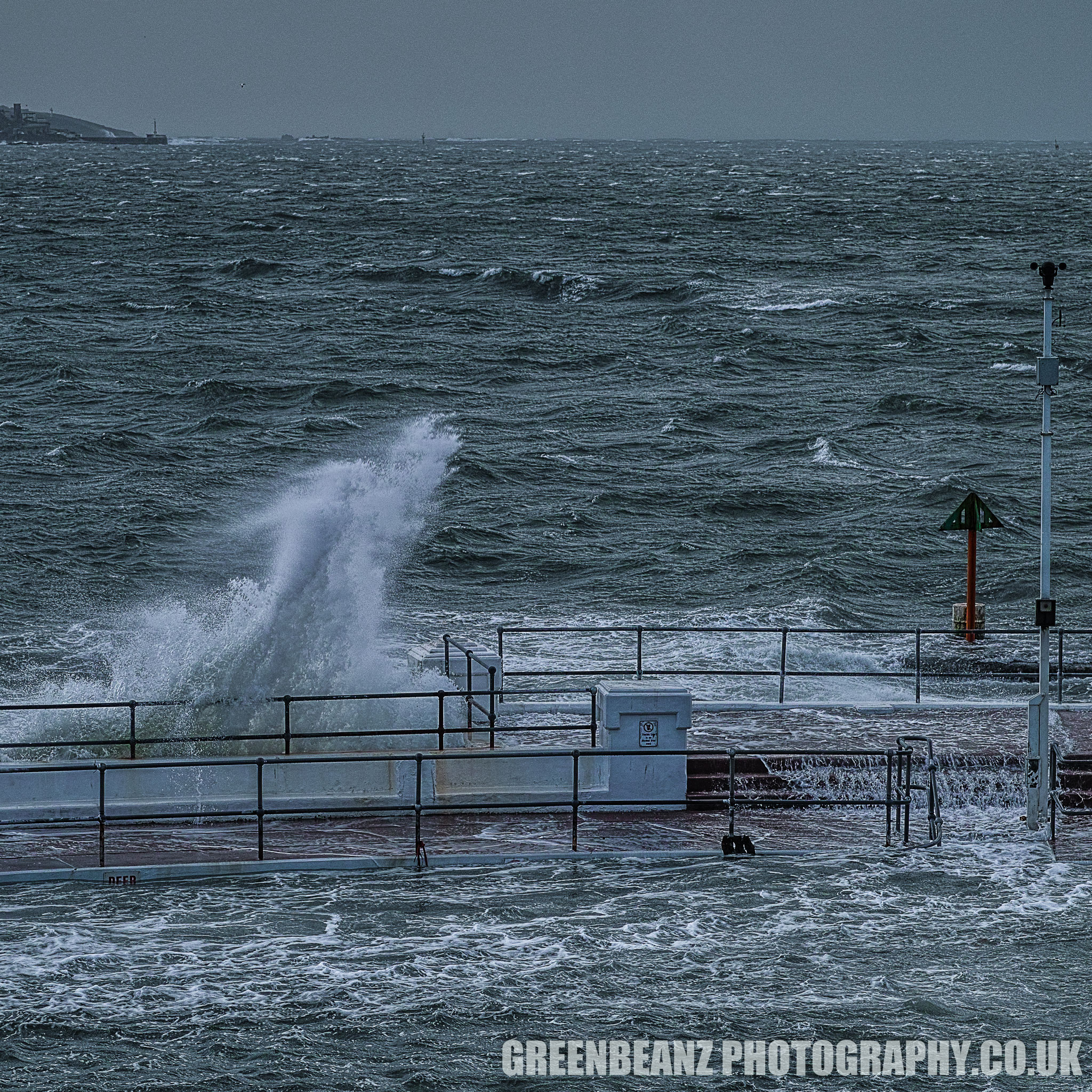 ABOVE : Storm Waves Plymouth Hoe. The Lido pool is buffeted and flooded by the sea
BELOW : Calm after the storm. Just a few minutes after the photo above on Plymouth Hoe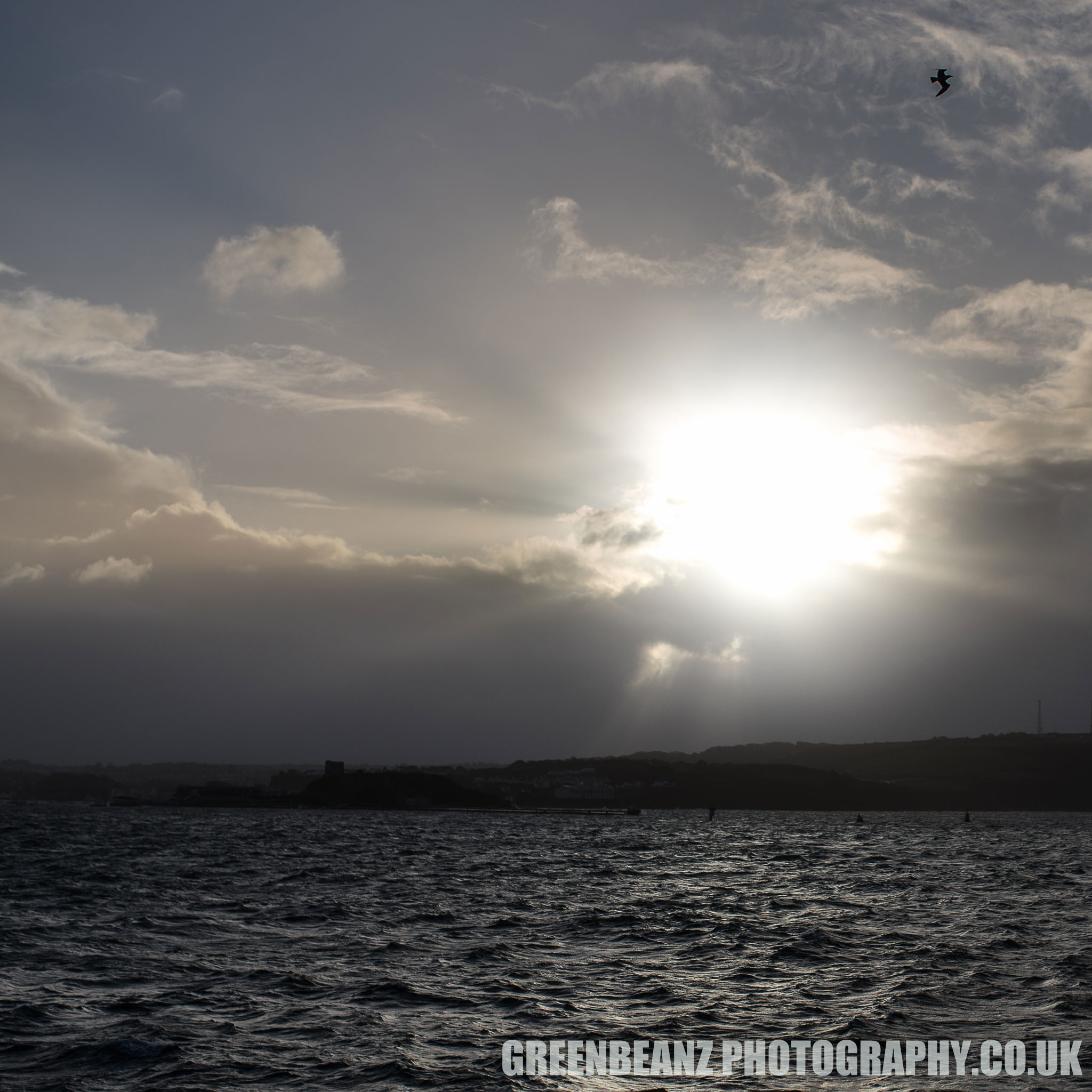 If you would like to book me to capture your news story, action, sporting or any other event, you can contact me HERE

You can find more 2017 Plymouth Storm photographs in the Greenbeanz Photography gallery here
You also can find some on facebook at the gallery here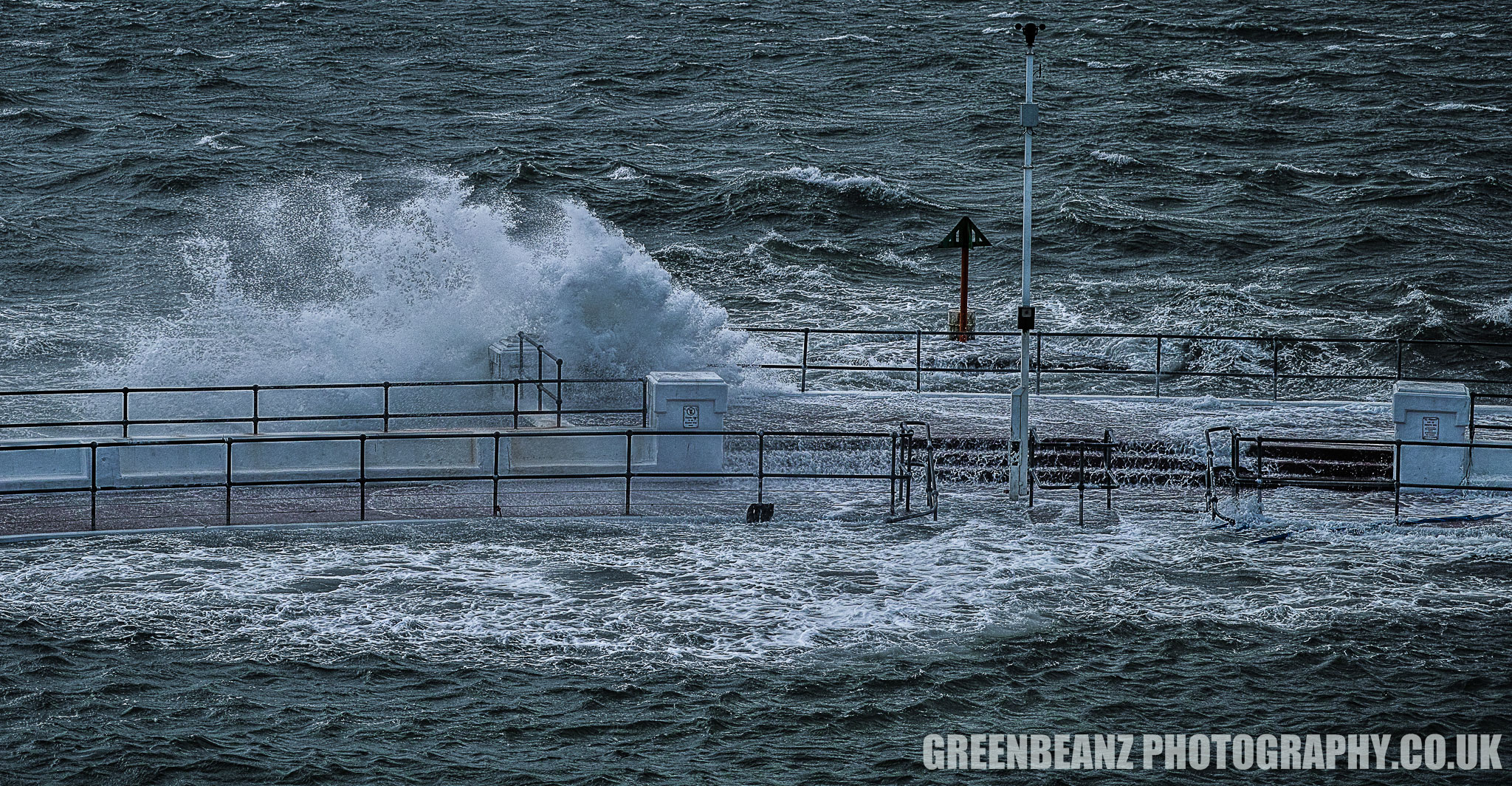 ABOVE : Plymouth Hoe. UK weather during storm Brian on the cities waterfront in 2017
---