Greenbeanz Photography
Surf PhotographY 2017 | Devon and Cornwall Action & Sport Photography | Blog | Outside of the frame
06 SEPTEMBER 2017 | Surf Photography | Devon and Cornwall Action and Sport Photography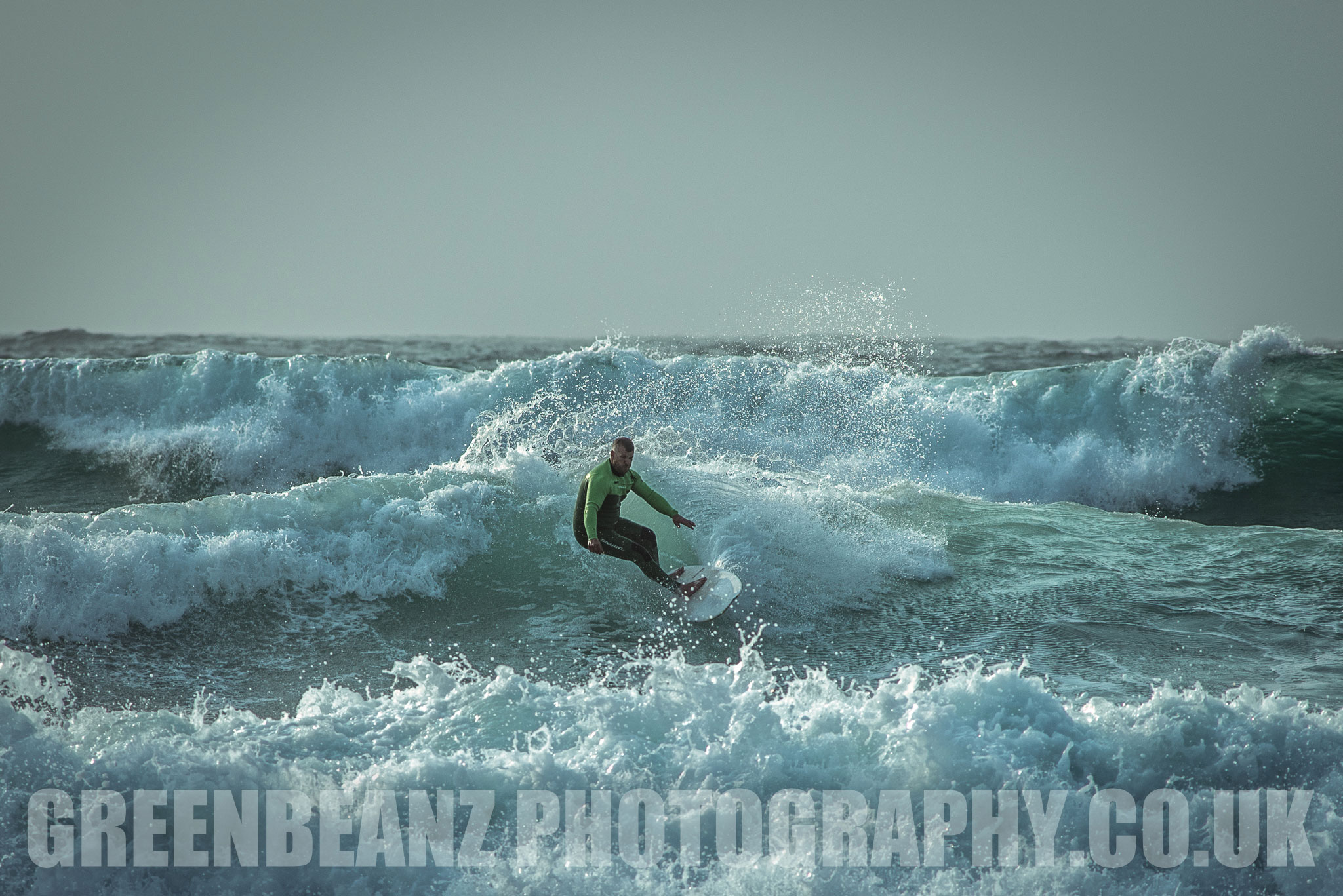 ABOVE : Surfer at Newquay UK Action and Sport Photography across Devon and Cornwall
Surf Photography 2017 | Devon and Cornwall | Action and Sport Photography
Being in the westcountry, we are lucky to have coast on both sides of Devon and Cornwall, and so there is plenty of opportunities for photographing surfers, professionals and amateurs alike. This time of year, in September after the end of the international boardmasters event, Fistral beach in Newquay is perfect for practising using your auto focus to track action, the bread and butter of sports photography. The car park is right on the edge of the beach making it very accessible, which is important not just for photographers, but for many people like my partner who is disabled, the ability to park so close when mobility is limited, is a real bonus.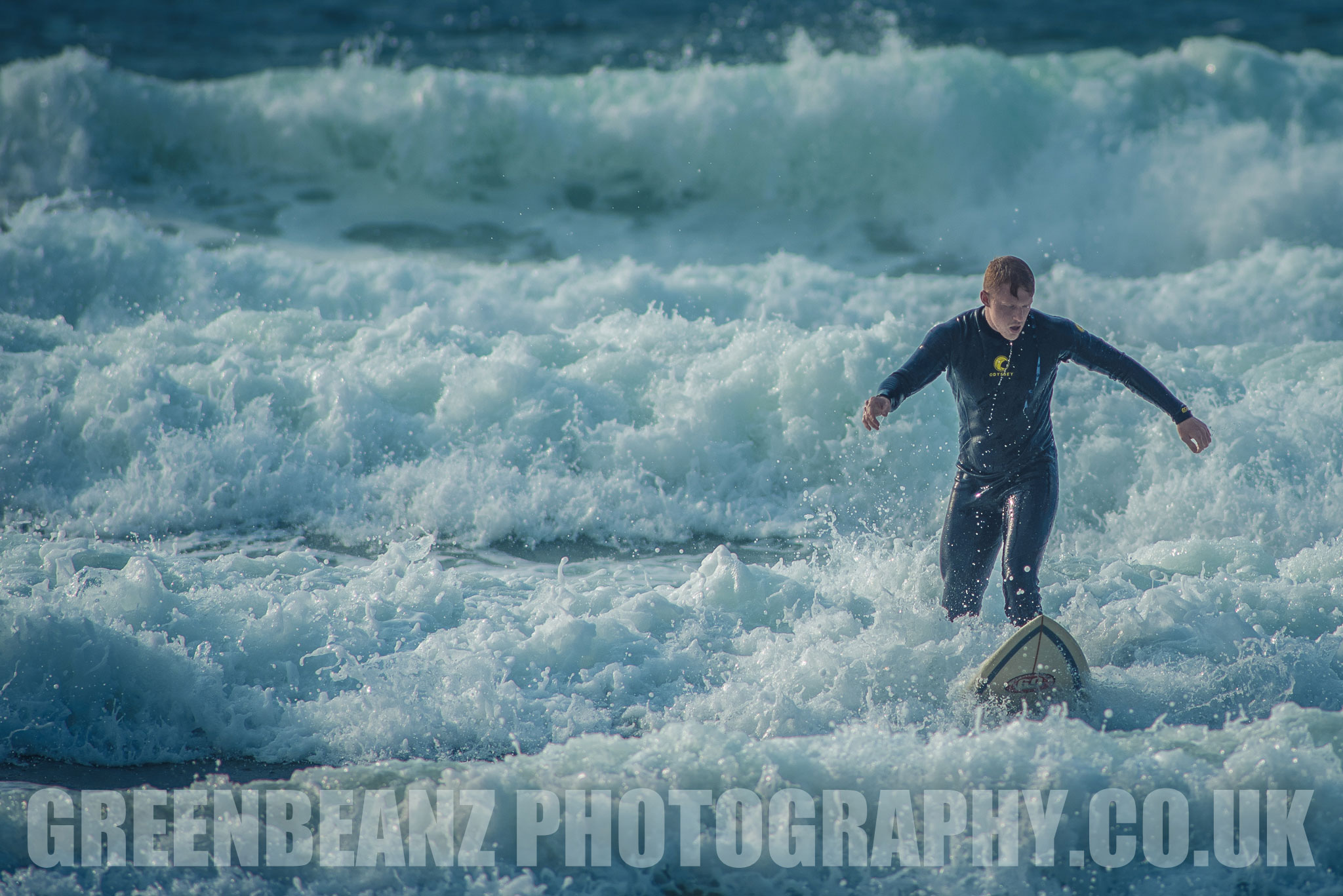 ABOVE : Surfer at Fistral Beach Cornwall with the Nikon 300mm F4 on a D750
Most modern DSLR's, both consumer and pro models, will have some kind of inbuilt Auto Focus tracking system. They all work differently, some tracking by colour, but always working best when you have a nice area of contrast to let the camera know where it has to shift and sharpen it's focus. This is not the place to teach you how to use your systems particular implementation of auto focus, ( try the manual, online guides on YouTube etc or get lessons and training from a local photographer or club, you can even book me if you are here in the South-west ) but remember, the one thing any amount of guidance and training will never replace ,is practice.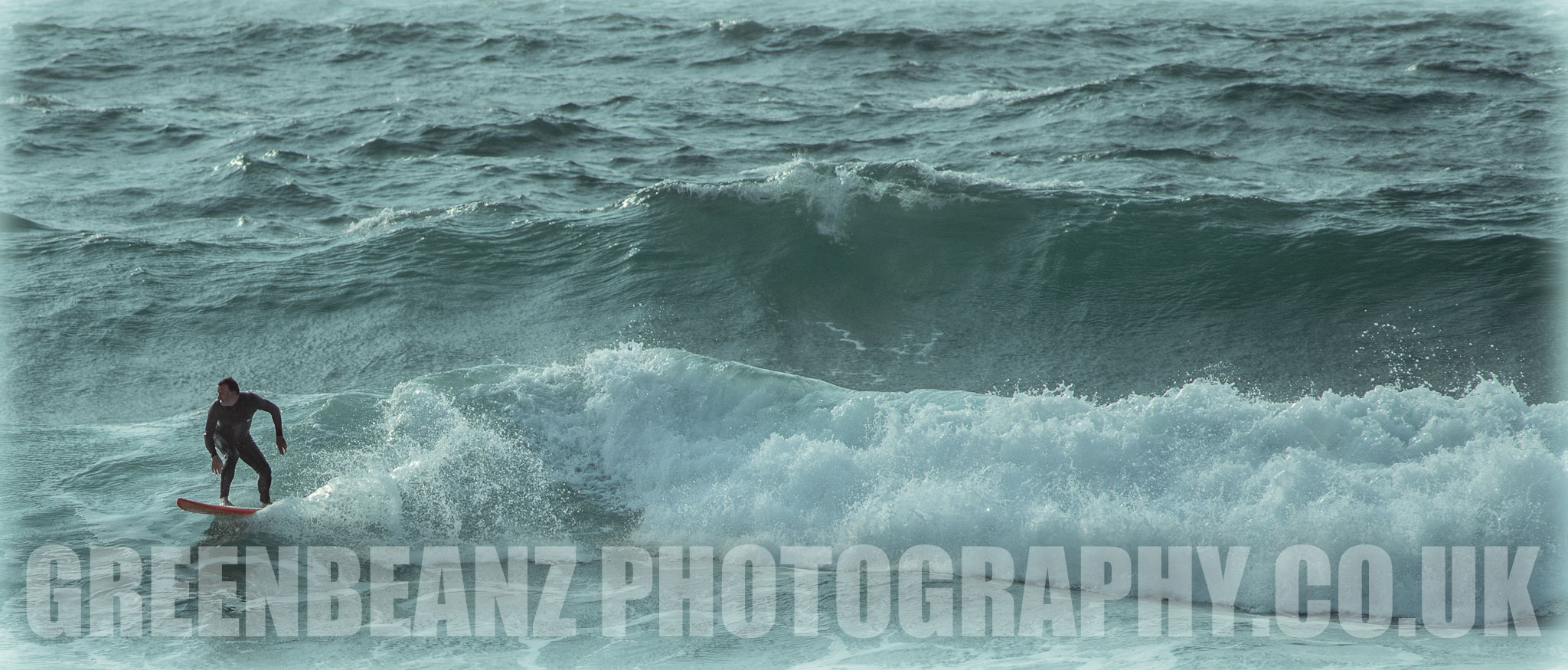 ABOVE :UK Surfer rides the waves in Cornwall off Fistral beach in Newquay
With a water sport like Surfing, you have advantages and disadvantages when compared to other sports, so it is important to be aware of these and develop strategies to cope with the obstacles and maximise the advantages, increasing your tally of keepers. Sports shots you can be proud of.

ABOVE : Surfer in Cornwall catches the wave off Newquay in September
One of the disadvantages, is the fact that you will be further away than in most sports. Even the most weather proof professional camera body will usually not recover from being dropped into salt water, and so I would recommend you stay on the beach and have a UV, Polarising or other type of glass filter on the end of the longest telephoto or zoom lens you own. I don't usually use these protective discs of glass, even at festivals and in clubs (most modern DSLR lenses don't requite UV protection) but on a beach with sand and spray, it is worth taking the precaution of protecting that vulnerable front element.
ABOVE : The natural contrast of a surfer in a black wetsuit against the white waves
The other disadvantage of requiring such reach from your glass, is that these lenses are often heavy, so don't be afraid of bringing a tripod or monopod along to help you stabilise. The other benefit this gives you, is a safe dry mount on which to leave your camera, as you scan the sea to find your subject. Now the big advantage compared to many other sports, is the abundance of beautiful light you usually have on the beach/coast, and the brilliant bonus that in the UK, even in the summer months, most surfers will be wearing a black wetsuit, which gives you a brilliant contrast against the white foam of the waves when tracking.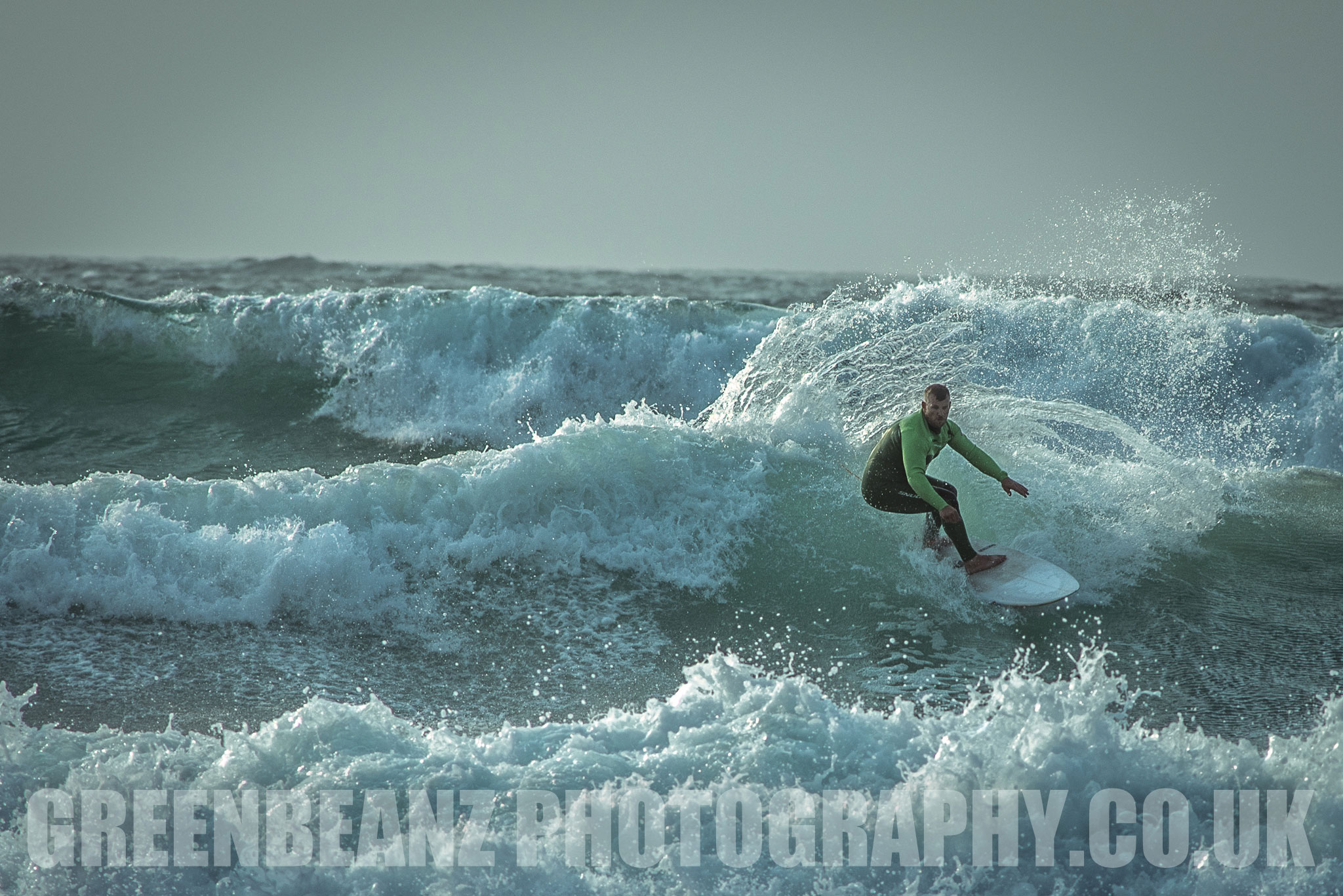 ABOVE : Surfer perfectly judges the wave unlike many a beach based soggy footed photographer
Wear shorts or a skirt/dress and flip flops/sandals, or be very aware that when you are looking through your camera's viewfinder it is surprisingly difficult to judge just how far each wave will come up the beach , and so do not be surprised to get wet feet.

ABOVE : Fistral beach an iconic spot for UK surfers and a great place to visit
Don't forget to get a few establishing shots of the coastline and the beach itself to contrast with the surfers, and loosen that tripod heads lever, so that you can smoothly pan the camera, and track the surfers, who often travel at quite a speed when viewed through the compression of a telephoto lens.
BELOW: The sea is ever changing so try and catch the surfers unique response to this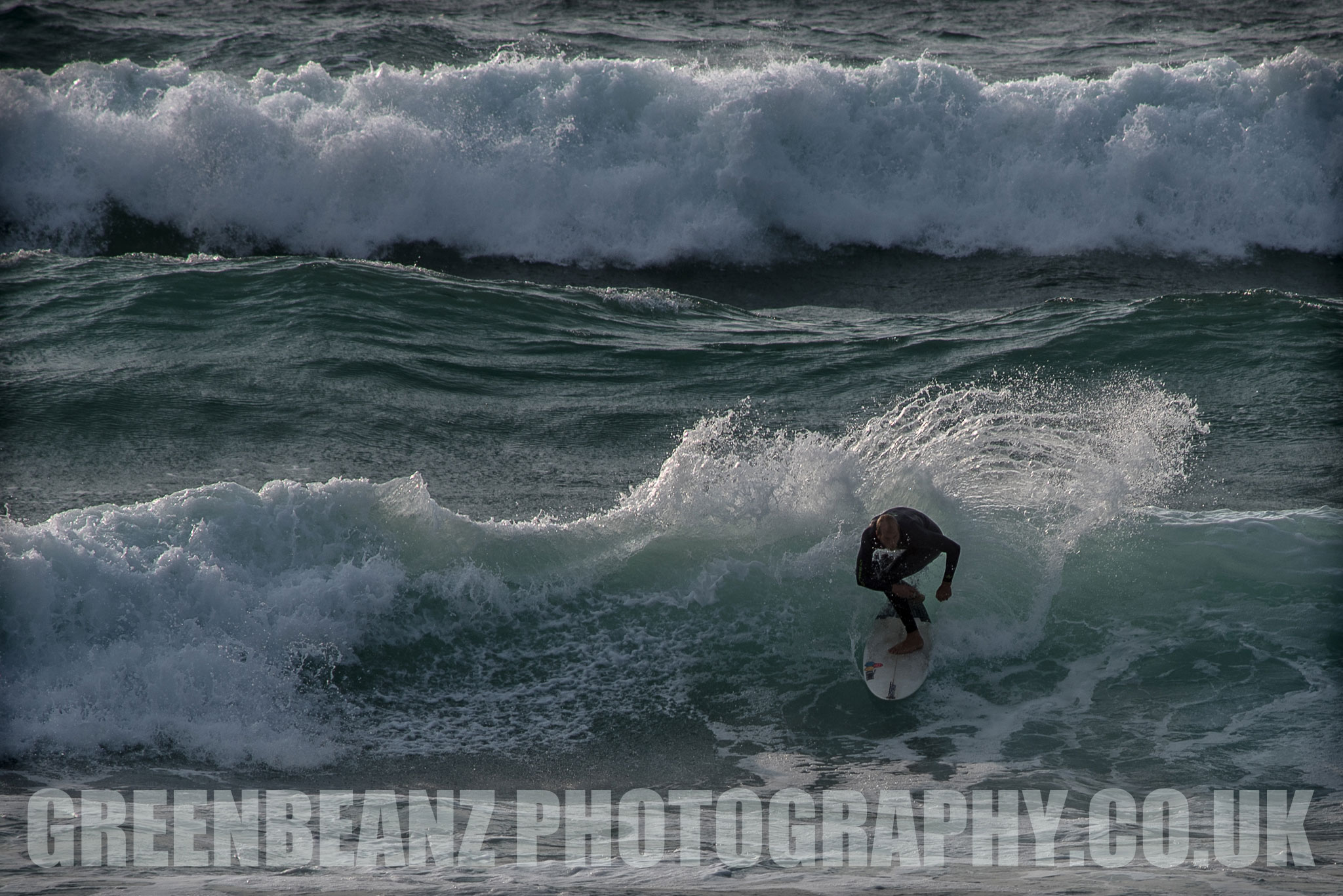 The sea is ever changing and so try and capture each surfers unique response to this. Stay safe and listen to the lifeguards, obey the beach warning flags and above all enjoy yourself , taking care to clean off any equipment that may have corrosive salty water on it before returning home to edit your shots.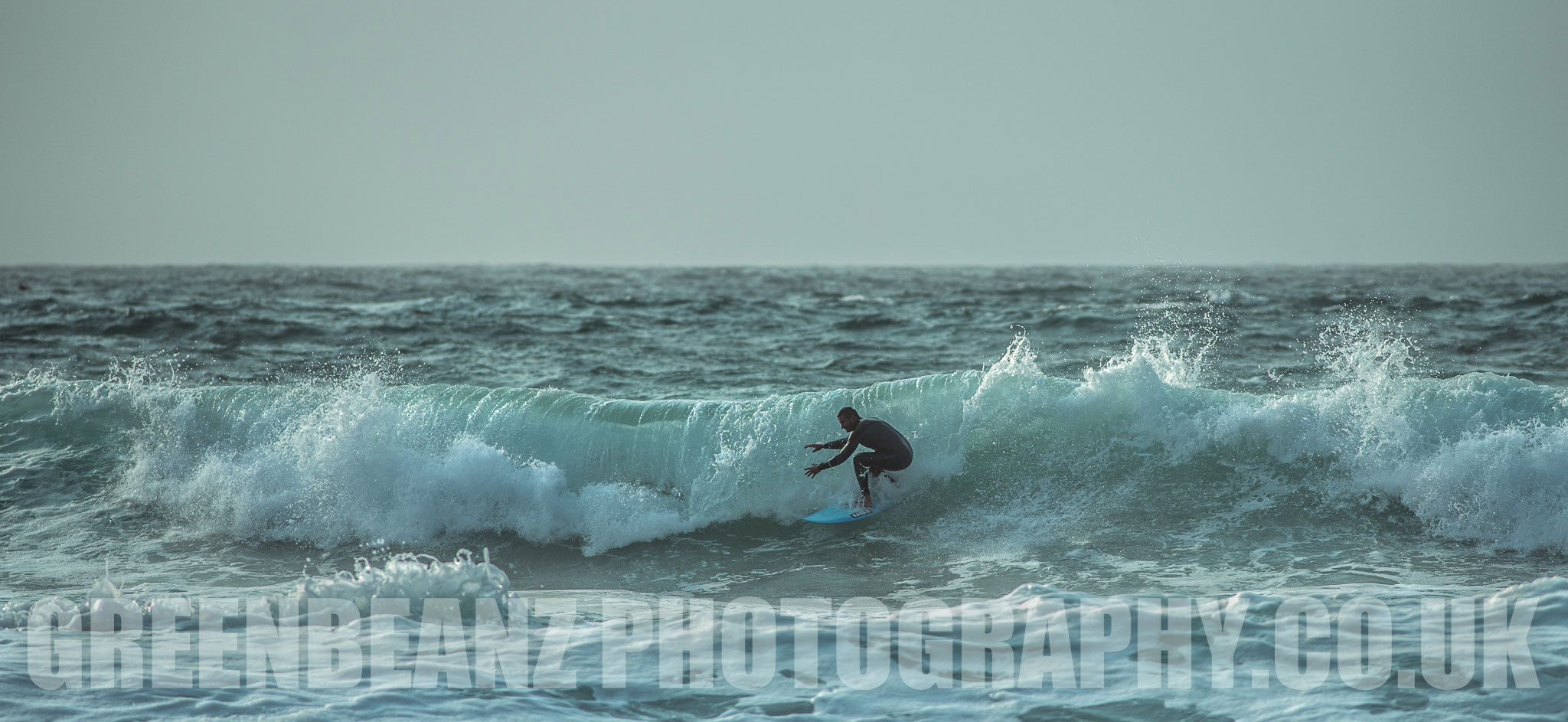 ABOVE : Surfs up on a bit of a messy day for those enjoying the end of British summertime
BELOW : The end of the day and the surfers and beach goers prepare to go home
If you would like to book me for a lesson to help improve your photography or to capture your action or sports events, you can contact me HERE
Rates are very competitive and I can promise you a unique set of images to treasure for years to come

You can find more Surf photographs in the facebook gallery here
---