Greenbeanz Photography
Fireworks at The Hall 05 NOVEMBER 2017 | Professional Boxing at Plymouth Guildhall | Devon and Cornwall Sport & ACTION Photography
05 November 2017 | Fireworks at the Hall | Pro Boxing at Plymouth Guildhall | Devon and Cornwall Boxing and Sport Photography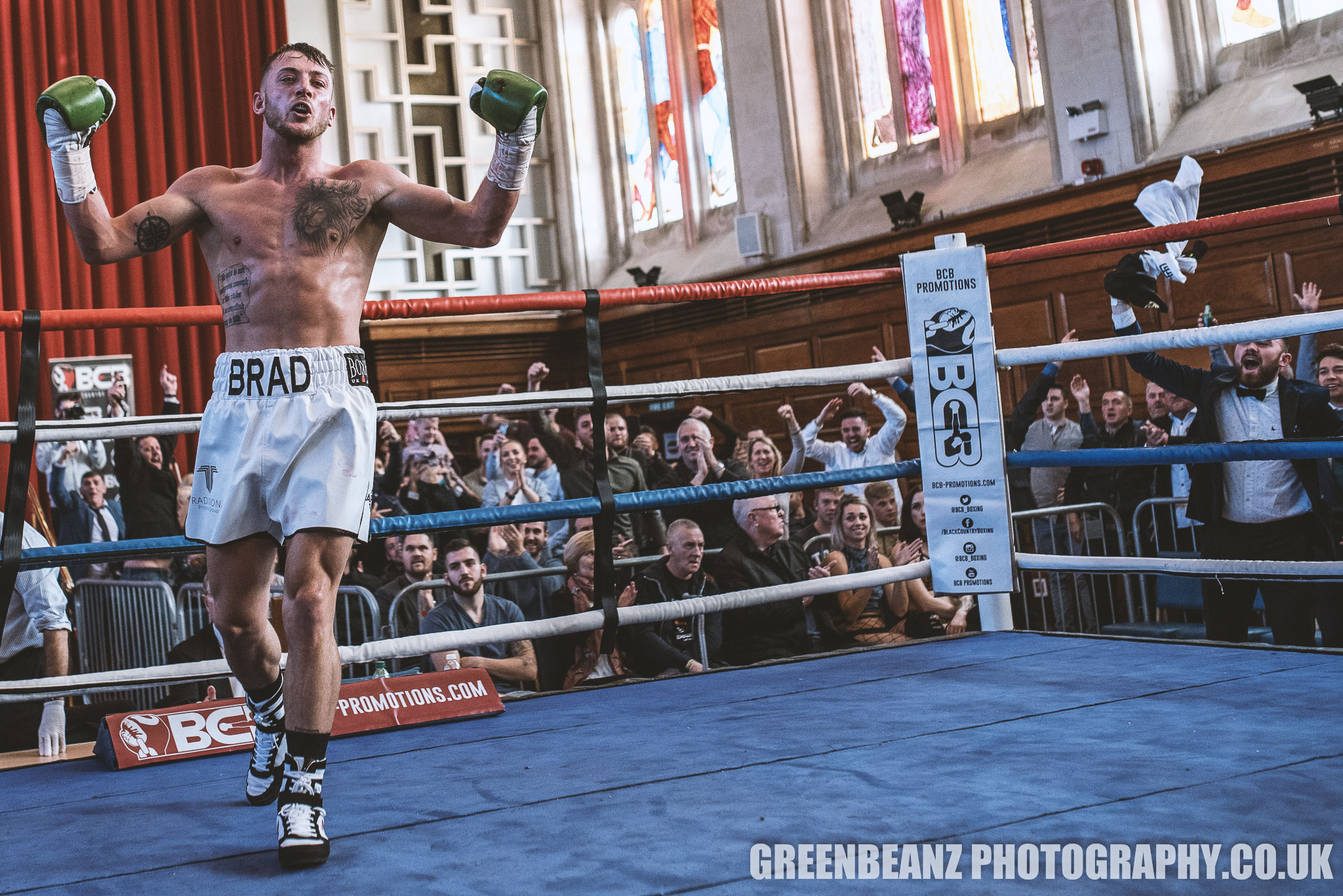 ABOVE : Cornish born UK Boxer Brad Pauls at Plymouth Guildhall November 5th 2017.
Fireworks at the Hall 2017 | Pro Boxing at Plymouth Guildhall | Devon and Cornwall Sport and Event Photography
On Sunday November 5th 2017, BCB and Carl's Boxing Stable, presented an explosive appetiser before the evening's annual bonfire celebrations with a full card of spectacular professional boxing at Plymouth Guildhall. BCB have organised Pro boxing events around the country for some time now and the Plymouth shows just seem to grow each year. The local boxing community is very enthusiastic about supporting such events, it is just a pity that the casual fans, that seem happy to fill the hall for a white collar event when supporting friends and family, do not seem as interested in supporting a full pro card like this, in the same numbers. Those extra tickets sold would enable the promoters to further supplement and build on already great production, with even more exciting match ups to reward the general public.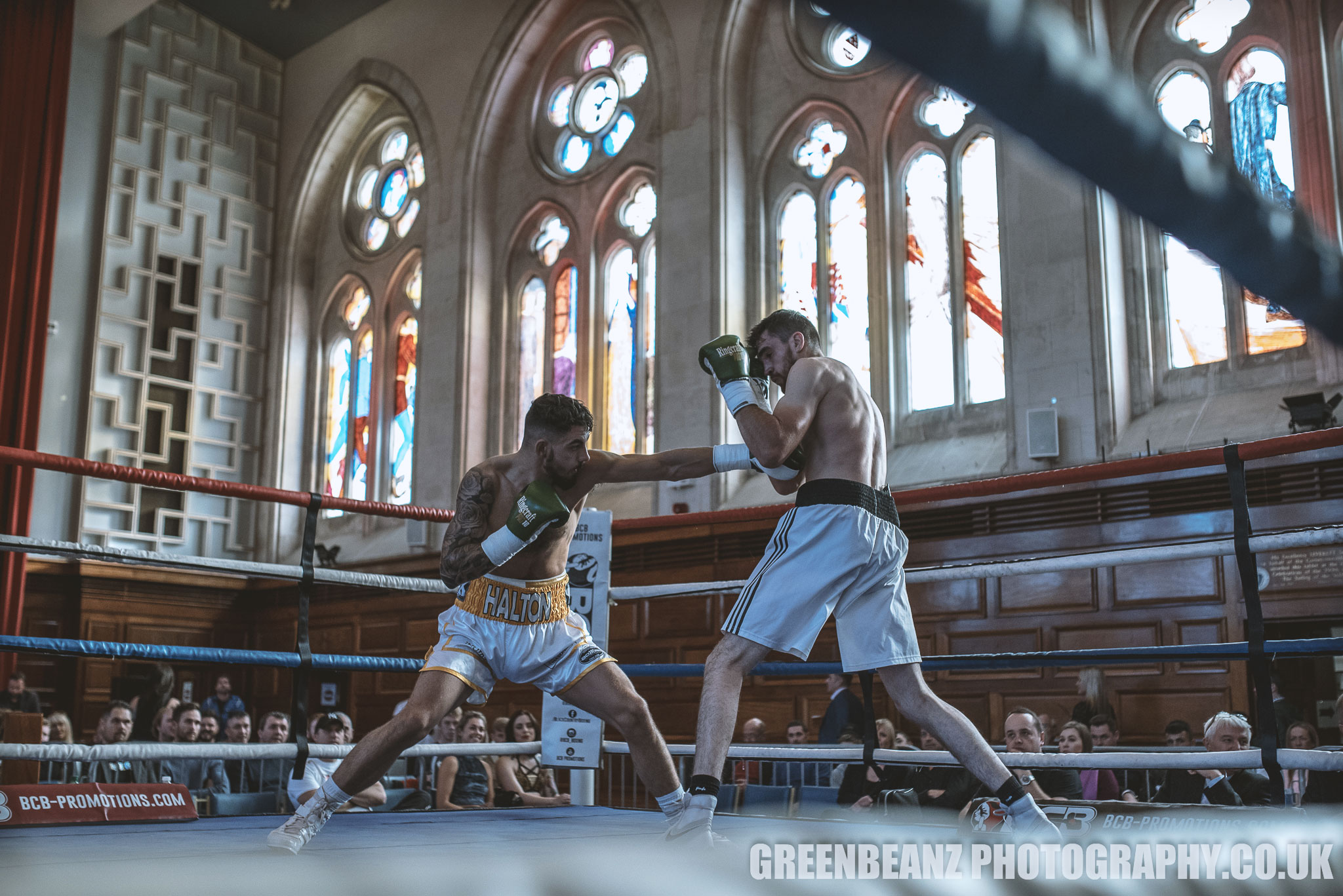 ABOVE : Nathan Halton versus Callum Ide 'Fireworks at the hall' in Plymouth's Guildhall.
Unusually the event took place on a Sunday afternoon with the tag line "Remember, remember the 5th of November" but there was little that those who made the trip would forget, with so much to take away from a packed bill of local fighters competing against each other in the square circle.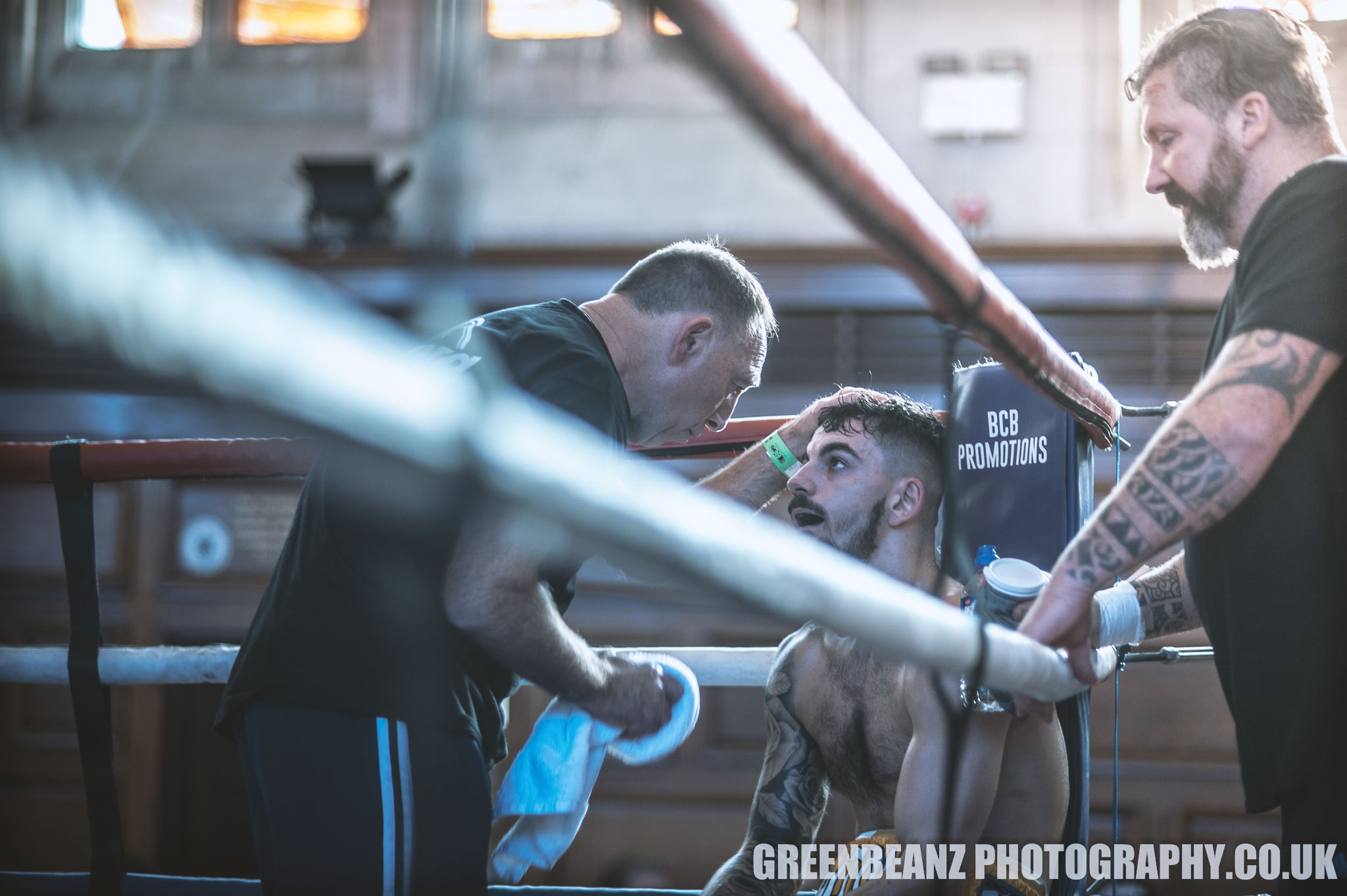 ABOVE : Boxer Nathan Halton at Plymouth Guildhall November 5th 2017.
The afternoon's fights started with local super middleweight Nathan Halton from Torquay taking on Sussex's Callum Ide. In an enjoyable and very well matched bout, in which the matchmakers skill was vindicated with both fighter's hands being raised at the end, both fighters pushed each other on in what was a very entertaining draw.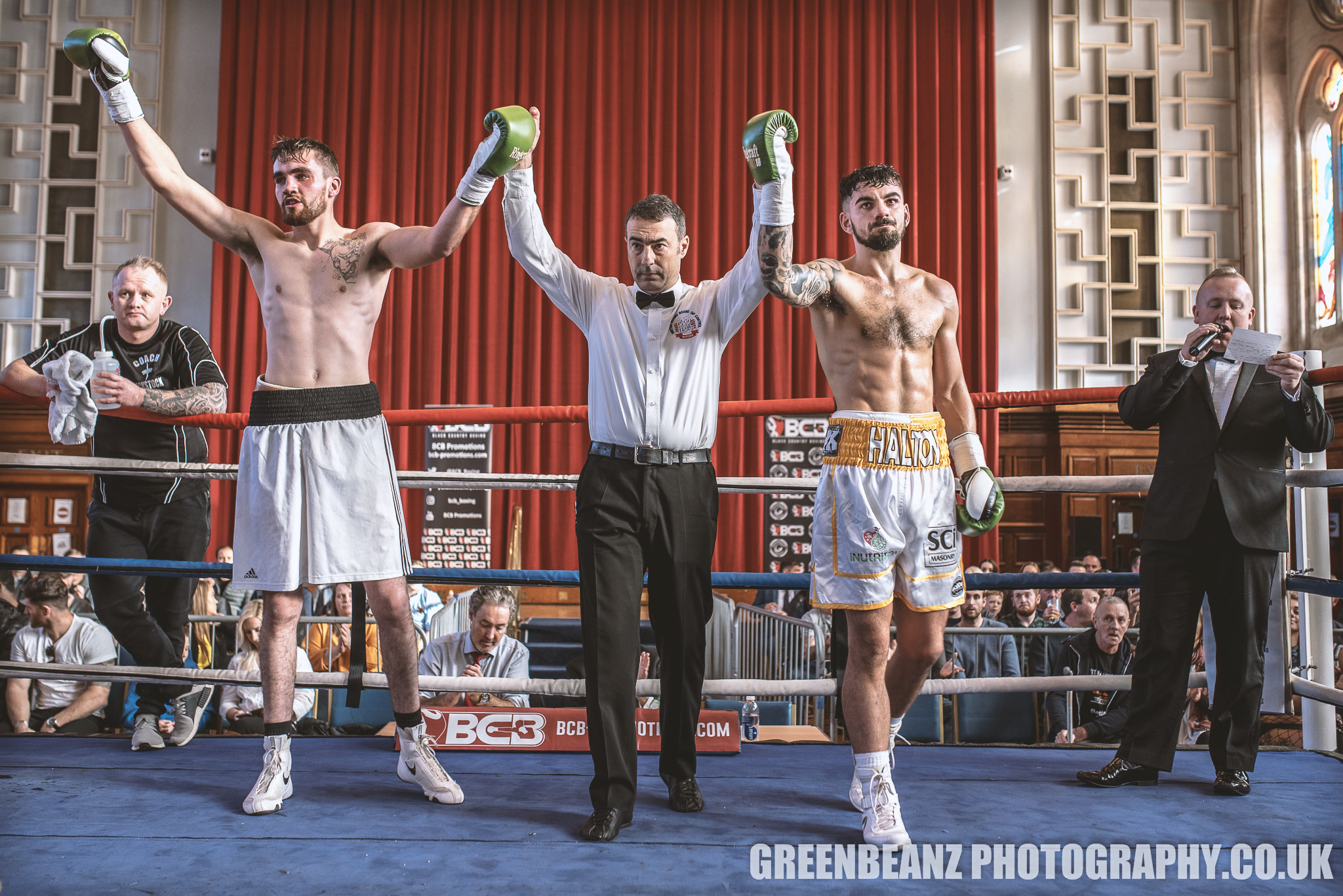 ABOVE : 'And the winner is...' a draw at Plymouth Guildhall, November 5th 2017.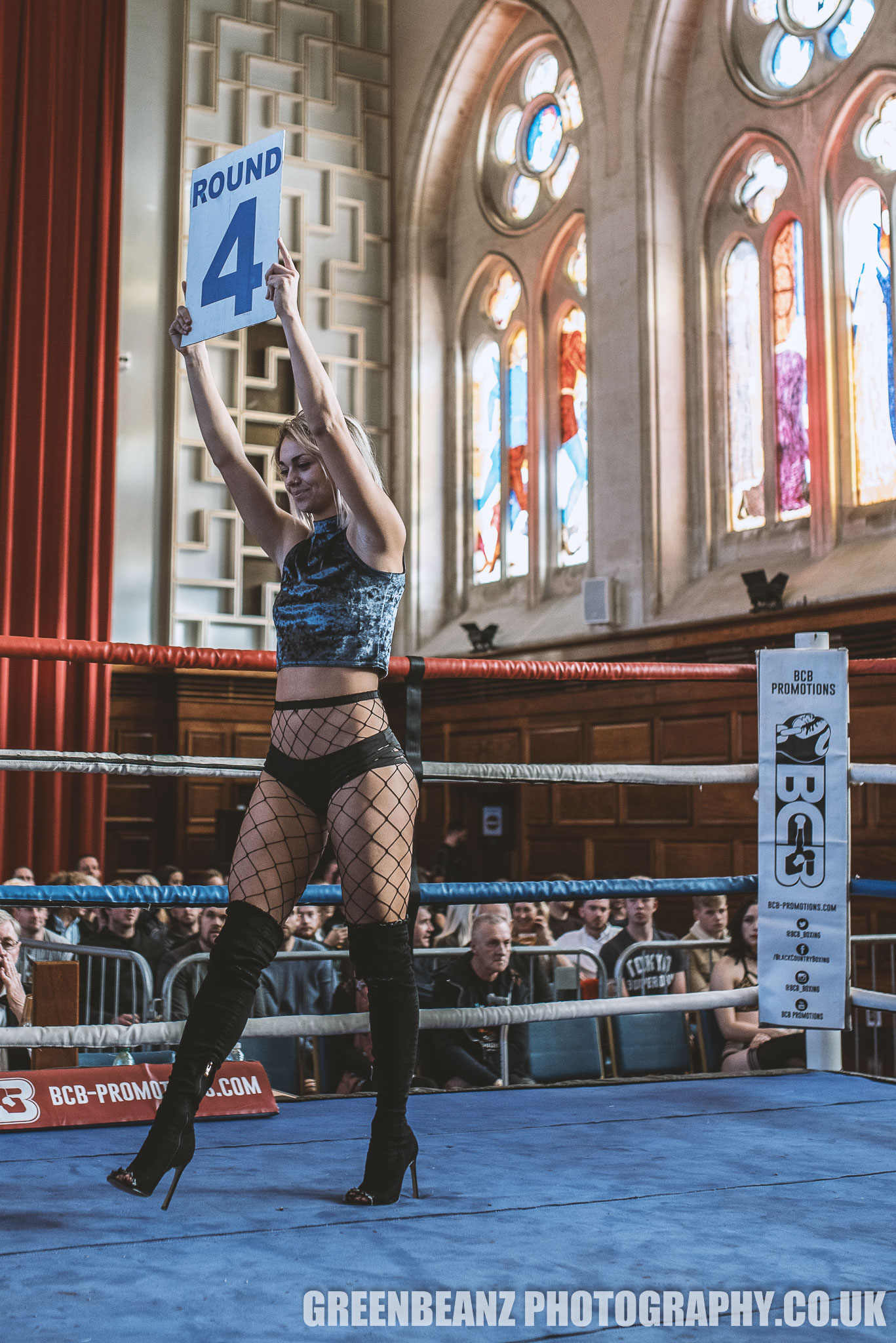 ABOVE : Round 4 the ring card girl at BCB's Pro Boxing card in Plymouth 2017.
Plymouth Fighter Louis Aitken, a highly rated prospect as demonstrated on the last BCB card in which he met the very experienced Kristian Laight head on in his professional debut, was matched this time with another well travelled professional, Melksham's Liam Richards. Richards again proved his worth, in providing Aitken the former kick boxer with more than a few surprises and some tidy work of his own. Aitken ultimately was more accurate though and deservedly had his hand raised at the end of the four round contest.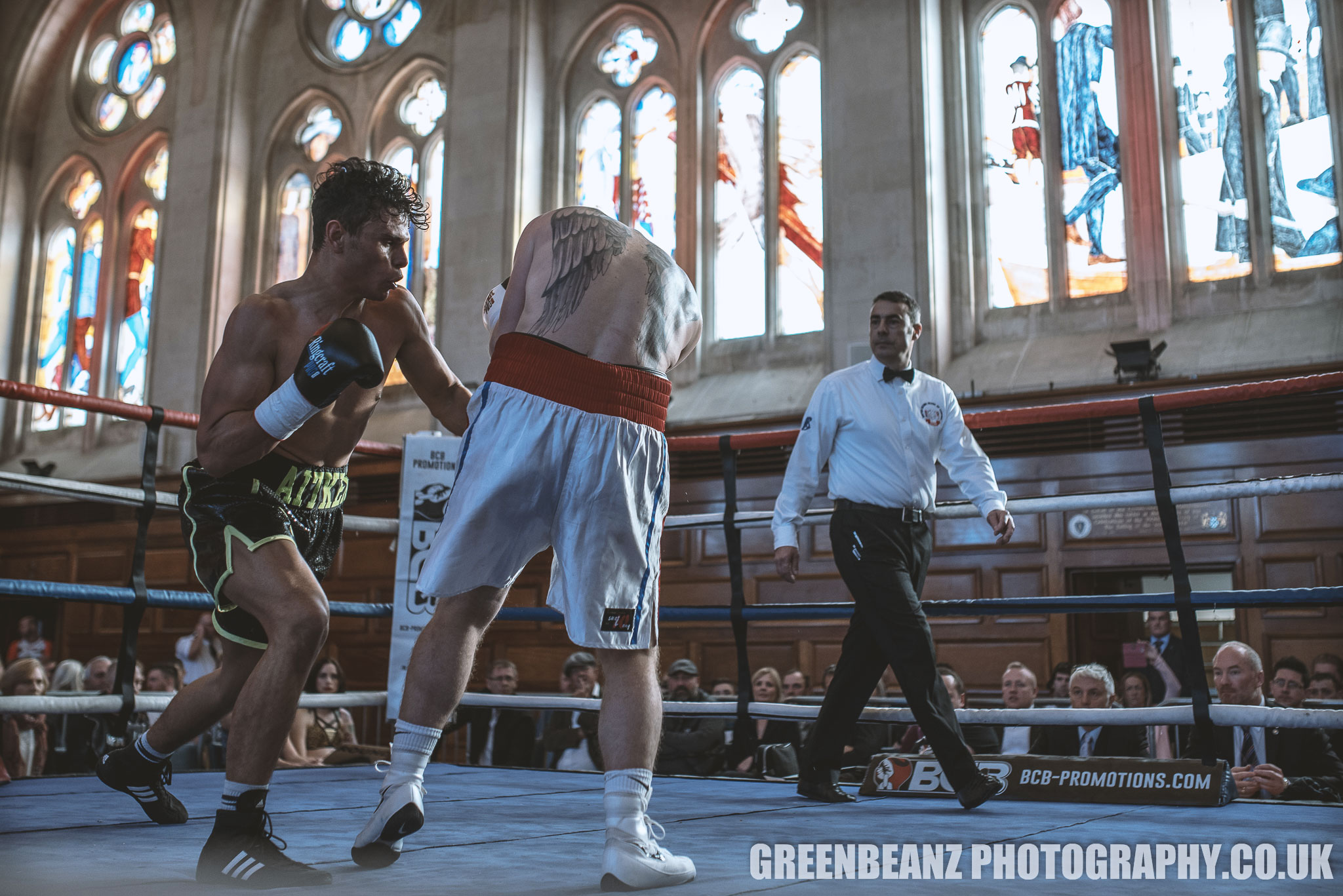 ABOVE : Louis Aitken versus Liam 'Rocco' Richards in Plymouth 2017
</p>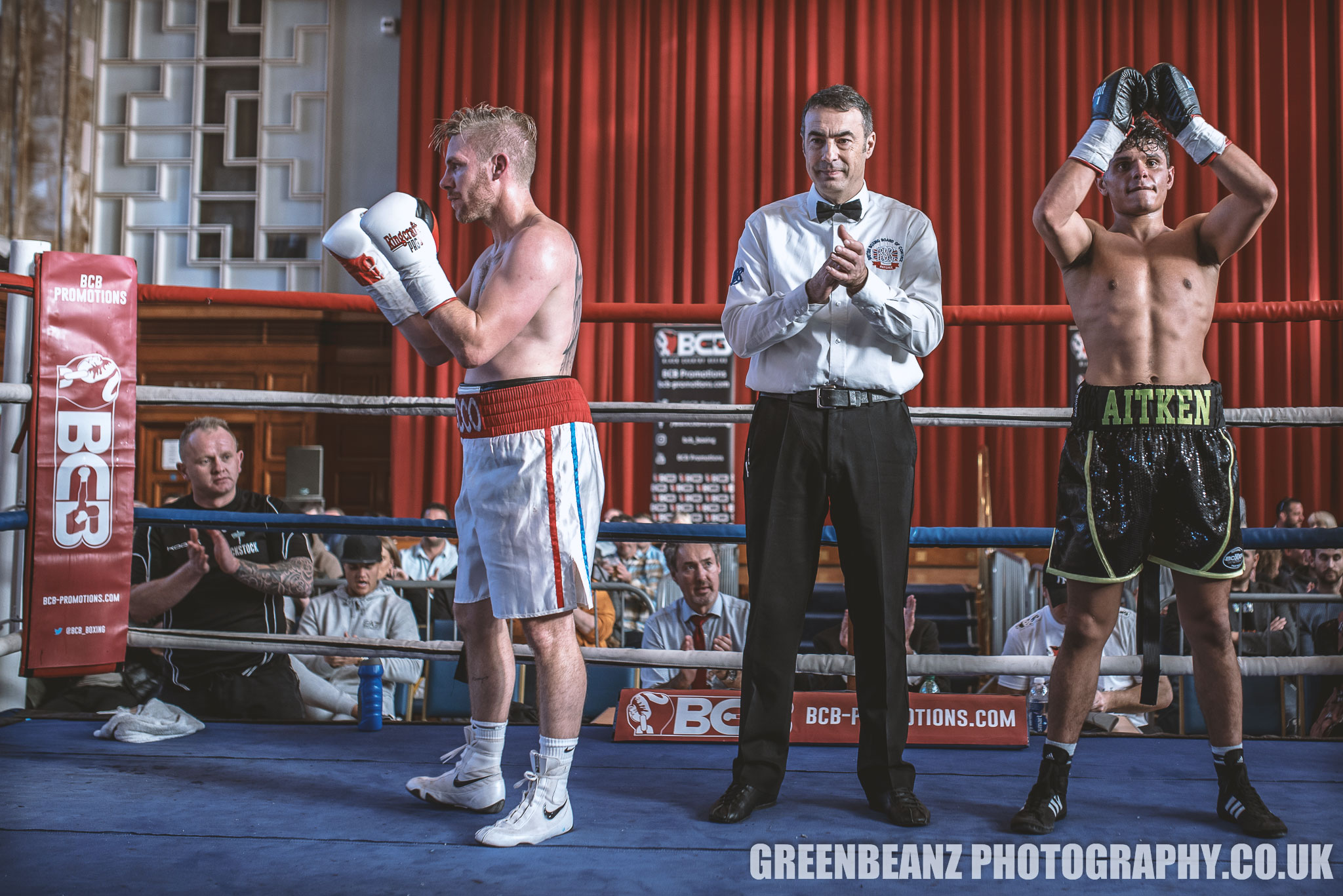 ABOVE : Plymouth Guildhall 2017. The boxers applaud the enthusiastic fight fans
Darren Townley was back in Plymouth after his challenge title loss against the tough Ibrar Ryaz last time out and looked comfortable against Worcester's Michael 'Mad Man' Mooney. Rarely stopped Mooney lasted all four rounds and tagged Townley a few times but 'The Terminator' looked settled and workman like in an efficient win against the tough and sometimes unpredictable Mooney.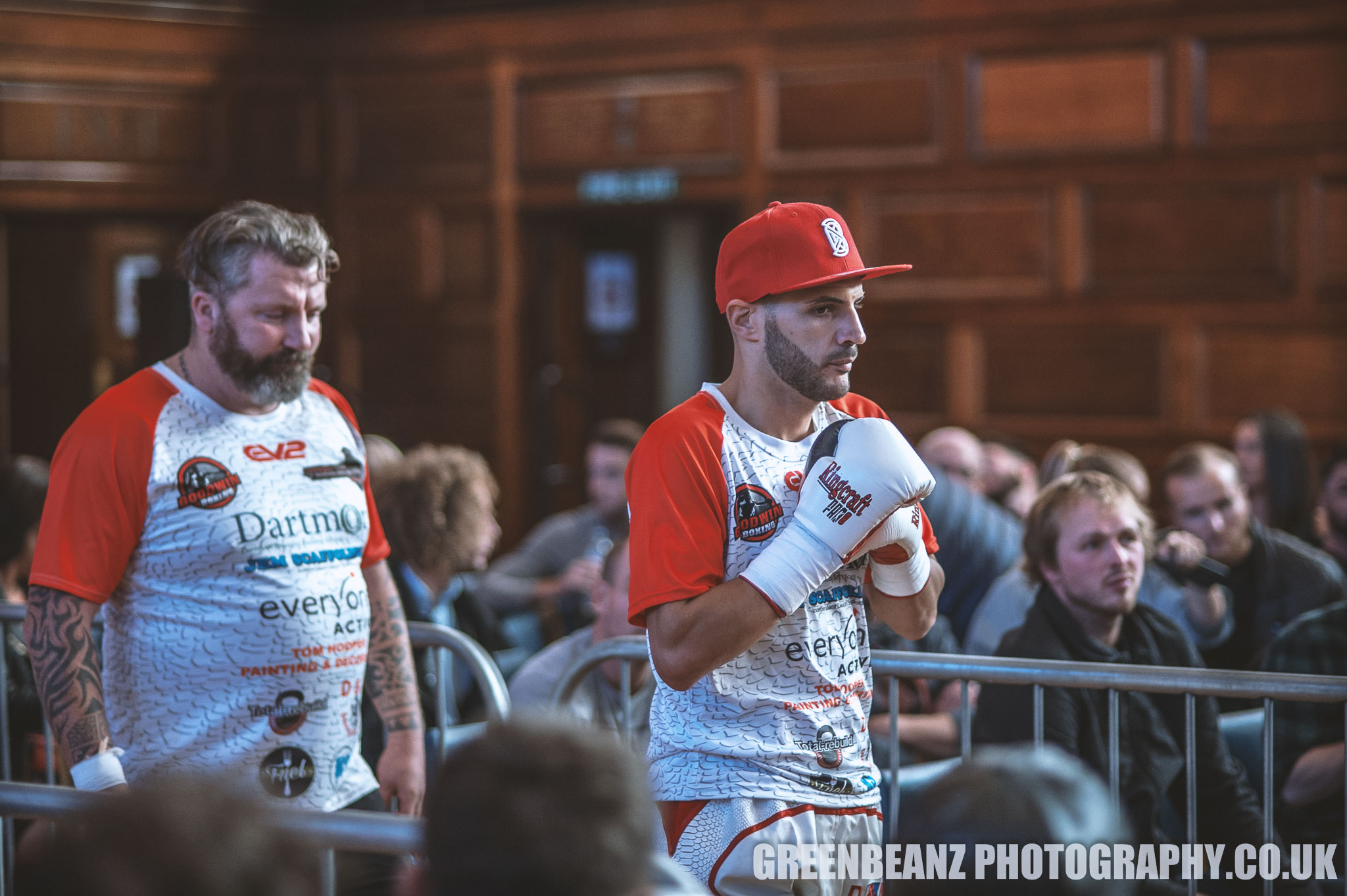 ABOVE : Carl Robson walks Darren Townley to the ring in Plymouth's Historic Guildhall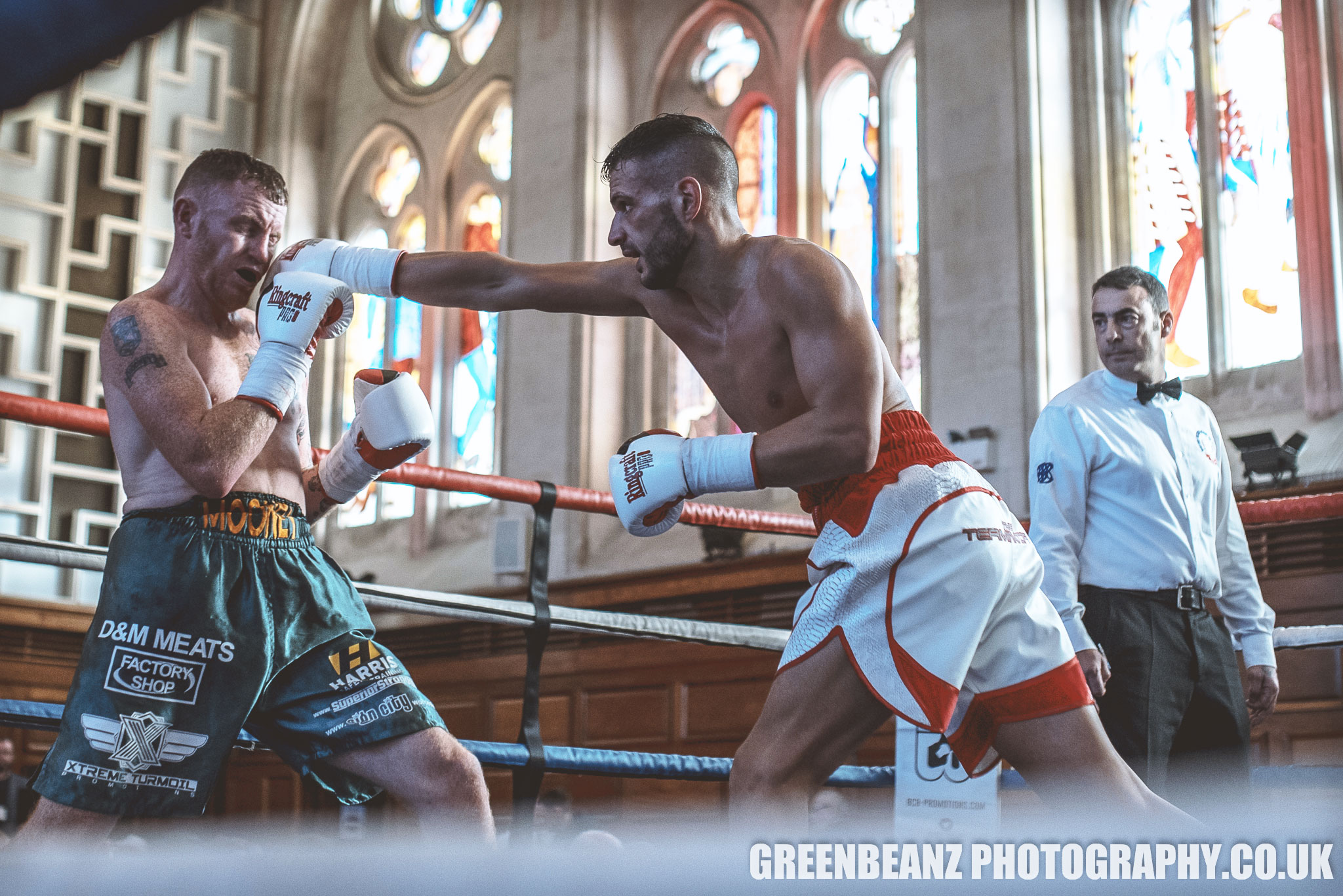 ABOVE : Darren Townley versus Michael Mooney at Plymouth Guildhall 2017
Townley has changed his coach and set up and the move will take time to show in the ring but he is back on the bike and he knows exactly how hard this sport can be, so did well to readjust, and his fans will look forward to his next fight in February heading towards another crack at some belts.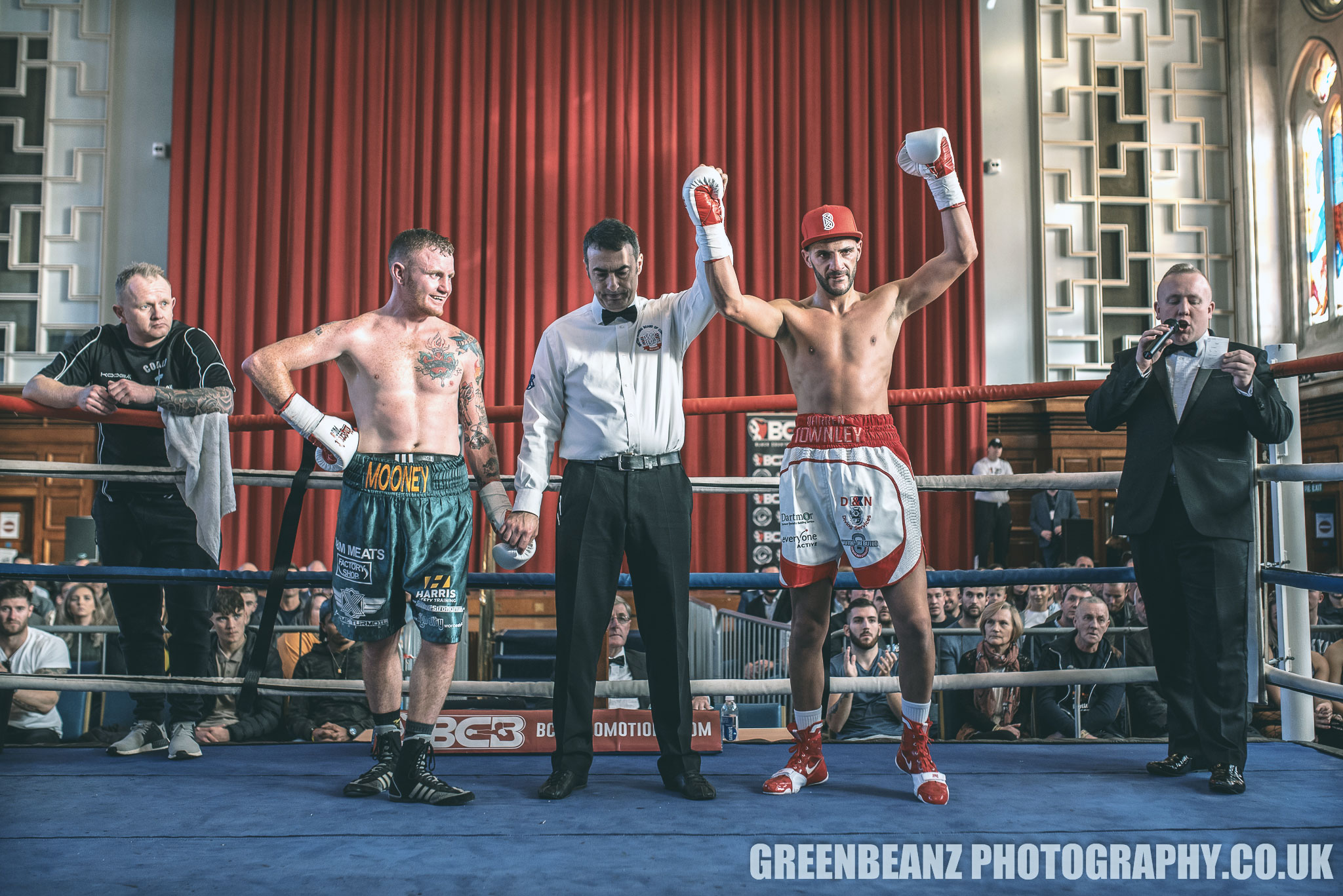 ABOVE :Reff raising the hand of winning boxer Darren Townley at Plymouth Guildhall
It is very easy to get carried away in boxing and assessing a fighters potential is never straight forward. Brad Pauls though, looks like a safe bet for future success, At what level? that remains to be seen, but he has dealt with everything thrown at him so far with some style. Now eight fights in, with an impressive five TKO's, the Cornish born Supper middleweight now living in Essex took the fight to Emmanuel Mossinga from the first bell, measured and not reckless, but with a real intent to dictate proceedings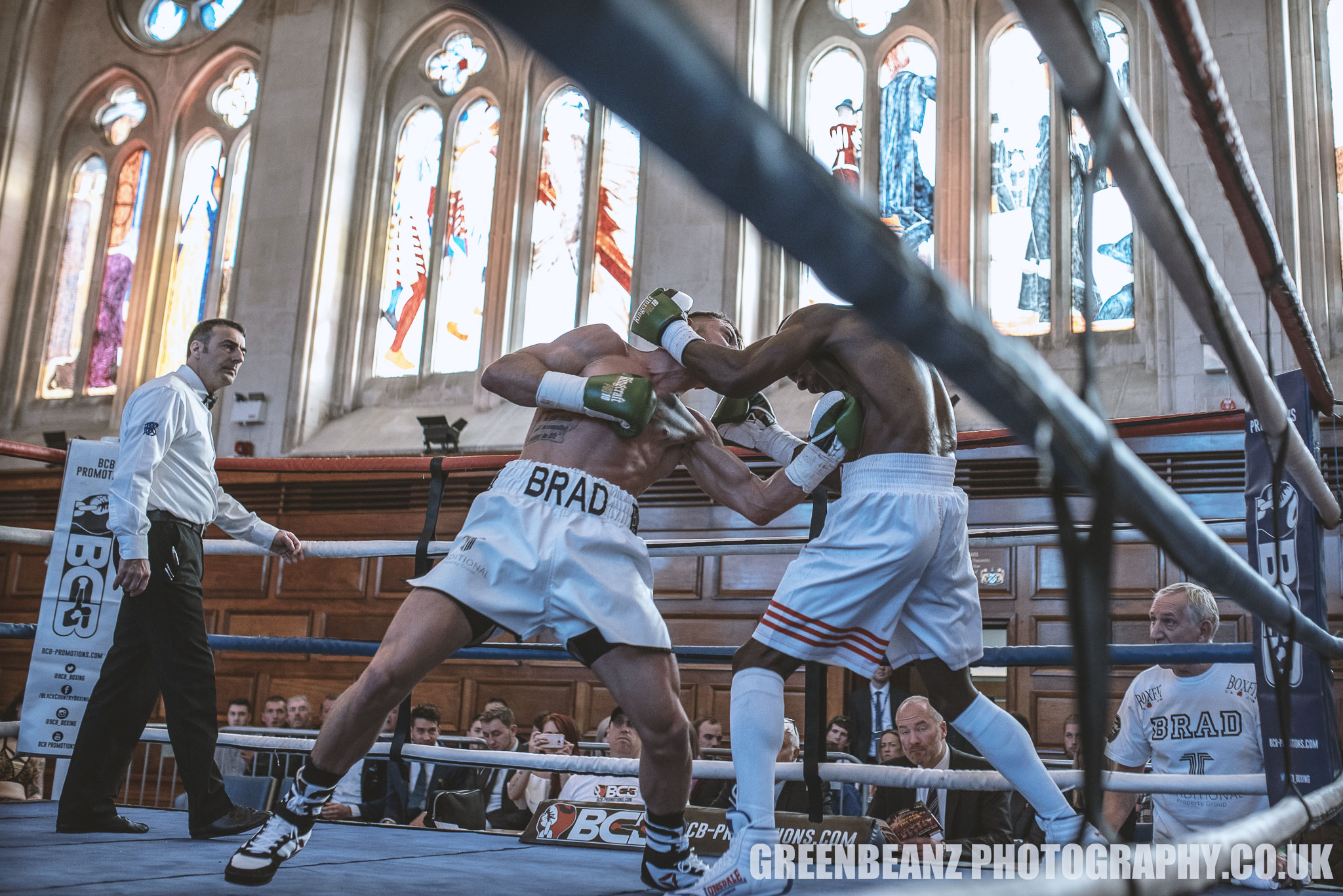 ABOVE : Newquay Boxer Brad Pauls at Plymouth Guildhall November 5th 2017
Mossinga caught the Newquay gladiator with a stiff left jab early on but Pauls answered back immediately with a crunching over hand right and it was not long before the Swiss fighter was bloodied and starting to become cautious. Pauls ratcheted up the pressure and by the third round was dominating.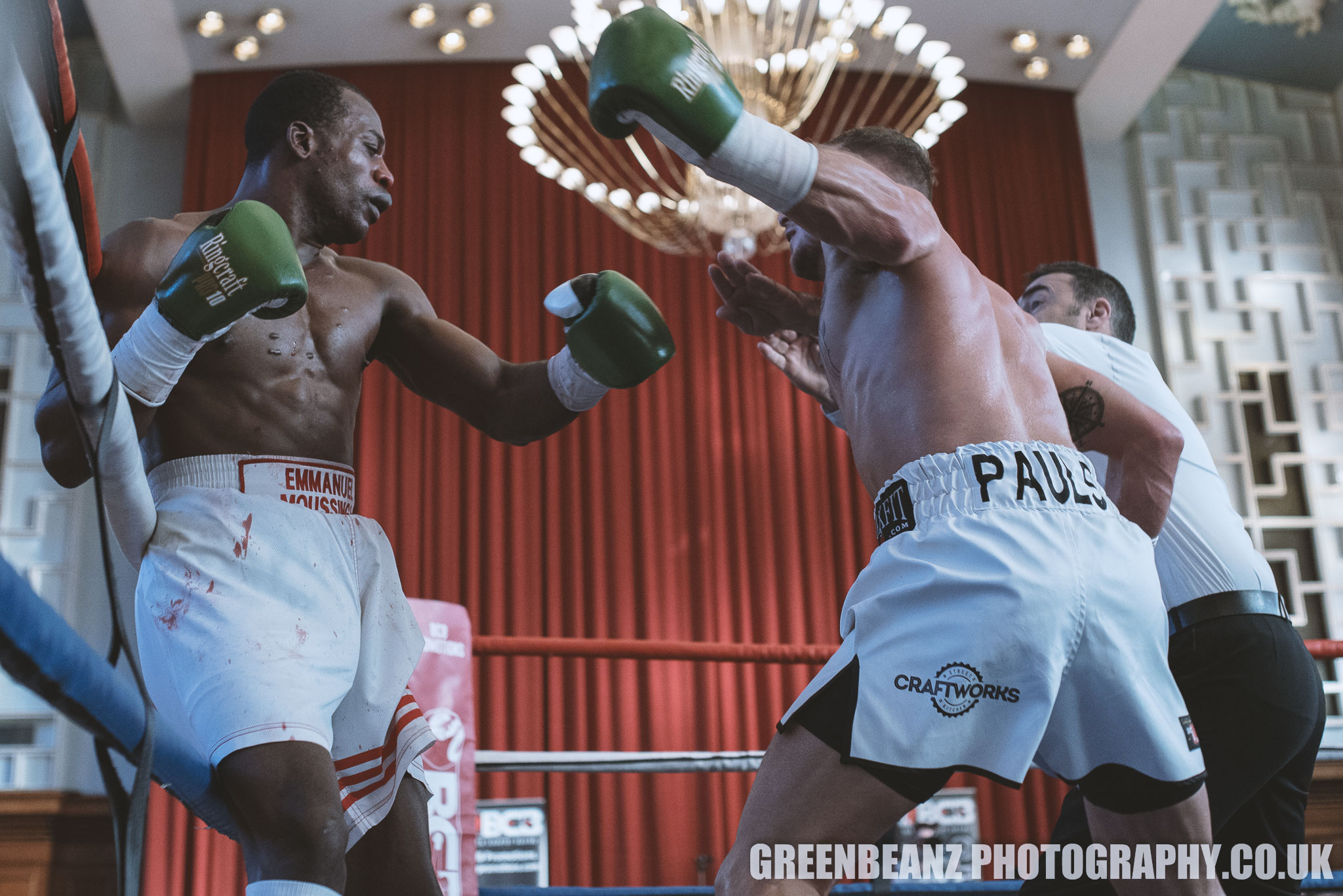 ABOVE : Cornish born UK Boxer Brad Pauls stops his opponent as the reff jumps in
In the fourth round Brads clever footwork allowed him to close on Mossinga and catch him with a barrage of unanswered heavy punches. The ref had no choice but to jump in, and the vocal travelling Cornish and Essex fans were well rewarded for their loyalty.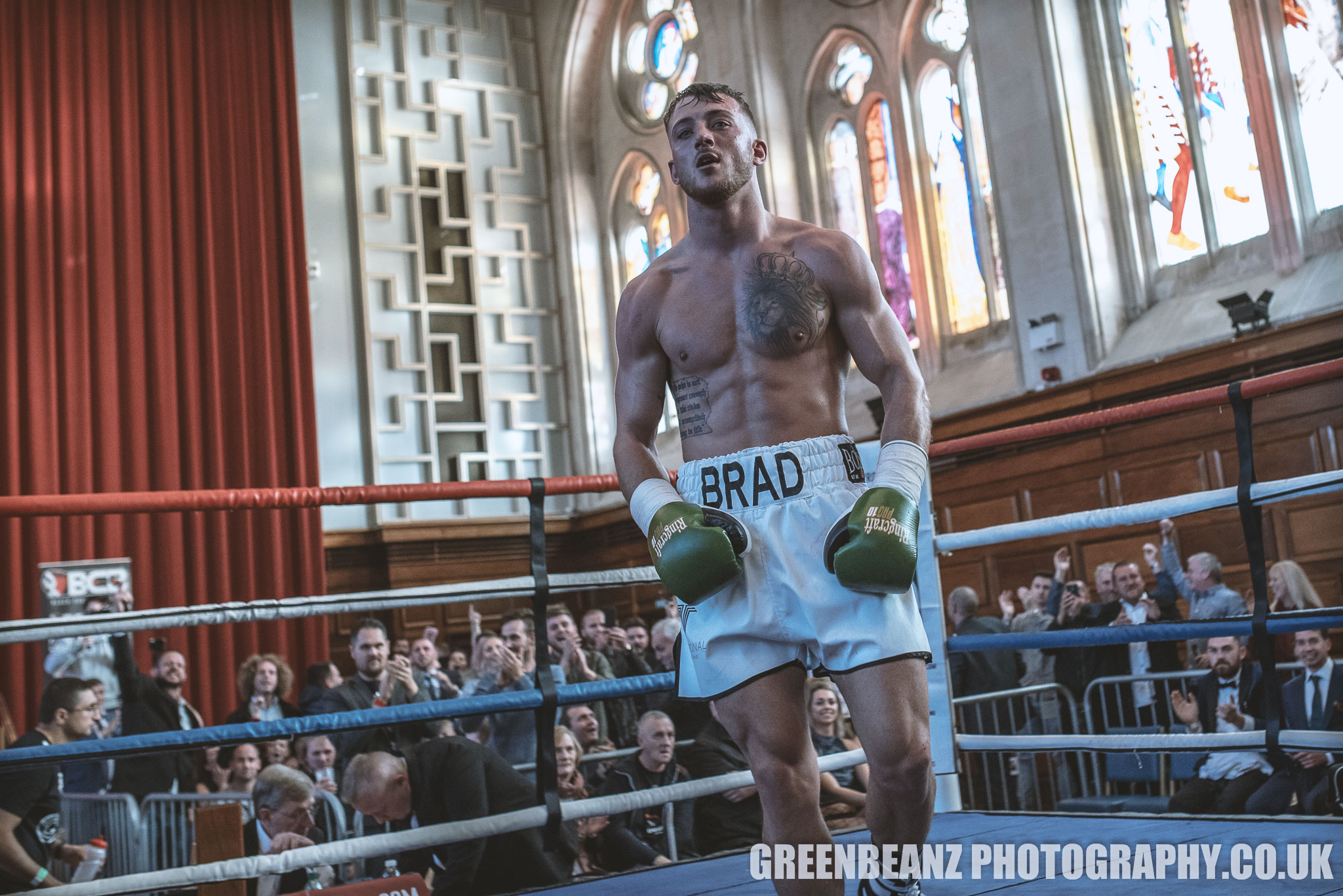 ABOVE : UK Boxer Brad Pauls applauded by his loyal travelling fans at Plymouth Guildhall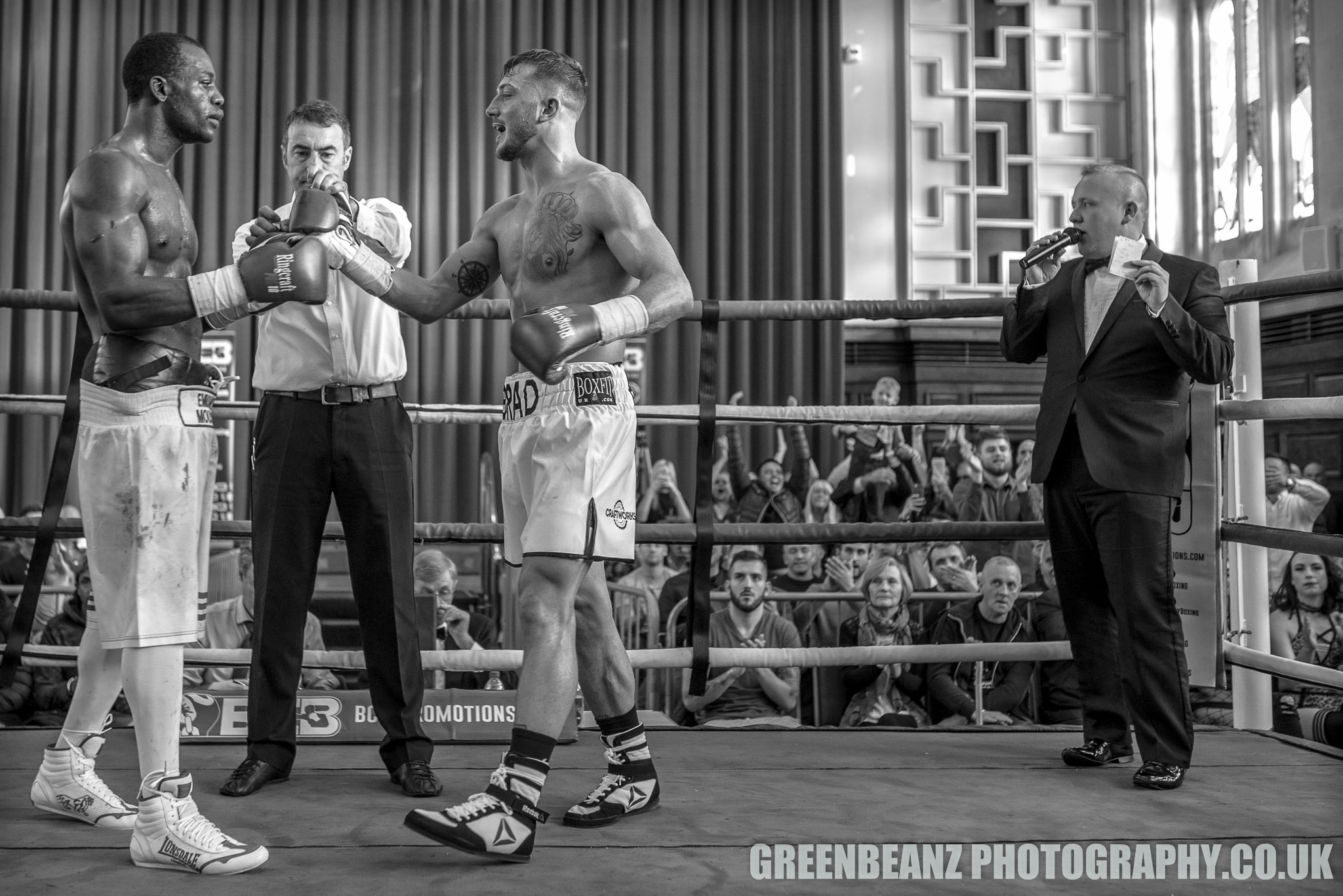 ABOVE : UK Boxing Photography at Plymouth Guildhall November 5th 2017
Finishing up the card was local dynamite Des 'The Destroyer' Newton. A real fans favourite with a box office style, the local lightweight again entertained the many who came to see him with a stout defence of his British challenge belt. Already 29 Newton is eager to impress, and wants new challenges and opportunities to learn from and Hereford's Dean Evans duly obliged.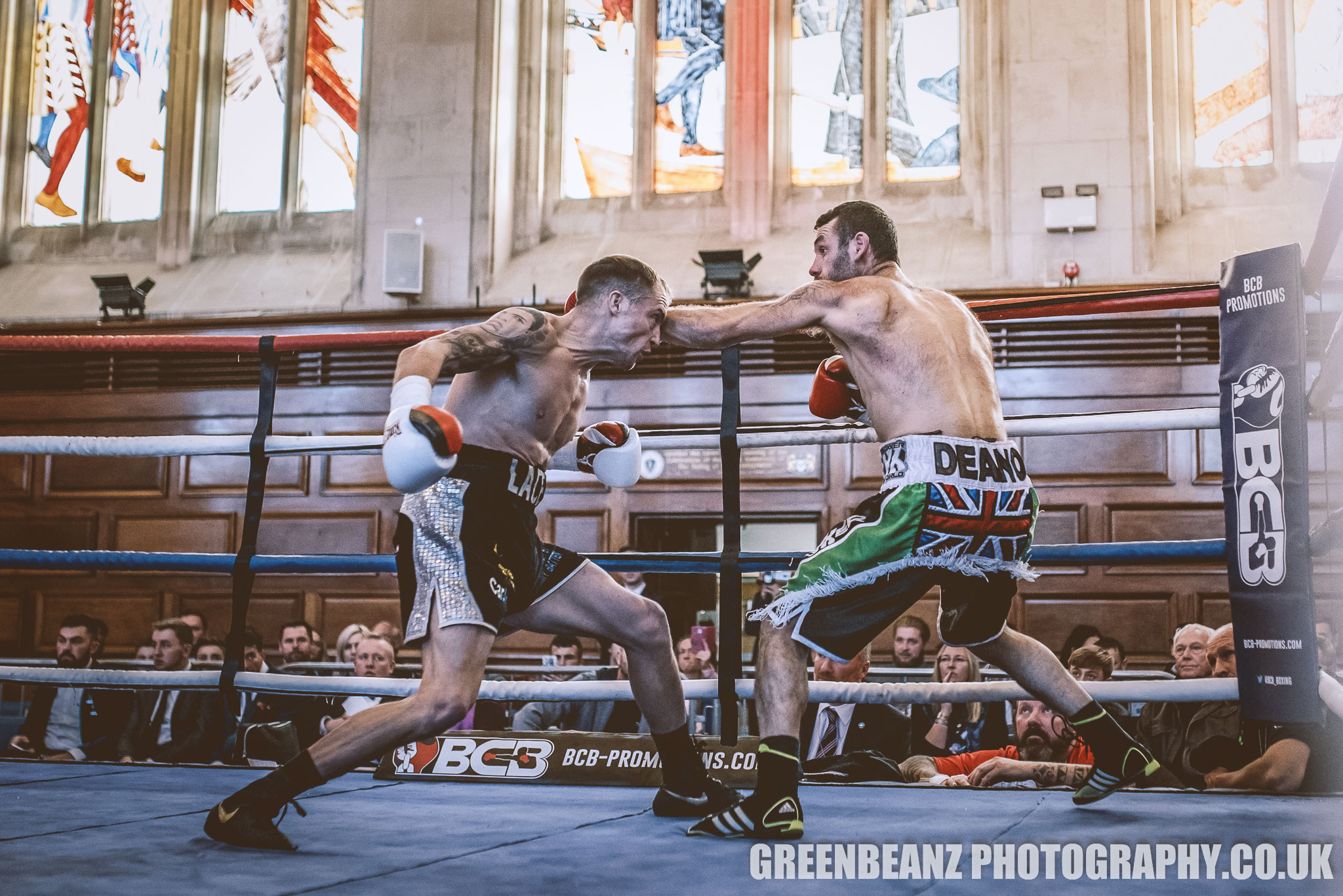 ABOVE : Des Newton and Dean Evans at Plymouth Guildhall November 5th 2017
Evans is more than just a tough customer he has a fantastic energy and drive which allowed him to hang in there with a more crafted Newton who can be a little eager to finish things early and turn even simple forays and scouting sessions into tear ups.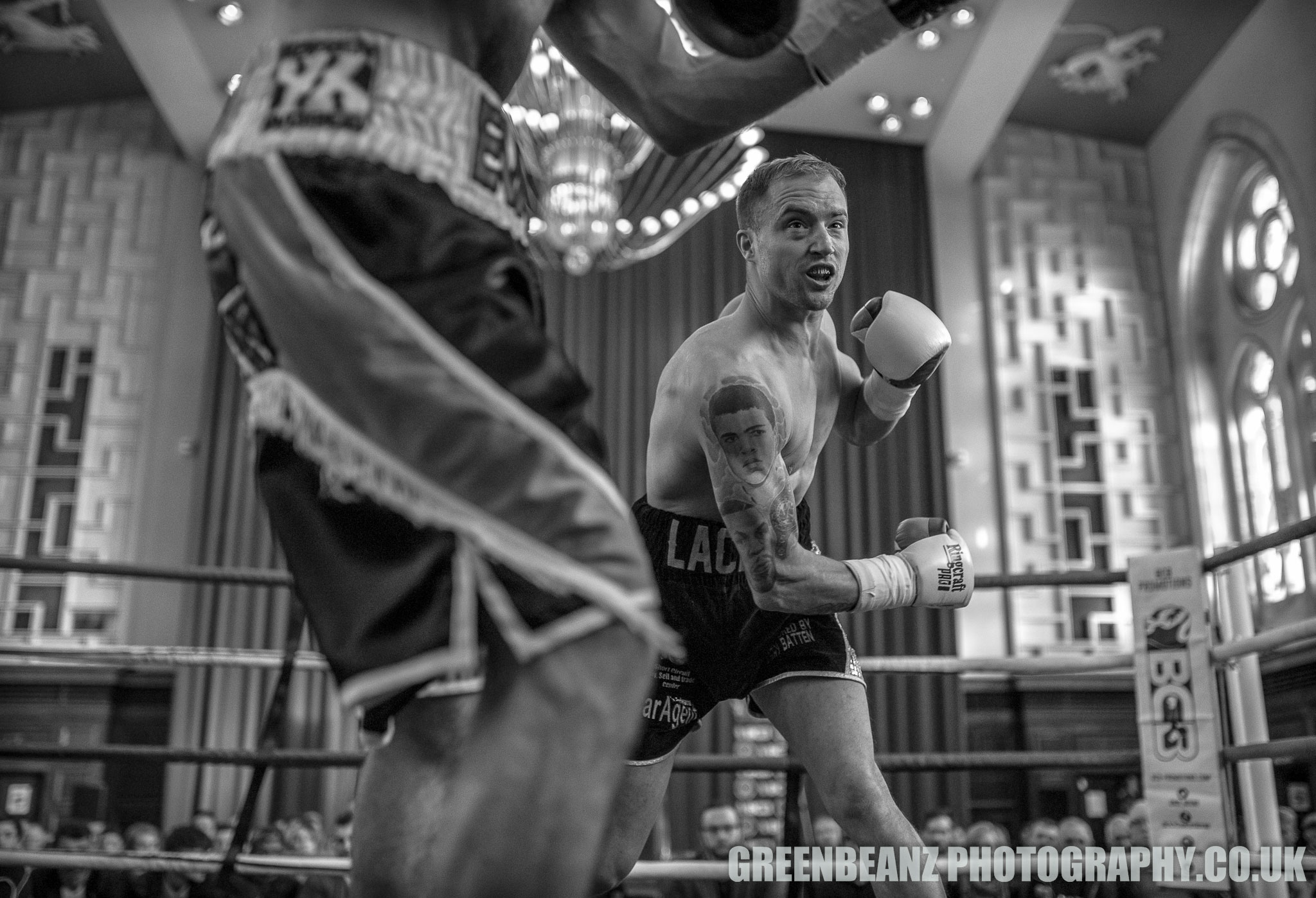 ABOVE : Des 'The Destroyer' Newton and Dean Evans at Plymouth Guildhall
It is why the fans love to watch Des though, and that belief provided him with a close but deserved victory against a fighter who left nothing in the ring on Sunday afternoon. It is a credit to both men, and all the fighters on the card that local fight fans were rewarded with such a festive feast of fulminant flare ups, on the afternoon before bonfire night.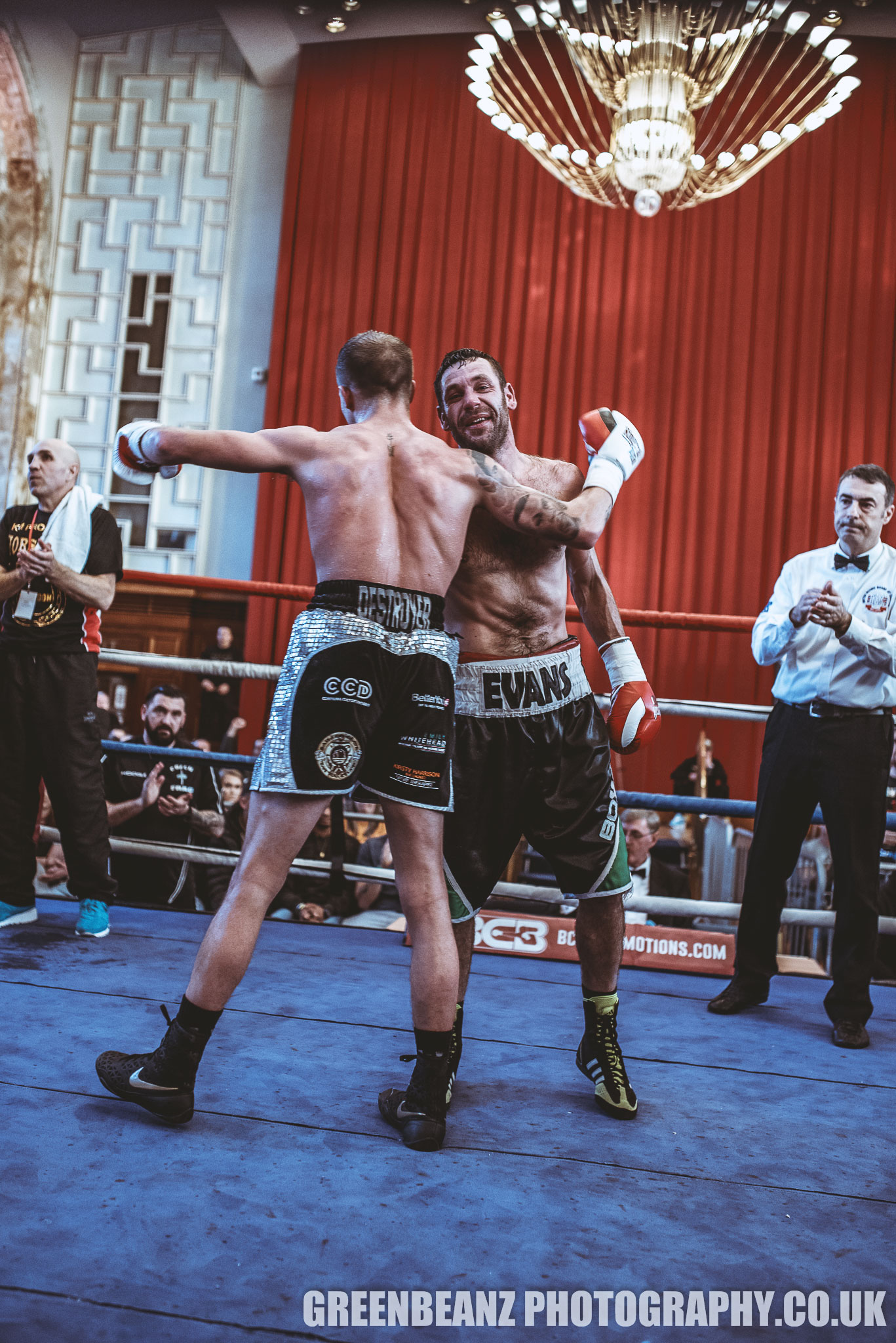 ABOVE : Des Newton and Dean Evans respect at end of bout in Plymouth Guildhall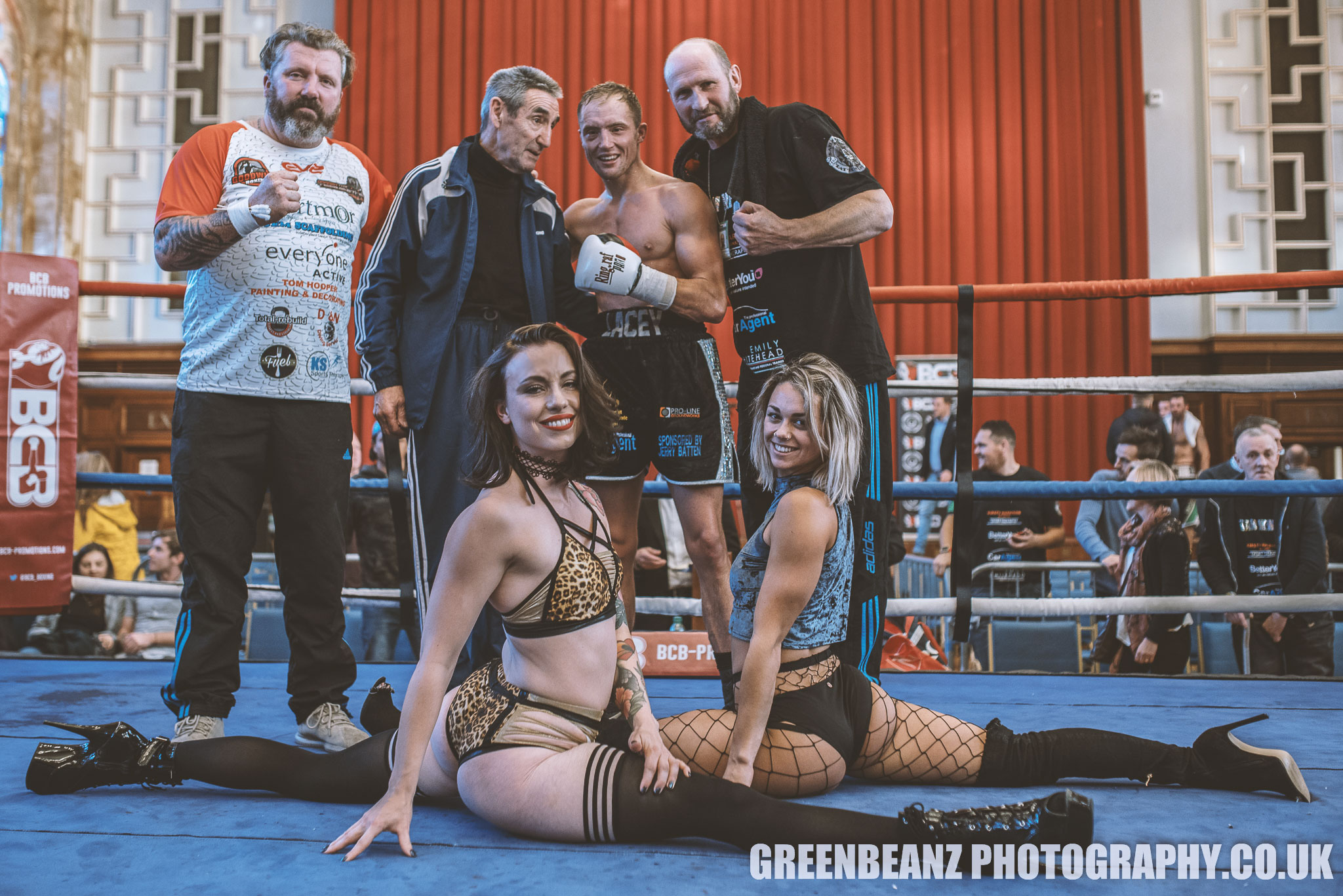 ABOVE : BCB Boxing and Carls Boxing Stable at Plymouth Guildhall November 5th 2017
Come and support your local fighters for the next round of fireworks at the hall, early next year.
If you would like to book me to capture your event, you can contact me HERE

You can find more fight night photographs in the Greenbeanz Photography Editorial gallery here
You also can find some on facebook at the gallery here
---