Greenbeanz Photography
Goodwin Boxing | Seize the Night 22 November 2019 | Professional Boxing at Plymouth Guildhall
22 November 2019 | Goodwin Boxing | Seize the Night | Pro Boxing at Plymouth Guildhall |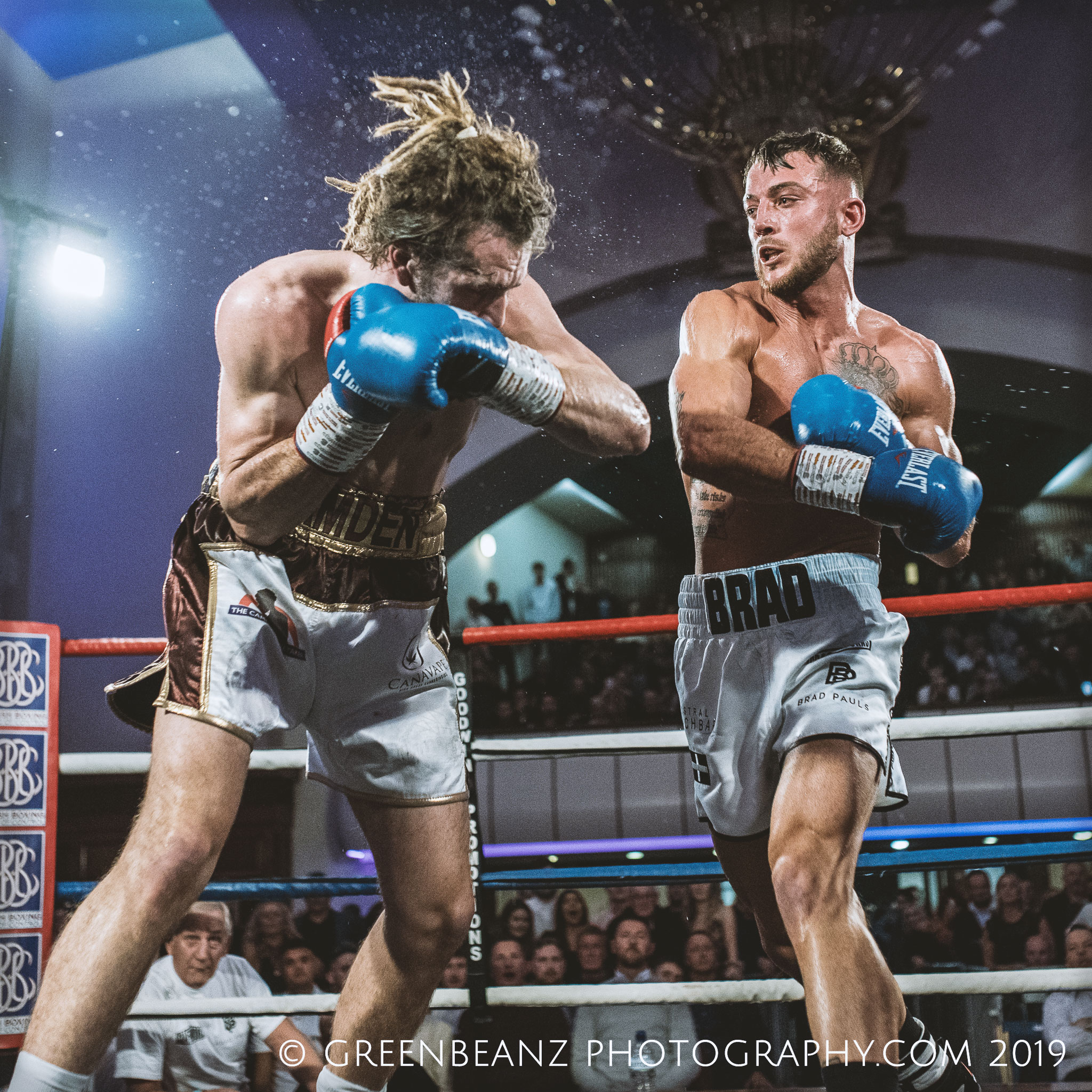 ABOVE : Brad Pauls defends his Southern Area Middleweight Title in Plymouth
Newquay Bomb takes care of the Caretaker
Goodwin Boxing's 'Seize the Night' event saw the Plymouth Guildhall play host once again to a night of top quality professional boxing headed by the Cornish Gladiator Brad Pauls defending his Southern Area Middleweight title against London's Robbie Chapman.Pauls succesfully defended his title, dramatically stopping his opponent in an action packed headliner that aptly closed an explosive night of professional boxing action on a wet November night.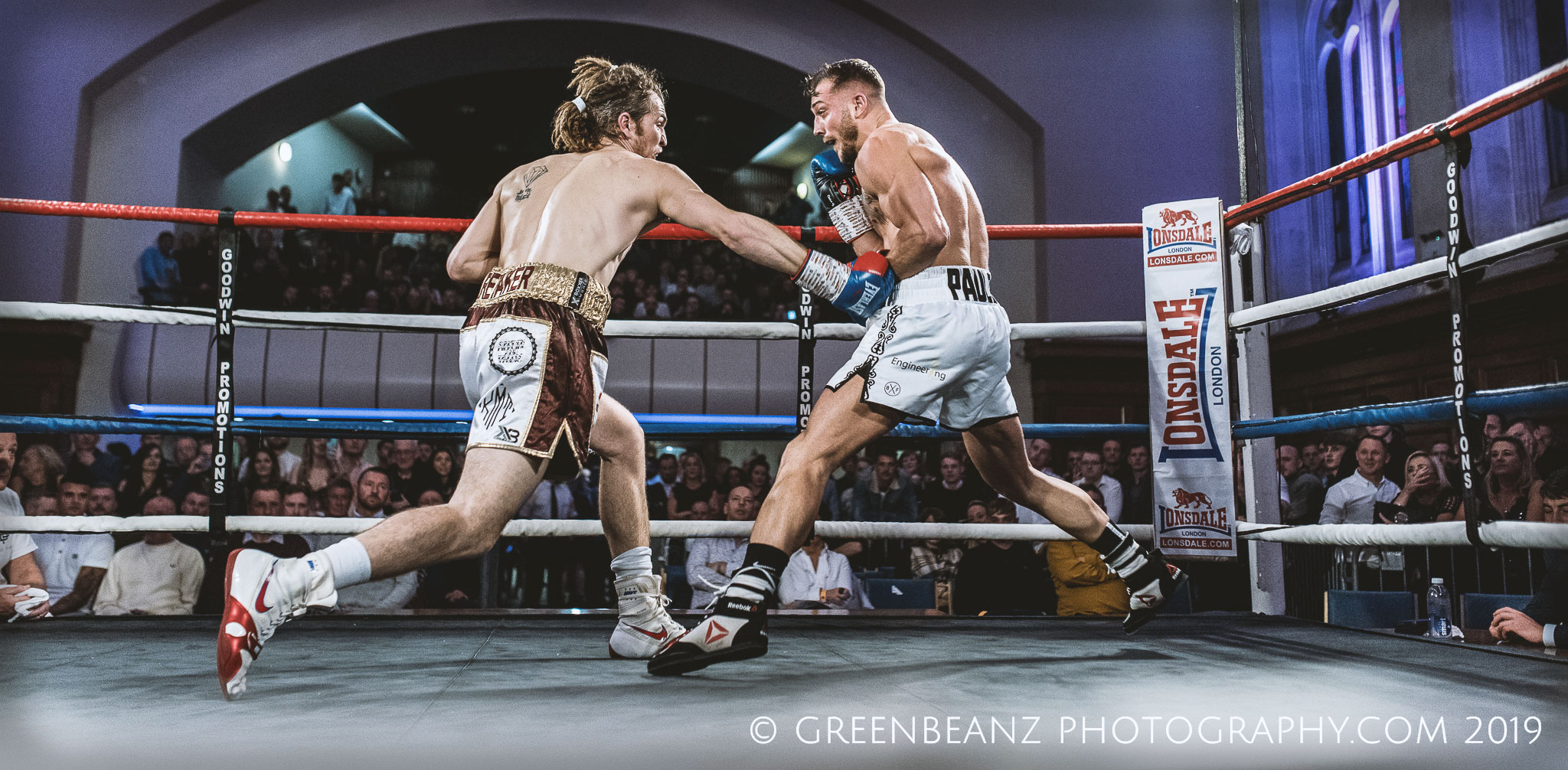 ABOVE : Challenger Robbie Chapman fighting Champion Brad Pauls in Plymouth
In this month, and in the city that hosts the International Fireworks Championship, the night was not short on spectacle and excitement, helped in no short measure by an enthusiastic hall full of boxing fans, family and the fighters supporters. On an a evening in which four of the seven fights featured Boxers making their professional debut, the support shown was fantastic, with the local Plymouth crowd joining a sizeable travelling army of Cornish fans ( over 200 from Newquay alone) in cheering on Brad Pauls to vistory with booming chants of 'Newquay Bomb' ringing around the great hall.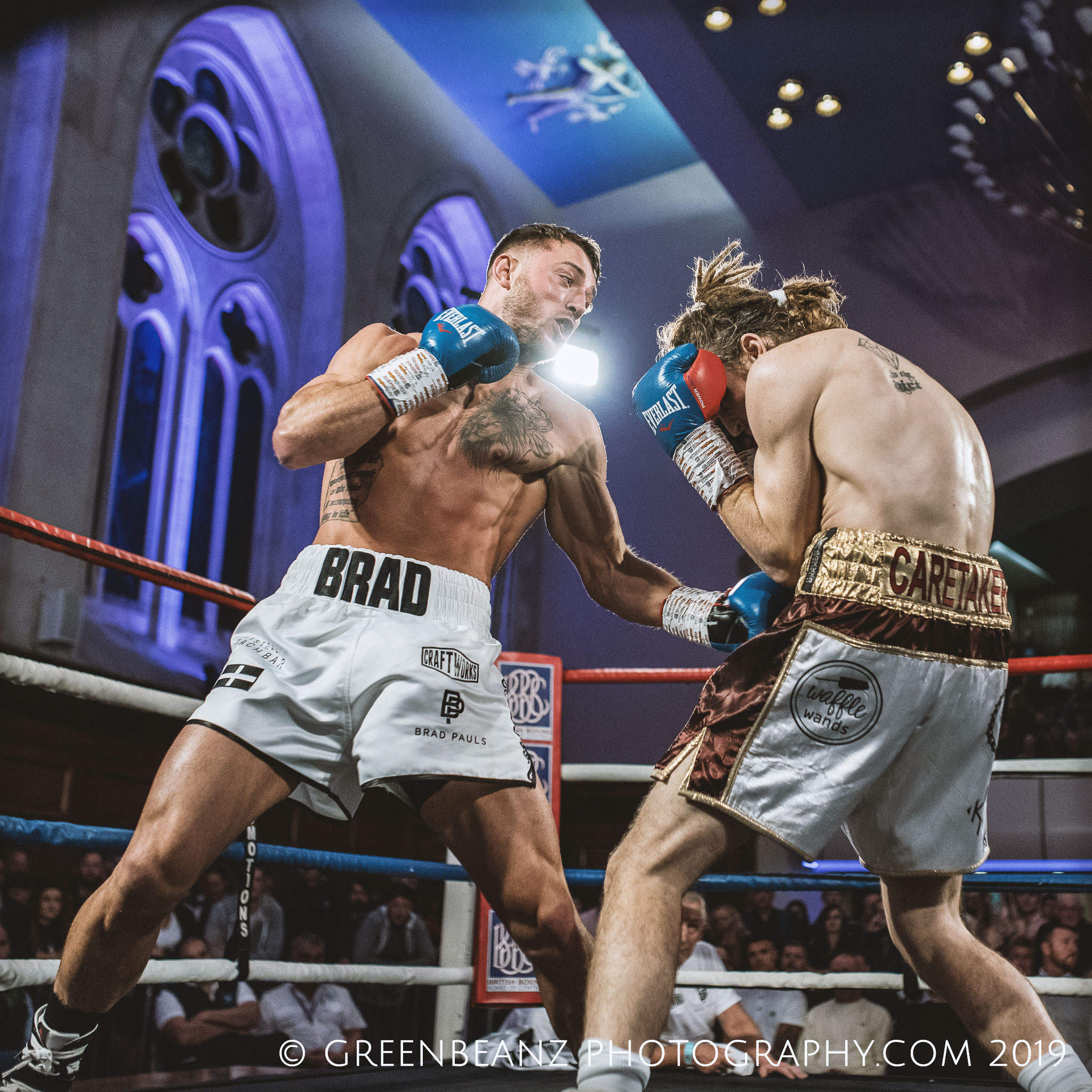 ABOVE : Southern Area Middleweight Boxing Champ Brad Pauls Plymouth Boxing 2019
Newquay Gladiator Brad Pauls can be added to the list after a dominant performance against a very difficult opponent. The Newquay born Essex based middleweight is a busy fighter with an admirable dedication to the sport emphasised with eight stoppages of his own now. A spiteful puncher, Pauls is a classy combination hitter, who even at this stage is capable of mixing up his work in a way that often frustrates his opponents, and that was never more evident than tonight. Victor Edagha, the fighter on the wrong end of 'The Newquay Bomb' s explosive output in this fantastic arena resorted very early to flopping over Pauls like a collapsed big top, unable to find the key to diffusing the clever work that constantly threatened to make him fold. He was finally warned and had a long overdue point deducted by an exasperated ref, who raised Paul's hand for a points victory after four rounds.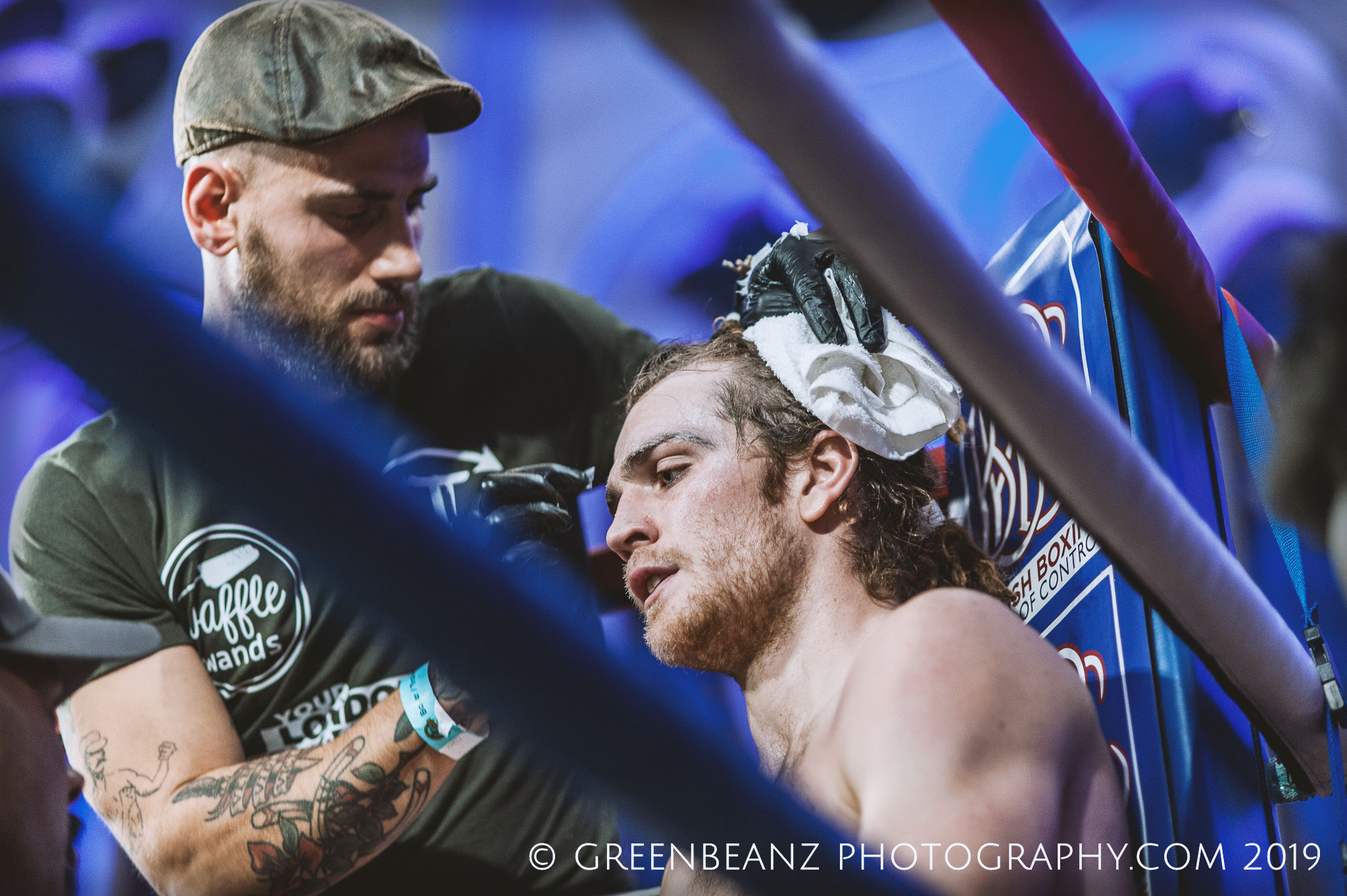 ABOVE : Boxer Robbie Chapman in the corner
Pauls, who had boxed here in Plymouth's Guildhall twice before, went into this, his fourteenth professional fight, having stopped eight fighters in 13 winning fights as a Pro. He had won the belt with an impressive third round stoppage of Darren Codona at London's historic York Hall in June of this year, and made history as the first Cornishman since the red headed legendary Bob Fitzsimmons, (who also carried a huge punch allowing him to win world titles at Middleweight, Light Heavyweight and Heavyweight) to hold a professional boxing title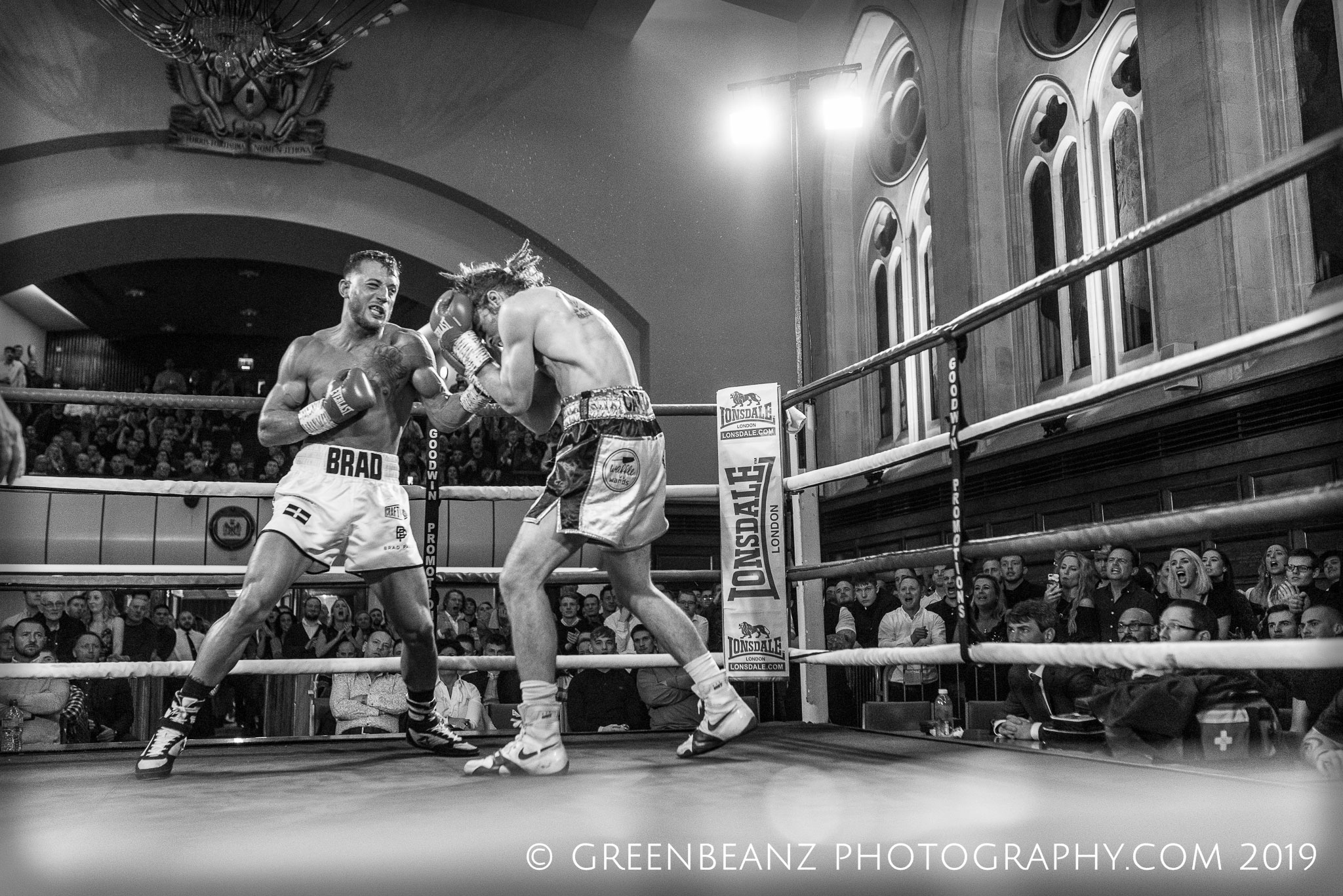 ABOVE : Brad Pauls & Robbie Chapman in an action packed fight at Plymouth Guildhall
The early rounds saw both fighters having some success but it did not take Pauls long, after a bit of a reckless second round, to get back to his smart compact boxing and exert his dominance. Chapman, dubbed 'The Camden Caretaker' just could not hurt Pauls and while a brave and very durable opponent, it was the Cornish born Essex fighter who made the more telling adjustments that allowed him to gradually take the Londoner to pieces. The Cornish Gladiator's shot selection was too acurate and intense for the challenger to have time to take a breather, forcing Chapman into holding Pauls waist as he flagged before being knocked down with a short uppercut that had him taking a knee and rising on the count of 7.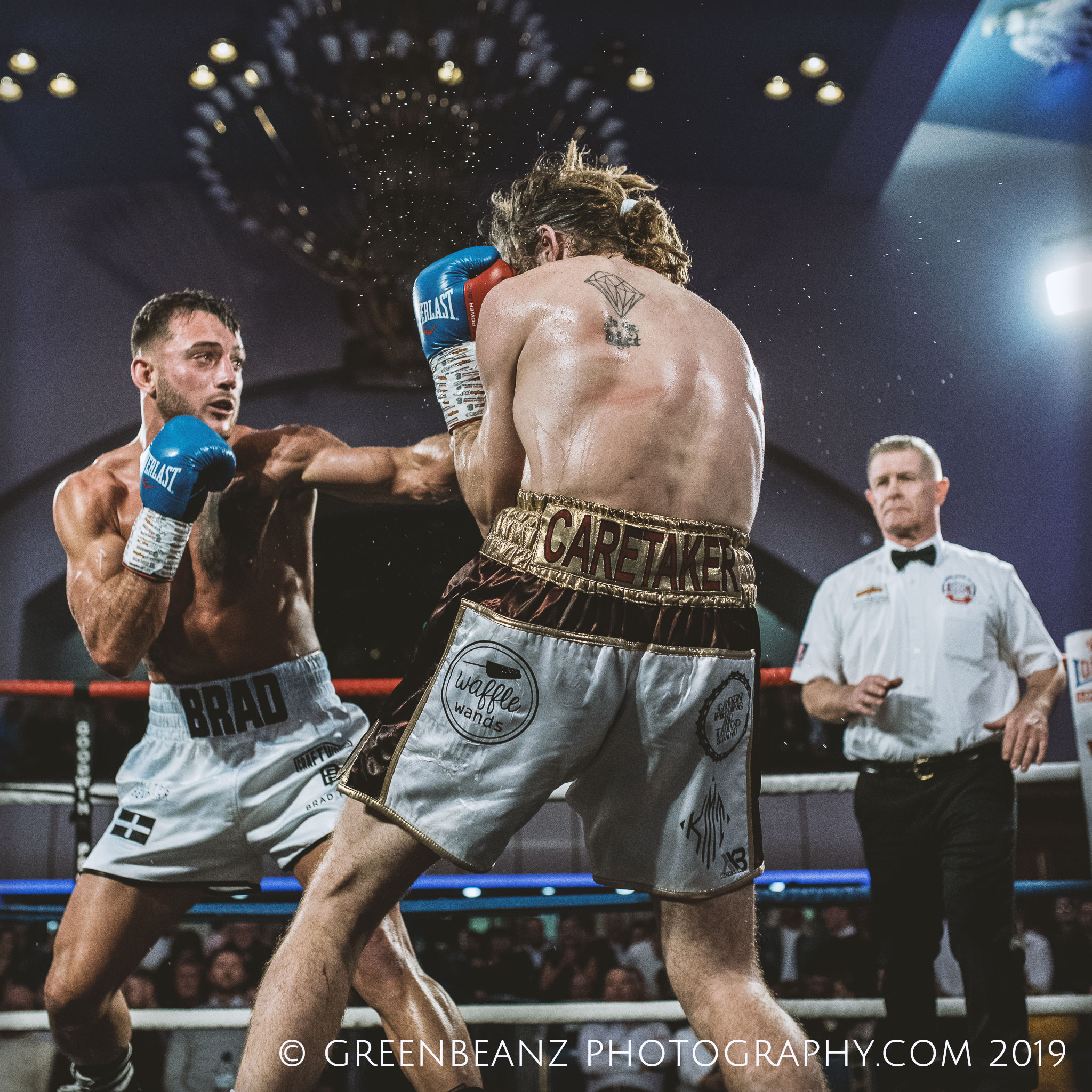 ABOVE : Brad Pauls fighting Robbie Chapman
The end when it came was dramatic and conclusive. Pauls really did 'Seize the Night' and flatened his opponent with a devestating right cross at the end of a four punch combination in the seventh round.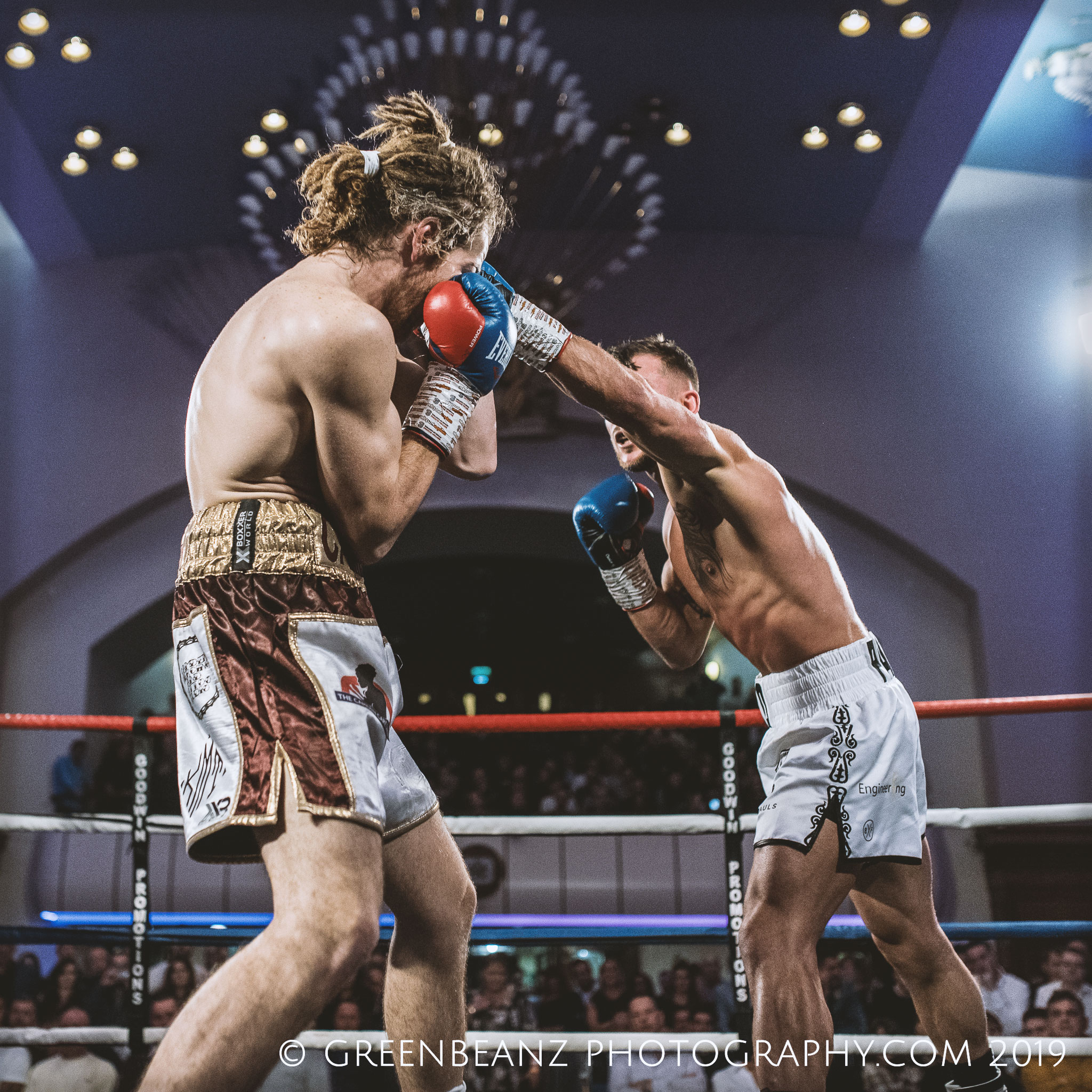 ABOVE : Brad Pauls starts to pile on the pressure against Robbie Chapman in 2019
Brad Pauls maturity and gentlemen like behaviour, in asking the crowd to pause their celebrations until his opponent had recovered, was off the oxygen and had been given the all clear, was a nice touch in a sport in which respect and compassion is such an integral component.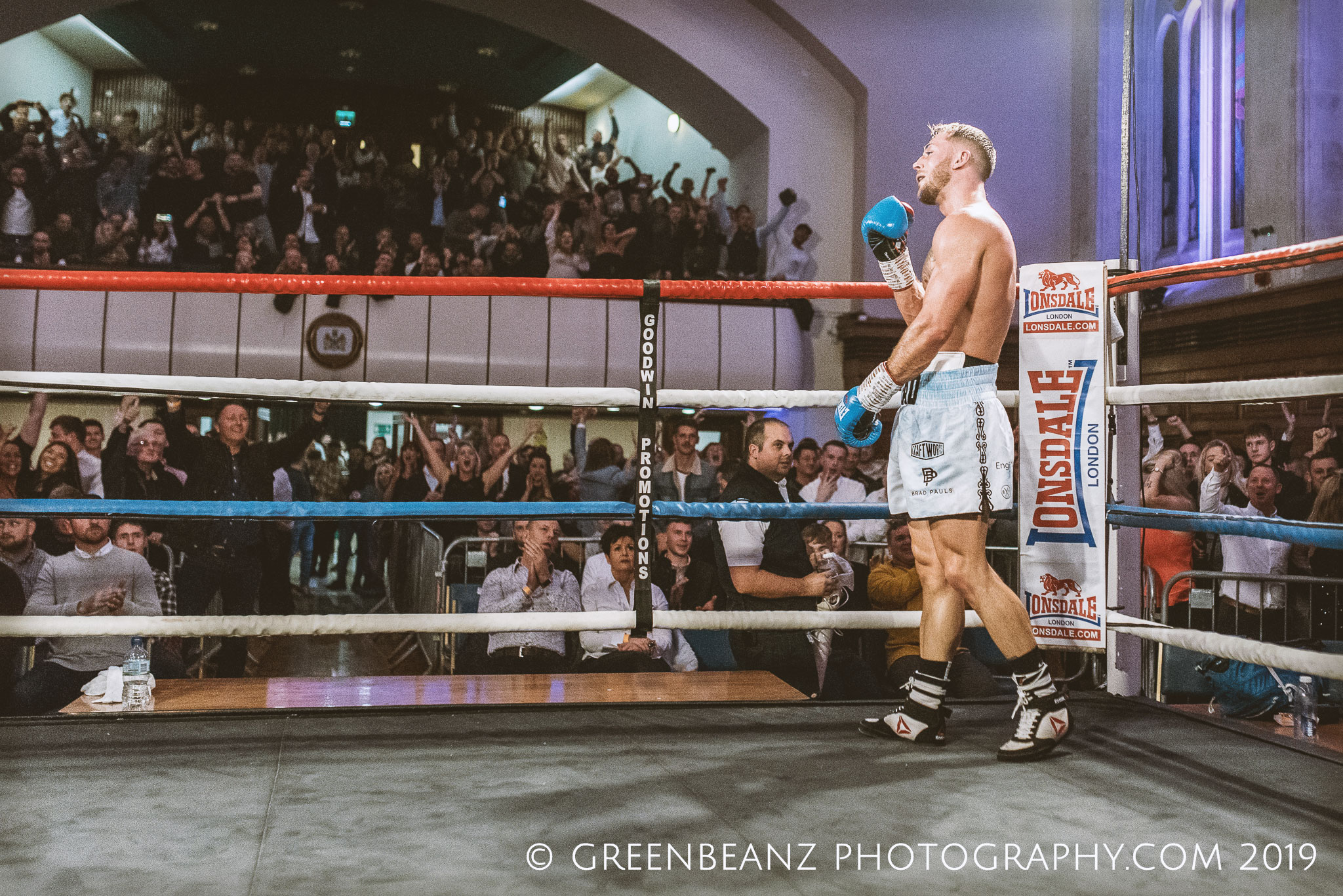 ABOVE : Boxer Brad 'Newquay Bomb' Pauls connects with his army of fans at Plymouth
After the fight I asked Brad Pauls who has continued to progress, sparring Conor Benn and Ted Cheeseman recently, how it felt defending his Southern Area title back here in the Westcountry?

"It feels like I belong here..you know. I never get the support that I get her down near Cornwall. Hearing the crowd gives me an extra 20%, and I am so happy the fans seemed to have a really good night. I am glad to be back and hopefully the first of many more local nights to come."

With that kind of support do you feel the pressure to deliver stoppages, that was your ninth tonight?

"No. Whatever gets me the win. Tonight I wasn't looking for the stoppage, and I think that's why it come. If I was looking for the stoppage I probably would have lost the fight, so, as long as I keep winning, and then we can progress further"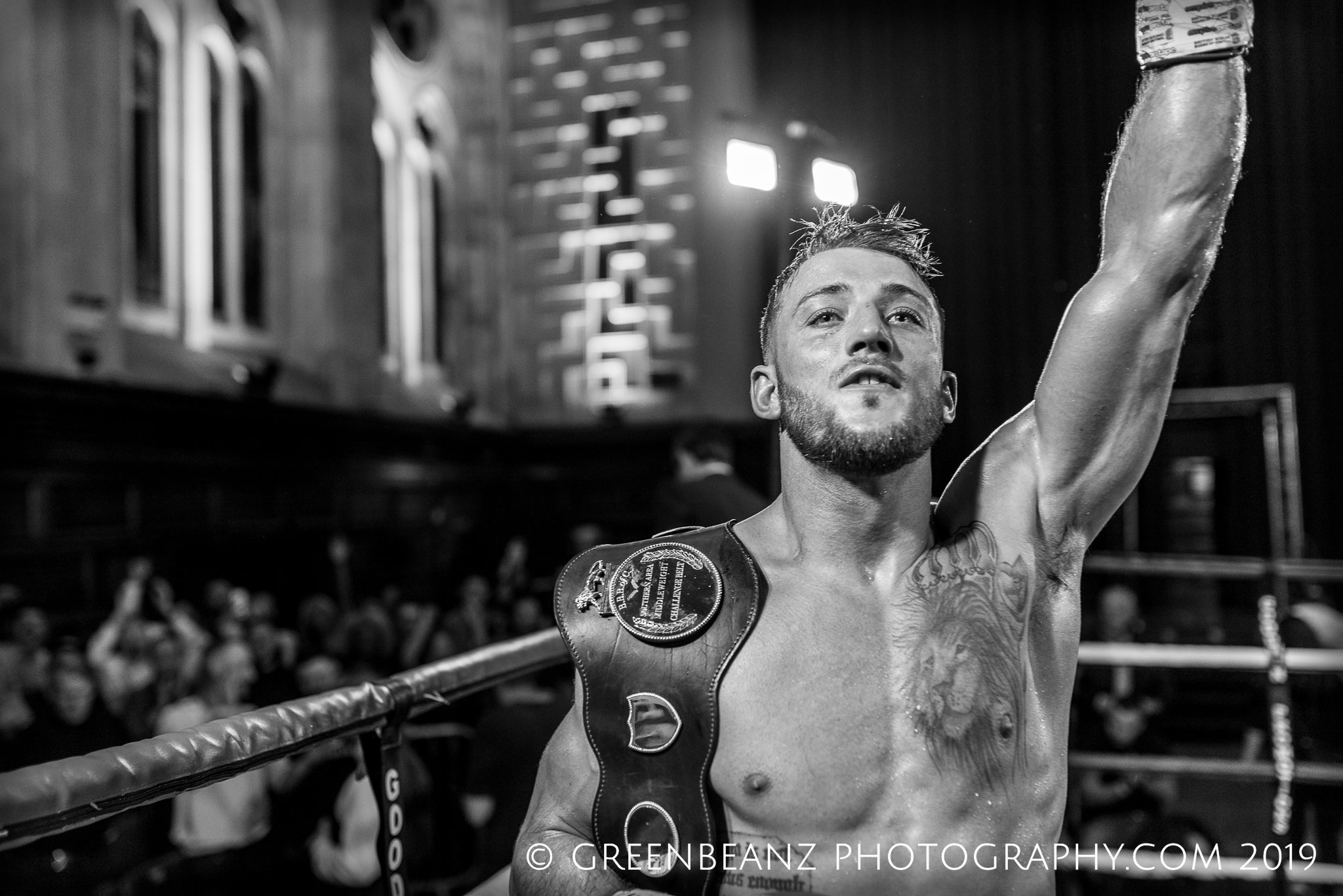 ABOVE : Southern Area Middleweight Champion Brad Pauls celebrates in Plymouth
Was that your toughest opponent so far?

"Absolutely. I have hit people with less and knocked them over. He got back up and didn't stop, but that is exactly why we picked him, because, I need these tough fights, so when I step up the levels, these are the sort of people who allow me to learn stuff about myself and learn how to handle these situations"

Did you have a good camp?
"Lovely. A bit of sparring with… European champ Danny Dignum, and I got a few rounds with Lerrone Richards, Commonwealth Champ, along with a few up and comers. Sparring people like that forces you to up your level so it was good."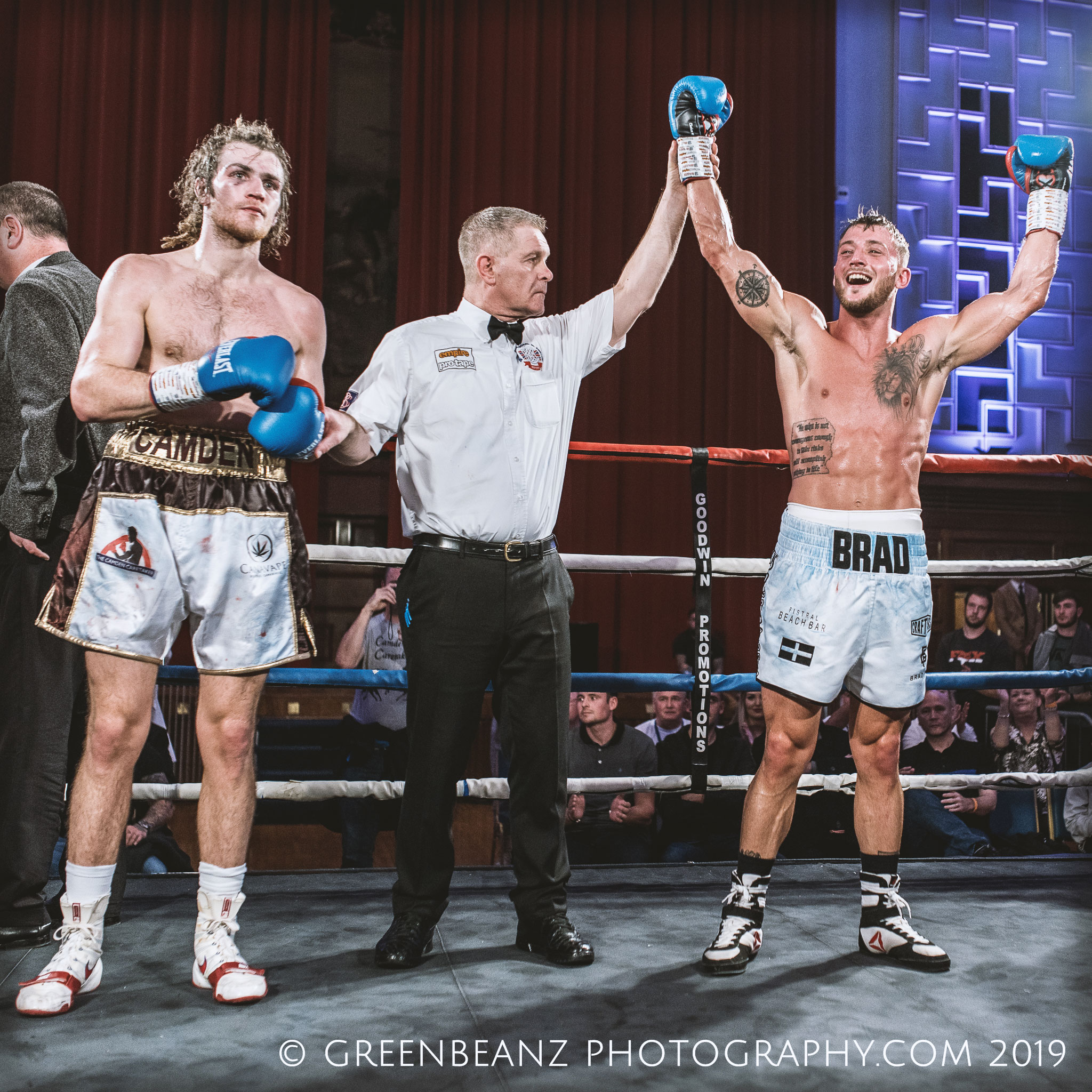 ABOVE : Brad Pauls successfully defends his Southern Area Middleweight Title
Did you stick to the fight plan?

"..(laughs).. Apart from the second round , then Terry gave me an absolute shellacking in the corner, and then I had to stick to it after that, and that is why the ending came the way it did"
What's next?

"Probably a few pasties maybe a Cider..and basically I am waiting for Linus Udofia over there (who fights Tyler Denny for the vacant English Middleweight title on the 30th at York Hall) to see what he is doing for the English.."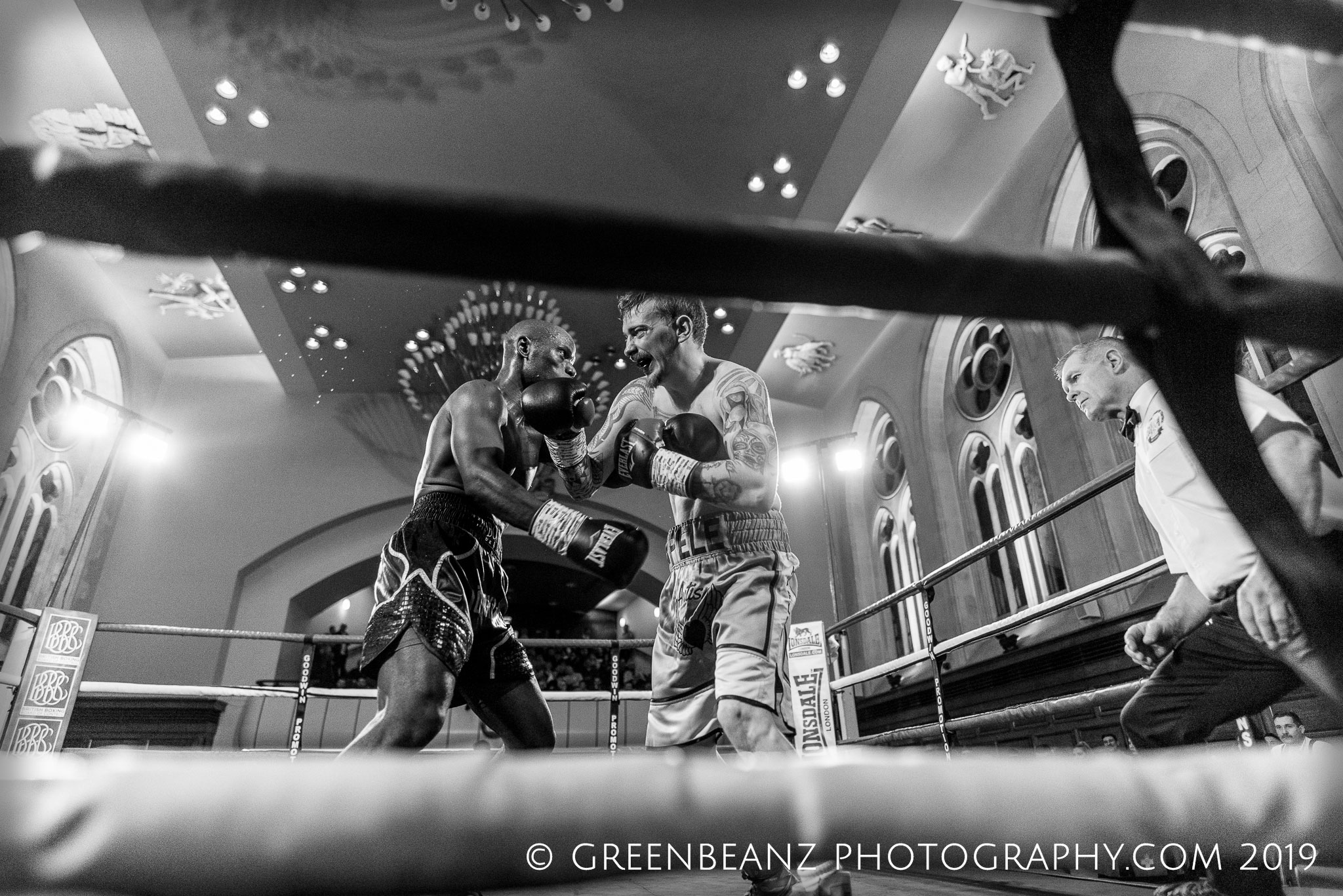 ABOVE : Marcus Hodgson fighting Edward Bjorkland in 2019
The night began with Launceston's Marcus Hodgson adding a win after drawing in his last fight at this venue. He was made to work hard for it, after the far more experienced Swede Edward Bjorkland applied constant pressure and caused Hodgson to force his work at times. Coming away with a 39-37 points win would have come as a relief and a busier schedule might help loosen up the Cornish Super Bantamweight.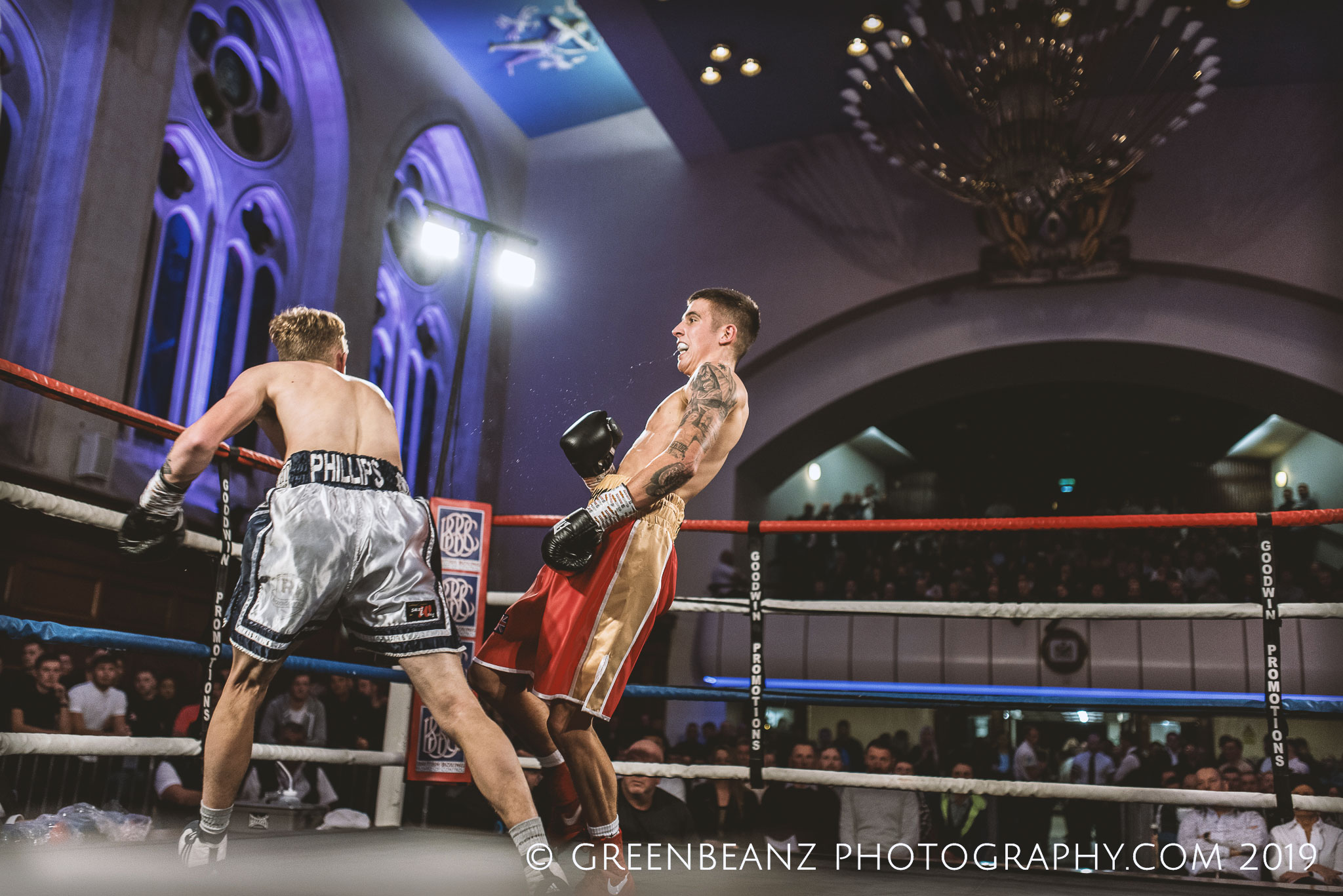 ABOVE : Conor Adaway proves to be an elusive target whilst fighting Jules Phillips
Conor Adaway made his pro debut at Super Bantamweight against a game Jules Phillips. Conor whose brother Chris has had 75 fights and covered more miles on the road than many a breakdown recovery driver, will have benefitted from some regular sparring under the watchful eye of Marlee Dann and Shane Radmore. It showed in Adaways speed and power, and after being knocked down with some brutal shots, Philips corner did the right thing in throwing the towel in before the end of the second round.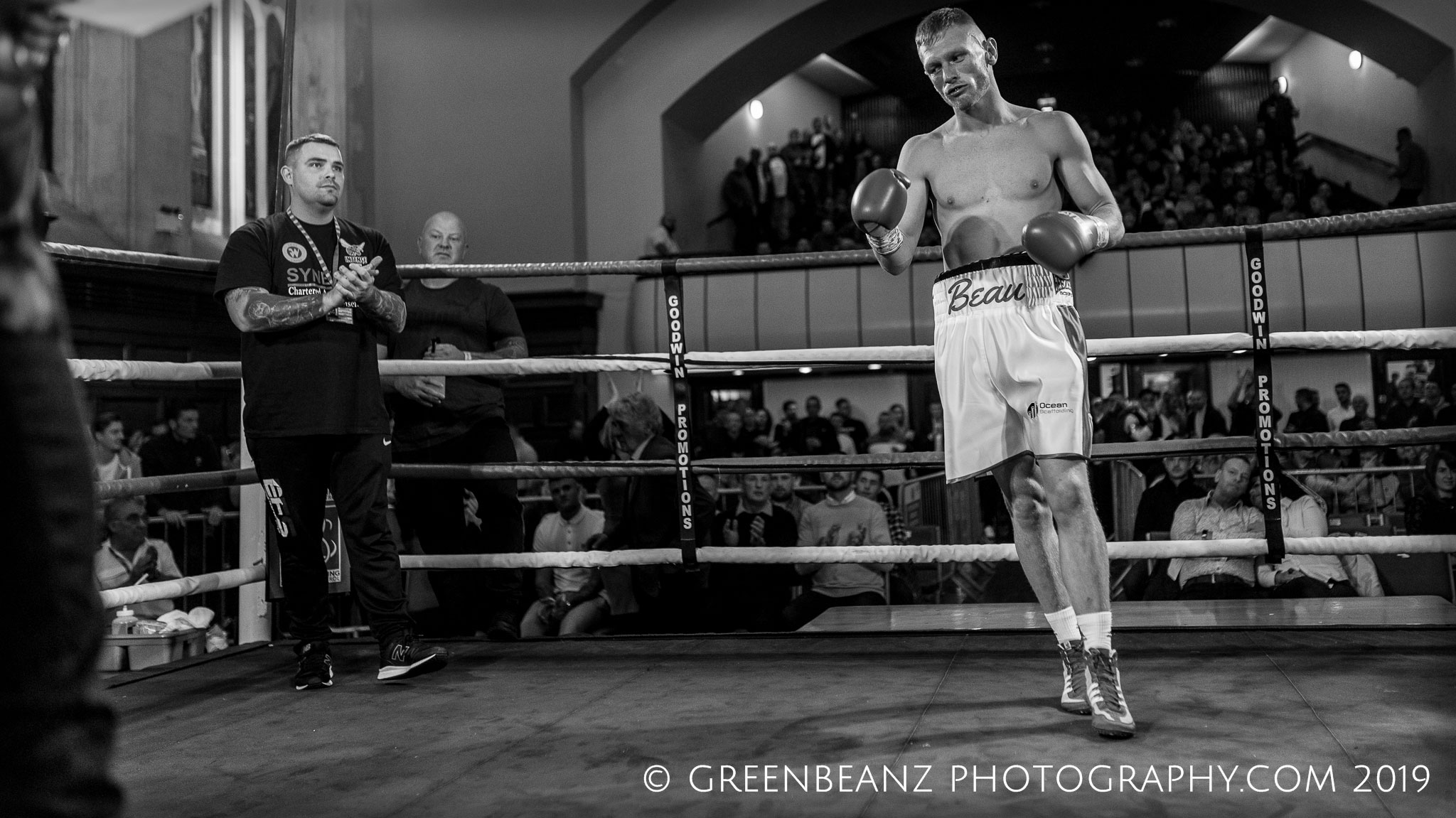 ABOVE : Lewis Everson UK Professional Boxing in Plymouth 2019
Lewis Everson a big punching middleweight as an amateur from Devon joined Adaway in making his debut at Plymouth's Guildhall. Everson fought the Russian Sergey Martirosyan at Super Welter, and there was not a lot in it. Both fighters put everything into a contest that became a hookfest at times, but it was the Russian fighter who hit Everson hard with a straight left early on that lit the fuse. A quality fight in which Everson did well navigating his way to a debut 39-37 win on points.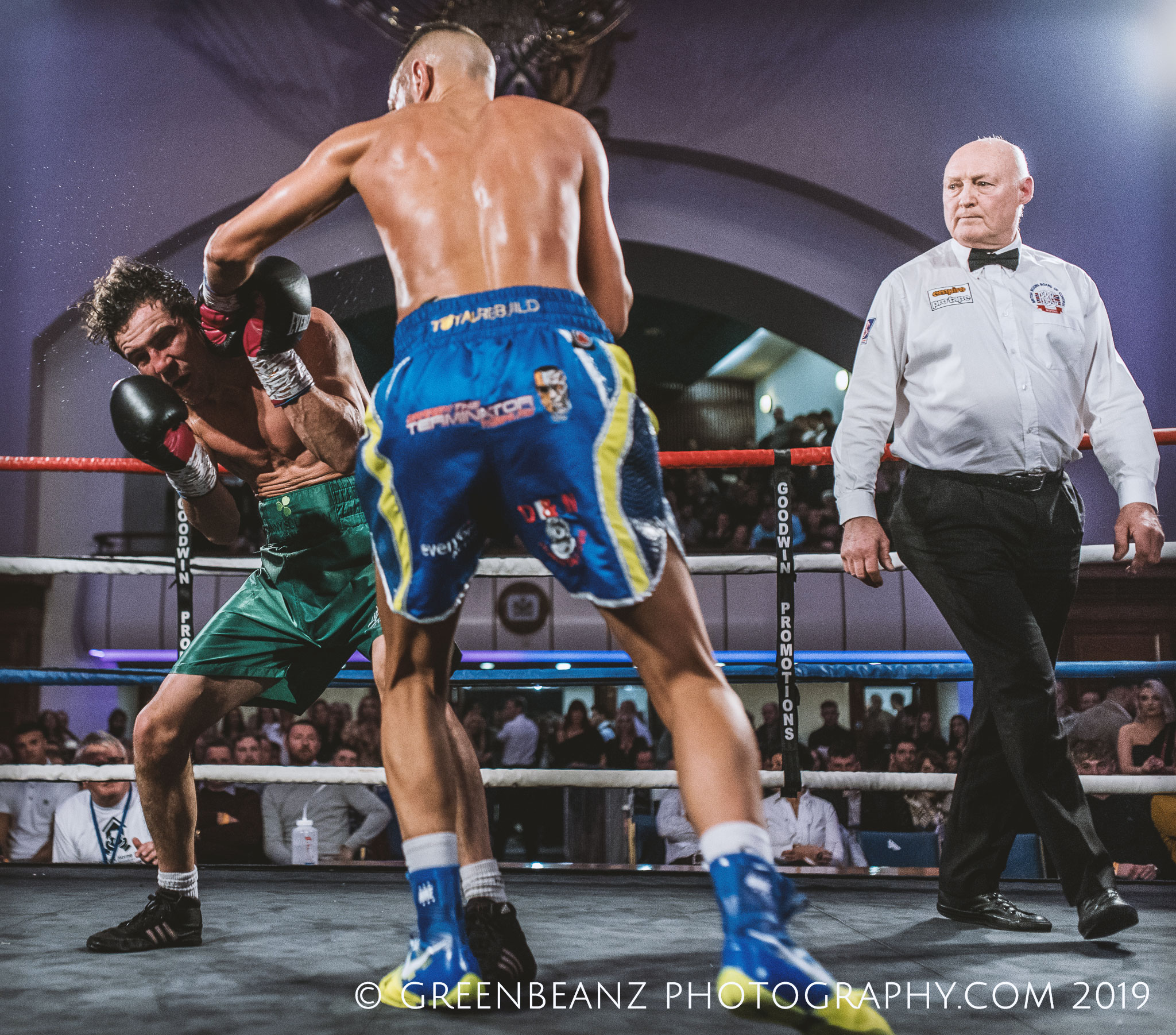 ABOVE : Darren Townley against Lee Devine in Plymouth 2019
Darren Townley clashed with Londoner Lee Devine. Townley a veteran Guildhall fighter with 7 contests under his belt here at Plymouth's civic centrepiece, and another five at York Hall, Torquay and Bournemouth, brought a vociferous following who got right behind the popular fighter from the opening bell. He was just too aggressive for Devine, who survived the contest but could not land much offensively on the classier fighter. Townley won on points and in a longer bout may well have had the time to open up more space to work in, against a determined but outgunned Devine. The Plymouth fighter was cleary very happy on having his hands raised to record his tenth professional victory.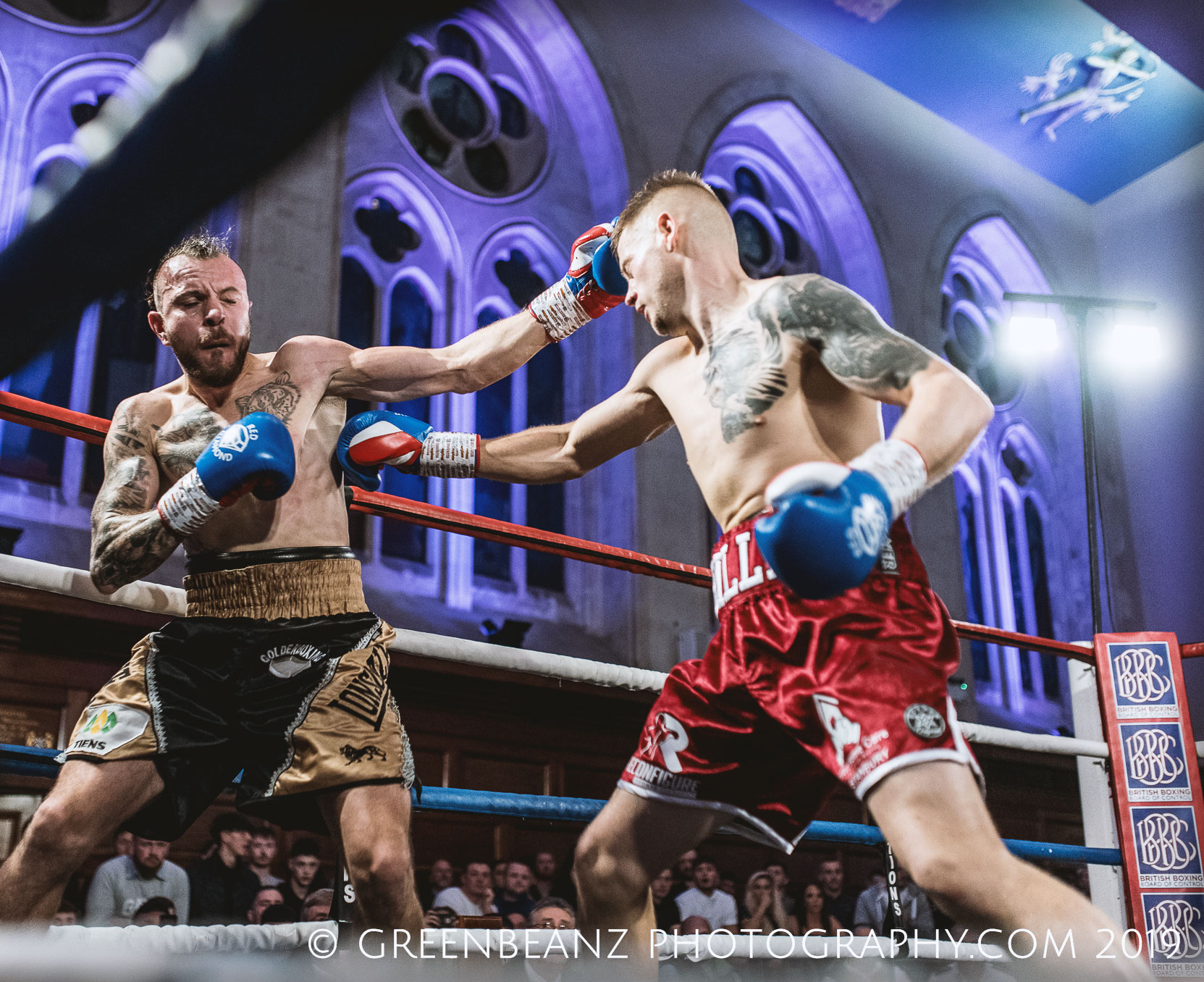 ABOVE :Billy Stanbury boxing Martin Kabrhel UK Professional Boxing in Plymouth 2019
Billy Stanbury another local fighter and middleweight, this time from Bideford, had his inaugral fight as a professional against the Czech Martin Kabrhel. Stanbury wasted no time in piling the pressure onto Kabrhel flooring him with a left hook that morphed into a spiteful upercut in the first minute. Kabrhel was on his feet and counted back in to continue by the referee, but Stanbury, who clearly wanted to make an impact in his first appearance as a pro, knocked his opponent back down to the canvas two more times with the official having seen enough to call the fight off before the end of the first round.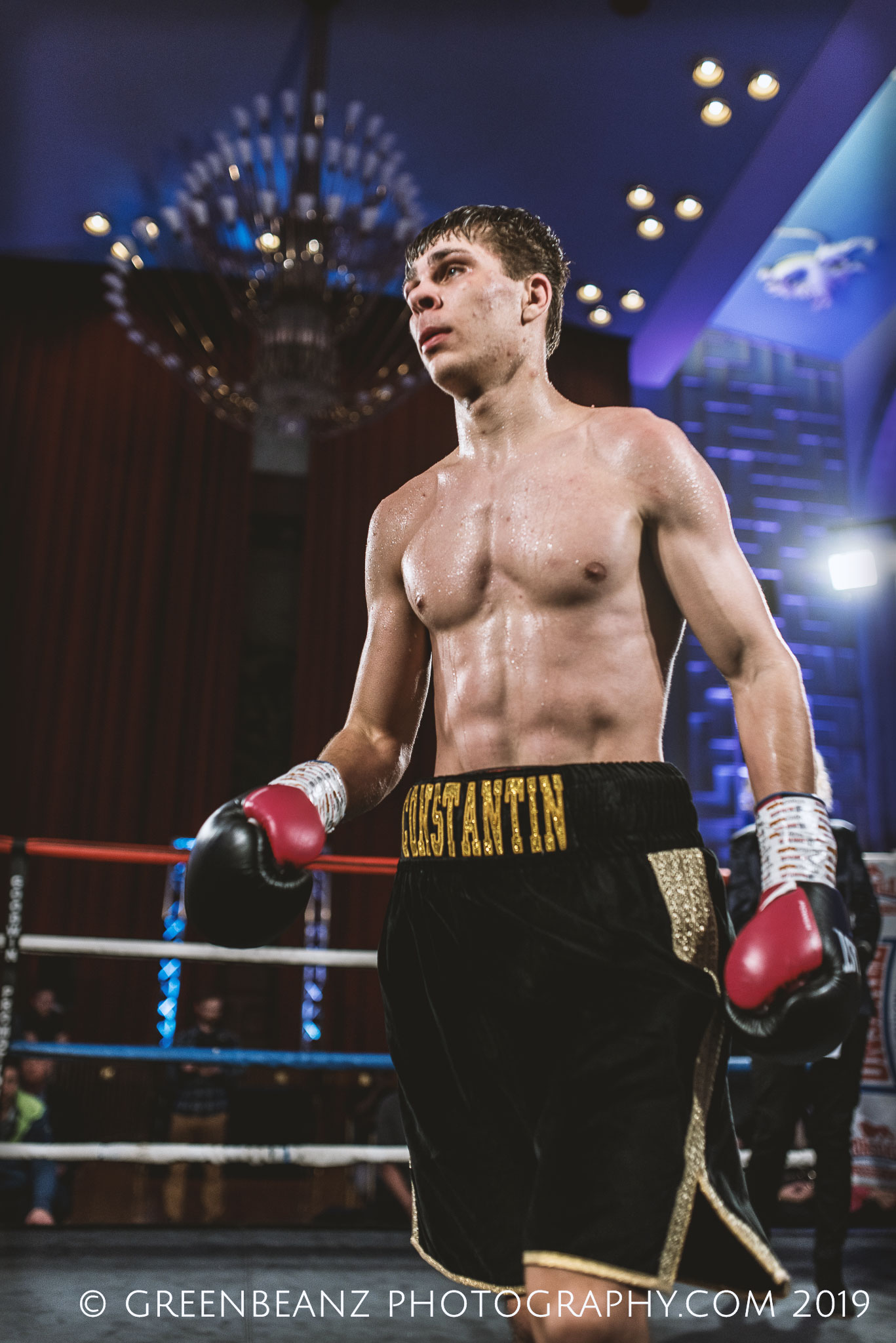 ABOVE : Constantin Ursu UK Professional Boxing at Plymouth Guildhall 2019
Constantin Ursu, originally from Moldova, but fighting out of Plymouth, was the last of the debut fighters on the card tonight and he took on the Ukrainina Welterweight Artur DavyDenko. The two southpaws both had success landing early but Ursu seemed more intent on landing hard shots whilst Davydenko looked to pick up points. Ursu came away with the win.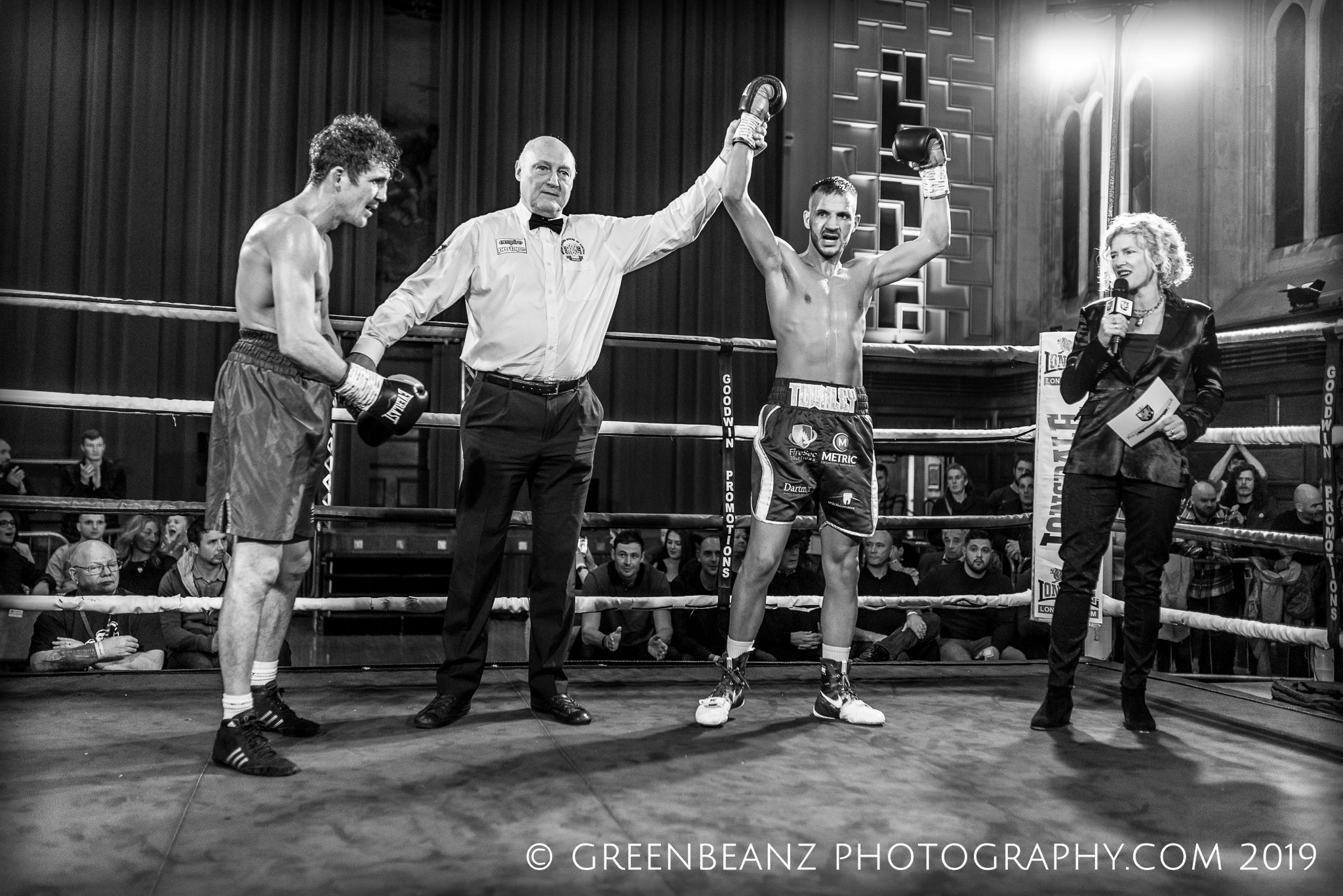 ABOVE : Darren Townley's 10th UK Professional Boxing win

If you would like to book me to capture your event, you can contact me HERE

You can find more fight night photographs in the Greenbeanz Photography Editorial gallery here
You also can find some on facebook at the gallery here
---