Greenbeanz Photography
Sanigar Events | Battle in the Bay 20 APRIL 2019 | Professional Boxing at RIVIERA international centre Torquay
20 April 2019 | Sanigar Events | Battle in the Bay | Pro Boxing at Riviera International Centre Torquay |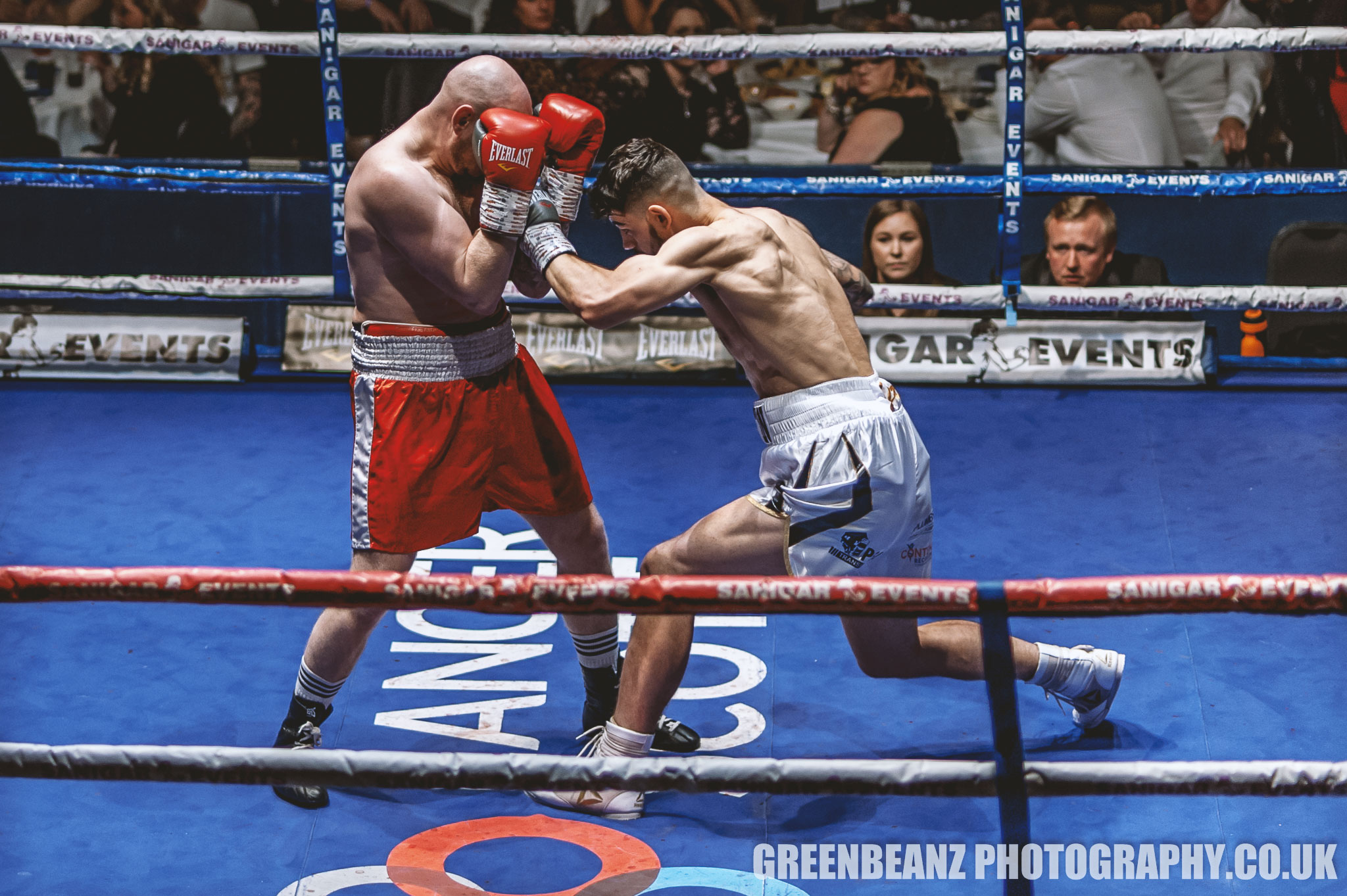 ABOVE : Torquay's Nathan Halton and Lewis Van Poetsch at Riviera International Centre
Battle in the Bay 2019 | 20 APRIL 2019 | Pro Boxing at Riviera International Centre Torquay | Devon and Cornwall Sport and Event Photography
On a hot humid bank Holiday weekend The Riviera International Conference Centre saw the return of professional boxing to the westcountry after a long break, with this Sanigar Events Promotion. Brought to the bay by long serving Bristol based former welterweight boxer Chris Sanigar and his team, Chris as trainer and manager now is well placed to spot future prospects. Having done so much for westcountry and Welsh boxers including bringing home world titles for his fighters as trainers and manager of Plymouth's Scott Dann, Bristol's Lee Haskins, Welsh brothers Lee and Andrew Selby amongst others, it is great to see him back in Devon.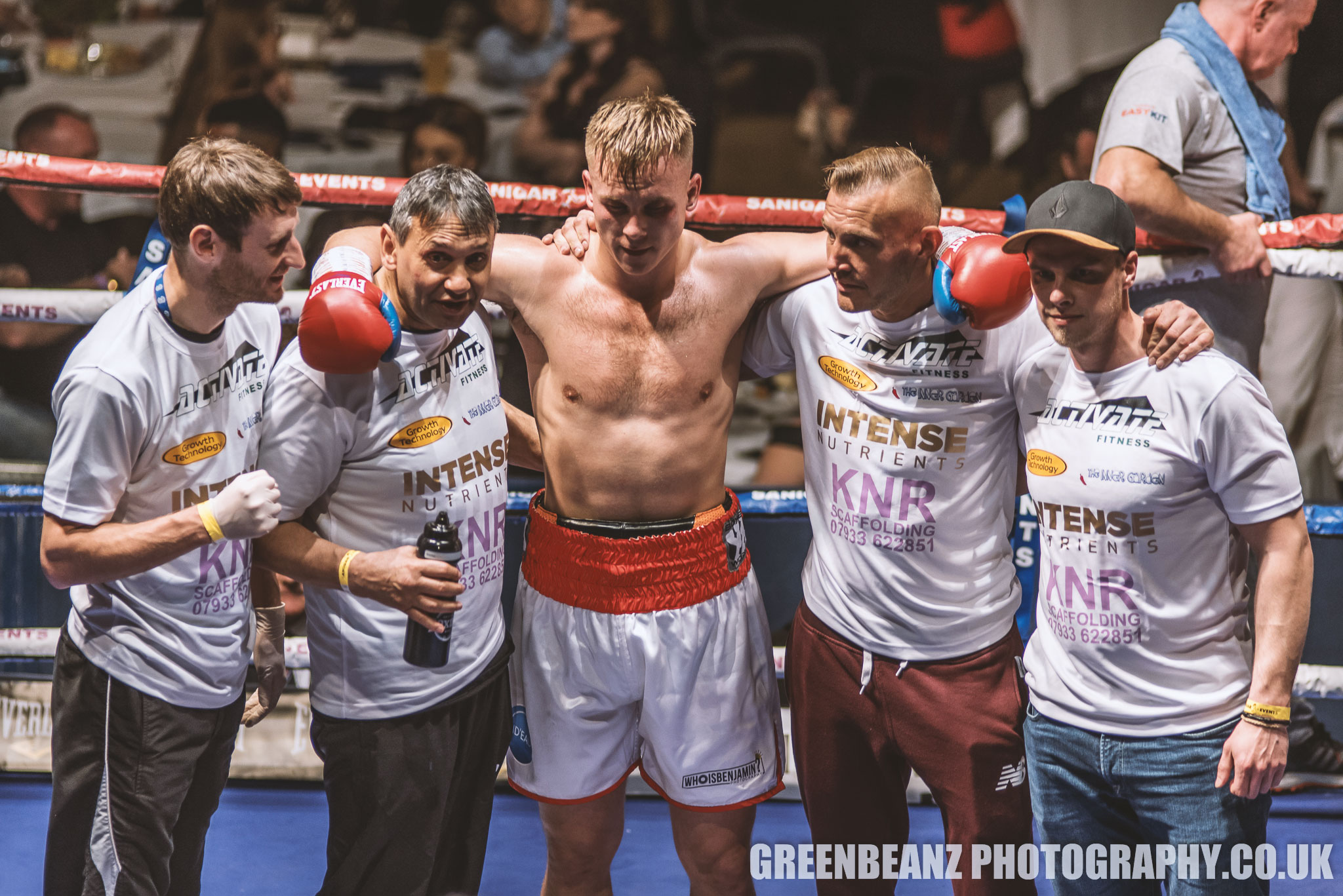 ABOVE : Chris Sanigar with Taunton based boxer Pawel August and team in Torbay
One of those prospects is surely Taunton based Polish Born light heavyweight, Pawel August who headlined the show in a barnstorming international fight against Robert Halas from Serbia. Not just knocking on the door, but batten charging them off the hinges, August stopped his opponent in an impressive display of controlled aggression. Shepherding his opposite number into the line of fire with a innate sense of range and space, cutting off the ring and controlling the fight from the first bell. Now with four stoppages behind those heavy hands, three in the last three fights Augustynik is a welcome addition to a new resurgence of quality westcountry based fighters.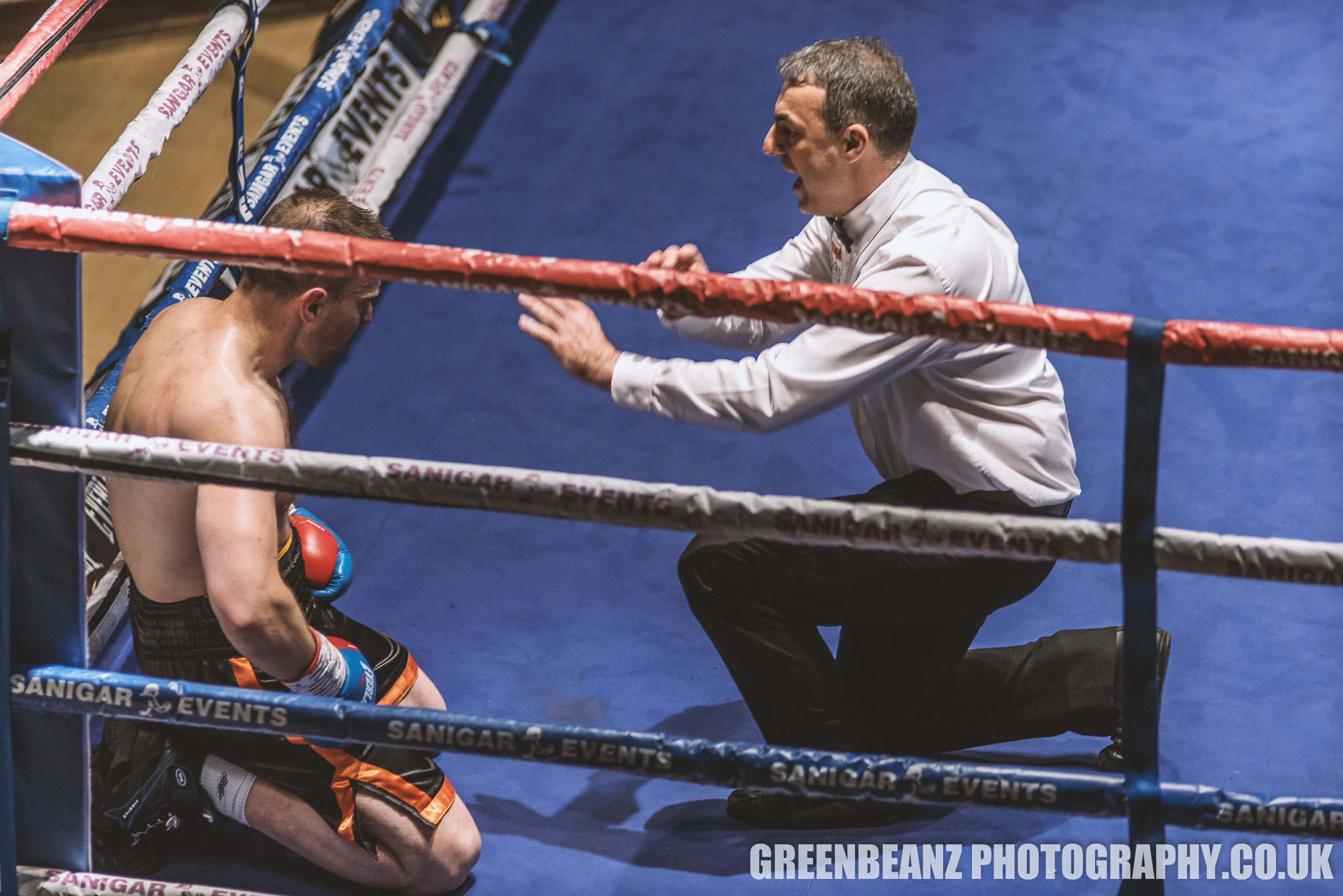 ABOVE : Serbian Boxer Robert Halas is counted out at Torquay April 20th 2019.
Newquay Gladiator Brad Pauls can be added to the list after a dominant performance against a very difficult opponent. The Newquay born Essex based middleweight is a busy fighter with an admirable dedication to the sport emphasised with eight stoppages of his own now. A spiteful puncher, Pauls is a classy combination hitter, who even at this stage is capable of mixing up his work in a way that often frustrates his opponents, and that was never more evident than tonight. Victor Edagha, the fighter on the wrong end of 'The Newquay Bomb' s explosive output in this fantastic arena resorted very early to flopping over Pauls like a collapsed big top, unable to find the key to diffusing the clever work that constantly threatened to make him fold. He was finally warned and had a long overdue point deducted by an exasperated ref, who raised Paul's hand for a points victory after four rounds.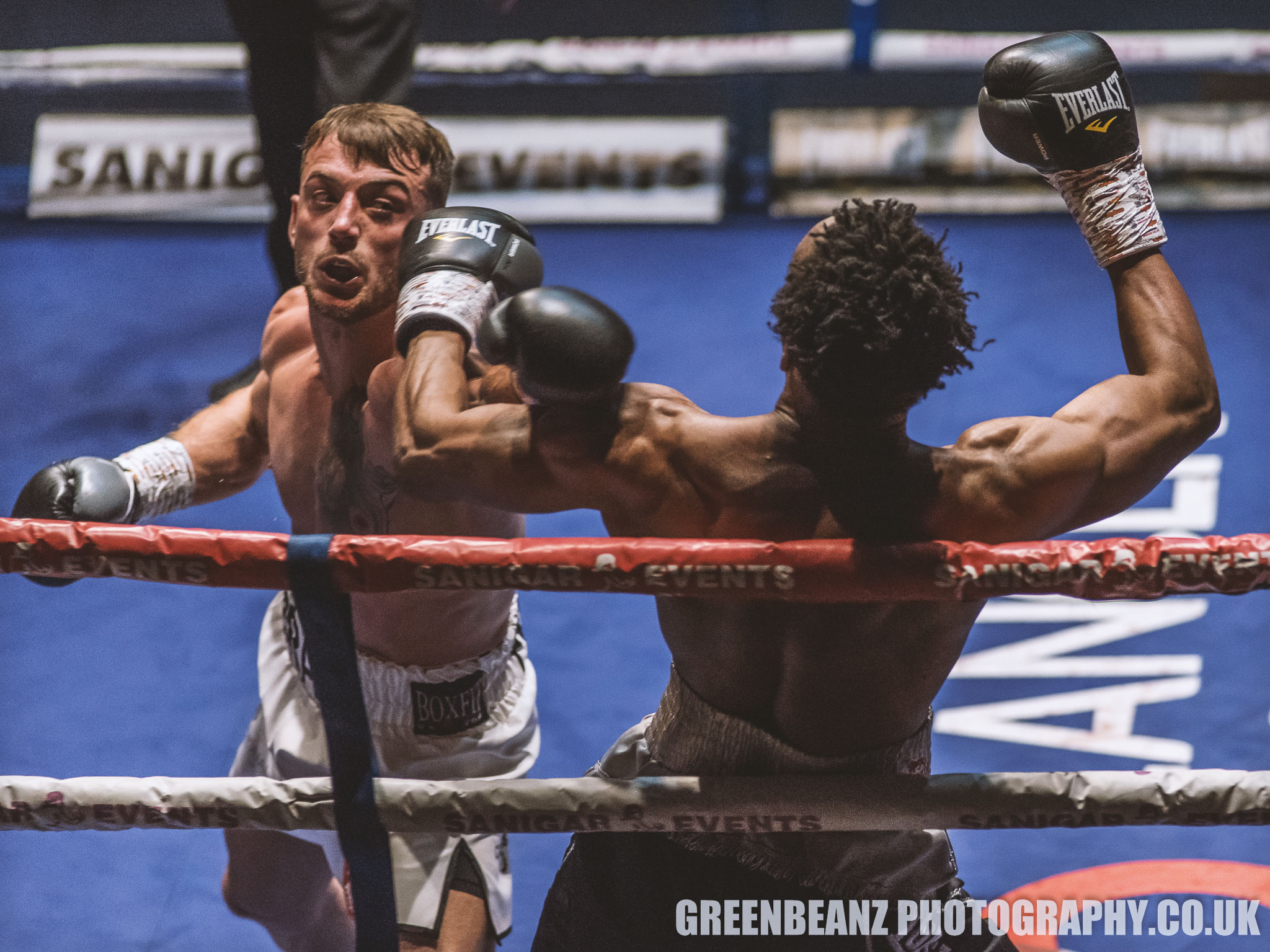 ABOVE : Brad Pauls finds Victor Edagha a tricky puzzle to unravel in a messy fight
To chants of 'Faheem your our hero' Exeter fighter and Prince Fighting Club owner and welterweight boxer 'Prince' Faheem Khan fought Yorkshire's Danny Little in a decent scrap that saw Khans hand raised after fourth and final round in a hard fought points victory.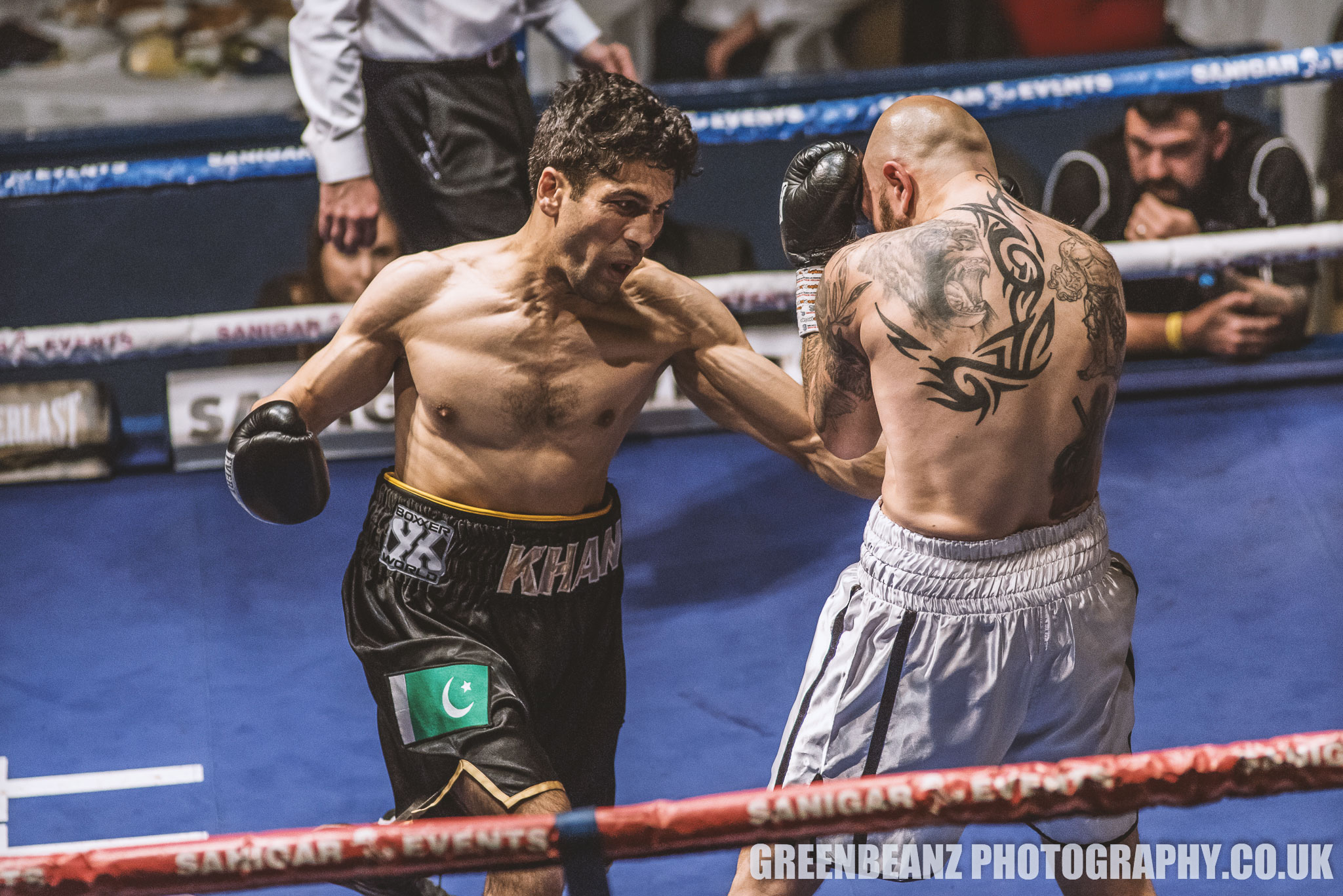 ABOVE : Faheem Khan works the body of Danny Little an action packed fight in Torquay
Plymouth fighter Darren Townley who opened the show had an early night after a tco at the hands of Blackburn Super lightweight Naheem Chaudhry. Townley back after a long hiatus due to injury and an operation, started well, dominating the action but walked onto a right hand that forced the ref to call the proceedings to a halt.
ABOVE : Naheem Chaudhry and Darren Townley Riviera International Centre Torquay
</p>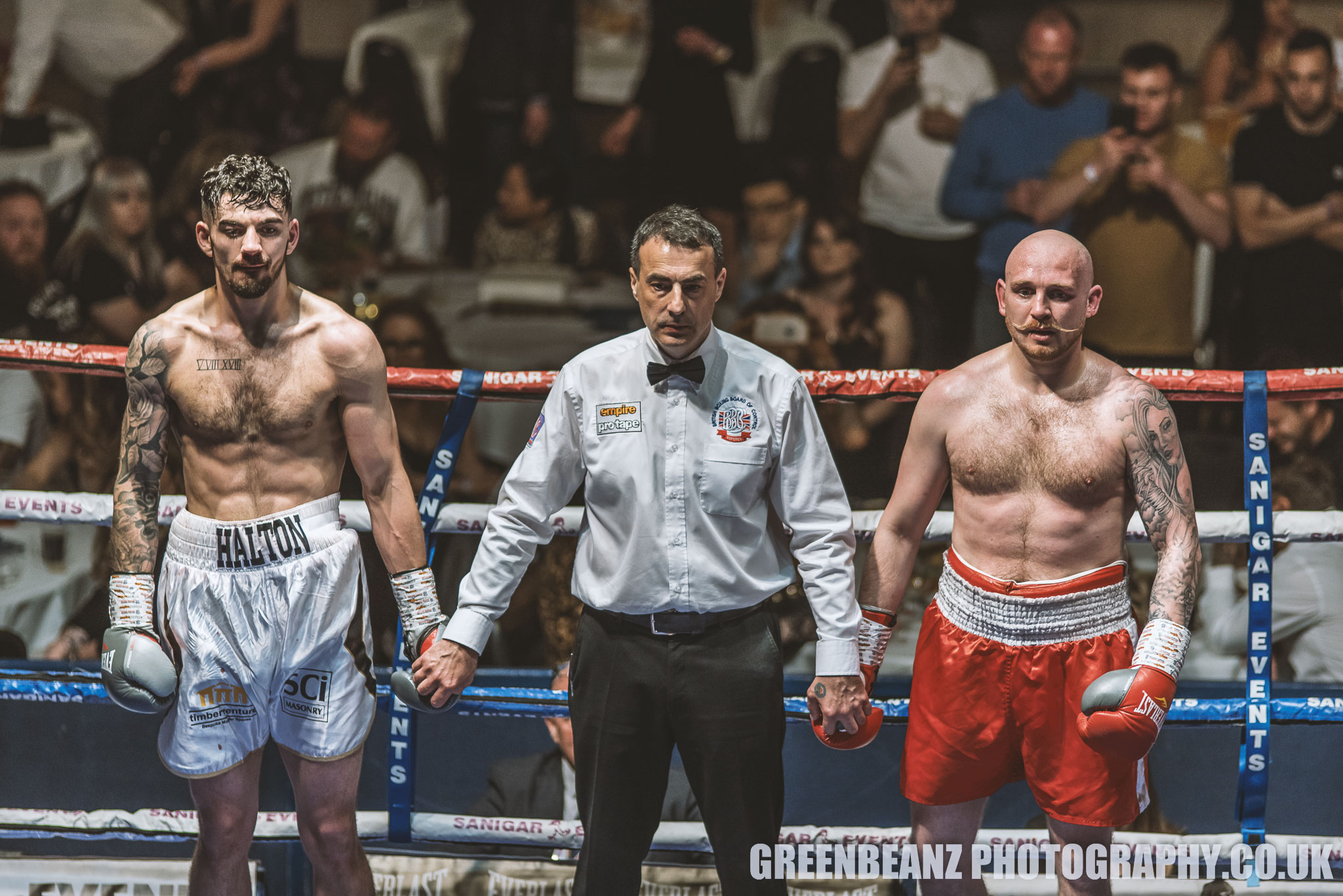 ABOVE : Nathan Halton waits to have his hand raised with Lewis Van Poetsch 2019
The local Torbay based fighters were noisily cheered on all night by an enthusiastic decent sized crown at the arena. Super middleweight Nathan Halton got the decision on points after four rounds against Lewis 'The Entertainer' Van Poetsch and 'Sugar' Shane Medlen fought Paul Cummings to four round points decision.
Local Super Welterweight Adam Bannister fought Liam Richards in the second bout of the evening. It is a testament to Liam 'Rocco' Richards that he can command a resume with such an eclectic range of boxers, most of whom he has not only kept honest but posed with problems . Little half steps, feints, ducks and cheeky pops from unexpected angles have bloodied many a nose of fighters that have went on to face bigger challenges, and Richards is a big part of that. He gave the Torquay fighter much more than a workout. Gatekeeper, journeyman, opponent are terms thrown around as though this somehow demeans the job Liam does with such enthusiasm and gusto that you have to take your hat of to him. A four round win on points to Bannister.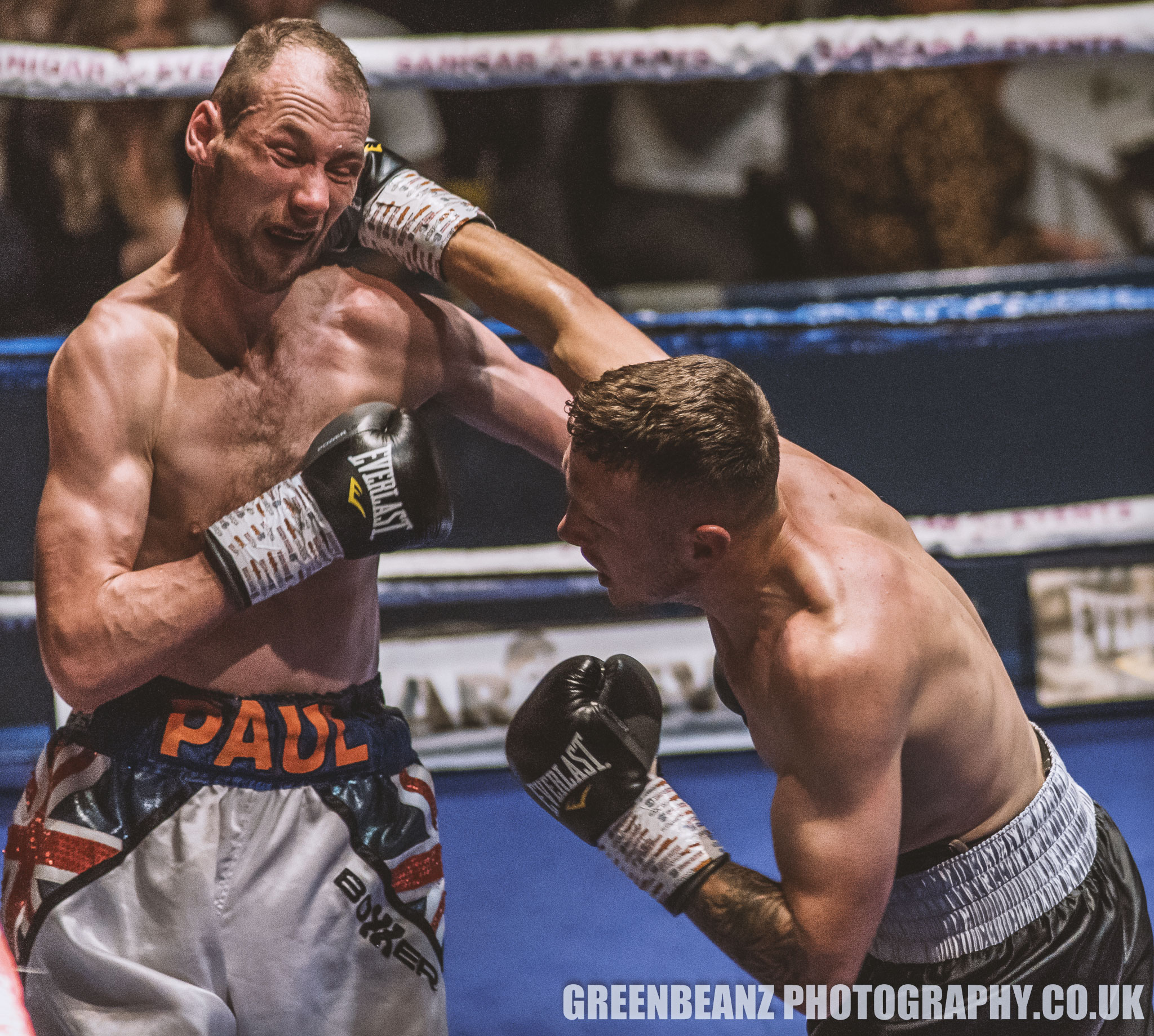 ABOVE : Boxer 'Sugar' Shane Medlen connects with Paul Cummings at Torquay in 2019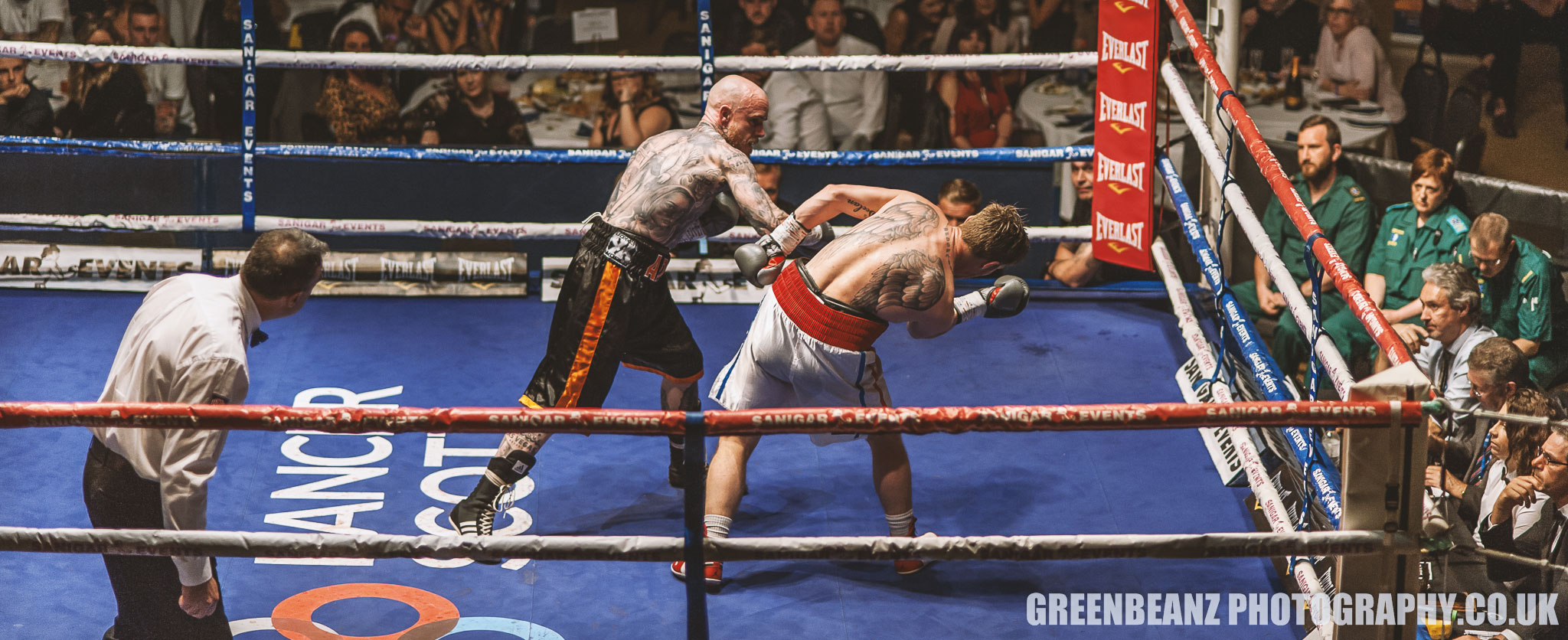 ABOVE : Liam Richards proves to be an elusive target whilst fighting Adam Bannister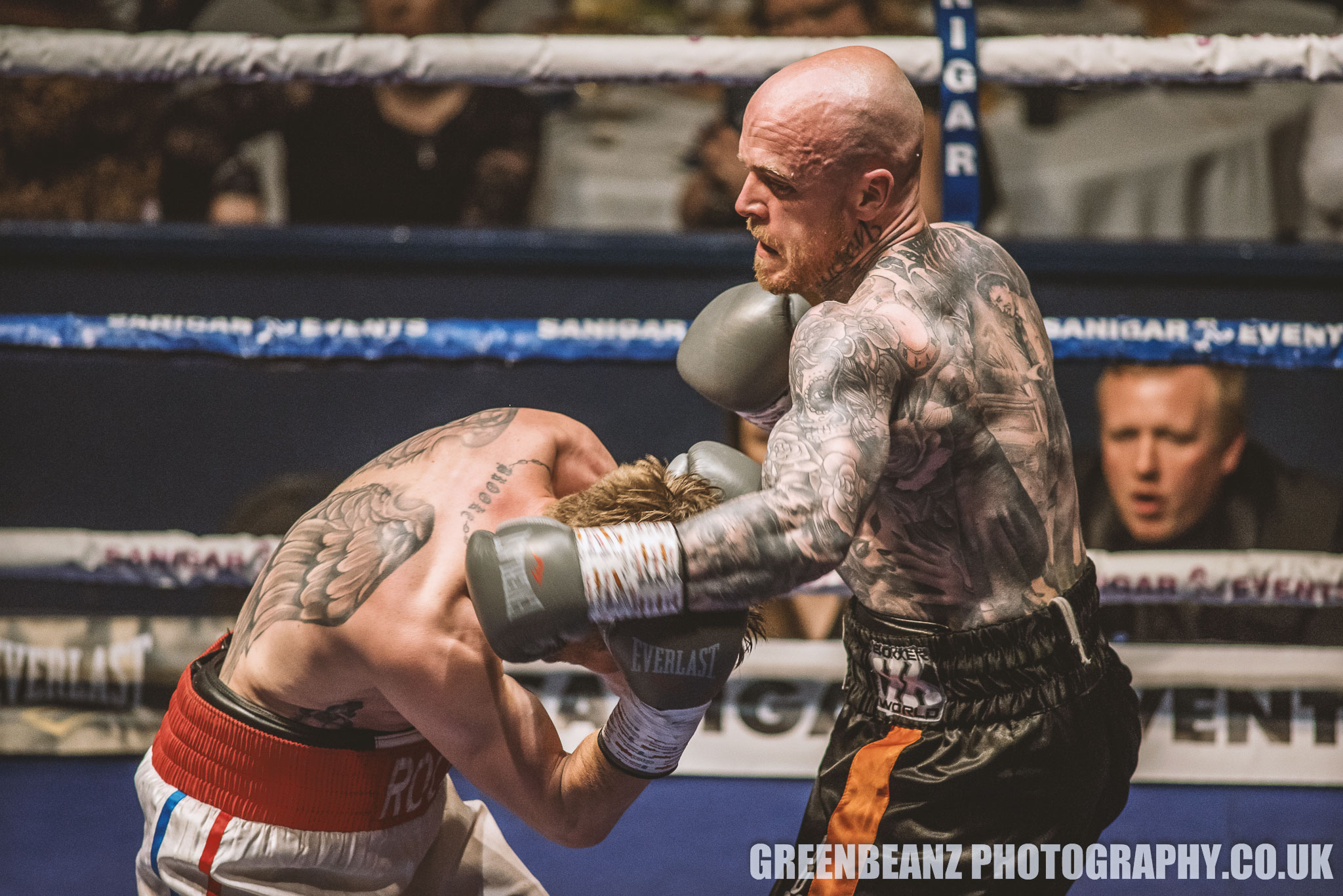 ABOVE :Adam Bannister boxing Liam Richards UK Professional Boxing in Torquay 2019
If you would like to book me to capture your event, you can contact me HERE

You can find more fight night photographs in the Greenbeanz Photography Editorial gallery here
You also can find some on facebook at the gallery here
---