Greenbeanz Photography
Brixham Pirate Festival 2019 | Black Friday CORNISH Celtic Punk Rock Band | Monday 06 May 2019
Brixham Pirate Festival 2019 | 'Black Friday' Cornish Celtic Punk Rock Band | Monday 06 May 2019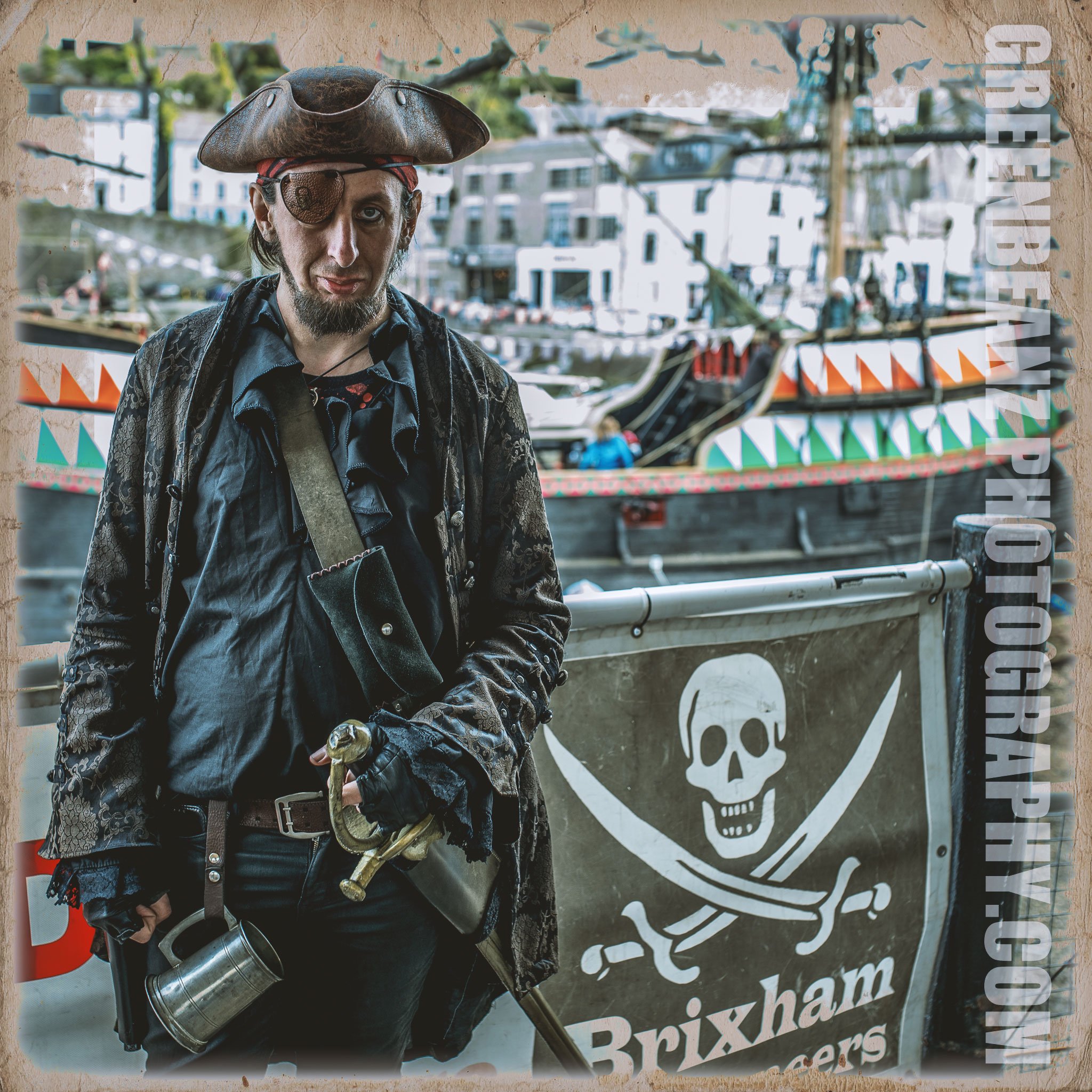 ABOVE : Torbay's Rich Sandford, Pirate, Actor, Model, Extra at Brixham Harbor 2019
Pirates and the westcountry go together like hand and hook ended glove. It should be no surprise therefore that the coastline responsible for the accent assumed by most sea faring freebooters on the silver screen would have a surfeit of festivals dedicated to such perennially popular privateers.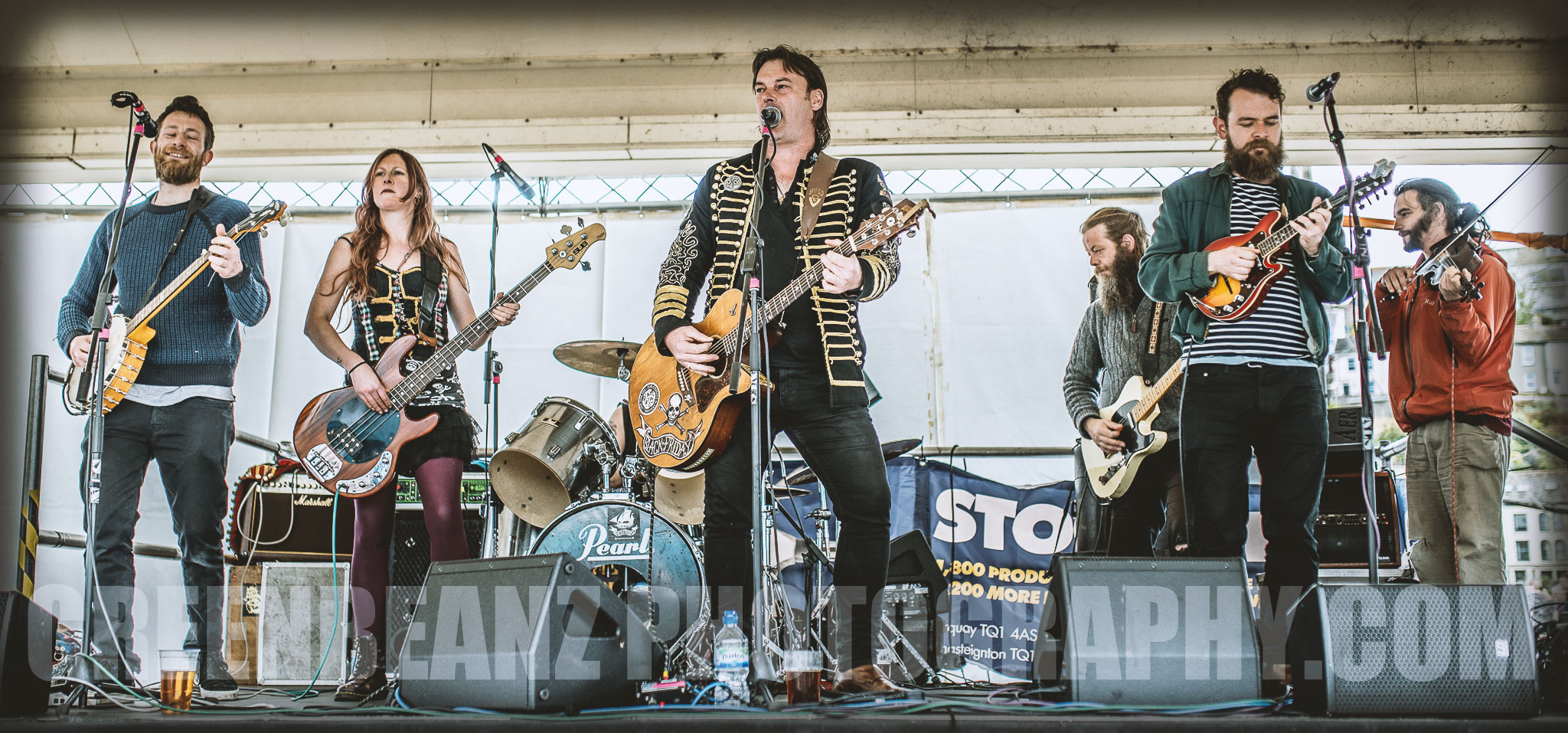 ABOVE : 'Black Friday' Cornish Cetlic Folk Punk Rock Band in Brixham
Brixham Pirate Festival ran from Friday May 4 until Monday 6 this year and I arrived on the Monday afternoon to cover Cornish corsairs 'Black Friday' as they wrapped up proceedings with their swash buckling home brew of Celtic Folk Punk. With a marauding vessel as their mascot/logo the band have played all over Europe and the UK, and are no strangers to the festival circuit. Playing hundreds of gigs a year, there can be few more fitting recipients for an award and mention by the people who make the black stuff when they broke into the Guinness book of records in 2008 with a record 30 gigs in 12 hours.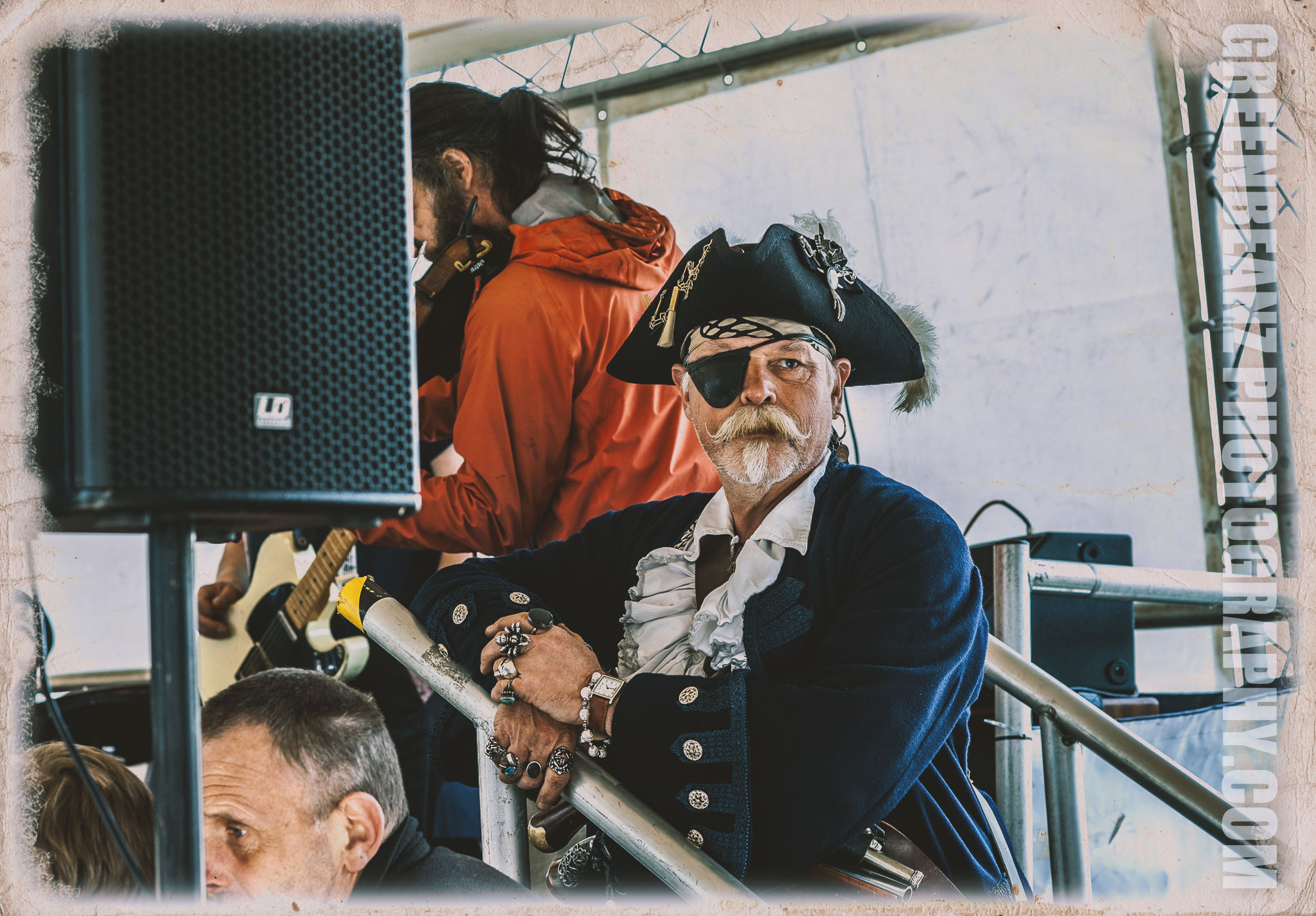 ABOVE : Compere and Commitee member of the Pirate Festival in Brixham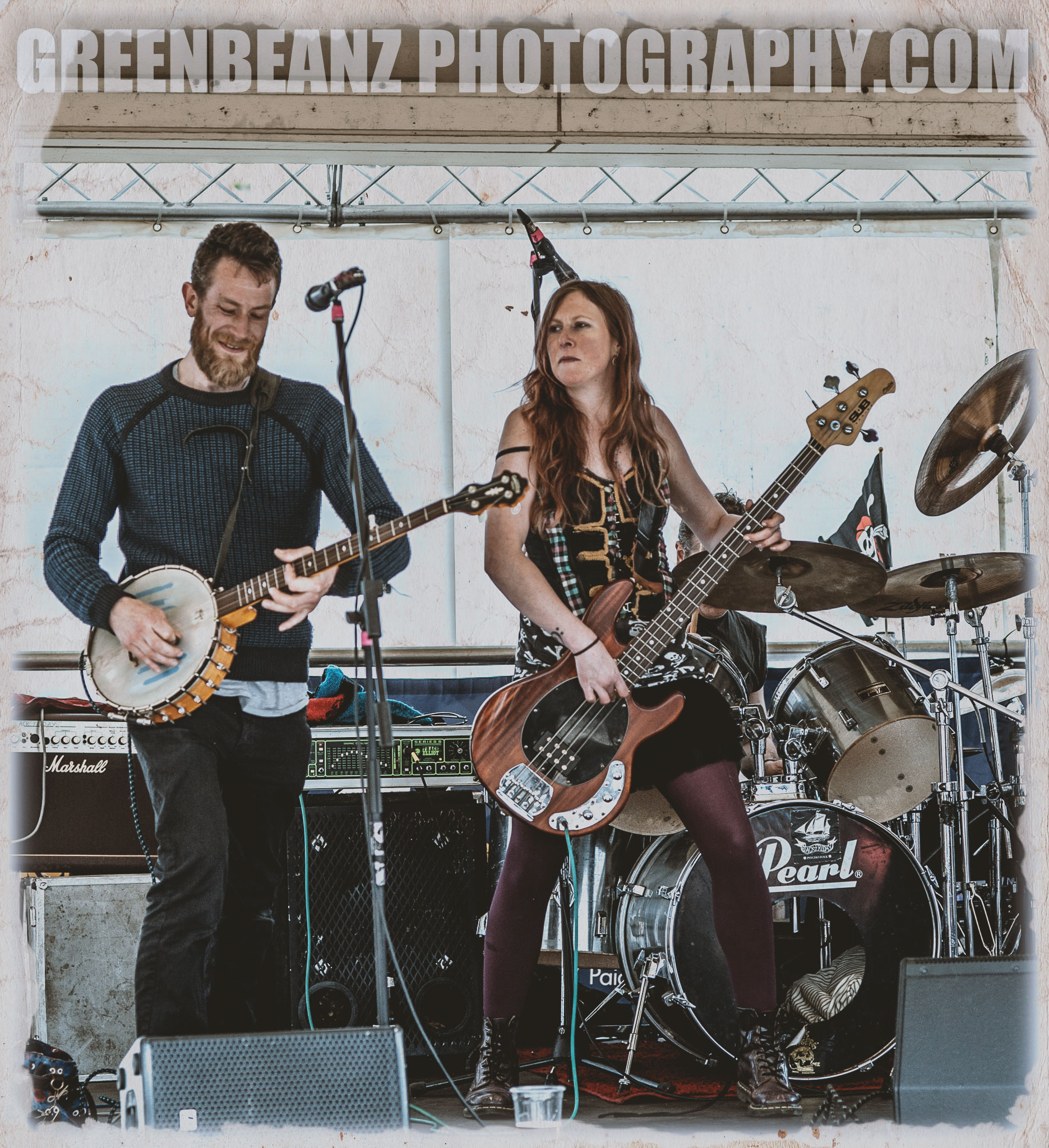 ABOVE : Luke Dumper Banjo and Helen Manley Bass Brixham Pirate Festival May 2019.
It is not just the ebony nectar that fuels this band though, formed in 2006 by singer Tom O Reilly with bass player Helen and Mandolin player Marty the band have honed their own unique take on the kind of material The Pogues, Flogging Molly and lately bands like Ferocious Dog and Noble Jacks play. A mix of original material and covers, there are some deep Cornish roots that keep their set rooted in this verdant landscape we are lucky to share on the westcountry peninsula.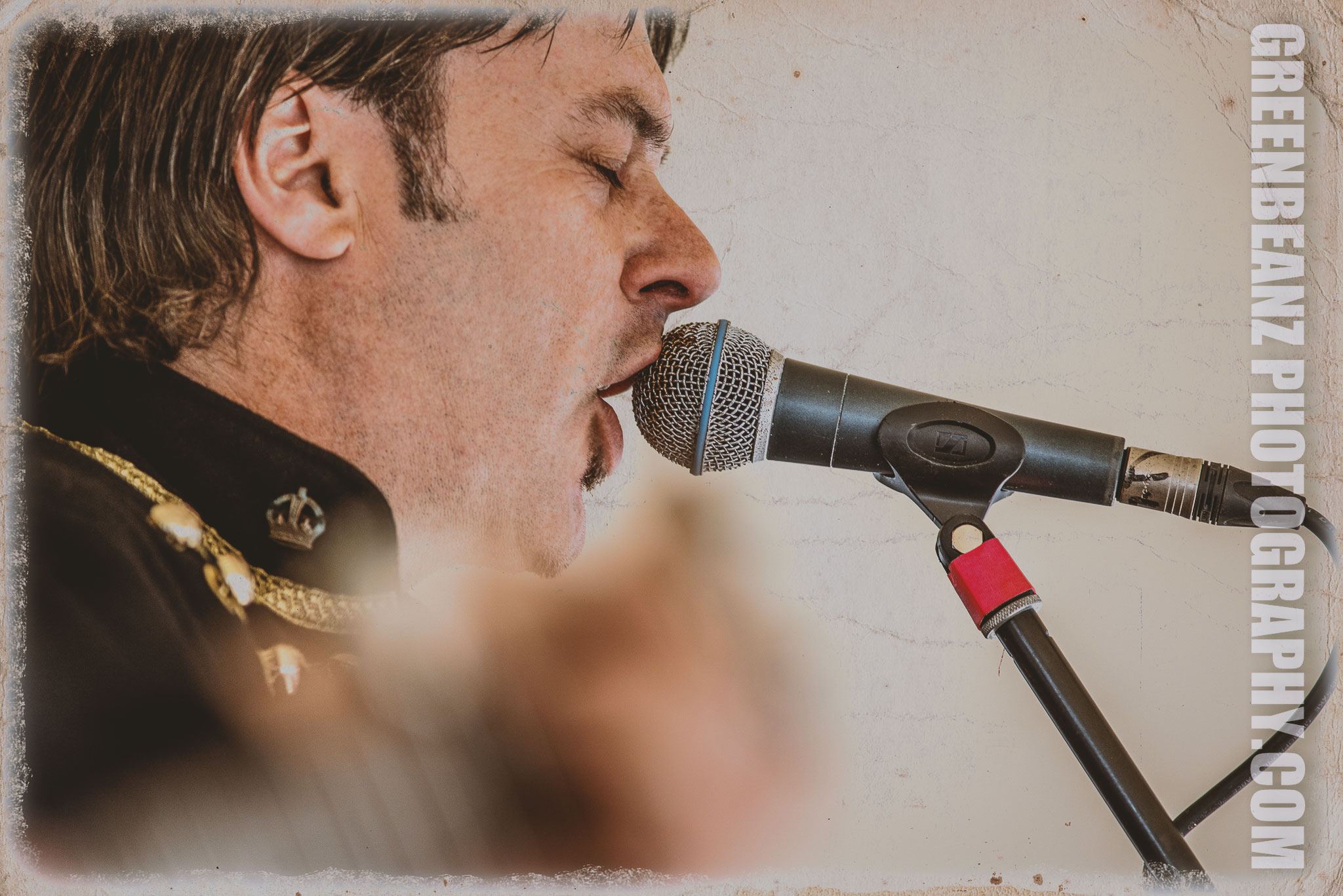 ABOVE : Tom O Reilly singer, founding member and captain of the good ship 'Black Friday'
Brixham itself is a jewel on the English Riviera and does itself proud with this annual festival attended by thousands eager to share in the fun and take a full part in proceedings. There are re-enactments, parades, bands, cannon firing, comedy and much more.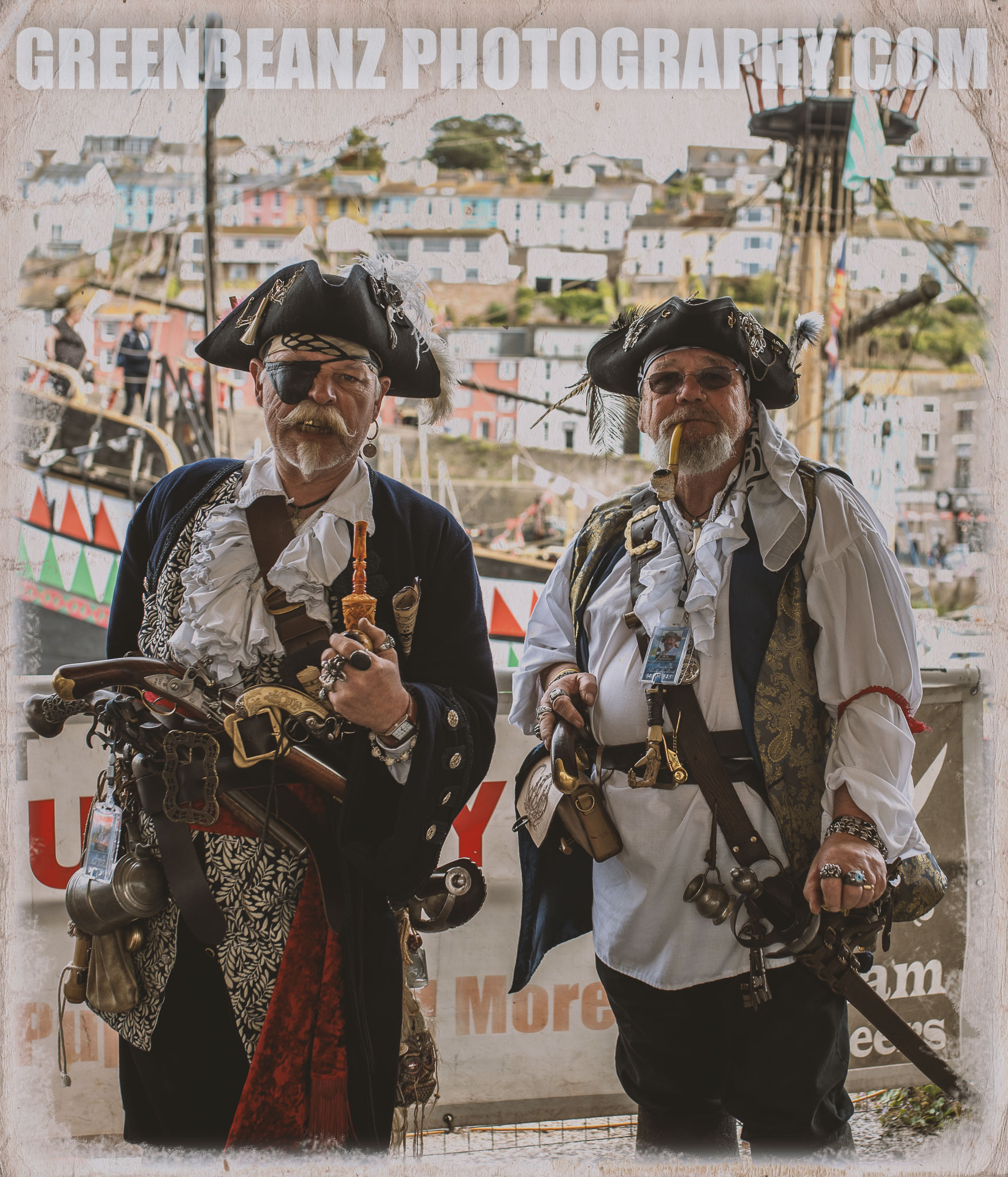 ABOVE : Two Pirates on the South Devon coast at Brixham Pirate Festival May 2019
I caught up with director and actor Laura Jay from the South Devon Players Theatre and Film Company and actor Rich Sandford (star of Mordred). The South Devon players are a remarkable group whose hard work and dedication (much of which comes from the tireless and innovative work that Laura does behind the scenes as well as producing, directing and conceiving much of their work) is starting to be recognised internationally, with their film work being nominated in Canada , Miami and Los Angeles, and their latest play, a groundbreaking version of Shakespeare's Macbeth, nominated for an award in New York.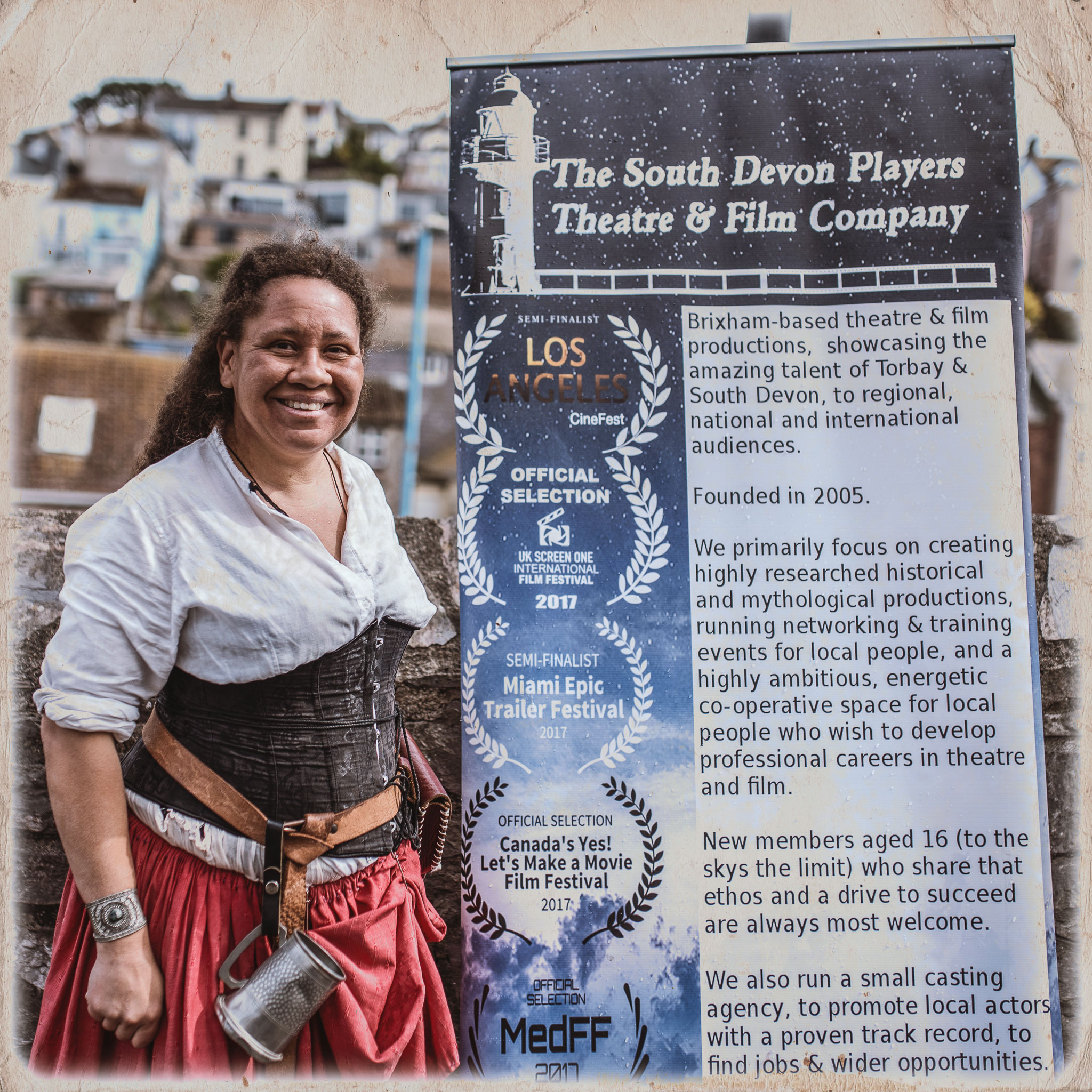 ABOVE : Laura Jay co-founding member of The South Devon Players in Brixham 2019
</p>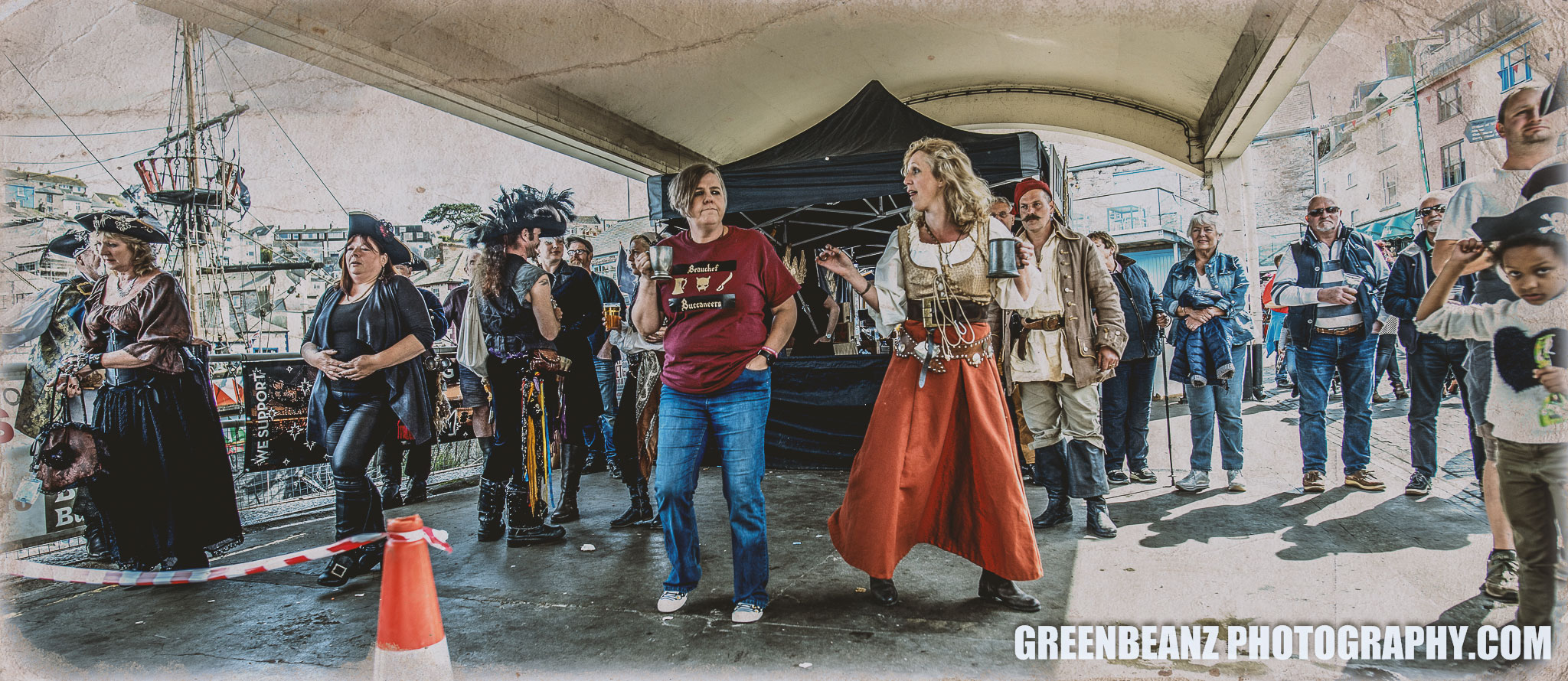 ABOVE : Locals of all ages get down at the Brixham Pirate Festival 06 May 2019
There is a nice mix of ages , locals and visitors that help give this festival a special atmosphere and it is a local event you can support . You can do so and check out the details of upcoming event here - http://brixhampirates.com/
ABOVE : Mandolin player Marty with 'Black Friday' at Brixham Pirate Festival in 2019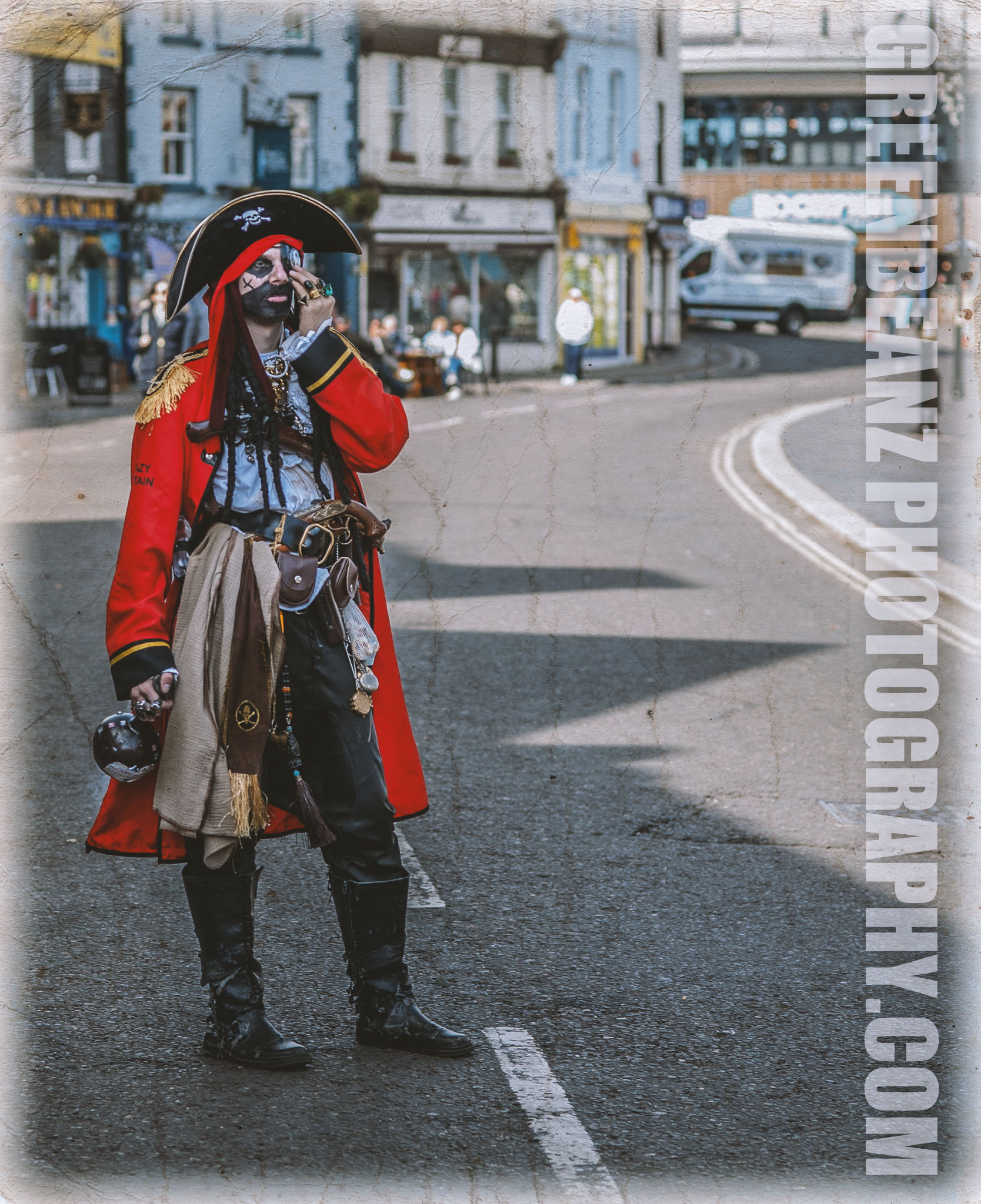 ABOVE : A lone pirate surveys the view at Brixham Pirate Festival in May of 2019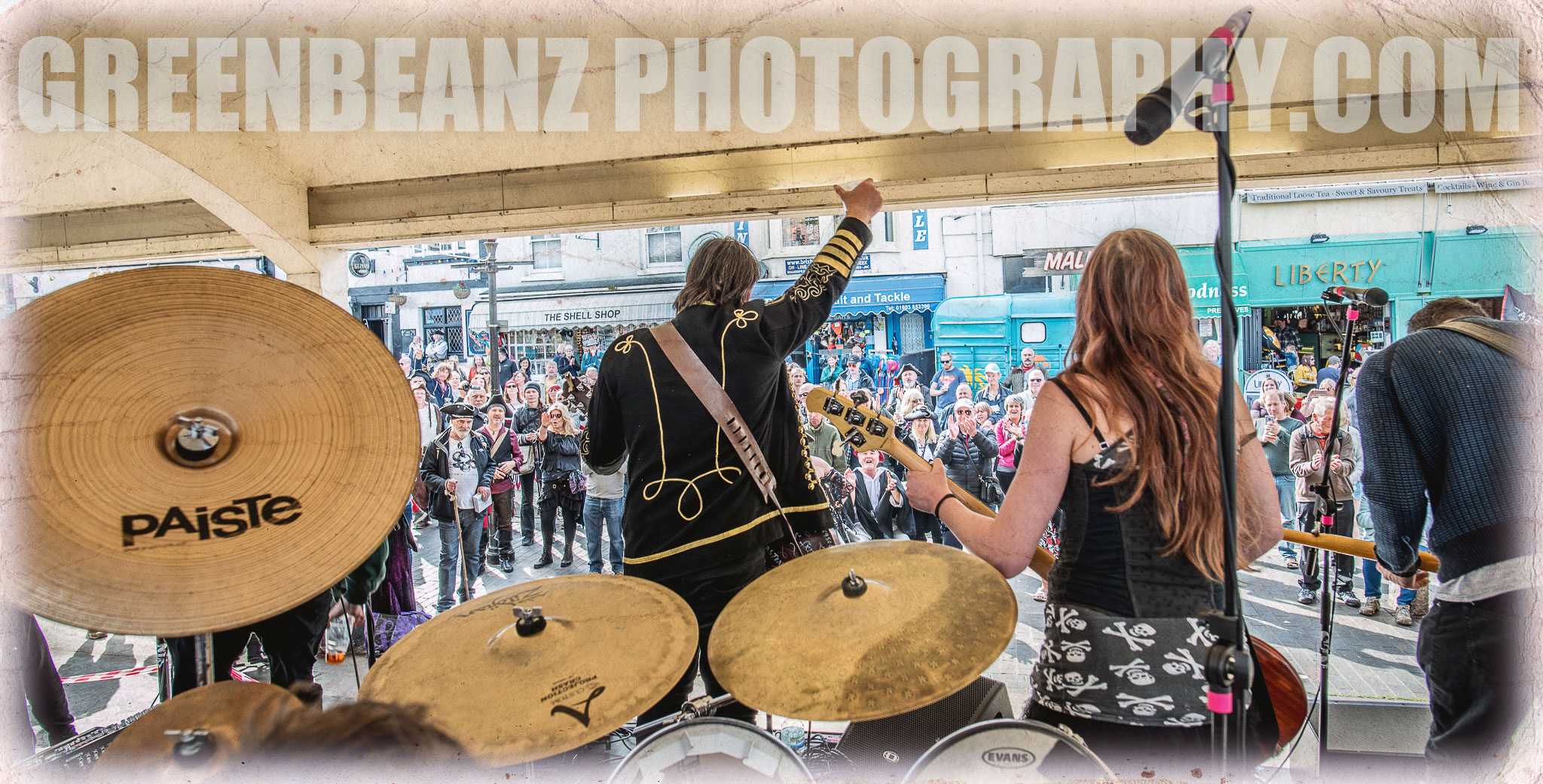 ABOVE :Black Friday salute the crowd on the final day of Brixam Pirate Festival 2019
ABOVE :Richard Sandford as a Pirate on the final day of Brixahm Pirate Festival 2019
If you would like to book me to capture your event, you can contact me HERE
You also can find some more photographs on facebook at the gallery here
You can find more photographs and my current portfolio at Greenbeanz Photography.Com here
---