Greenbeanz Photography
Freedom Community Festival Plymouth | 01 & 02/06/19 | UK Live Music Photography
Freedom Community Festival Plymouth | 01 & 02/06/19 | Plymouth Live Music Festival Photography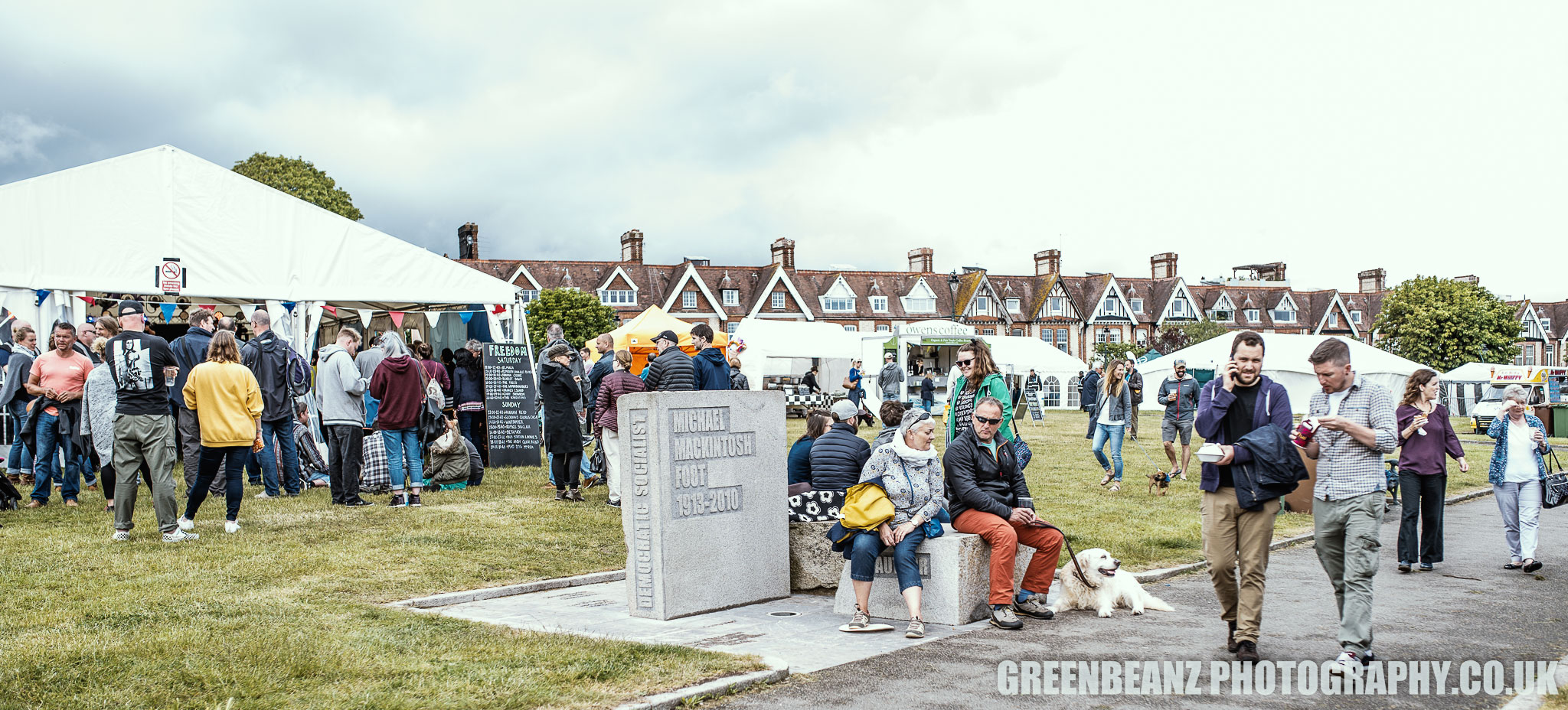 ABOVE : Freedom Community Festival Plymouth UK
FREEDOM COMMUNITY FESTIVAL | 01 & 02 JUNE 2019

It is very easy to fall into cliché when writing about music. I will often unwittingly and sometimes unashamedly, use them all. Like somebody trying too hard with a difficult second album I will often disappear into long meandering obscure flights of fancy, opining on the merits of non-guitar music and churning out a bargain ex -chart single pile of silly similes, abstract allegories, anal analogies and myopic metaphors.
I don't always even appreciate the difference, because writing about music is both pointless and joyous. It is like contemporary music, often about going over the same old ground and finding something new. A bit like Tony Robinson and some beardy bloke, but without having to dig people up first.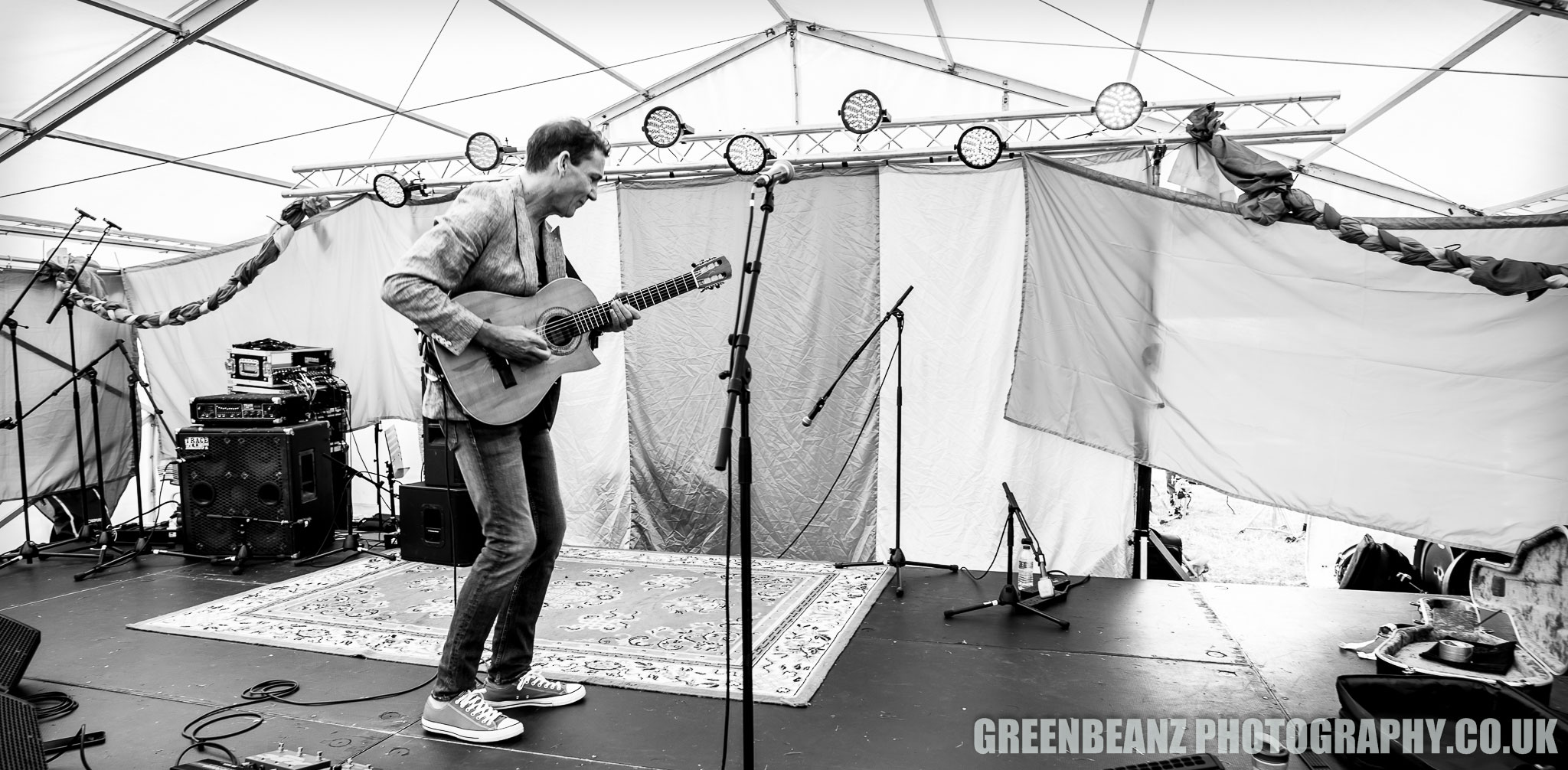 ABOVE : Steve Osman Guitarist at Freedom Community Festival in Summer 2019
Love like Freedom Fields park, really is a battlefield ,but the freedom community festival, has always been about community, and bringing seemingly disparate factions together. A two day celebration of music, food, culture and the joys of the village green , the festival run by volunteers, organisations, students, some grants and the goodwill of musicians, artists, and technicians, goes from strength to strength.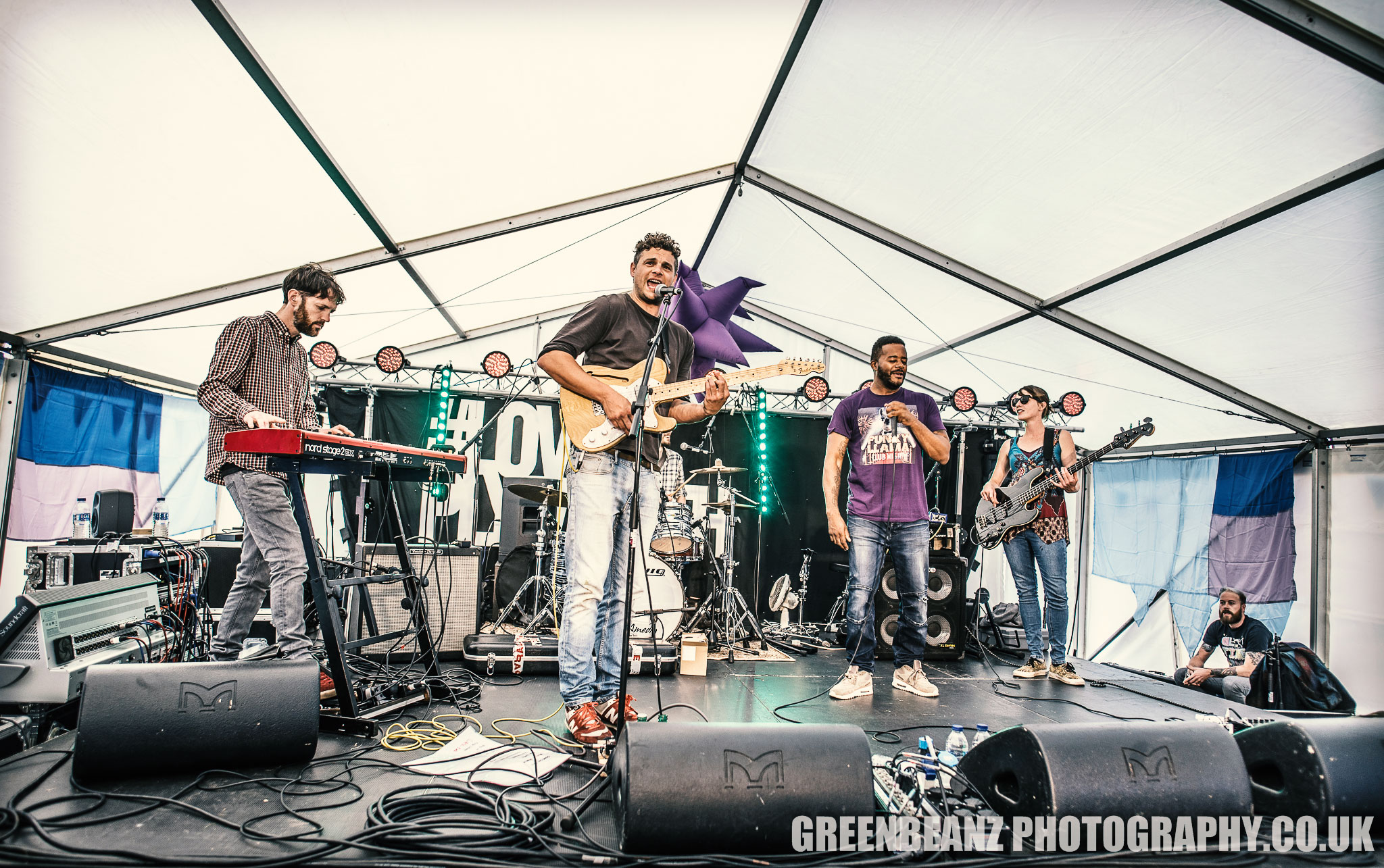 ABOVE : The Andy Quick Band photographed at Plymouth's Freedom Community Festival
Football writing and commentary, like music journalism is littered with cliché traps. They sit there patiently, hungry jaws waiting to snap down on any unsuspecting sheepskin wearing pundit with a notepad. They can trip you up like a mistimed Nobby Stiles tackle or freeze you in their grip, like Vinnie Jones crunching...your tackle.. On the same weekend in which two English football clubs met on European soil to fight for a cup, a host of musicians and the public came together in a Plymouth park. A park in which the locals had in 1403, staged mocked up celebratory battles against the defeated Bretons, whose mark is left all over the city.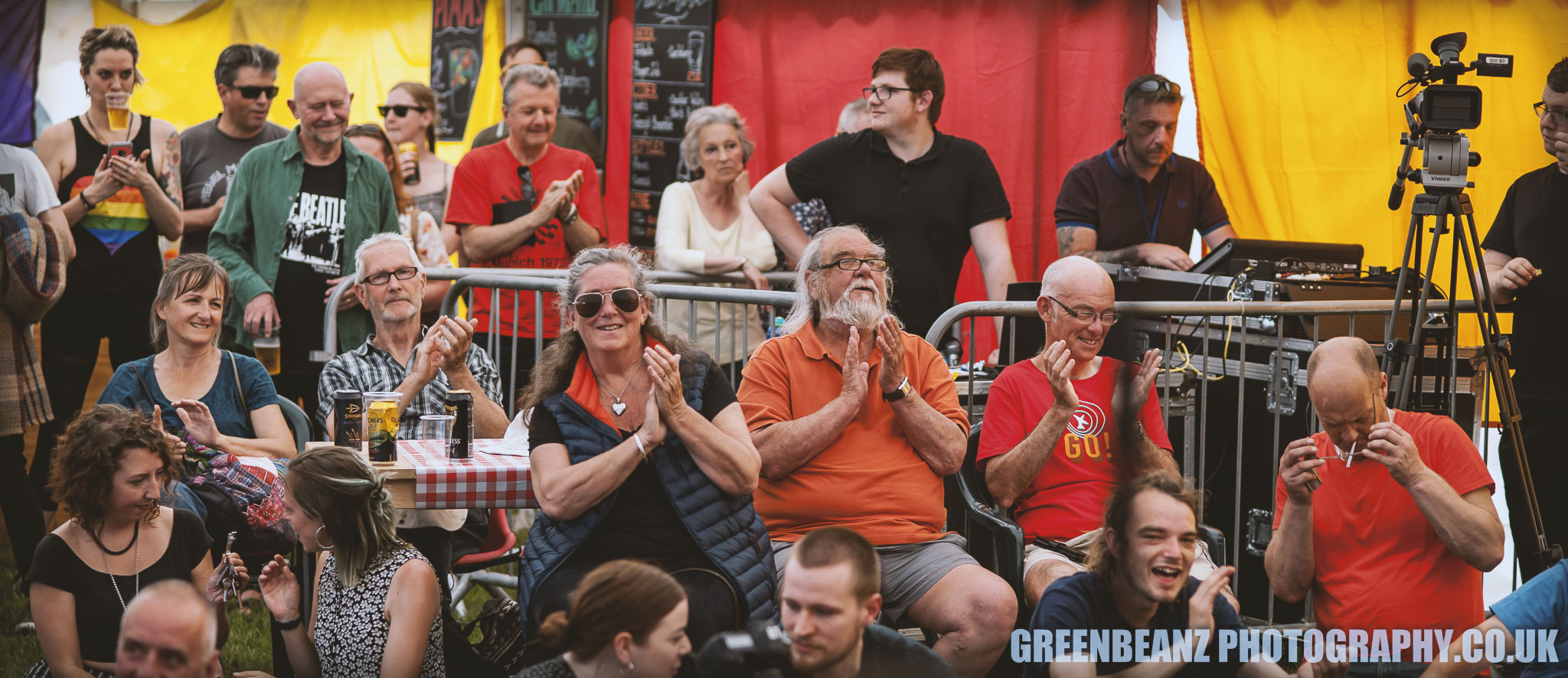 ABOVE : Music Fans at Plymouth Community Festival JUNE 2019
The festival, weather wise, was a game of two halves. The Saturday was blessed with glorious sunshine and while the Sunday started off decidedly wetter, by early afternoon it had brightened up, much like a vintage classic dress drying in the sun.
It is times like this when we really miss a compère and writer like Mc Lunar (who probably had sun on both days),who could connect the most obscure collection of dots, and unearth phrases that neither Cromwell or the Royalists would have recognised, whilst effortlessly slipping between Wittgenstein ,Walstenhome, Cantona and Coleman.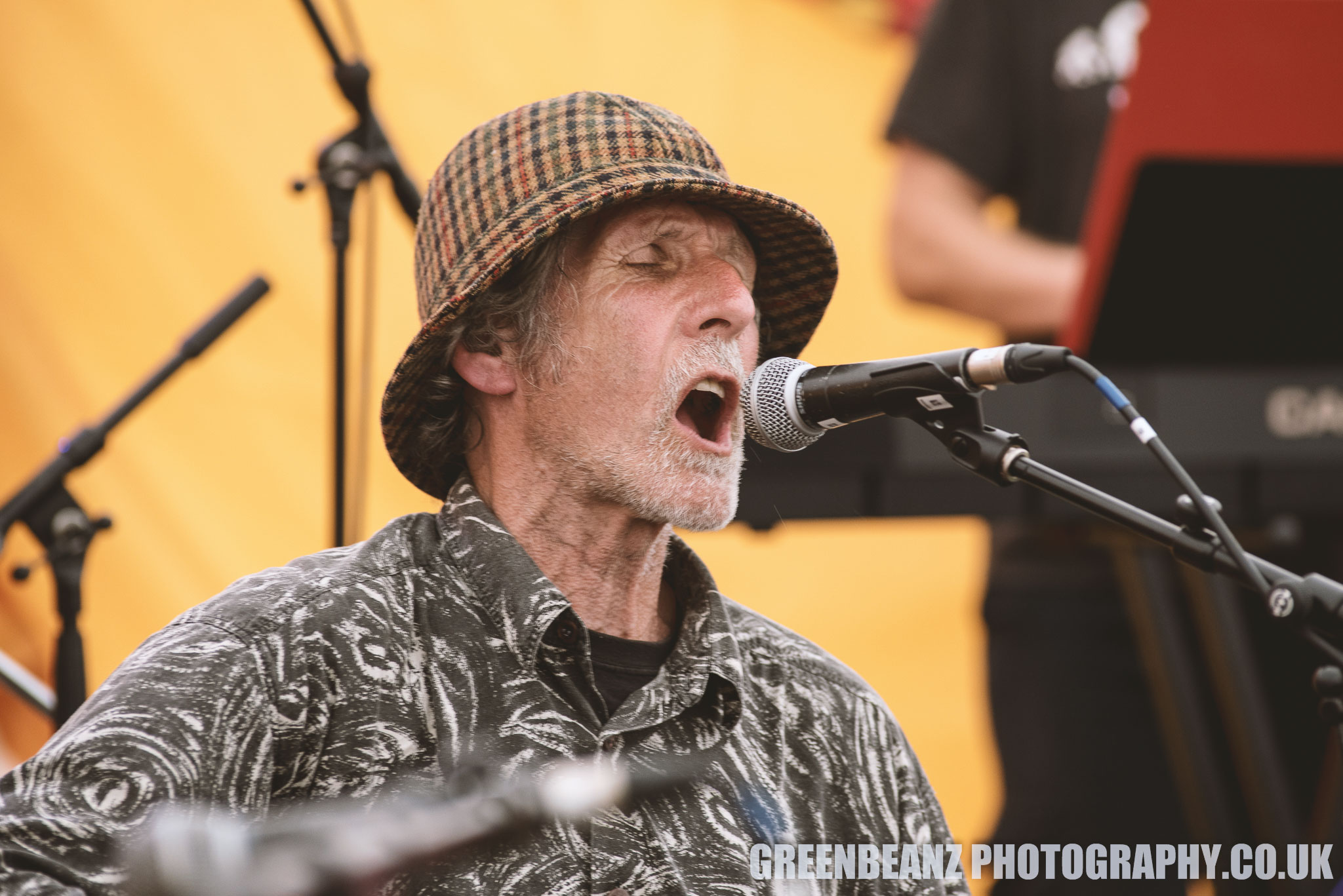 ABOVE : John Spurling of Jon and friends playing at Freedom Community Festival 2019
I would like to be able to say whoever spots the most football or music writing cliches gets a prize, but at this level (writing, not the festival) it is much more like a relegation dogfight than a cup final. So a comment below on disqus, or whatever social media you found it on ,and a share across to whoever is on your wing would be great.Thank you.
I will do my best to prove that you can indeed write a script like this, despite not sharing a bottle of red wine with anyone post festival, and having to write this on a wet Tuesday in Plymouth.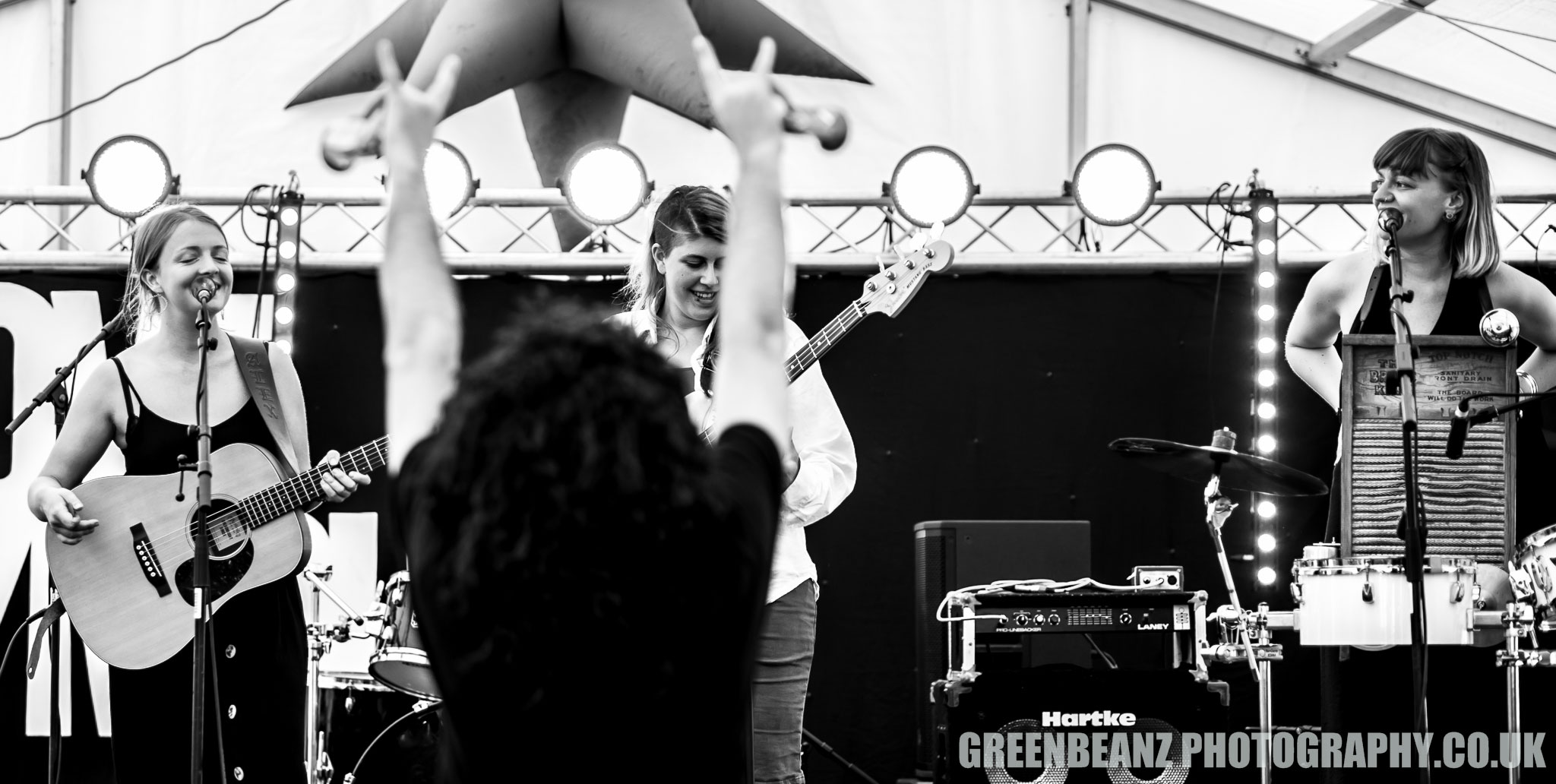 ABOVE : Black and White Photograph of Devon Band 'The Trees' Freedom Fields 2019
The Trees are more than just a good squad on paper. They deliver and continue to improve. Elani had threatened nakedness from all four, but they were content in the end with running their socks off. Harmonies even after this short break are closer than ever, like sheets of filo or layers of flavour, they make each mouthful even sweeter. They are a team who love to play. Martha melts another layer every time you feel her using her guitar playing to cut thru the heart of your defense. Her subtle yearning heartfelt playing, like her voice, is measured and thoughtful, as though she is in acres of space, and it is a joy to be stood in front of them.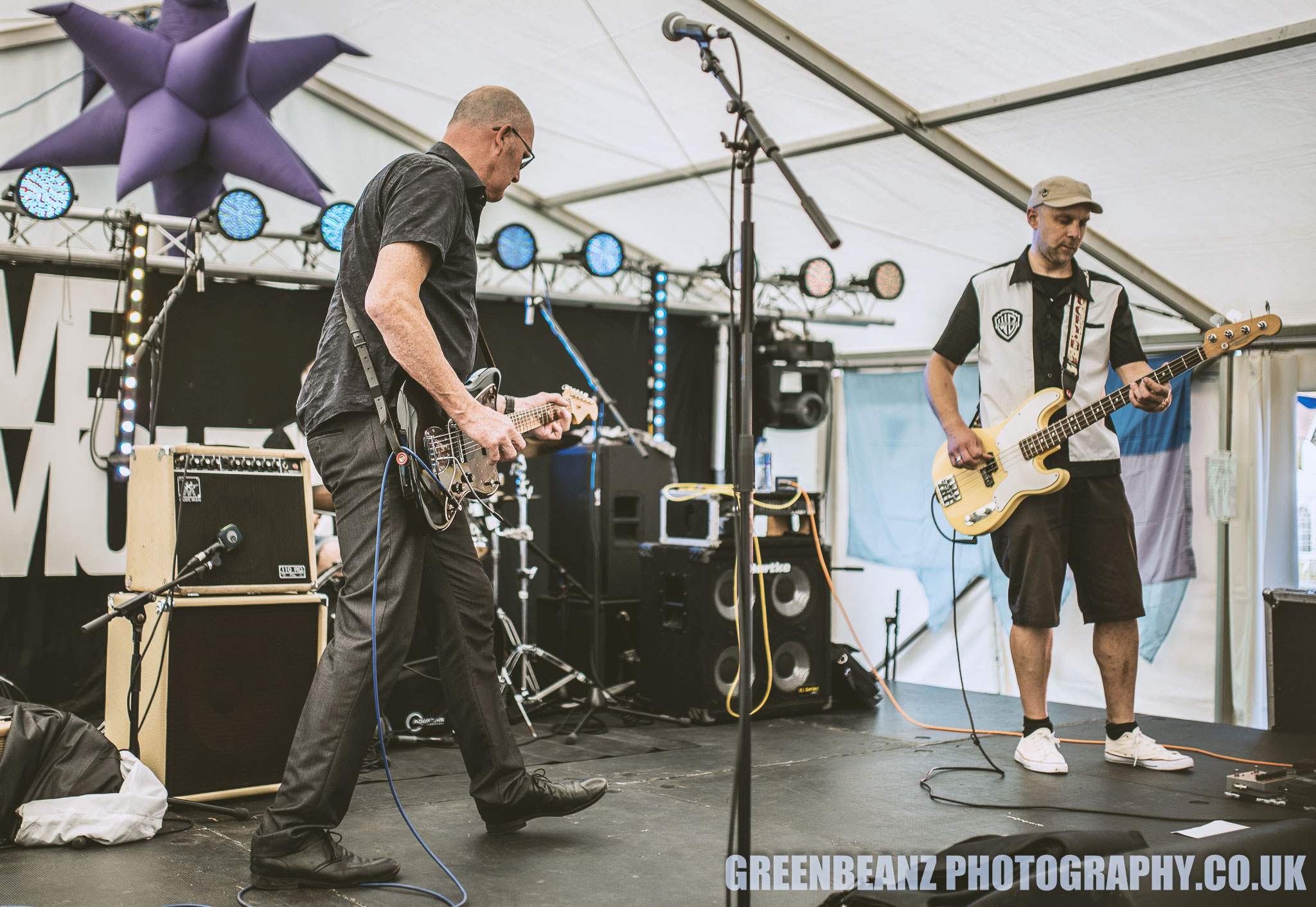 ABOVE: Live Music Photograph of The Waterboarders playing in Plymouth in 2019
The Waterboarders play every gig like it is a six pointer. I wanted to do a clever thing here, connecting Enola Gay with the phrase 'Writing about music is like dancing about Architecture' but the song actually appears on their difficult second sophomore album 'Organisation' and not the third 'Architecture and Morality' , so I can't.
It is though, almost impossible, not to sing along to Darren Miles spectacularly emotive rendition of Enola Gay. If like me, you are of a certain age. The embarrassment of singing along to instrumental re-imaginings is nothing once you have progressed from Dad to Granddad dancing, and perfected the art of embarrassing two generations at the same time.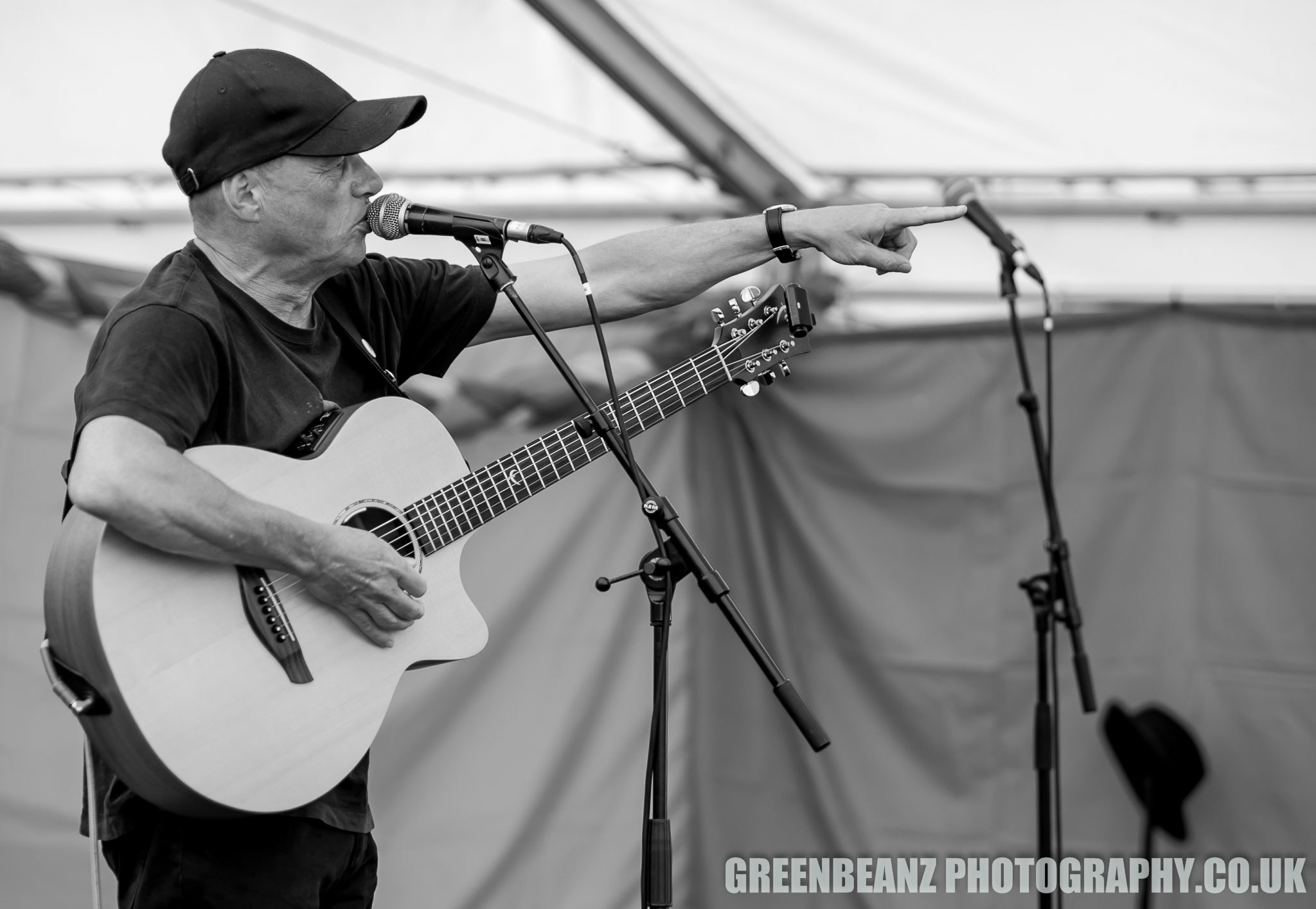 ABOVE: Straight Outta Whitleigh Rob C Force at Freedom Fields Festival Plymouth 2019
Home grown legend Rob Cee Force, straight outta Whitleigh like myself, arrived on the scene fully formed many years ago now. Like Michael Owen, but with brains in his hands instead of his boots, Rob has unerringly hit the mark for decades now as a guitarist and singer songwriter. Stepping up to compère again as well as playing a great set. The highlights and worthy of a replay ? '3rd World War Song' and of course 'More of a Janner than you'll ever be' . I was going to say 'On his day he is unplayable' but it does not quite scan as the compliment it is meant to be.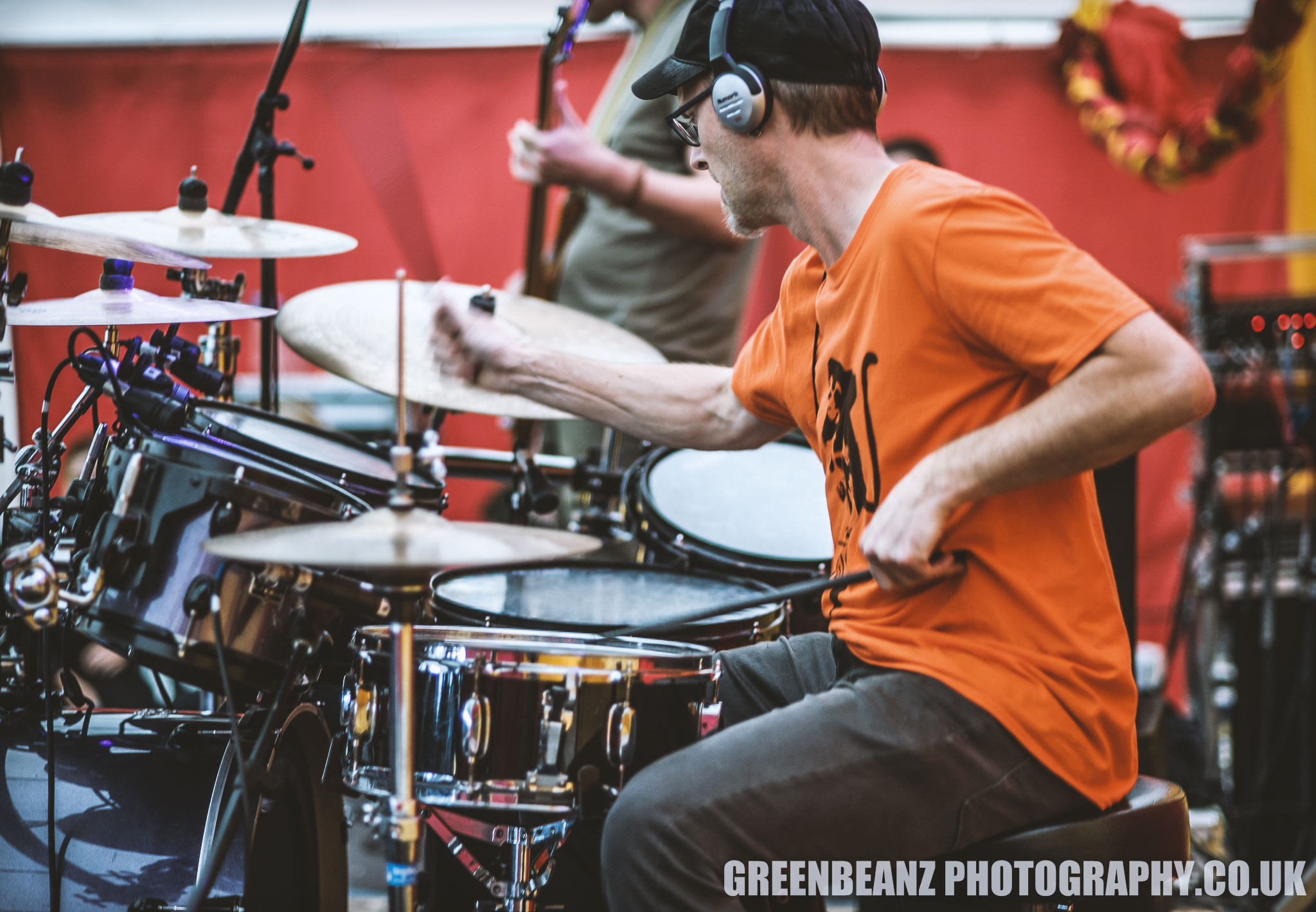 ABOVE: Sagwah Drummer Ru Hewitt playing at Freedom Community Festival in 2019
Sagwah play among other things some seriously squelchy Balkan dub. In between playing Trombone,Mandolin and sweeping frequencies Benji Siminski leads the band thru many set-ups with Ru Hewitts dubstep and D n B patterns driving the band on. It is refreshing to hear a band stretching the envelope, and while Benji may still have his pyjamas on, he never loses the dressing room. Some great bass lines from Matt Bollington in genres in which often sub bass dominate, and some killer hooks from Morwella Boyne, whose fiddle playing was different class.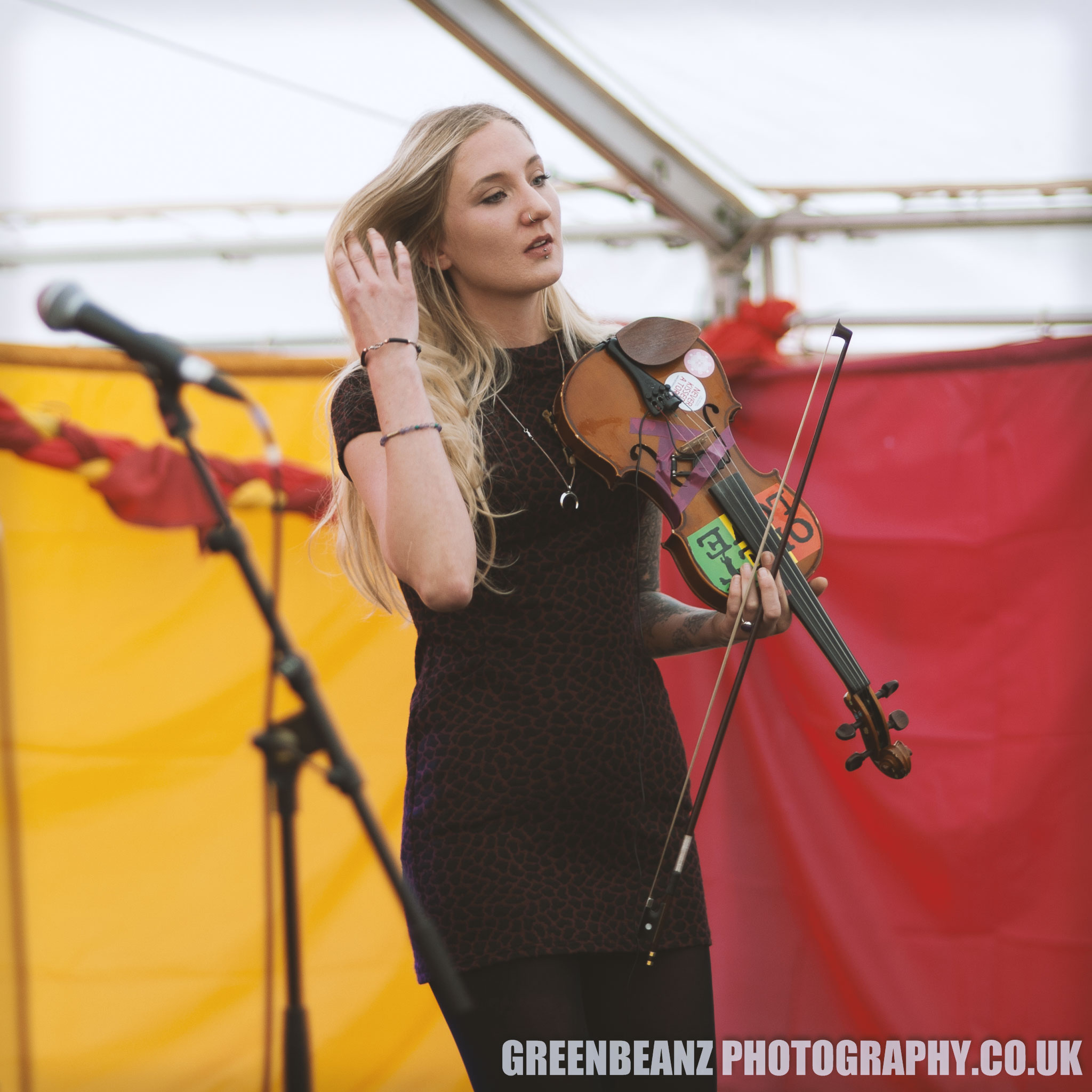 ABOVE: Sagwah's Morwenna Boyne photographed at Plymouth Freedom Fields Festival
There is much said in jest about the Eighties but the decade in many ways eclipsed all others for originality and the diversity of the scenes it spawned. Post punk, New wave, The Two-tone Ska revival, Electro, The New Romantics, Industrial, Goths, Shoe-gazing, Hip-Hop, NWOBHM, etc. Betamax, like the superior format to VHS that they are named after, opened up with Depeche Modes 'Enjoy the Silence' , a song though recorded in 1989 ,that was not actually released until 1990.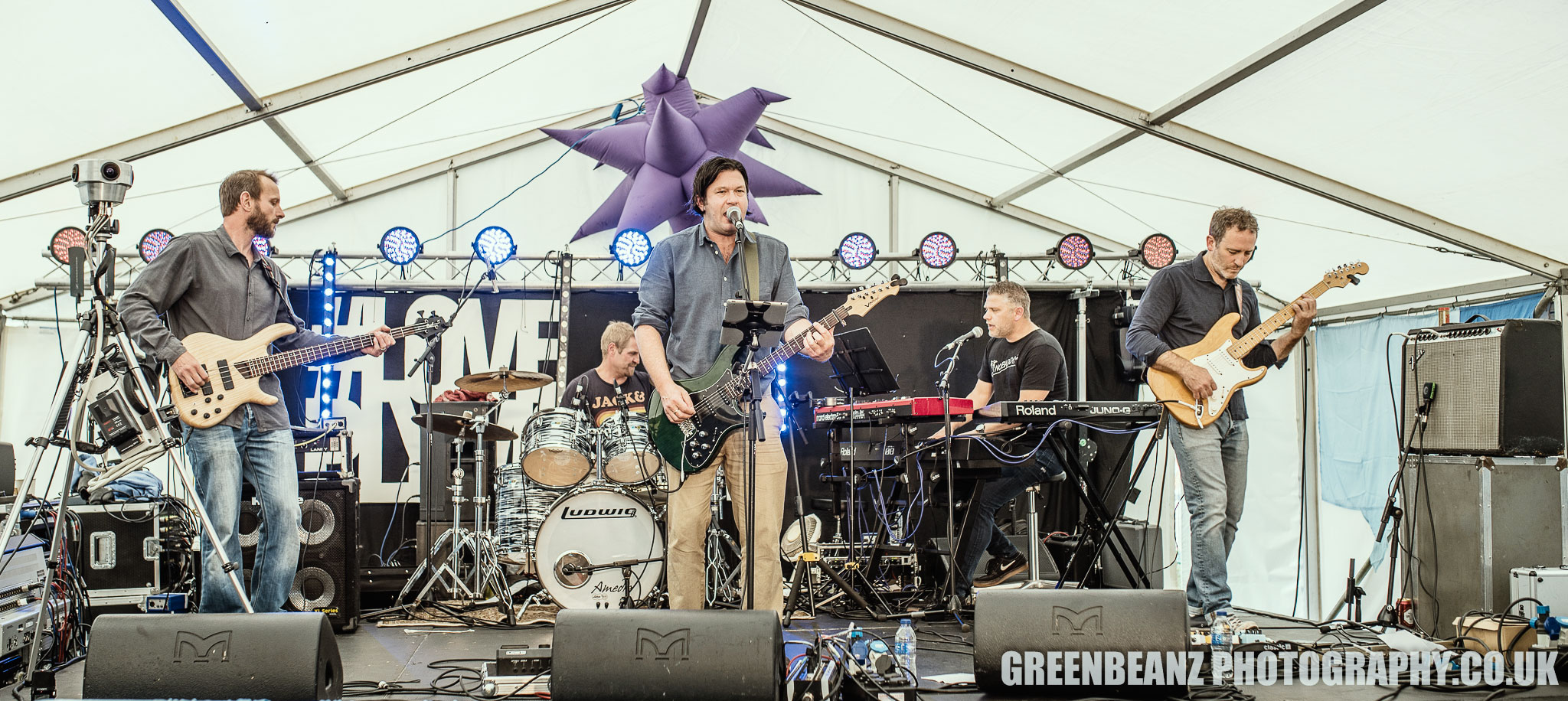 ABOVE: Betamax photographed at Plymouth Freedom Fields Festival 2019
It is nice to hear synths live for a change and Betamax duly oblige with shed loads of the shimmering glacial behemoth kind, and a very astute a brave selection policy when it comes to song choice to cover. To go from Joy Divisions 'Love will tear us apart' to New Orders 'Blue Monday' without even changing into an away kit is remarkable enough, but then when you casually drop in a top tier version of 'Small town Boy' complete with chugging power chords you have to a touch of the Bert Trautmans about you.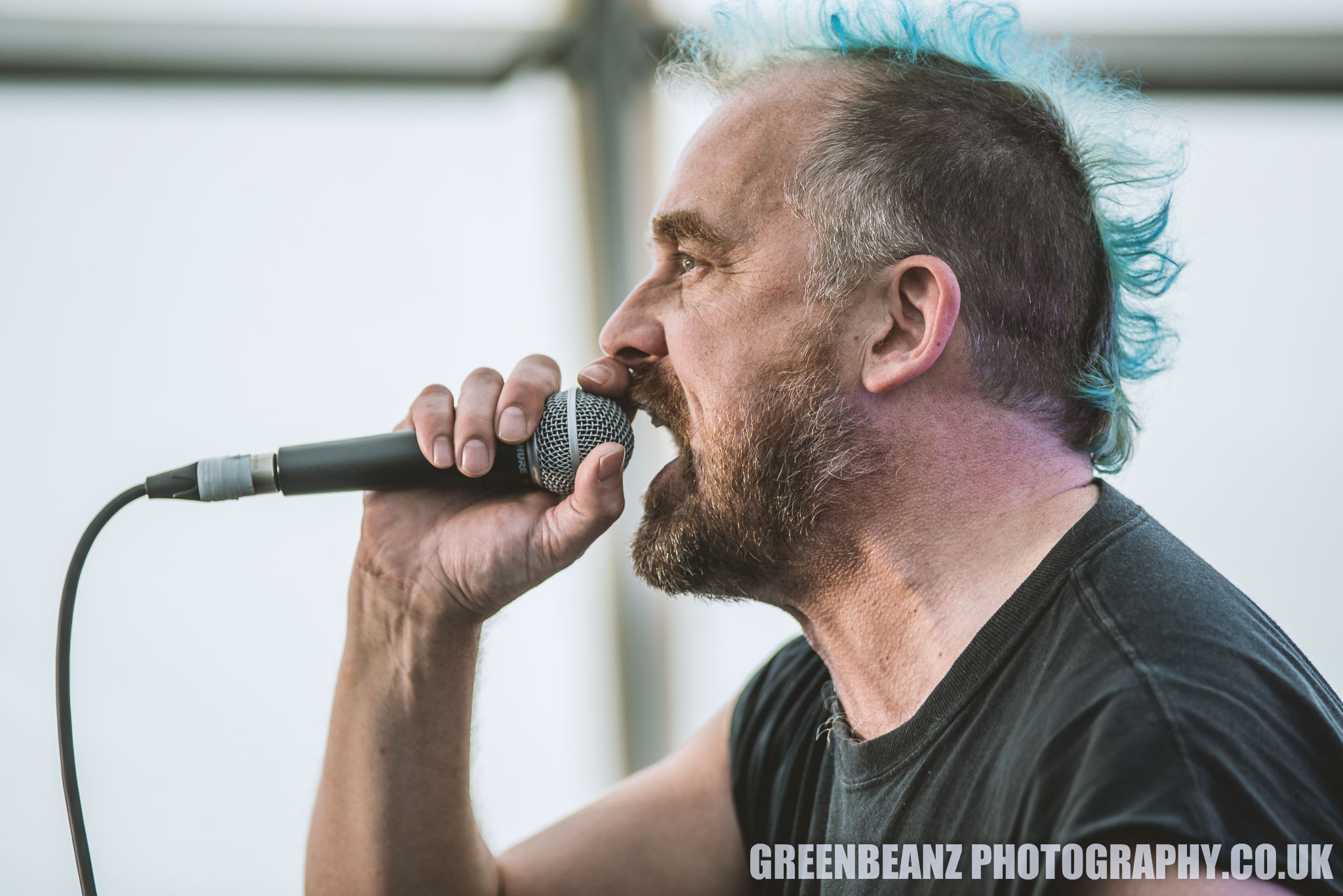 ABOVE: Chris Wheelie Wilshire photographed at Plymouth Freedom Fields Festival 2019
It is not that The Bus Station Loonies are past breaking thru to the next level, whatever that is, or that like denture marks on Brie, their impact is visible and unsettling, but not threatening, that is just missing the point. Their gigs are not always incendiary (though they often are uncomfortably hot) the point is, the love for this band continues to grow like an untreated fungus. It is easy to forget they have been causing a stir for 24 years now,their infectious grooves and self penned witty asides setting the pace for the bands around them. Wheelie thanks the Engine room that is the solid pairing of Tony Popkids and Adam Ren behind him, but is also the amazingly cultured spiky right hand of Chris Mildren, his guitar cutting angular daisy chains of goodness thru the thick wall of bumbling nonsense, that makes them so scrumptious.

'Loony Beer' the greatest Bob Bura animated kids series never made, complete with all the voices created in real time, live on stage by one man, is the aural equivalent of jumpers for goalposts. It is a joyous return after a couple of seasons away from the festival and Wheelie, who has great feet for a big man ( I mean what does that even mean?) dances around the stage like a croissant, or something buttery anyway. When you can write gems like 'Fancied by People' ,'Bullsh*t Man' and the rocking, banging, modern classic, complete with powerhouse vocals and pace to burn that is 'Bloody Drunkards' (Gary Brown etc) you can dance how you like, squeaky bum time and all.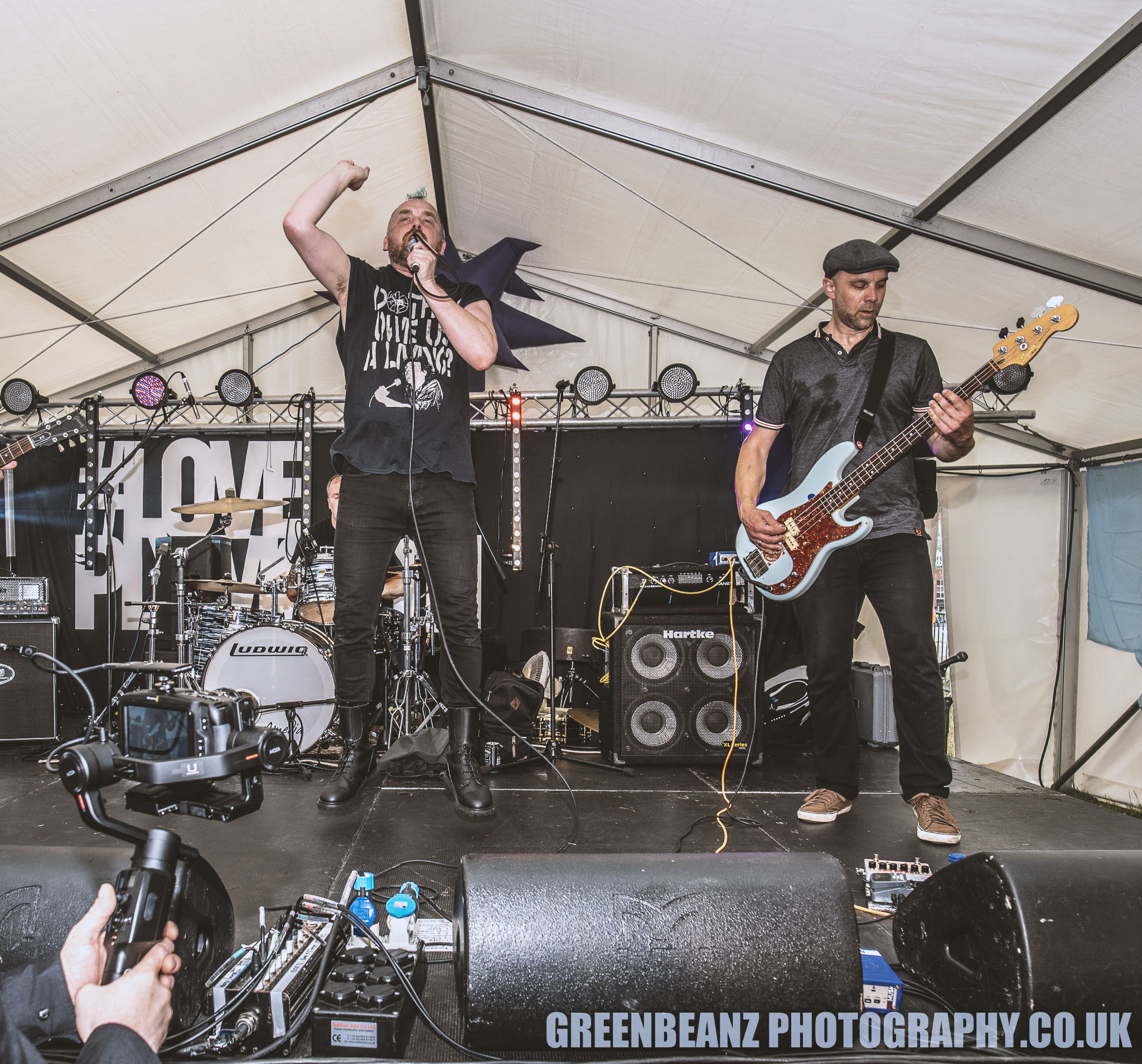 ABOVE: The Bus Station Loonies at Plymouth Freedom Community Festival 2019
After a medically enforced break for his voice Mike Mad Dog Mcrea really had no right to score from here, but score he did. A whole hearted physical player the stripy jerseyed Mad Dog frontman buried a screamer from 30 yards out, unlike the protagonists of new song 'Resurrection Man' who dug people up. Based on the true story of Stoke Damerel grave robbers, the new song is a brilliant lesson in clever and succinct songwriting that disguises a clever Cryuff turn as a simple pass, with an ear worm burrowing itch that will have you singing it for days. The combination of Podmore and Mcrea is a potent force and if the new songs are as good as this, Sundial and the new tunes in the set, we are all in for a treat when the new album is released.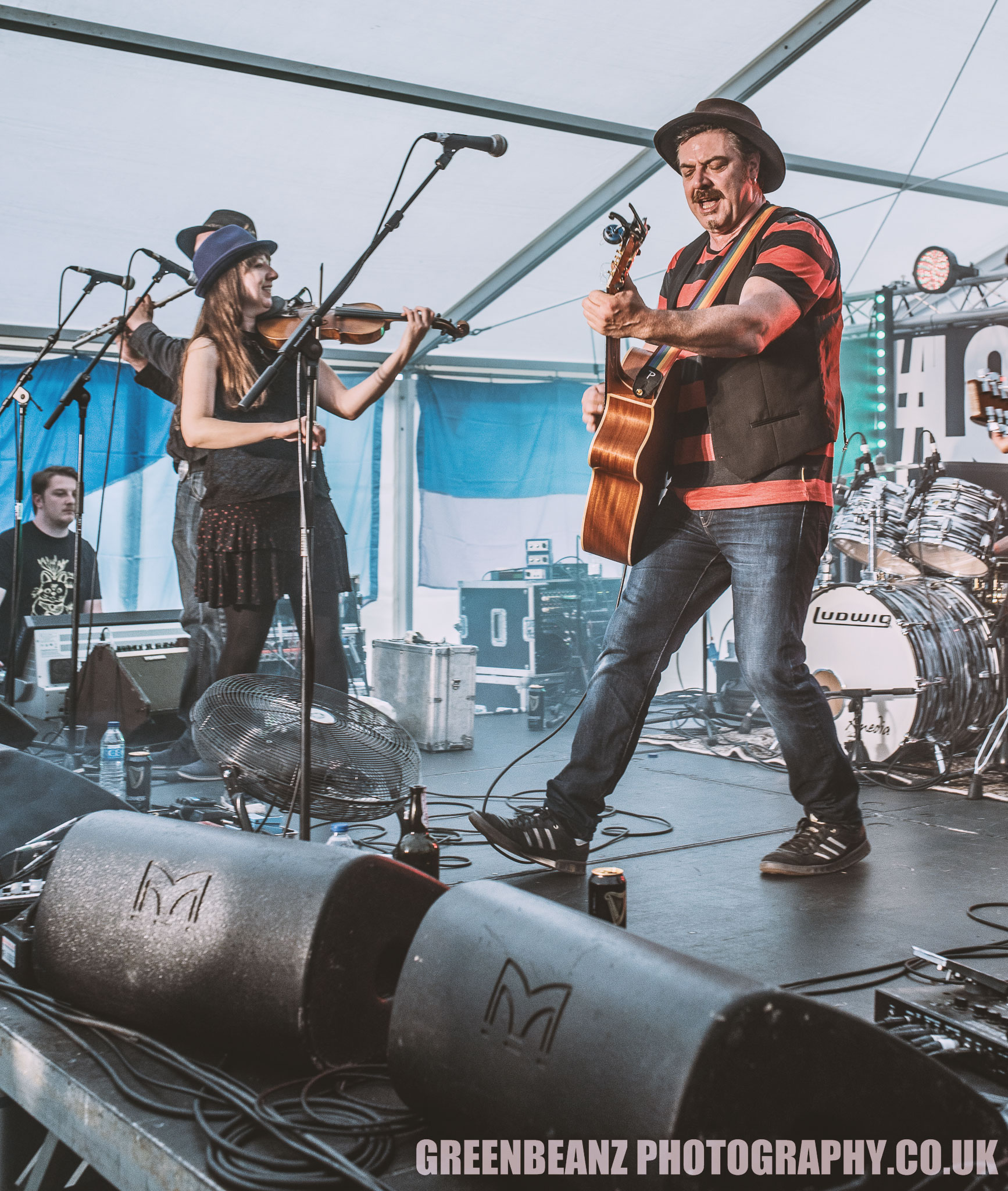 Old favourite Black Fly reminds you of those big European nights on which the transcendent troubadours can always rely on having the crowd behind them and it is easy to forget that big players are the ones who do not go missing in big games. Your voice relies on exercising muscles, and Mikes welcome return really is a tour de force or 'feat of strength' when you consider how long this band have been in the game.
Freedom Community Festival is not just about the main stage though or the big bands and it is difficult when taking photographs to keep a tab on all the performances and small moments that make community festivals like this special. So look at this final summary as a bit of a highlights reel of some of the other bands, big and small and apologies to those I missed.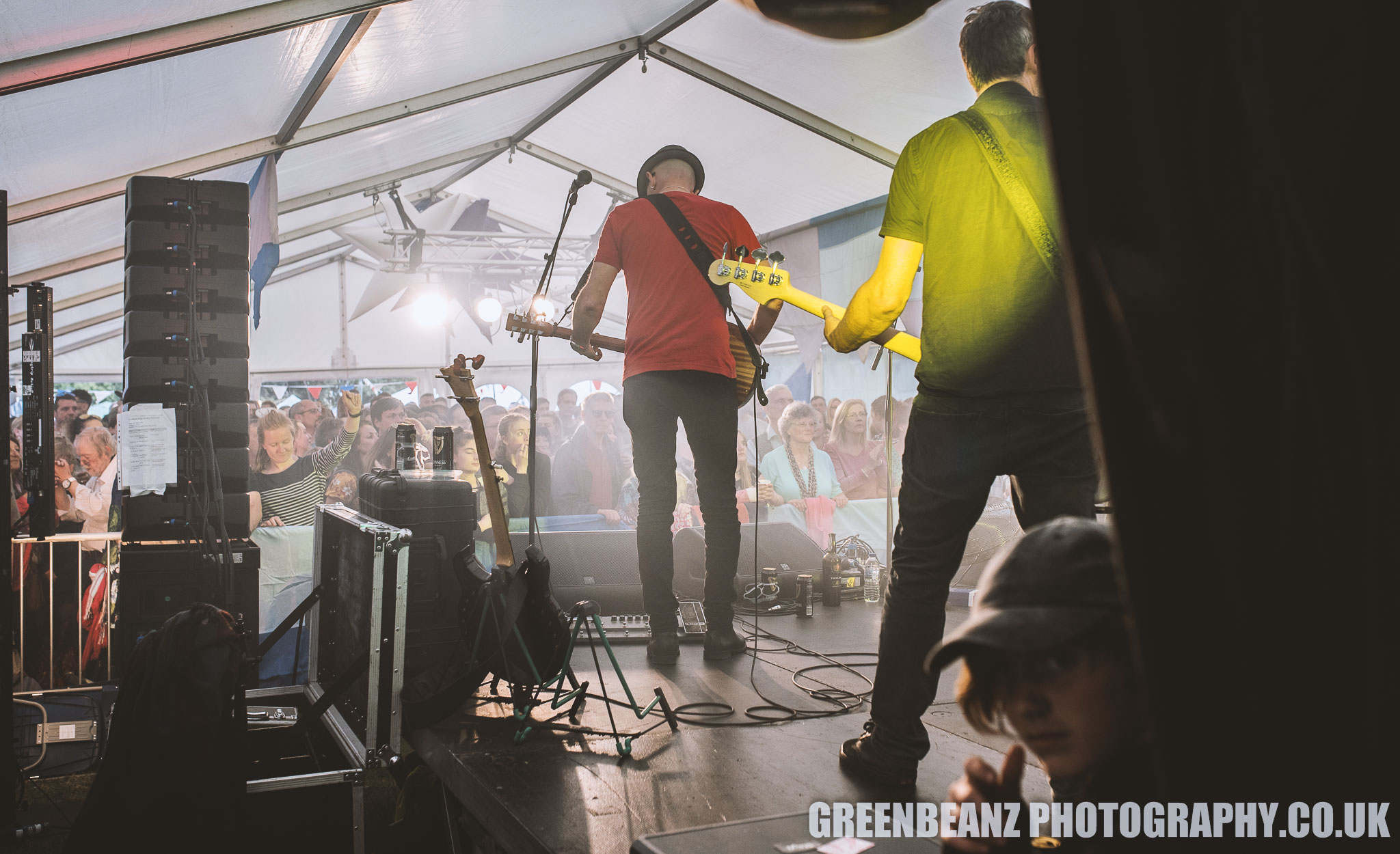 ABOVE: Mad Dog Mcrea at Plymouth Freedom Community Festival in 2019
Jonathan Spurling with Jon and Friends provided a nice Woodstock vibe. Jonathan is key in making the festival happen year after year and there was a lot of love in the tent for him on the day. A great rhythm section too with Mike Fugemans dynamic drumming and and some great bass work from a stand in for the usual bottom end player.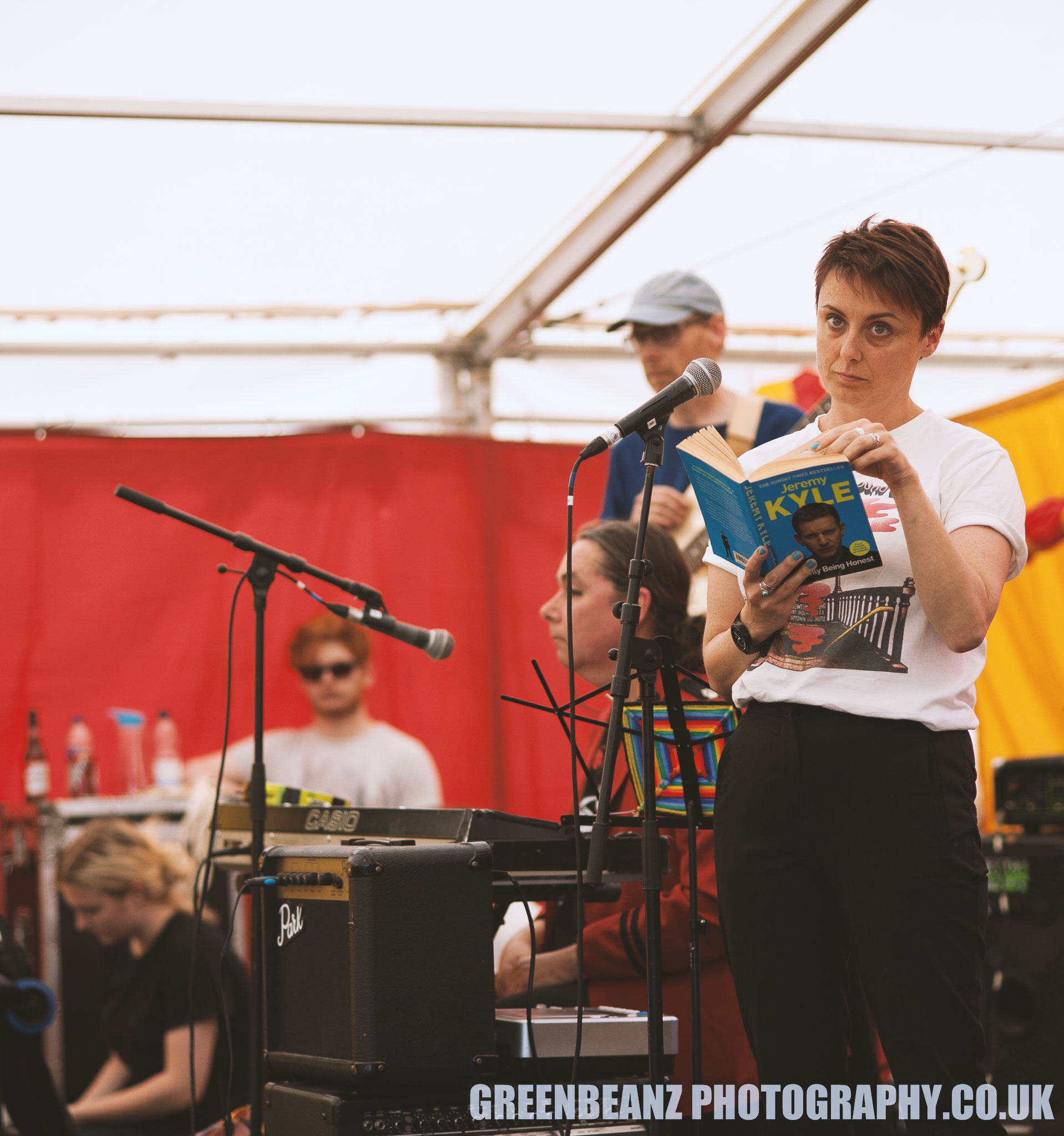 ABOVE: The Spoils Collective at Plymouth Freedom Community Festival in 2019
Much has been written about The Spoils Collective and so I am not going to add much. Only to say they were much loved, brilliant as always, the song Jeremy took on a real poignancy here and the crowd singing back 'Cheese and Onion' was fit for any football terrace in the country.
Windjammer- There are not a lot of people who sing like Jake Rownlinson anymore. This traditional folk trio, complete with Jake in Wellies whose phrasing is like a lilting Ian Anderson , make sense here.
Andy Quick Band - Fresh from the last gig at the Hub despite early tech guitar problems the funky festival favourites played a blinder in the main marquee.
Jaded – Finishing with a cover of Run to the Hills for Granddad in the audience was a brave choice and was great fun.
A choir and an acapella group. Glorious Chorus – Again a really original choice in Bjork's anthemic and moving 'Hyperballad' and Crew Mates lovely version of 'I Say a little prayer' and a sublime Beach Boys cover were the highlights for me.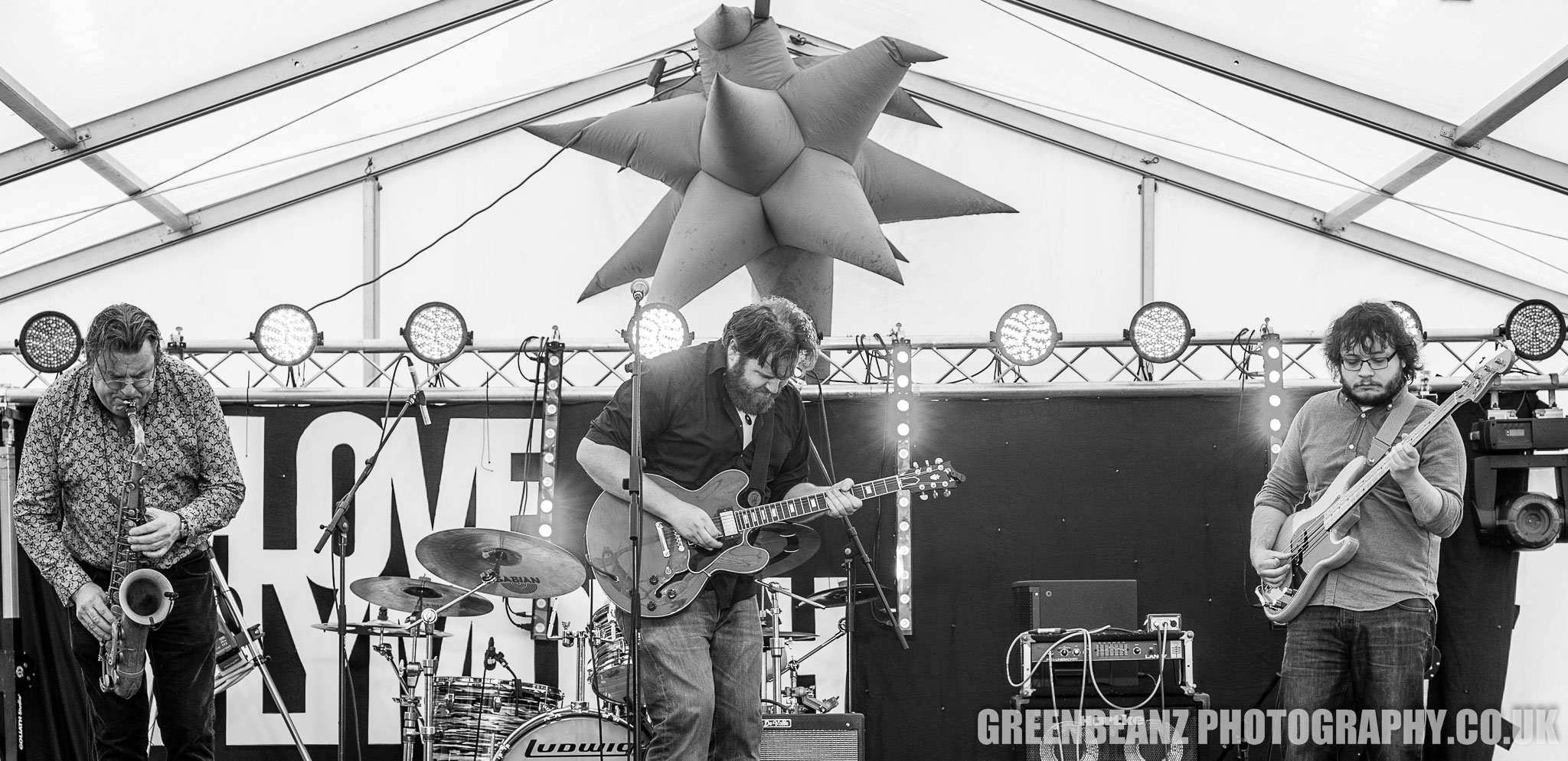 ABOVE: Russell Sinclair at Plymouth Freedom Community Festival in 2019
Russell Sinclair – Did justice to B.B.KING and others with a blistering set of Blues numbers and a stand out sax break by glorious George Comer mid set.
Omni Federation – Big up for the whistle blowing old school vibes
Varied Heights– Again respect for playing Dave Brubeck's 'Take 5' on a Sax,Guitar and cajohn!
Street Factory – Brilliant as always to see everyone joining in a spirit of peace, love and respect. Some fierce breaking by the boys and girls.
Lizzie Corish – Lovely moment when her nephew the pirate joined her on stage for his birthday which everyone sang along with. Great performance by Lizzie.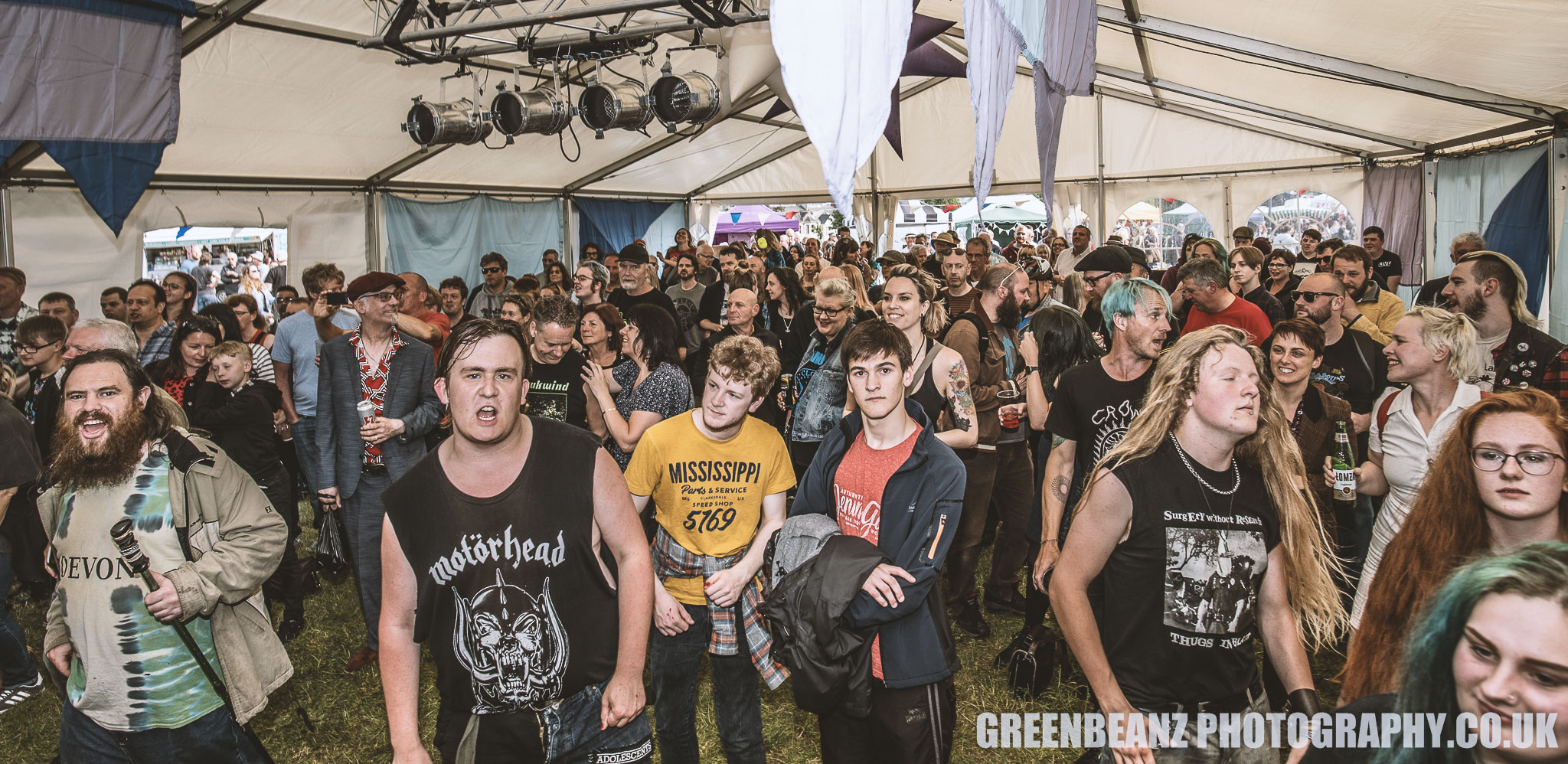 ABOVE: Happy Music Fans at Plymouth Freedom Community Festival in 2019
You may think it's all over. Well it is now.