Greenbeanz Photography
Karting at Plymouth Karting NOVEMBER 2017 | Devon and Cornwall Professional Sport & Event Photography
Karting at Plymouth Karting | November 2017 | Devon and Cornwall Sport and Event Photography

ABOVE : Plymouth Karting UK Go Karts captured in November 2017.
Karting at Plymouth Karting | Devon and Cornwall Sport and Event Photography
The competitive spirit and innate human desire to win, is rarely more obviously demonstrated then when it is played out in a race. We have long been obsessed by racing from the earliest olympics to the space race today we have always placed great value in being first. People will race anything, bikes, boats, planes, even something as lethargic and procrastinating as snails.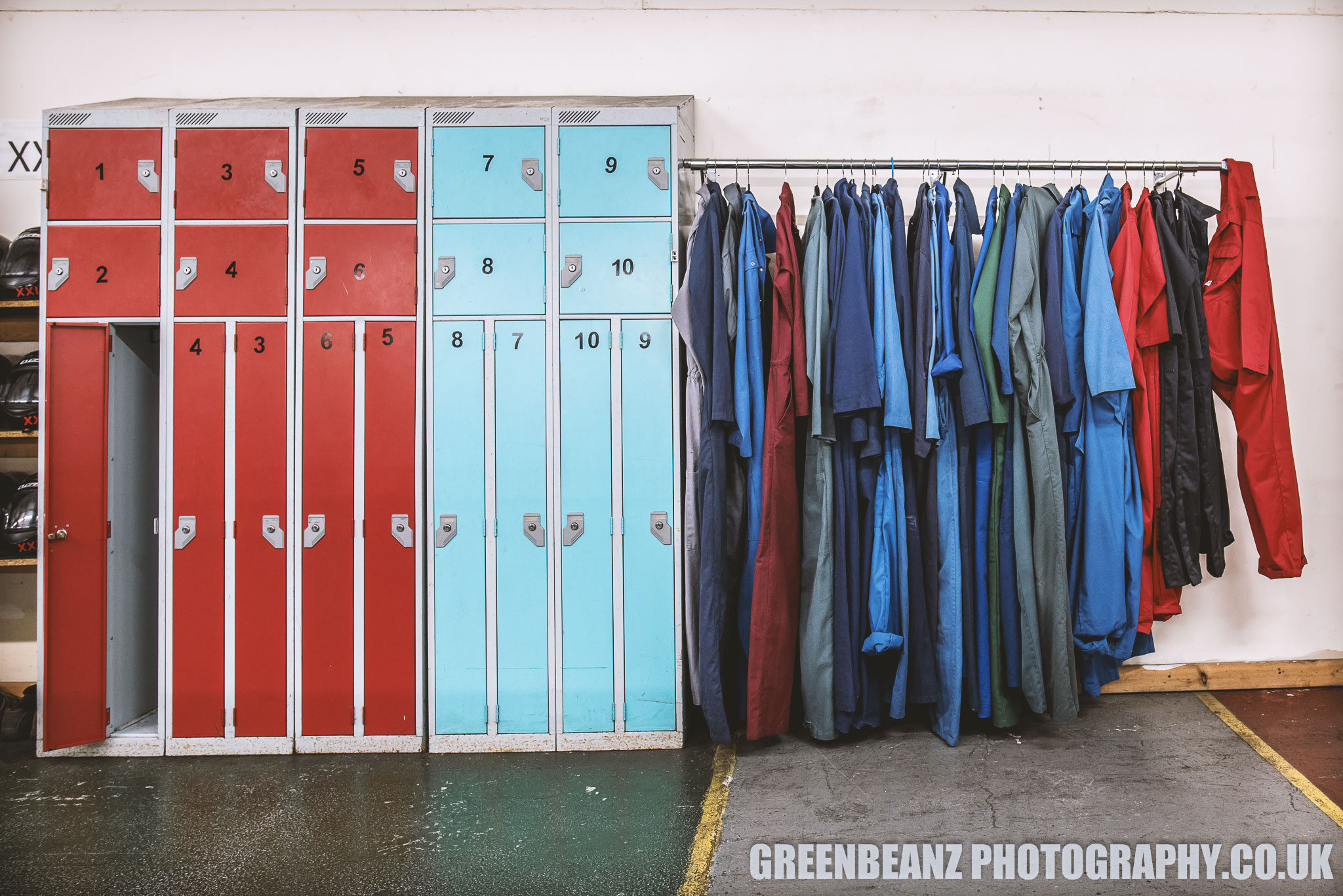 ABOVE : Lockers and Racing Boiler suits at Plymouth Karting
Somewhat quicker than gastropods, Go Karts have been an accessible and fun way to dip your toe into motor sport for some time now. In 1956 , Art Ingels, a hot rodder and race car builder at Kurtis Kraft built the first Go Kart in Southern California, powered by a lawn mower engine. Karting is now popular all over the world with both indoor and outdoor karting world championships every year.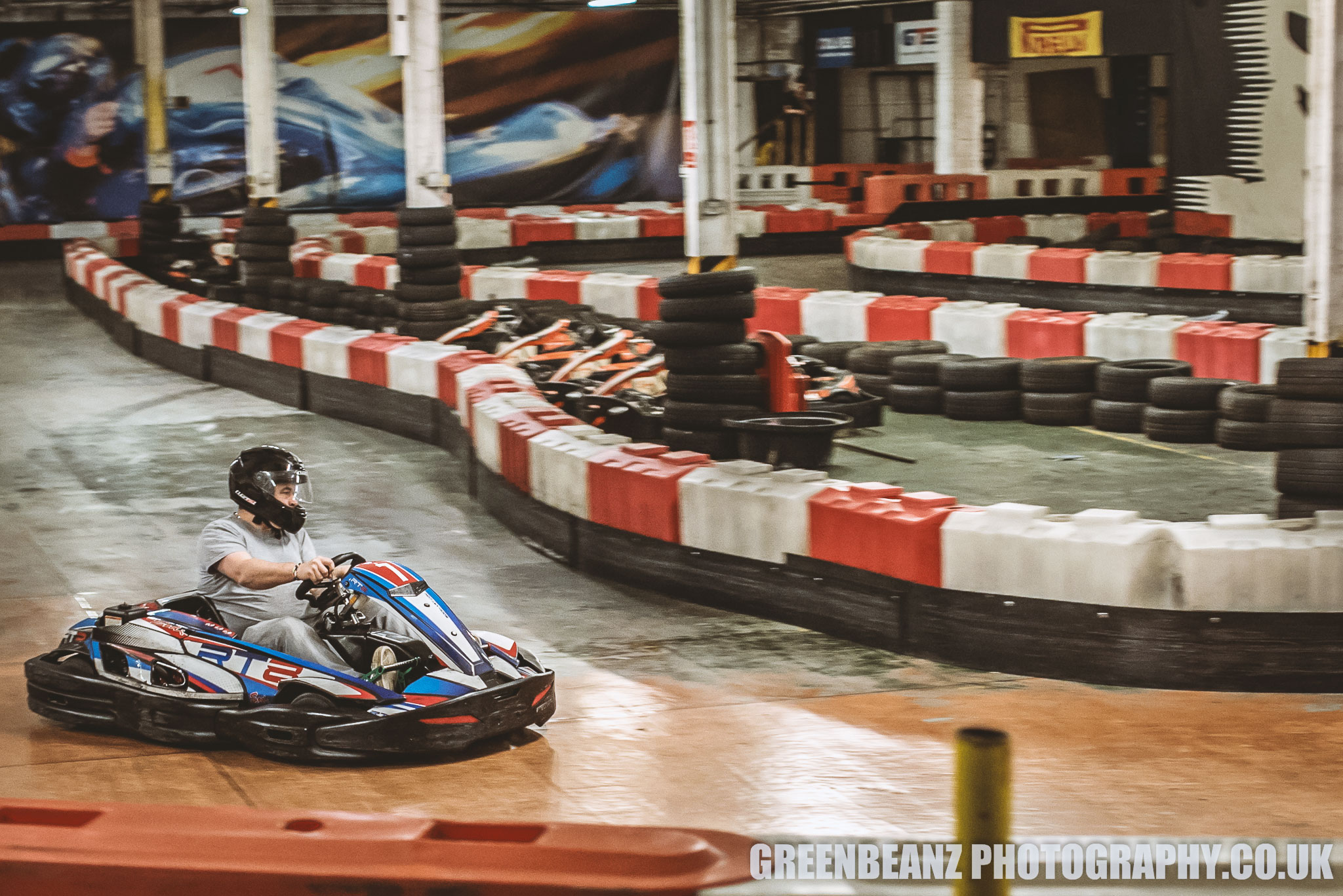 ABOVE : Driving in an early qualification heat at Plymouth Karting November 2017.
Teams taking part at Plymouth Karting have a chance to practice and then take part in multiple heats with trophies for the top three drivers and a personal performance print out for all drivers taking part. Adult drivers get to race Sodikart GT270cc karts around a generous indoor track with places for overtaking. Plymouth Karting also offer laser tag and cater for team building, Corporate and Private Hire.

ABOVE : Plymouth Indoor Karting GoKarts in the pit lane
Shooting high speed sport under less than perfect lighting for photography is something I am now well used to with covering boxing and other sports at many levels but the added complication here is safety. The shot that tells the real story in motorsport is a long pan at a slow shutter speed, with the subject sharp and the background blurred. That is not quite as straight forward when you have to be up high on a gantry rather than level and a distance as one often is with outdoor motor sport.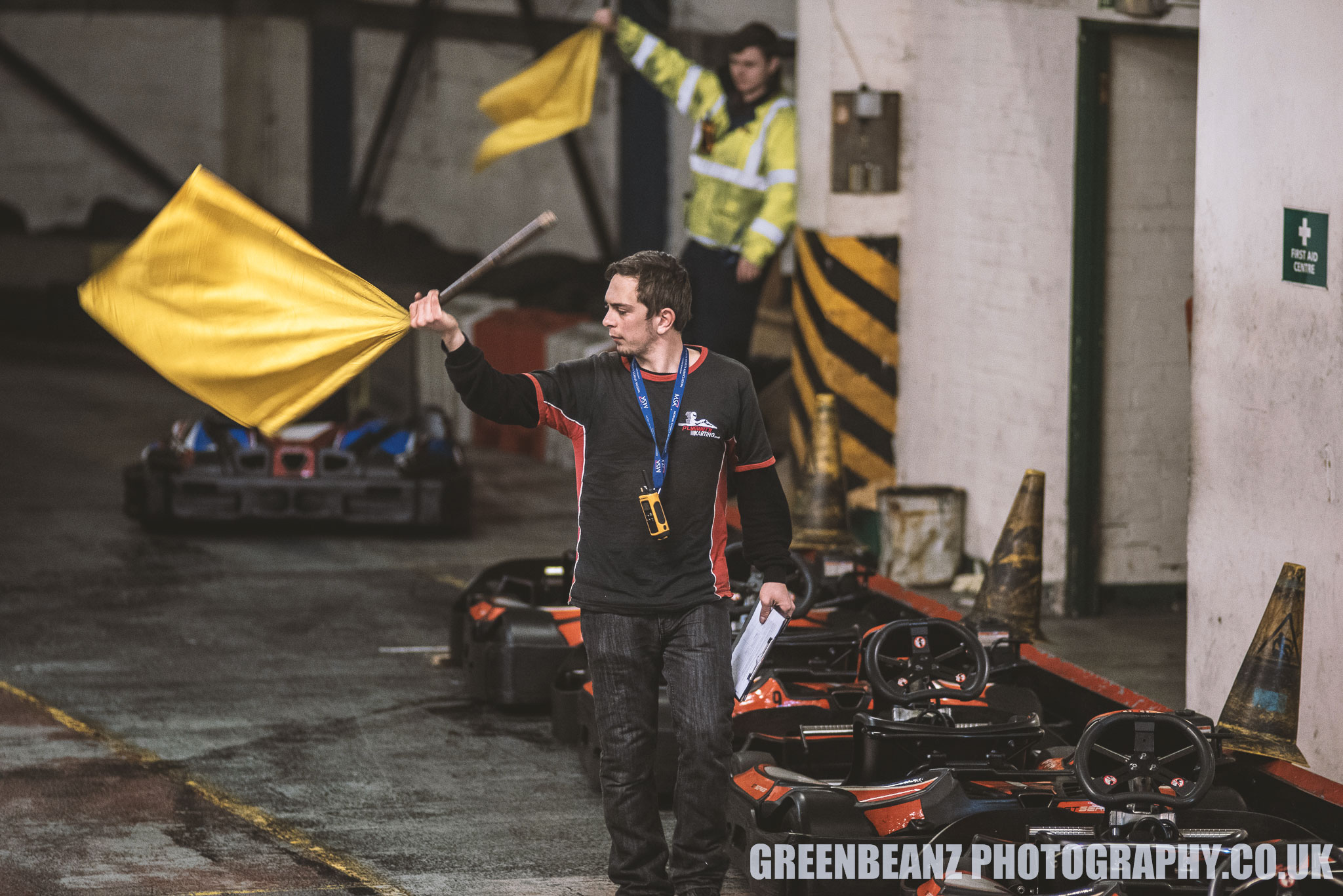 ABOVE : The yellow flag being waved at a Plymouth Karting indoor racing event in 2017.
It was a fun assignment though and you can see how smaller indoor events like this are well served by film making in the short film I made at the link below
Greenbeanz Films at Plymouth Karting Here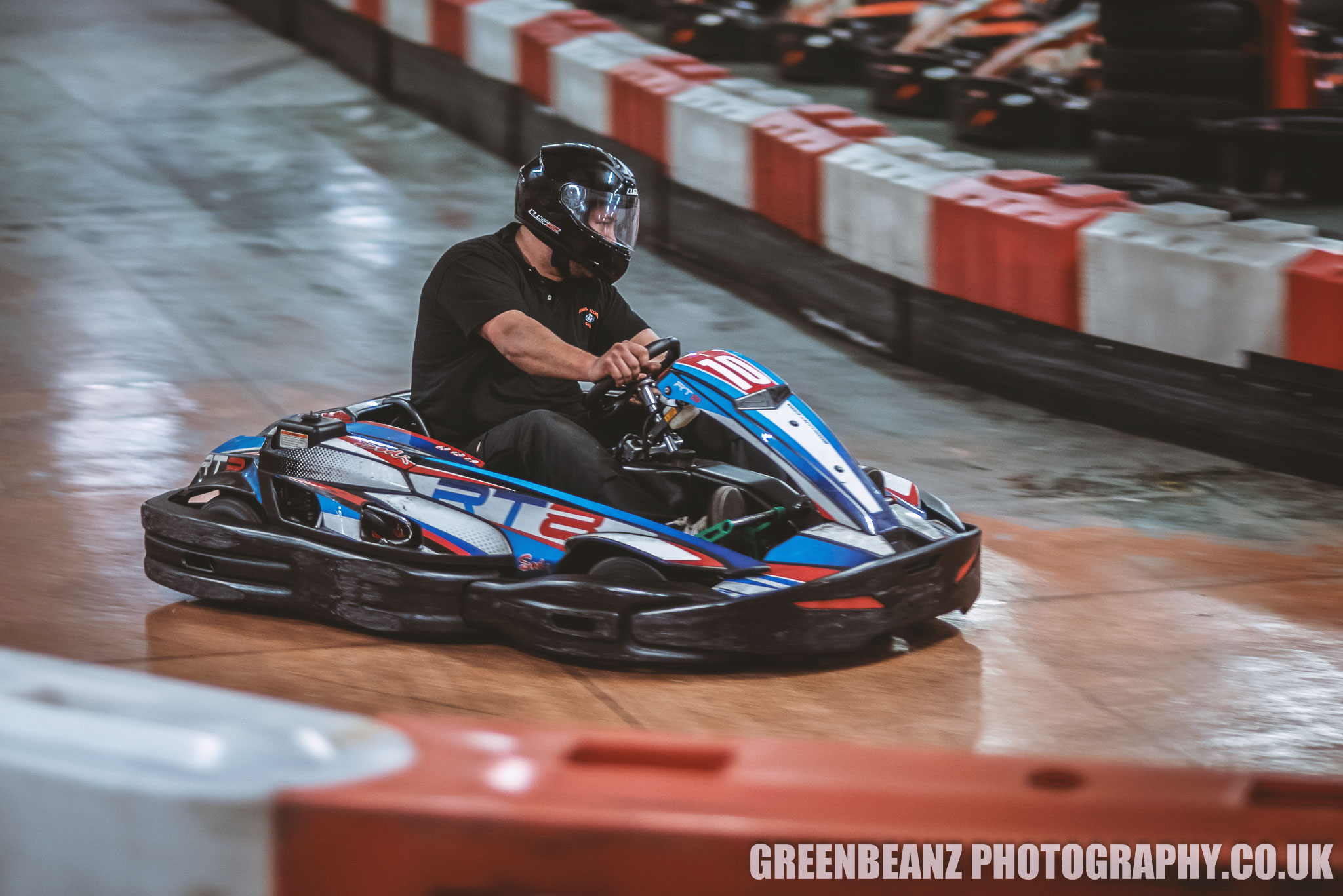 ABOVE : Racer photographed at Plymouth Karitng event with Nikon D750 in 2017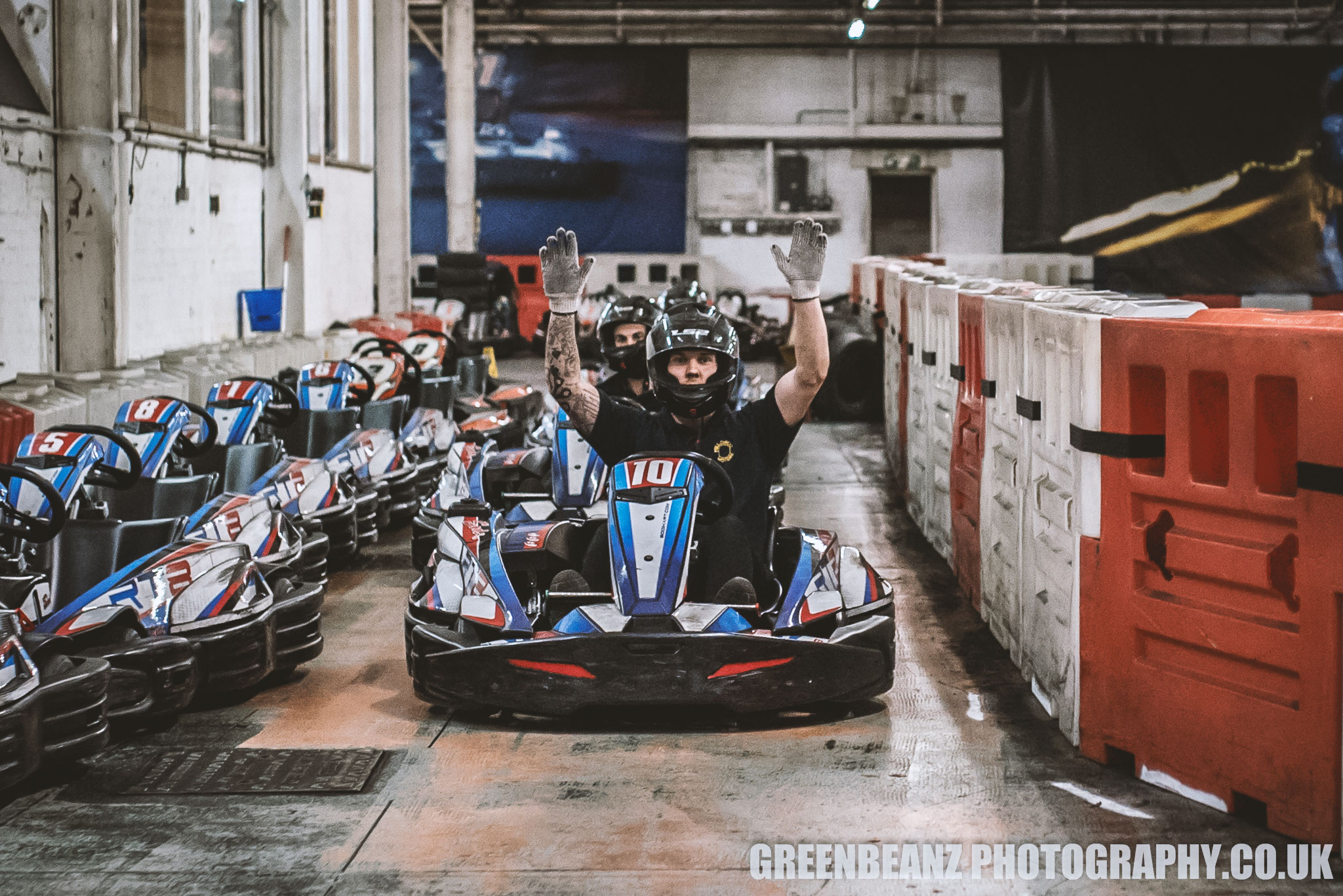 ABOVE : Plymouth Karting 2017. The winning driver raises his hands in celebration.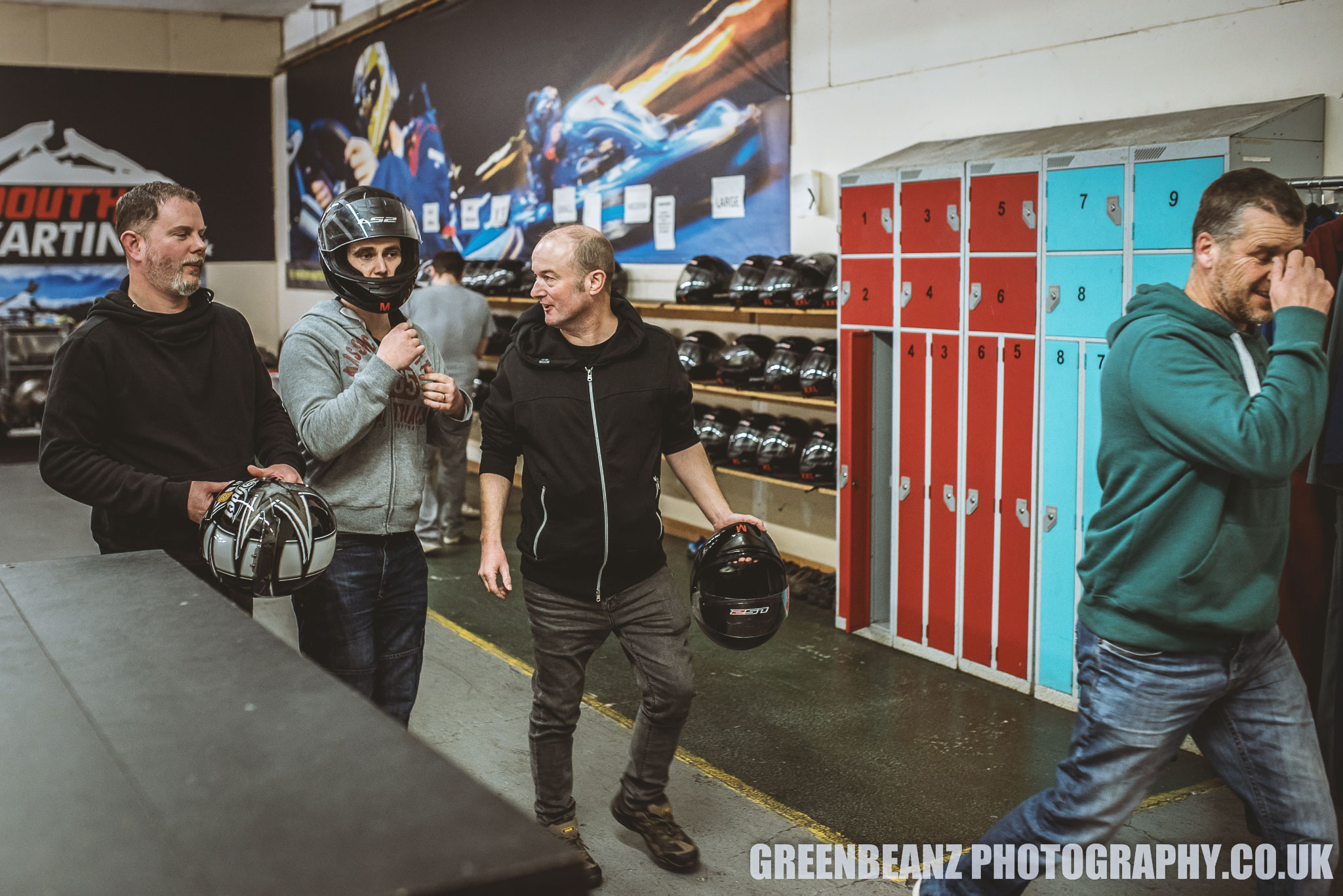 ABOVE : A team returns to the briefing room at Plymouth Karting to check their times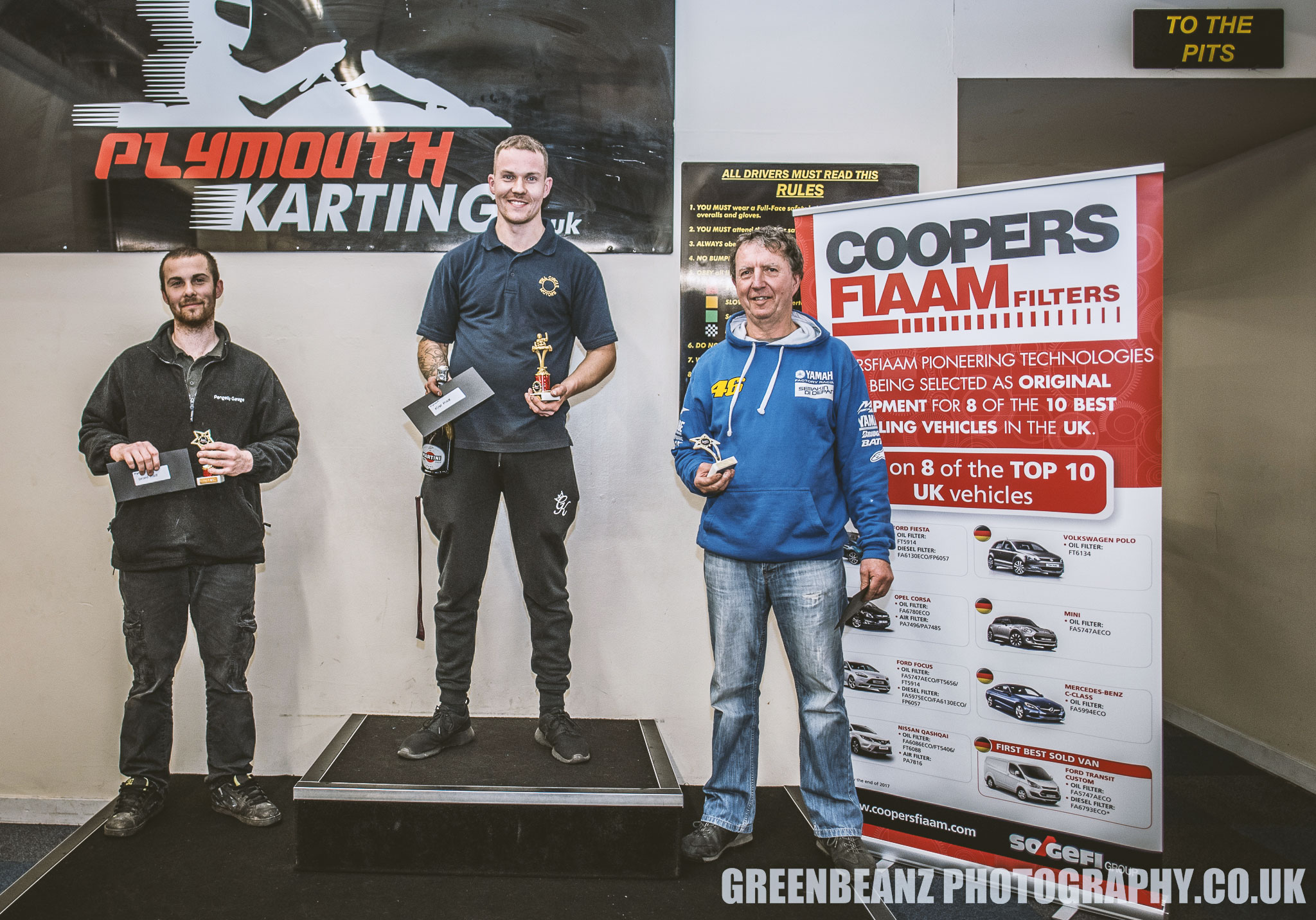 ABOVE : The winners podium at the Coppers Fiaam Plymouth Karting event in 2017
The winning podium is a must have shot in motor sports. Unfortunately the fizz had to be taken outside and a cold night in November in Plymouth is not quite Monte Carlo in the sunshine. A great event though, and one that all the participants seemed genuinely pleased to be a part of. If you would like to have a go at Karting yourself, you can check out Plymouth Karting HERE
You can see some video captured at the event by Greenbeanz Films HERE
If you would like to book me to capture your event, you can contact me HERE

You can find more sporting photographs in the Greenbeanz Photography gallery here
---