Greenbeanz Photography
We're not really sure | Twostevespresent | 08 June -06 July 2019 | Stephen Beer and Steve Clement-Large
Two Steves Present | We're not really sure | Tavistock Wharf | June 8th - July 6th 2019

ABOVE : Steve Clement-Large and Stephen Beer Twostevespresent at Tavistock Wharf
Steve Clement Large (My Dog Ate Art) is a mark maker. He seems never more at home than when he is exploring iconography and what looks like data to try and escape from himself. One look at Rainbow Dancer and End of Day reaffirms for you how important the line is in Clement-Large's output. Vote for Us, six trademark green figures in button down, three button , single breasted suits with matching red ties, puts us face to face with the realities of false choice and the political production line churning out more of the same.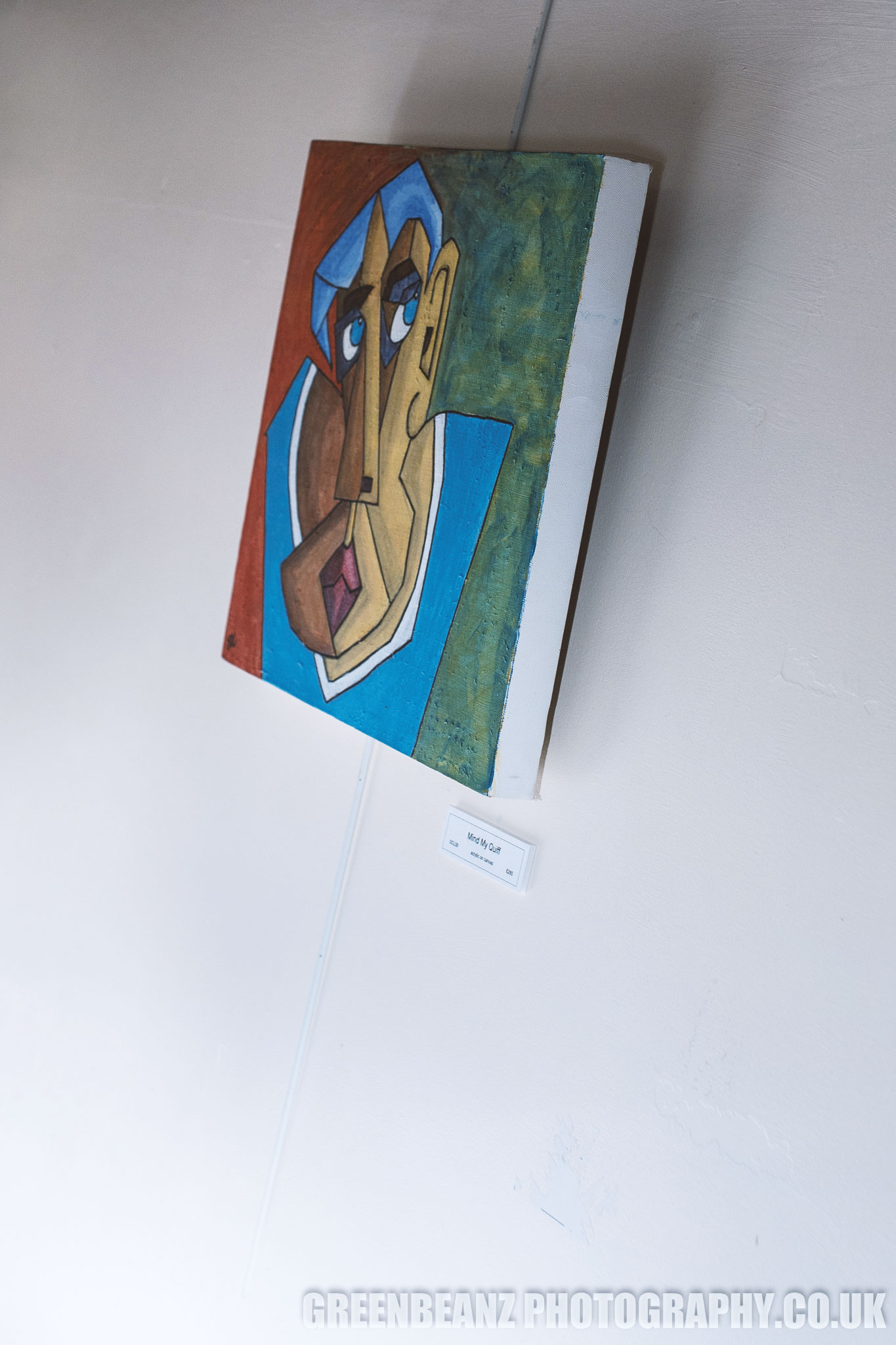 ABOVE : Steve Clement-Large's 'Mind my Quiff' at Tavistock Wharf in 2019
It's hard not to fall in love with his characters, whether that be the V-necked jumpered Civil Servant or the multi-faceted character of Mind my Quiff, complete with what looks like Morse code embossed below the paints surface. They are all in a way Steve, even the abstracts and landscapes carry the familiarity of the tactile feedback we all know from using a Biro. It is this immediacy that links the paintings on show here.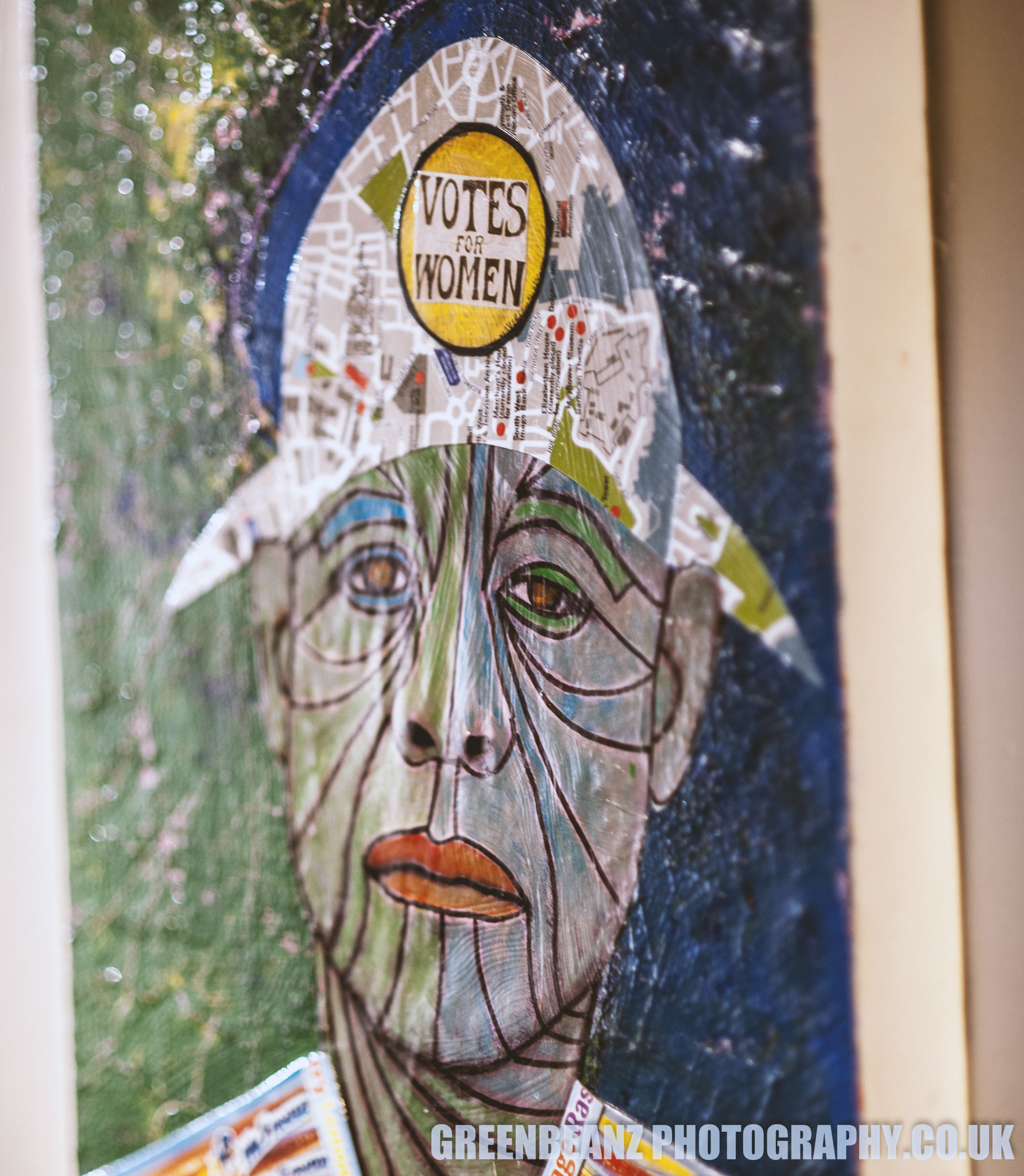 ABOVE : Steve Clement-Large painting exhibition twostevespresent at Tavistock Wharf
Steve Beers work has for me often been about taking things to pieces, and then putting them back together again. The stitches in the new canvases, are like the scars from an accident as an eight year old in his head, nothing new. They provide a tension here though, a way to bridge the divide. Whether it is collage, painting, photography or the creation of objects and sculpture,Stephen Beer loves to disassemble objects and assumptions, and then use them to create something new that addresses both the subject of the object, and us the viewer at the same time.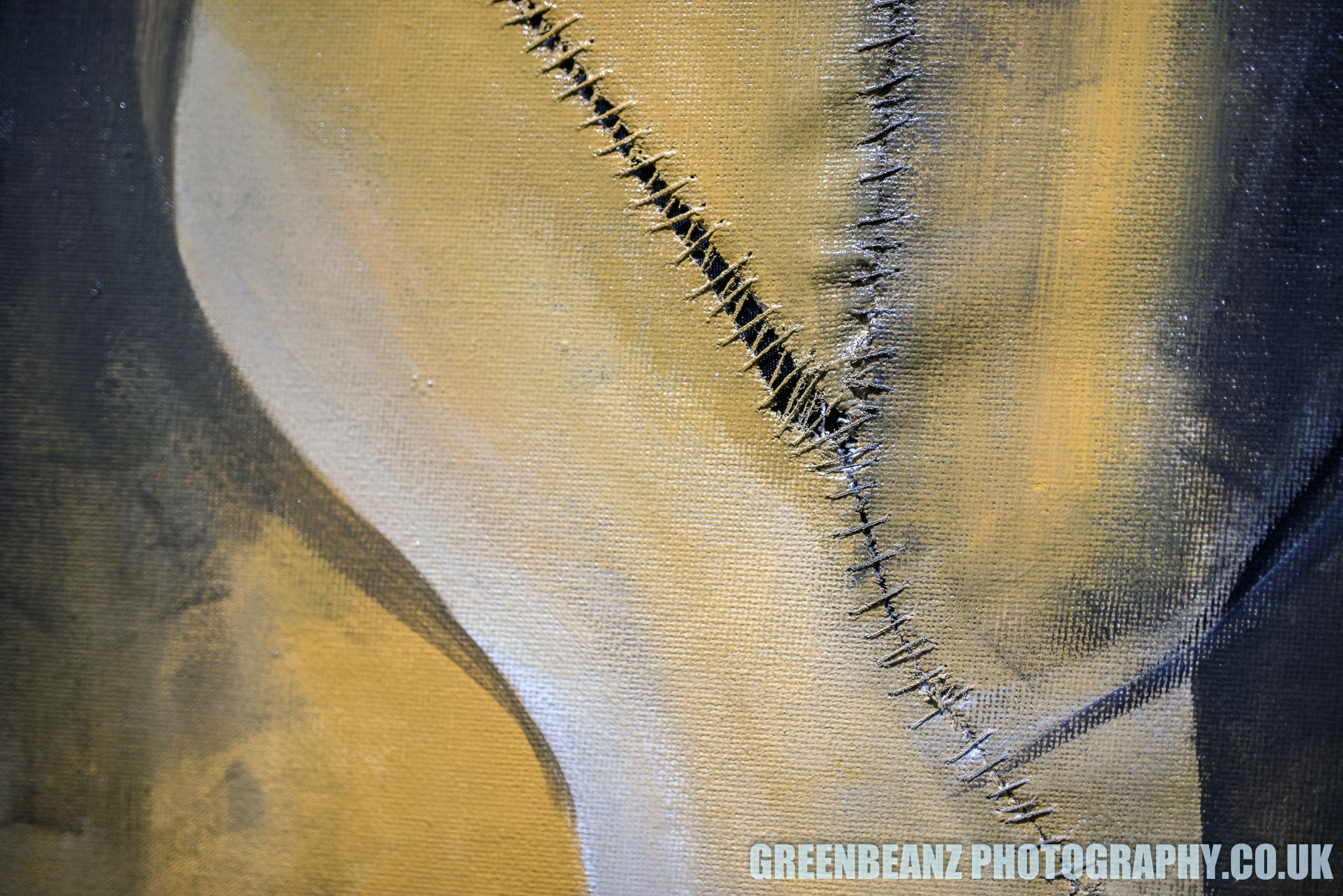 ABOVE : Stephen Beer close up of stitching on canvas at twostevespresent JUNE 2019
The War on Plastic is not quite a laugh at the Chapman Brothers expense , but it is a lesson in simplicity and a powerful critique of the throwaway culture it is constructed of. With a nod of course to the disposable nature of human life itself, in the toy like tokenism used in planning battles, it presents also the cheap carelessness created in manufacturing our own environmental apocalypse. The playful waving of disposable arms makes the awaiting avalanche of shiny plastic no less bearable, but at least nobody helped melt an ice cap by heating up a wharehouse for four years whilst creating it.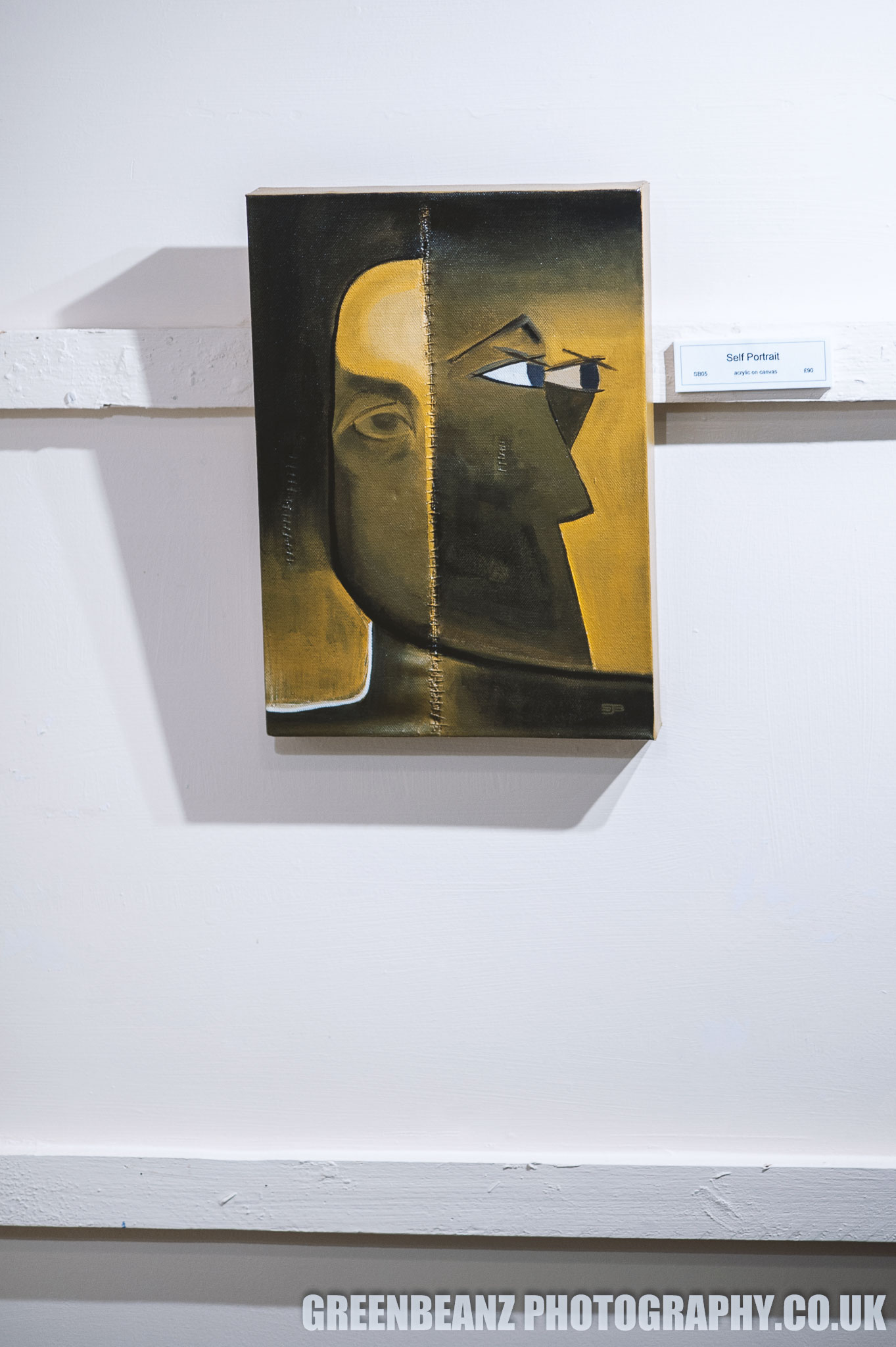 ABOVE : Stephen Beer 'Self Portrait' twostevespresent ' We're not really sure' 2019
There is a physicality and masculinity to Stephen Beers work that belongs in the same British tradition as the garden shed and reminds you of the hefty and ponderous usefulness of a hammer and the unending possibilities contained within a pair of mole grips. That is not to say it is work made without sensitivity, technique and skill from somebody you would have been lucky to learn from had you been at art college with him in the past. He moves effortlessly between mediums and his prolific production schedule has allowed him to explore these different languages with much more than a quick glance at each discipline's phrasebook. Self Portraits clever dual perspective and Smiley's weaponised iconography both refuse to hold your hand in presenting the deconstruction of familiar imagery, only partially re-made, the gaps in both giving the viewer room to insert their own narrative.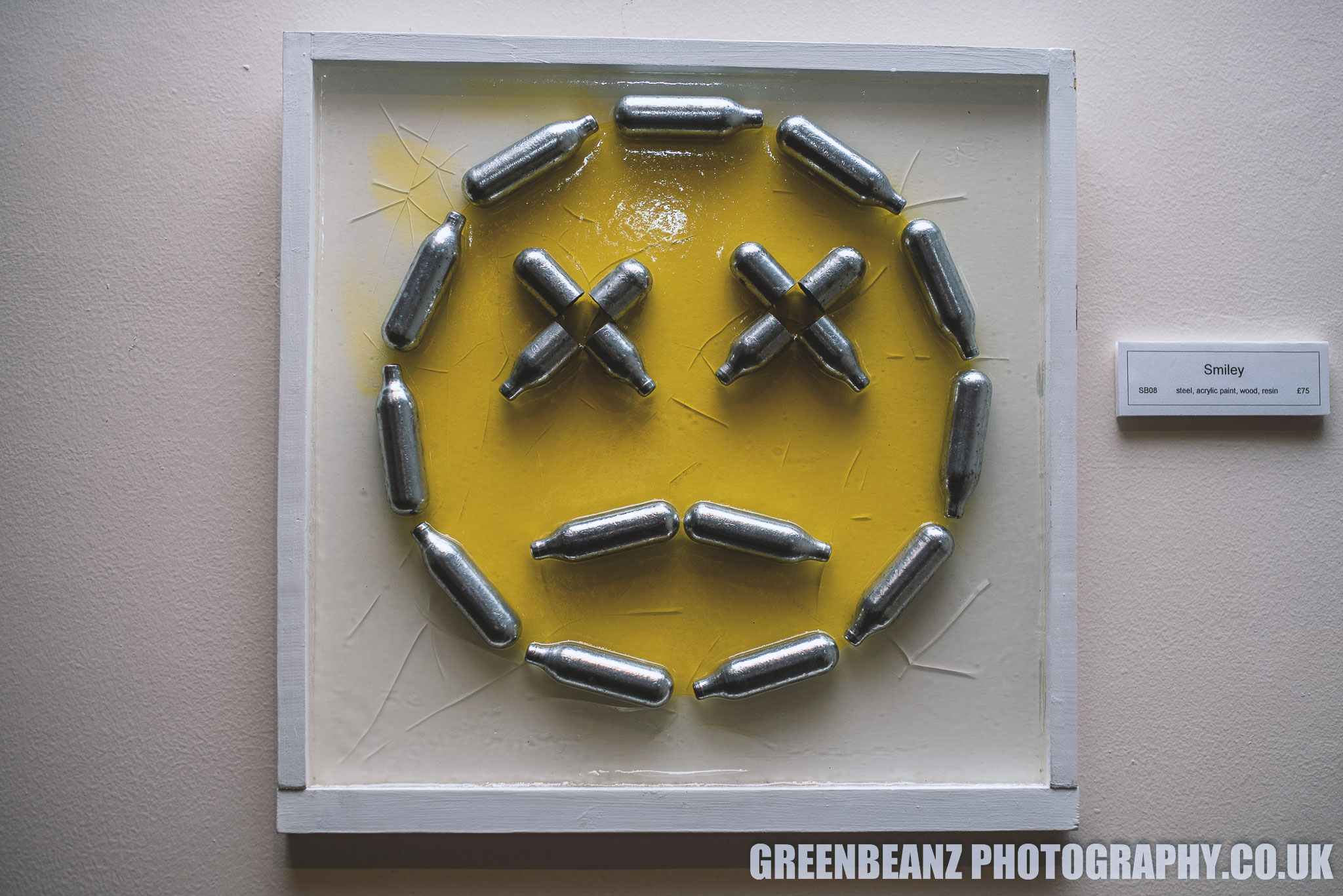 ABOVE : 'Smiley' Stephen Beer at the twostevespresent 'We're not really sure ' exhibition
Where the iconography of Clement-Large is more akin to the religious miniatures he makes anew with the tools of bureaucracy (including the reverential role sometimes meaningless text can have in delineating the edges and limits of things) Beer tackles the subject of iconography itself. Whether it is the sacrificial exchange of meaning for words and images that is The Crucifixion of Communication, or the celebrity as demigod through fandom created with the platinum – The Fab Four – A- po-calypso.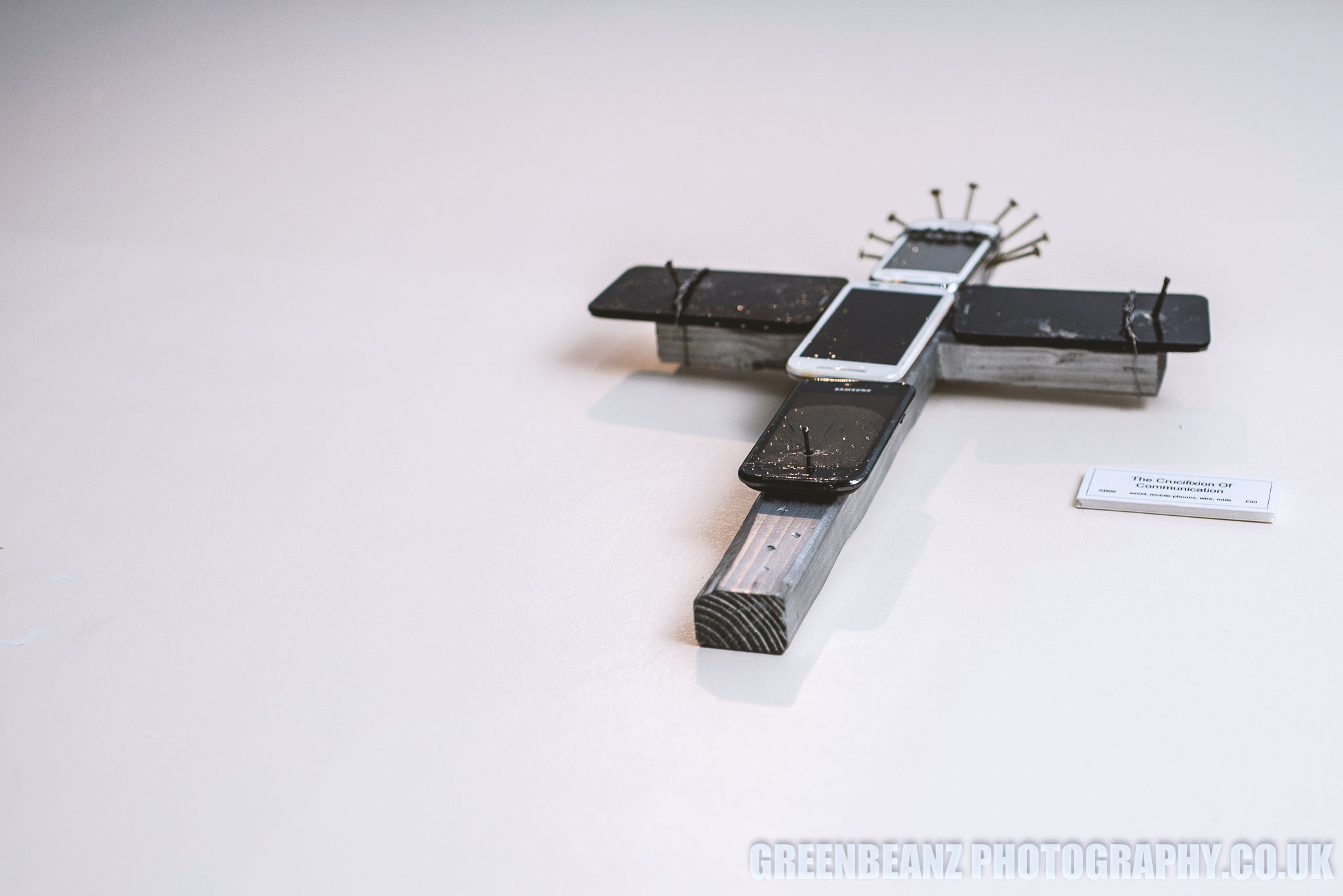 ABOVE: Stephen Beer's 'The Crucifixion of Communication' Tavistock Wharf 2019
They both tackle politics, but where Clement-Large's Vote for Us stares back at you, Beer's Follow the Leader makes explicit the folly of lemming like surrender, with a collage so full of kinetic energy you expect Terry Gilliam to coax the conga line of comatosed catastrophe into almost certain death at any moment. Enjoy the spectacle while you can, for it's mirroring the end of the printed medium with which it is constructed, but also because it is bloody good and life affirming and it is refreshing to see two artists on the same stage at the iconic Tavistock venue.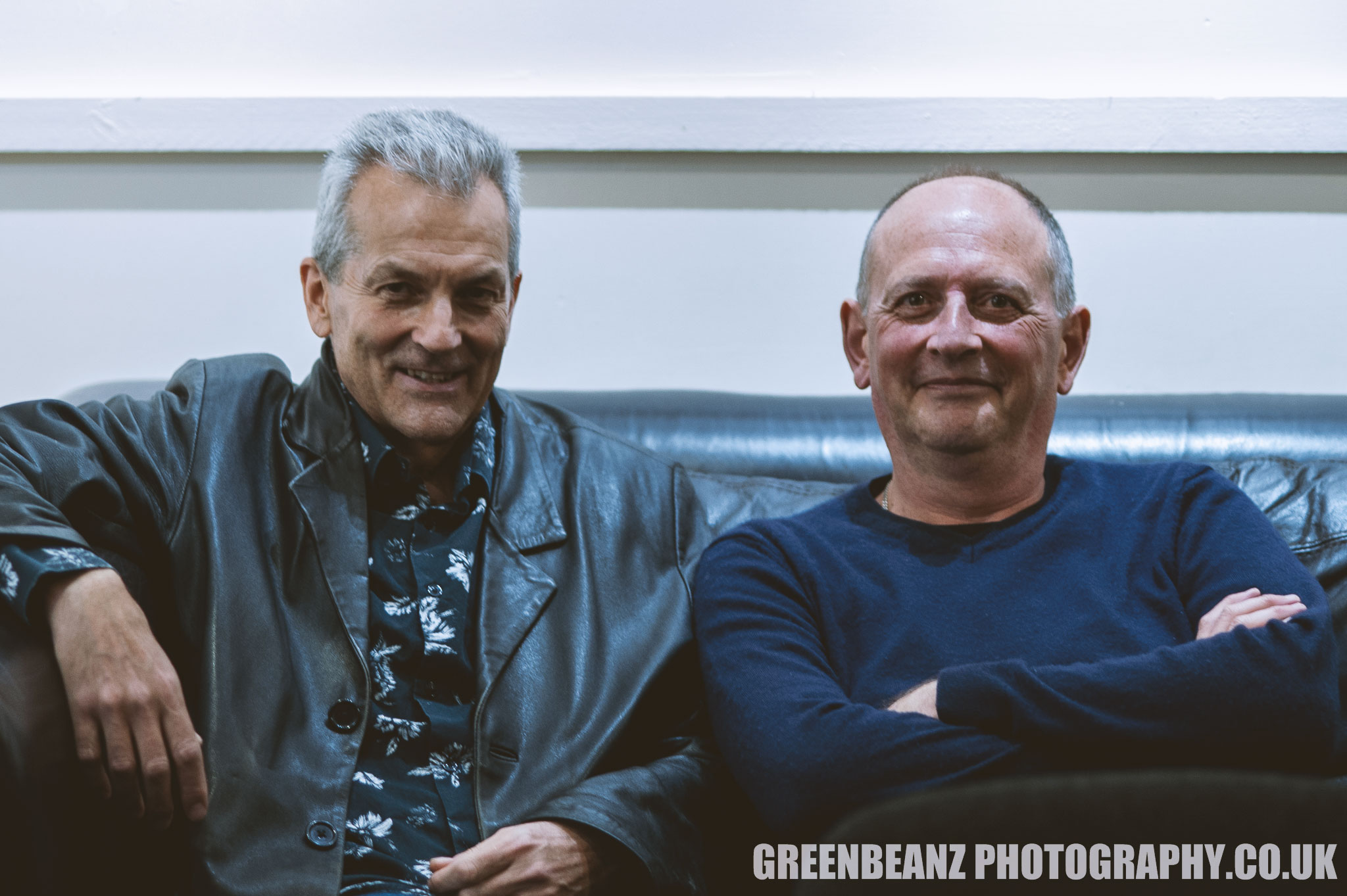 ABOVE: The artists Stephen Beer and Steve Clement-Large Exhibit at Tavistock Wharf
ABOVE: Stephen Beer's 'Follow the leader' and 'Ready to hang' at Tavistock Wharf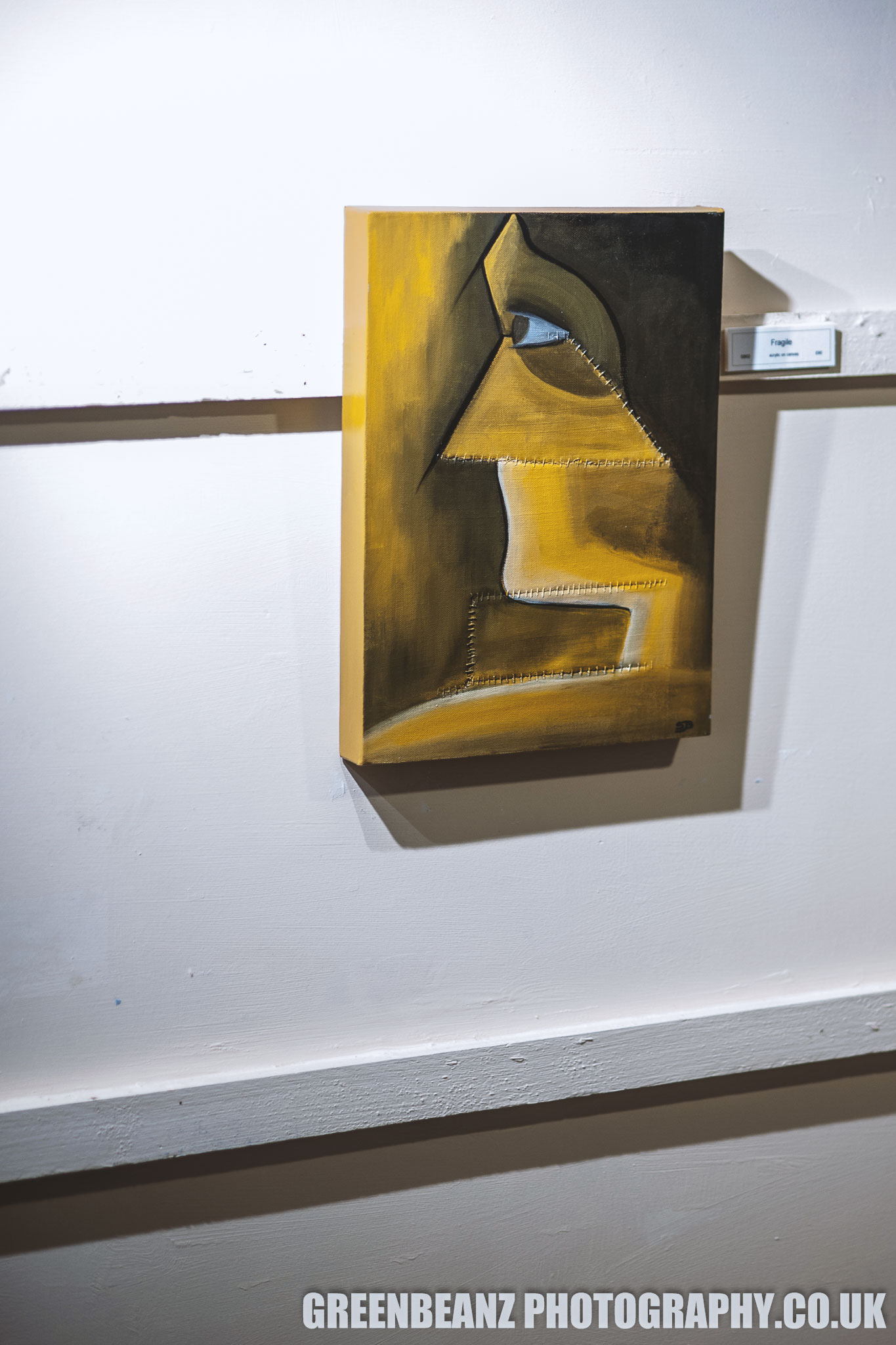 ABOVE: Stephen Beer's painting 'Fragile' at the twostevespresent 'we're not really sure'
ABOVE: Stephen Beer 'The Fab Four -A-po-Calypso' art work at Tavistock Wharf 2019
Two Steves Present – We're not really sure runs from June 8th to July 6th at Tavistock Wharf.