Greenbeanz Photography
The Box - Plymouth 2020 | Devon and Cornwall ART & EVENT Photography | Blog | Outside of the frame
22 SEPTEMBER 2020 | The Box - Plymouth | Devon and Cornwall Art and Event Photography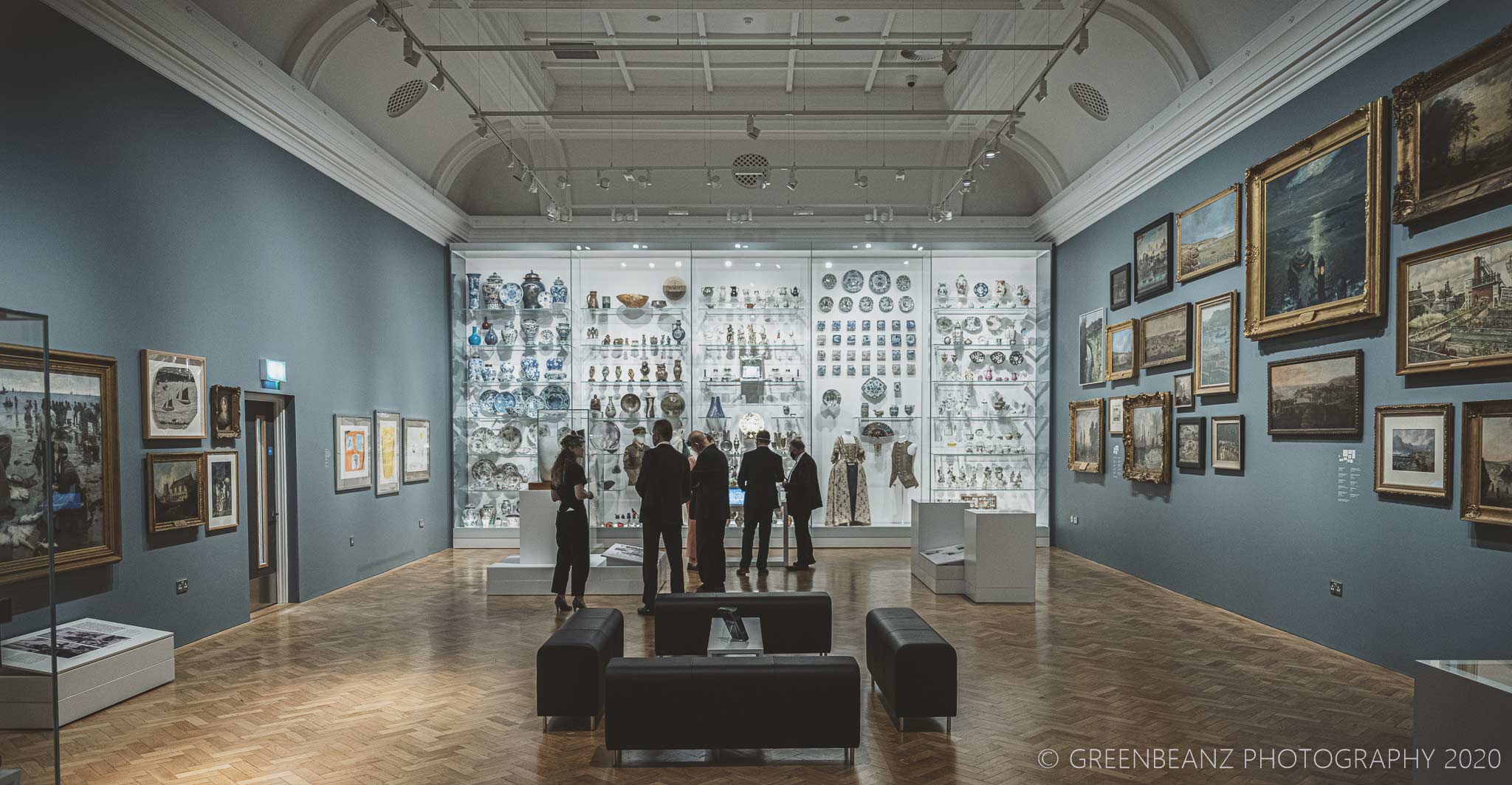 ABOVE : 'The Box' Plymouth 22/09/2020 Media Day
The Box - Plymouth 2020 | Devon and Cornwall Art and Event Photography
From Eva Grubinger's monstrously large black vulcanised rubber Fender, to the garishly coloured figureheads looming over you as you embark on your voyage, it is clear that the Box really is a flagship. More than just a receptacle for local cultural cargo it is a standard bearer to house not just artefacts and treasures, but also a centre for strategic planning from which to bring touring exhibitions in and commission work from contemporary artists. The beautiful multi faceted shell of reflective mirrors that clad the exterior of this place more than hints at the opportunities to explore the bright expansive spaces inside.
A museum , gallery and archive of spaces that unfold and wrap around the stories that the people of this city by the sea have been telling for hundreds of years now, it also acknowledges that the flora,fauna and marine life, that are part of Plymouth's environment have been doing the same thing for thousands of years more.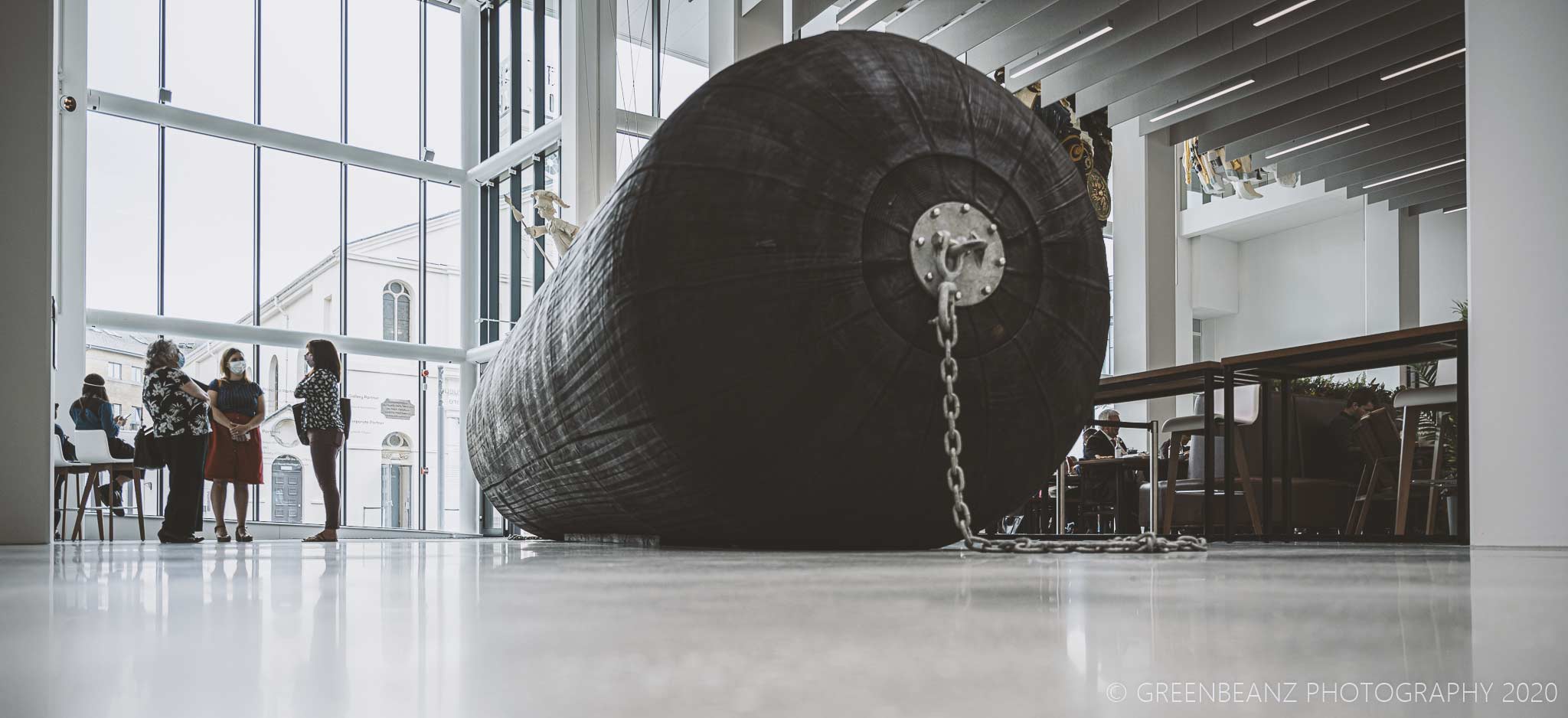 ABOVE : Eva Grubingers monumental 'Fender' at 'The Box' Plymouth

Open this present to the city of Plymouth and you are rewarded with a 100 Journeys, A Giant woolly Mammoth, an active archive, a Media lab, research room , a host of gallery hosting transient and 9 permanent exhibitions. At last a space that looks forward and out, instead of only inwards and back, The Box represents another landmark opportunity to celebrate the creative, scientific, social cultural and educational contributions this city has made without shying away from difficult conversations and resorting to cliches and repetition.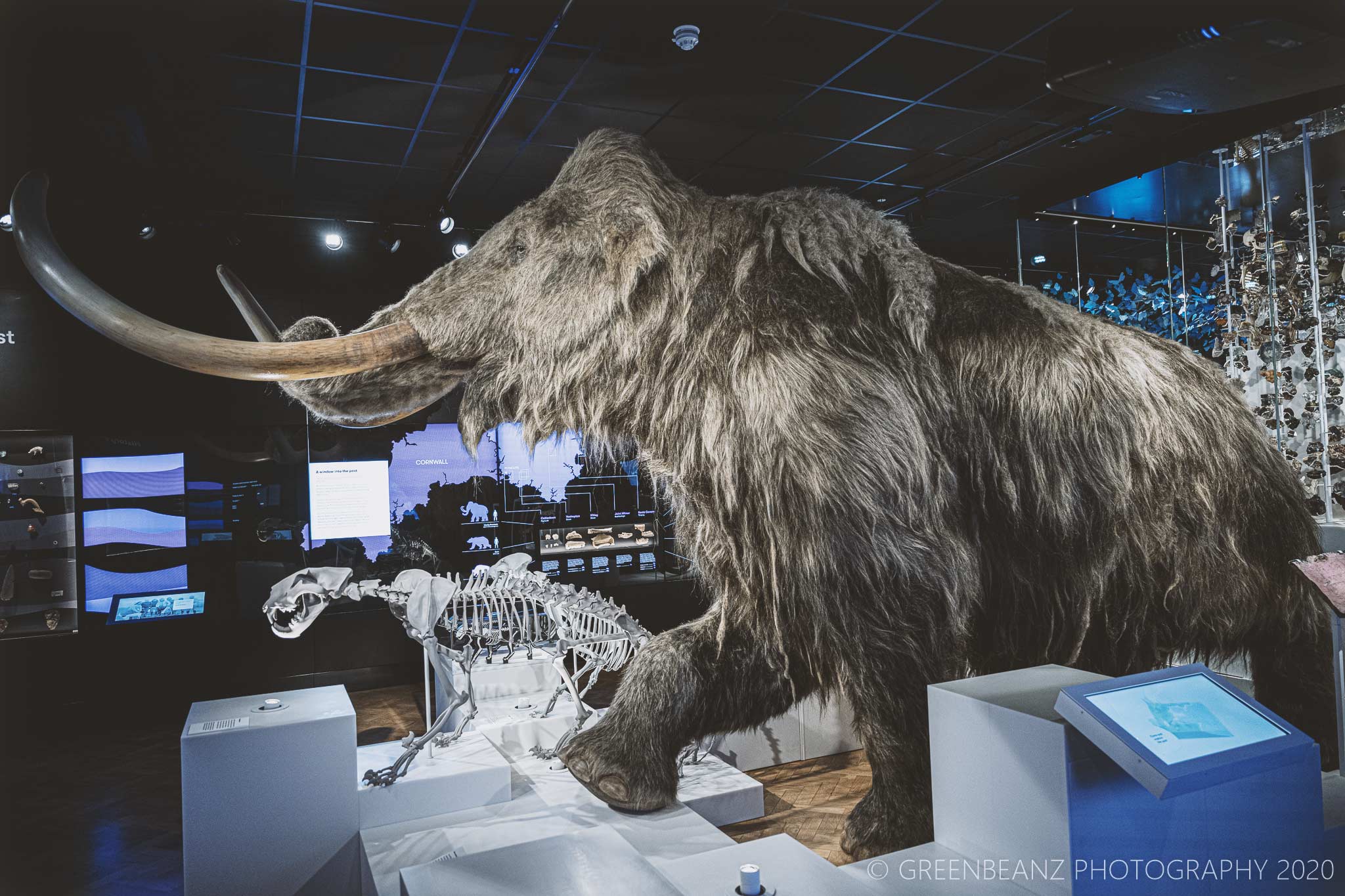 ABOVE : Woolly Mammoth at 'The Box' Plymouth

It builds on the work started with the British Art show coming to the city in opening up a dialogue first with the citizens of this city and the sprawling diverse urban/rural/marine landscape that makes up it's boundaries, and then expands those conversations to engage with the rest of the UK and then the shores beyond.

ABOVE : The Arts Council's Sir Nicholas Serota at 'The Box' in Plymouth 22/09/2020

The overwhelming presence of light in a building reinvented and made new is an impression that resonates with you long after leaving this space. Surely that is what the city has long cried out for? An excuse to not hide it's lamp underneath the table but to broadcast it's intentions and celebrate it's history in leaving echoes far beyond this harbour. It is not for nothing there are countless Plymouth's around the world and a myriad lighthouses inspired and constructed using Smeaton's tower as their model.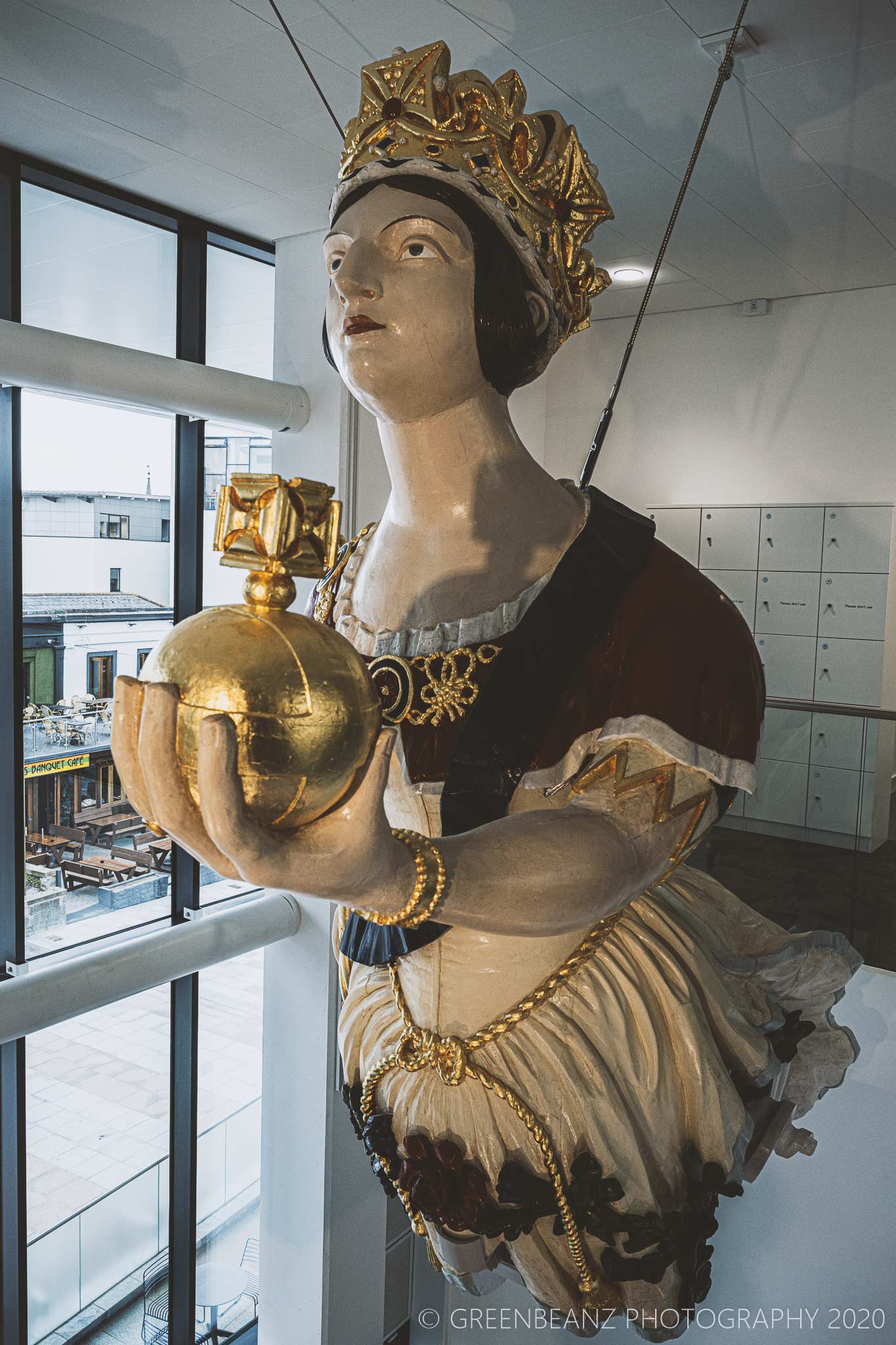 ABOVE : Figurehead 'The Box' Plymouth

I spoke to Tudor Evans from Plymouth city Council who has been instrumental in making 'The Box ' a reality.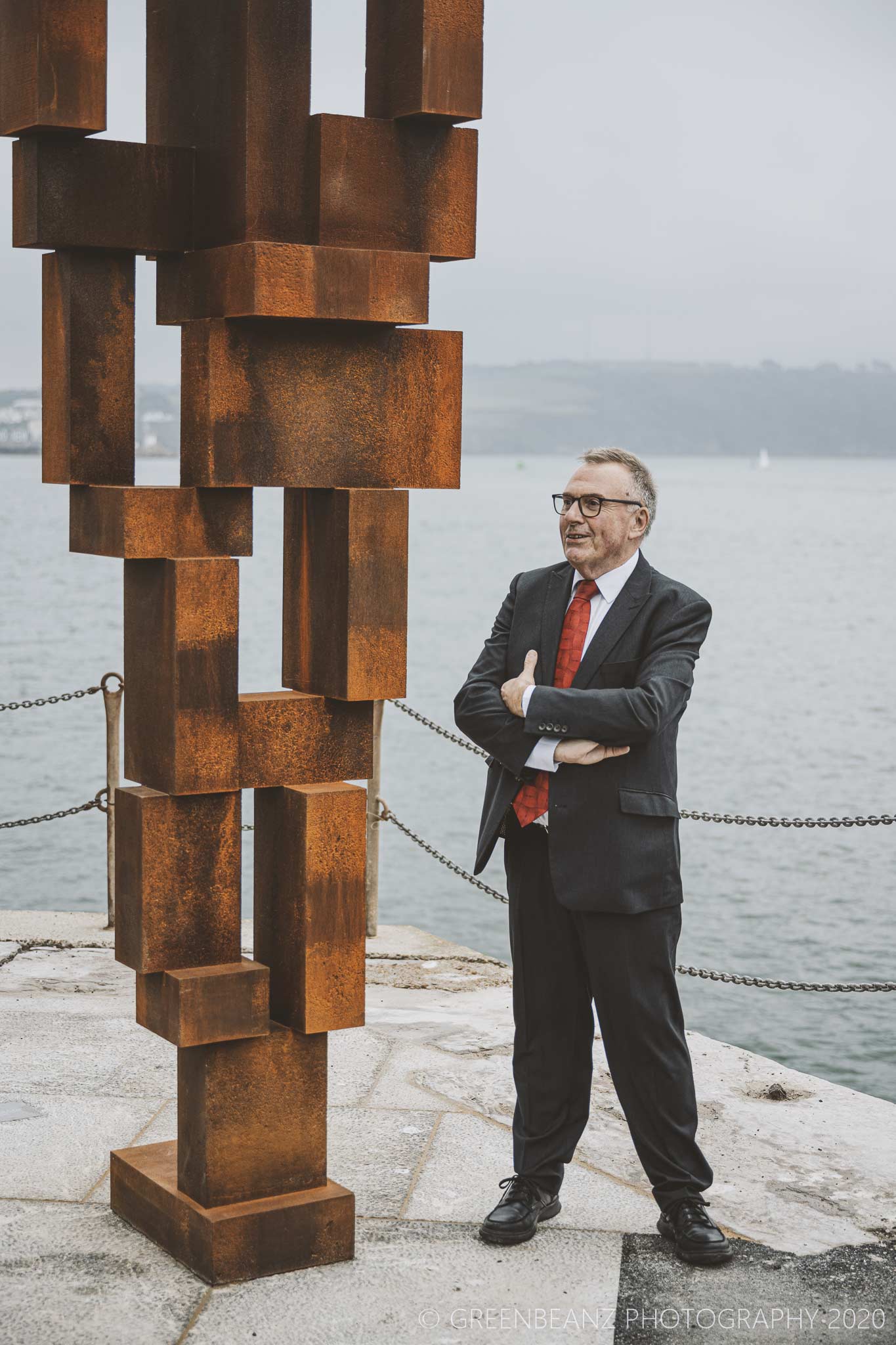 ABOVE : Tudor Evans Plymouth 22 September 2020

You have spoken of how proud you are of having invested in the cultural heritage of this city with 'The Box' at a time many local authorities have had to make the difficult decision to cut their arts and heritage budgets. Why do you feel a project like this is so important for the city?

"Plymouth has already got a reputation for it's cultural offer, but it is still one of the best kept secrets in the UK, and the growth that is going on economically now in the creative industry sector (until the contraction for the virus) is by far and away one of the biggest and fastest growing sectors, so economically it makes sense.

Secondly people in Plymouth have to travel a very long way to see things of national quality. It takes time and money to go to London and if you want to stay for a few hours, sometime that entails an overnight stay. So why not have exhibitions of that quality in Plymouth for Plymouth people to access every day.

Then there is the statement that it makes about the ambition of the city. We have always had to cut corners in Plymouth, but what we said here was , we were going to do the best job we could possibly do. We have great stuff in our collections, we've got wonderful paintings, people like Joshua Reynolds, who formed the Royal Academy, a Plympton boy, so we have got this history of really great material but we have never been able to show it off in the way that we have always wanted.
It has been tough, politically,..at a time of austerity, but we have been able to do it and do the other stuff because we have been very smart about what we have done in getting the money in. We have had tremendous support from the heritage lottery, tremendous support from the arts council, support from various art foundations which have helped us to get over the line and to do it with quality. You can see where we have spent the money, can't you?"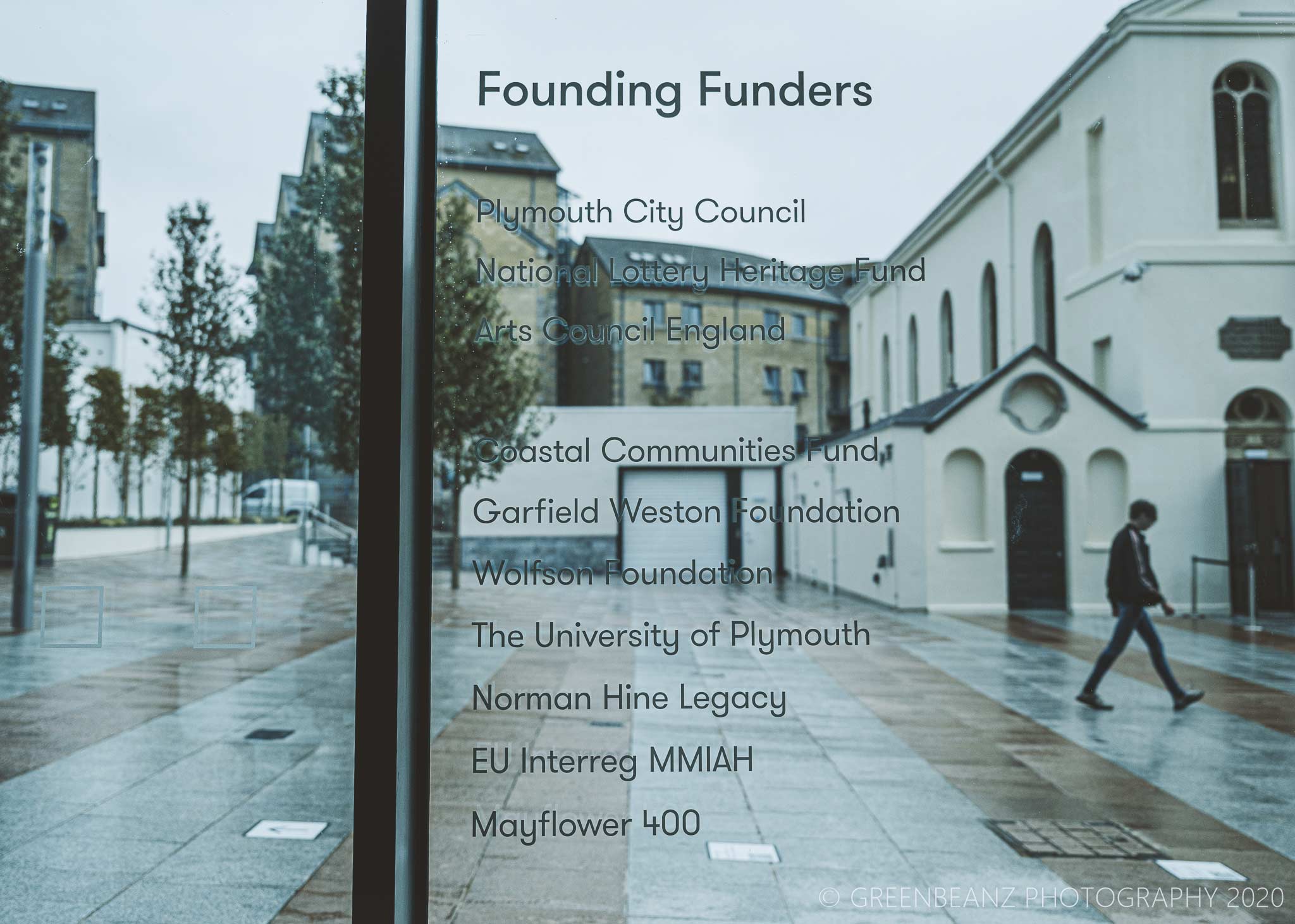 ABOVE : 'The Box' Plymouth's Founding Funders

You should be very proud, it is amazing. At times like this it reminds us of how important and valuable art and history is. As a Janner born and bred and an artist and film-maker I have made works about Darwin, Smeaton's tower, Disabled people in the war, Robert Lenkiewicz and these people are not shouted about enough and for me even a simple thing like seeing Scott's skis ..finally..on display make a massive difference, they really do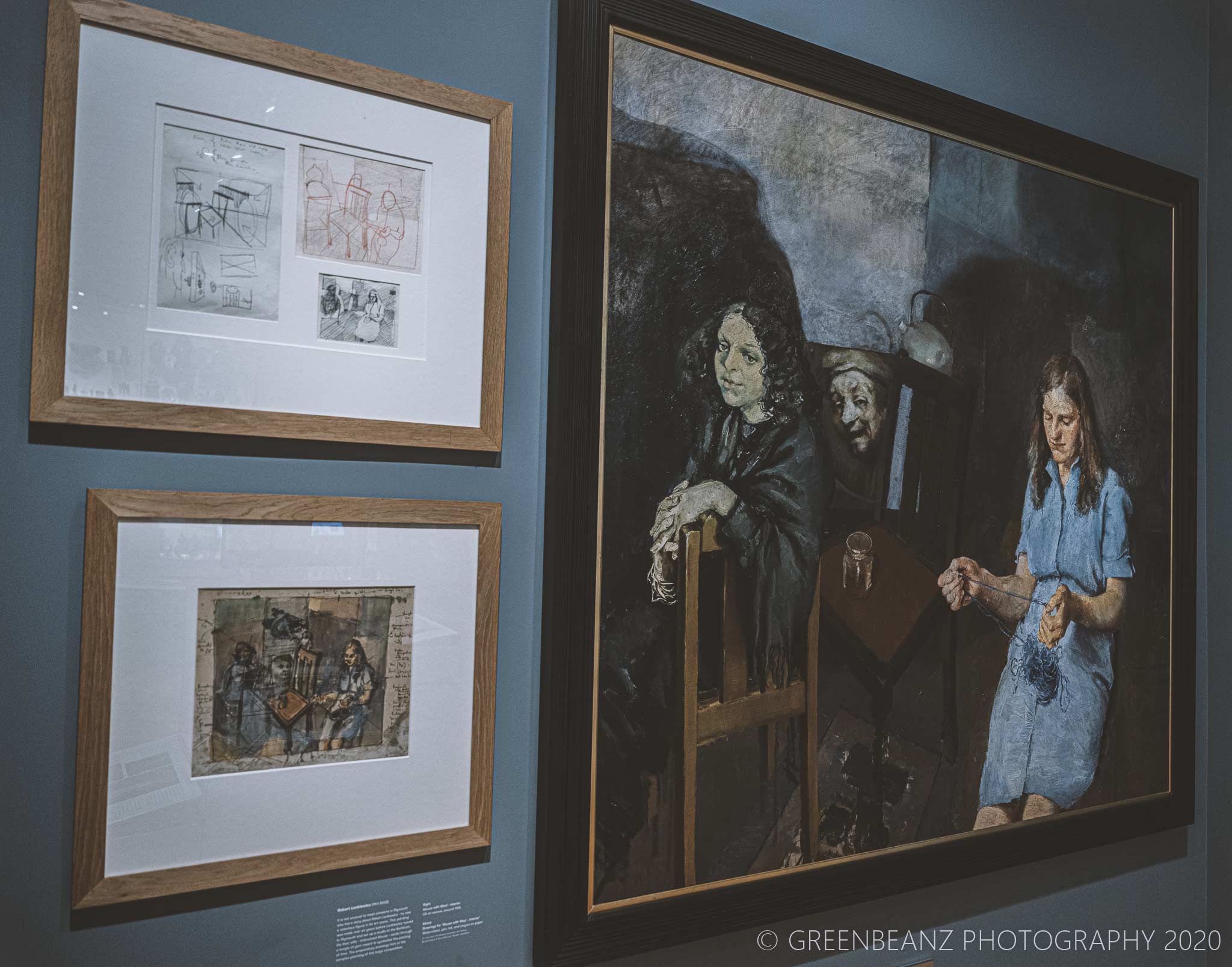 ABOVE : Lenkiewicz's epic 'Mouse with Wool ' and preparatory work The Box' Plymouth

Tudor Evans -" I am tearing up here listening to you say that, because like I said, we have built this as a love letter to the people of Plymouth,..it is their stories, their heritage, it's their ancestors. I came here when I was 18 to study at the Poly. I wasn't born here but I love the place, and I hope that shows. What we wanted to do was to give people something, to rediscover their strut and their swagger. Plymouth used to be the centre of the world in 16,17,1800, we were a global city before the term was coined. I am not talking about arrogance , but pride, your chest bursting with pride. This is a building to be proud of, but the contents are the main event."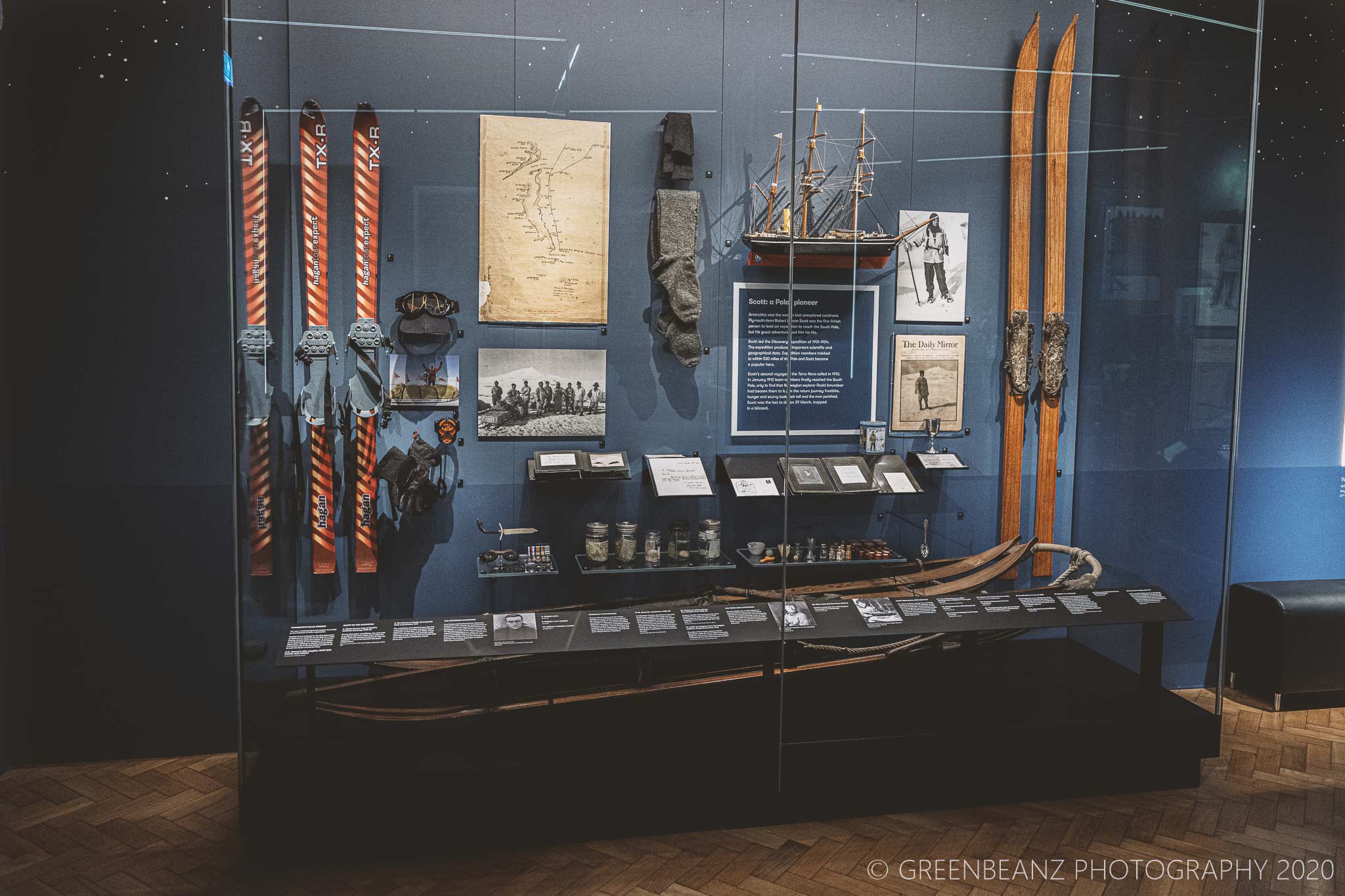 ABOVE : Robert Falcon Scott's Antarctic Skis at 'The Box' Museum in Plymouth

Can you tell us more about the public Square outside and what kind of events it will be used for?
"Yes that used to be Tavistock road, before North Hill, one of the main roads out of Plymouth. There used to be trams going down there..of course we have pedestrianised it now and created this massive square between here and St Lukes, our new art gallery. In the summer it will be available to have a glass of beer in , a bite to eat in the day in the evening the little box our evening restaurant offer outside, there will be street food outside."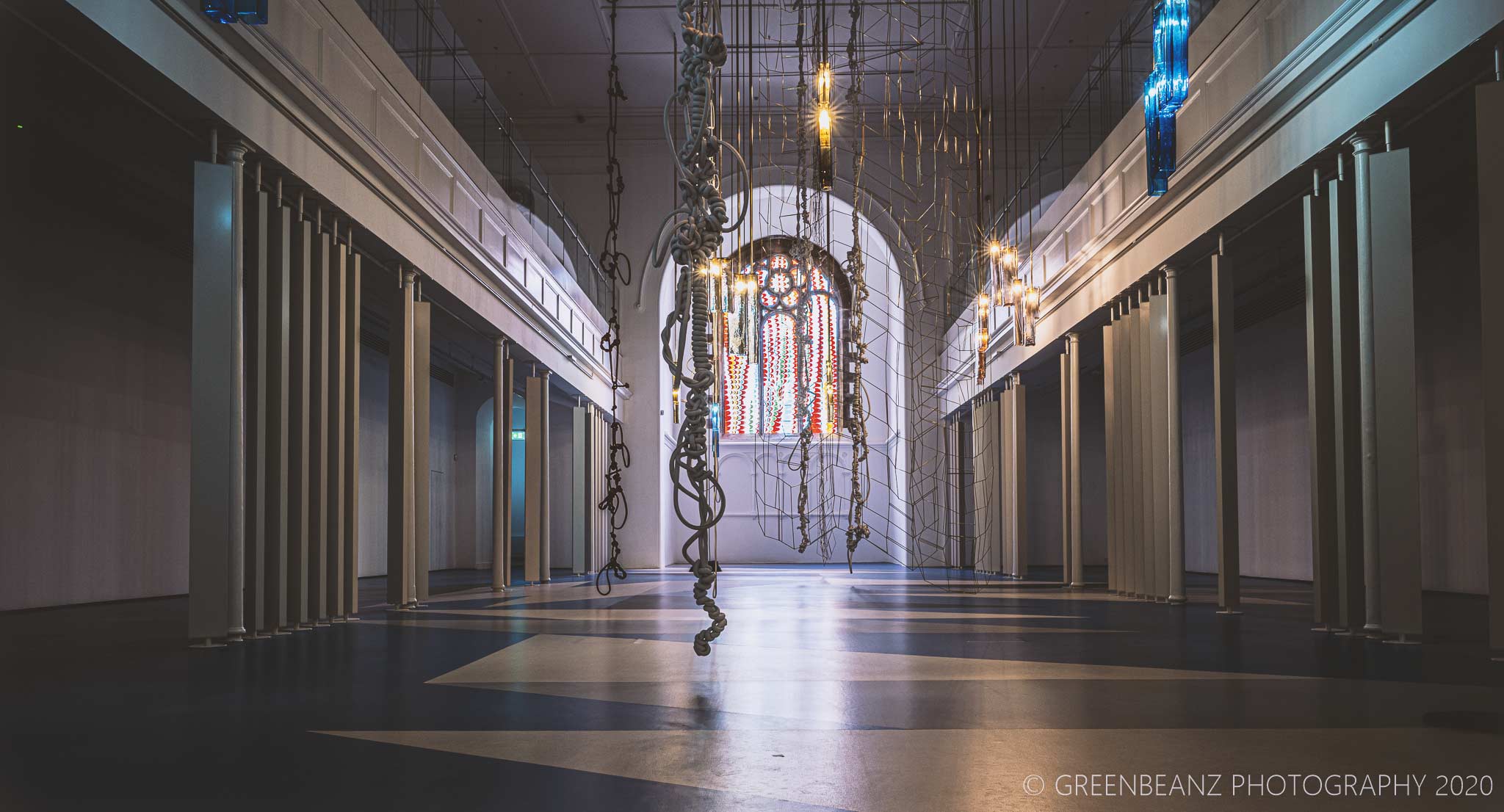 ABOVE : Leonor Antunes Contemporary work at St Lukes in Plymouth

It is nice to see The Box already being embraced by other cultural touchstones in the city with The Theatre Royal displaying banners advertising what this space has to offer and the After Dark project already connecting with the many live music venues in the city. How important will it be moving forward for The Box to work with other arts, music, theatre and educational groups outside of these walls?

" The Box is going to be the hub for a number of different spokes around the city. So we will be guiding people from here to Smeaton's Tower, guiding people here to The Theatre Royal and the Barbican Theatre, we will have music outside now and again , poetry reading, all sorts of things. It is a space and the great thing about creative people is they will be able to see that space and think 'What can we do with that space?'. We are not predefining that. We are actually saying it is an available space in which to create. The restaurant and bar offer is brilliant , this will also be a place for business hire, conference hire, weddings, all sots of things. Can you imagine having a wedding reception here underneath those figureheads? We want this to be Plymothians space. It's no longer the council's space. The museum has created a new space, a space for all."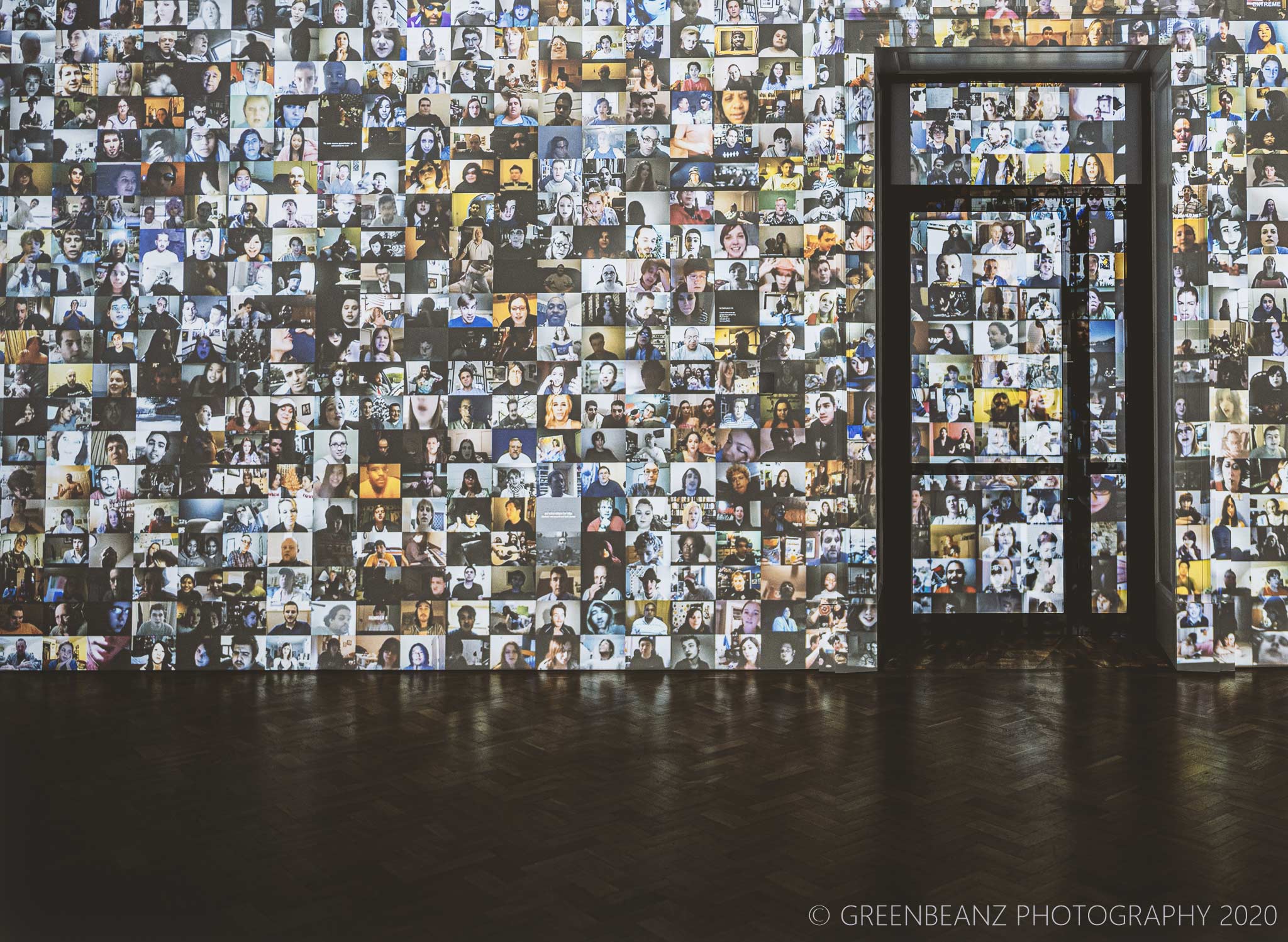 ABOVE : American artist Christopher Baker's 'Hello World' at 'The Box' in Plymouth

The seamless integration of brand new specially commissioned international contemporary art, alongside the cities own cultural artefacts, in instillations that draw you in and make you stand back in awe, or peer closer, in order to absorb the masses of information served up, is effortlessly done. Every corner and alcove is skilfully utilised so that even the giant figureheads that greet you in the entrance hall seem to be floating and sailing again now on the stillest of waters. There is never a dark corner or forgotten treasure lost in monotonous drab muted shadowy corners. And what treasures there are.
BELOW : The Cottonian Collection and Research Room at 'The Box' in Plymouth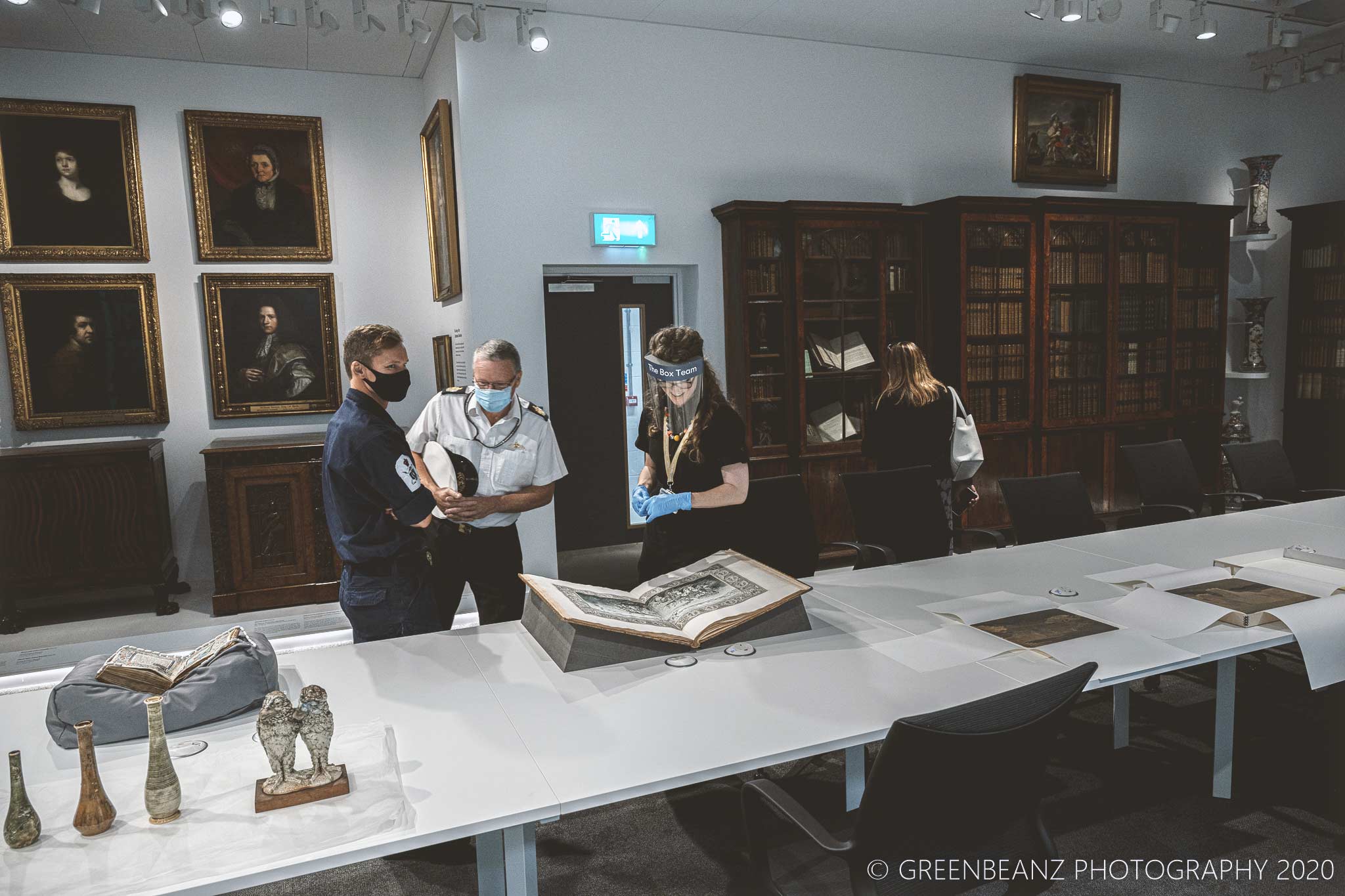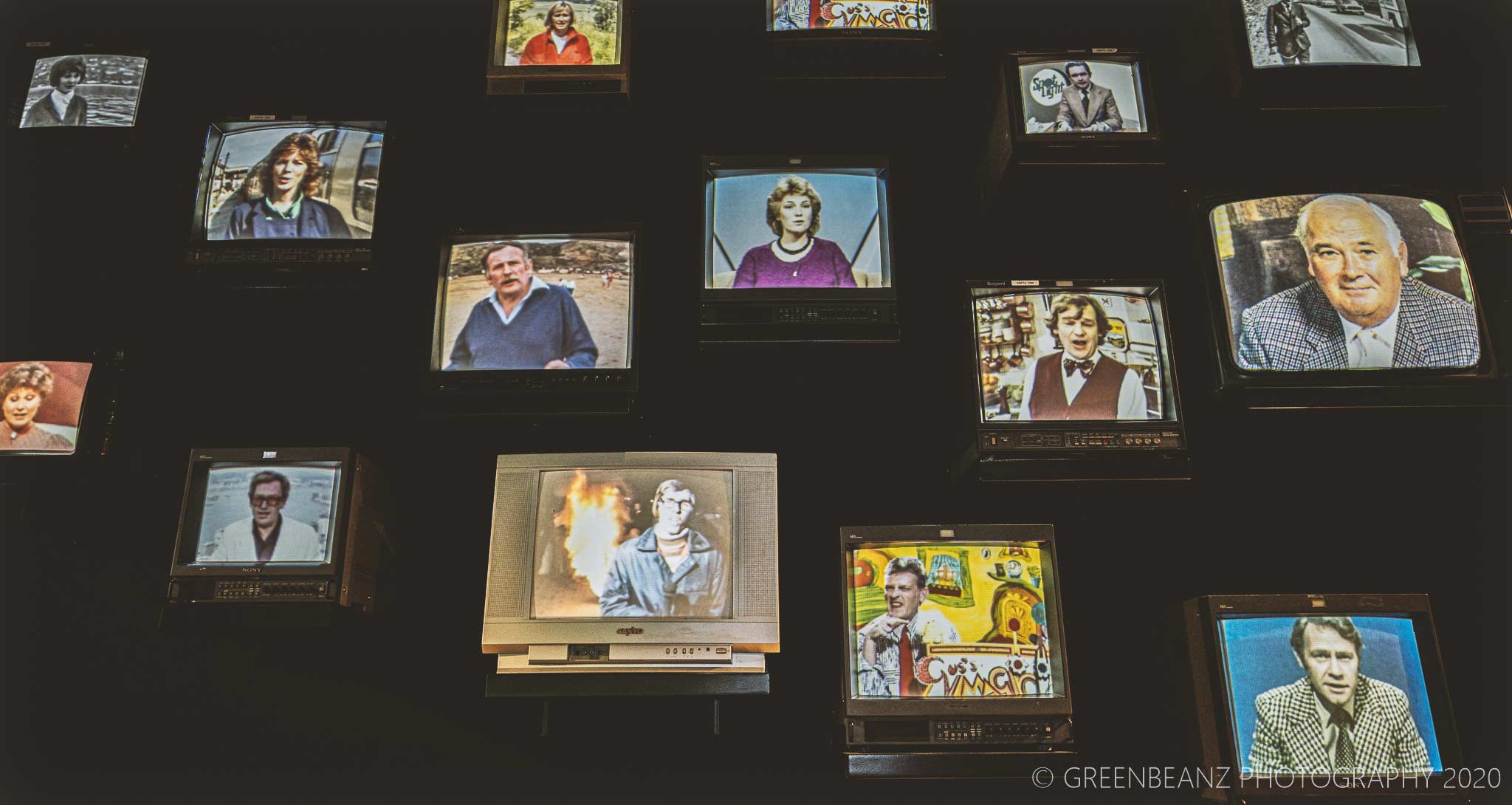 ABOVE : Some familiar faces from regional TV past at the Media Lab

It is a joy to finally see Scott's Skis and Darwin , Reynolds etc all given a space alongside the artists who also helped focus attention on the city and region with work by Robert Lenkiewicz, Beryl Cooke, Barbara Hepworth etc now on display. The interaction and engagement now encouraged by everything from a functioning green screen in the media lab, to the spinning lit globe in 100 Journeys is topped off wonderfully by the genius decision to host the archive in the box topping this museum with a Cottonian collection and research room into which you can request artefacts to be summoned.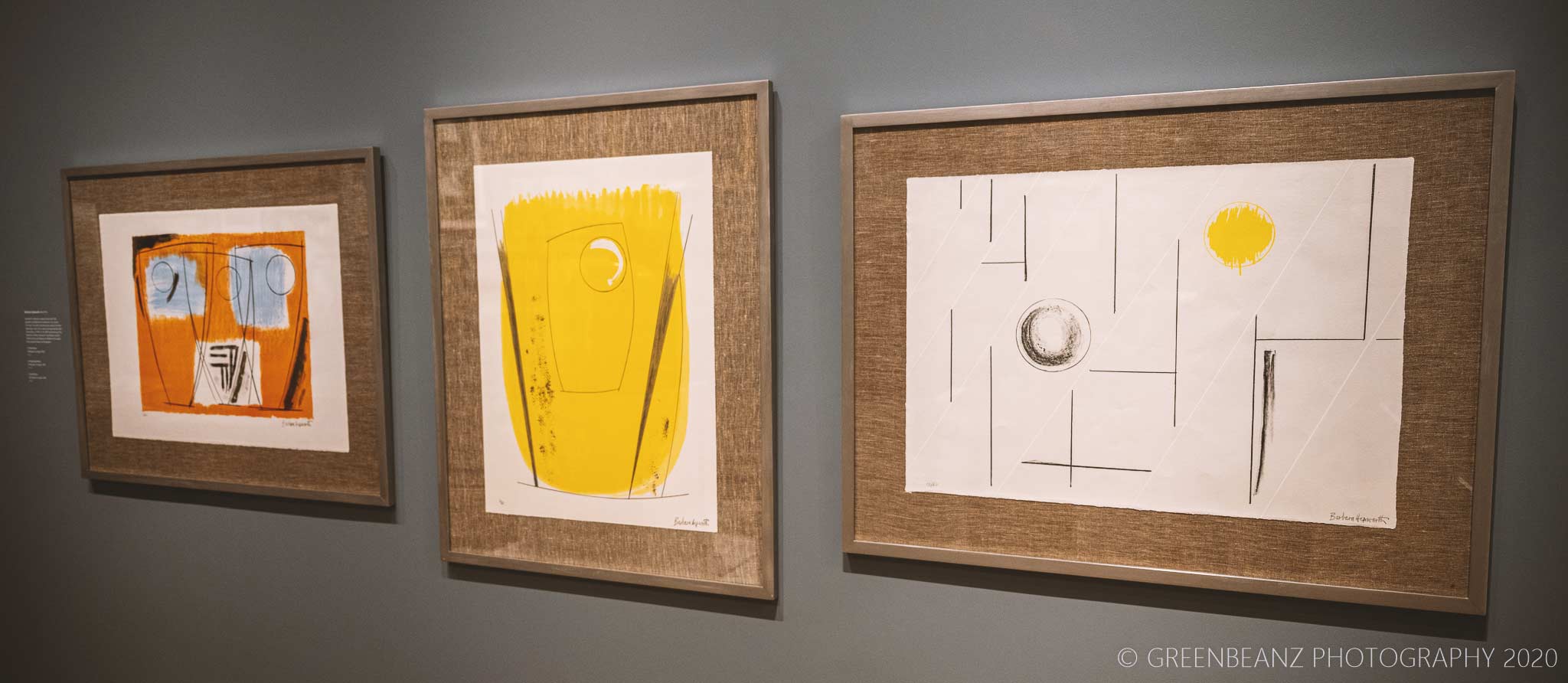 ABOVE : Barbara Hepworth work from 'The Box' Plymouth's own art collection

It is a kind of magic that has happened here, turning a building almost inside out and revealing the gems long hidden in the same spirit of adventure so many leaving these shores would have recognised. There is a fluidity and an attention to detail that pulls you thru the building and it's collections like an irresistible current.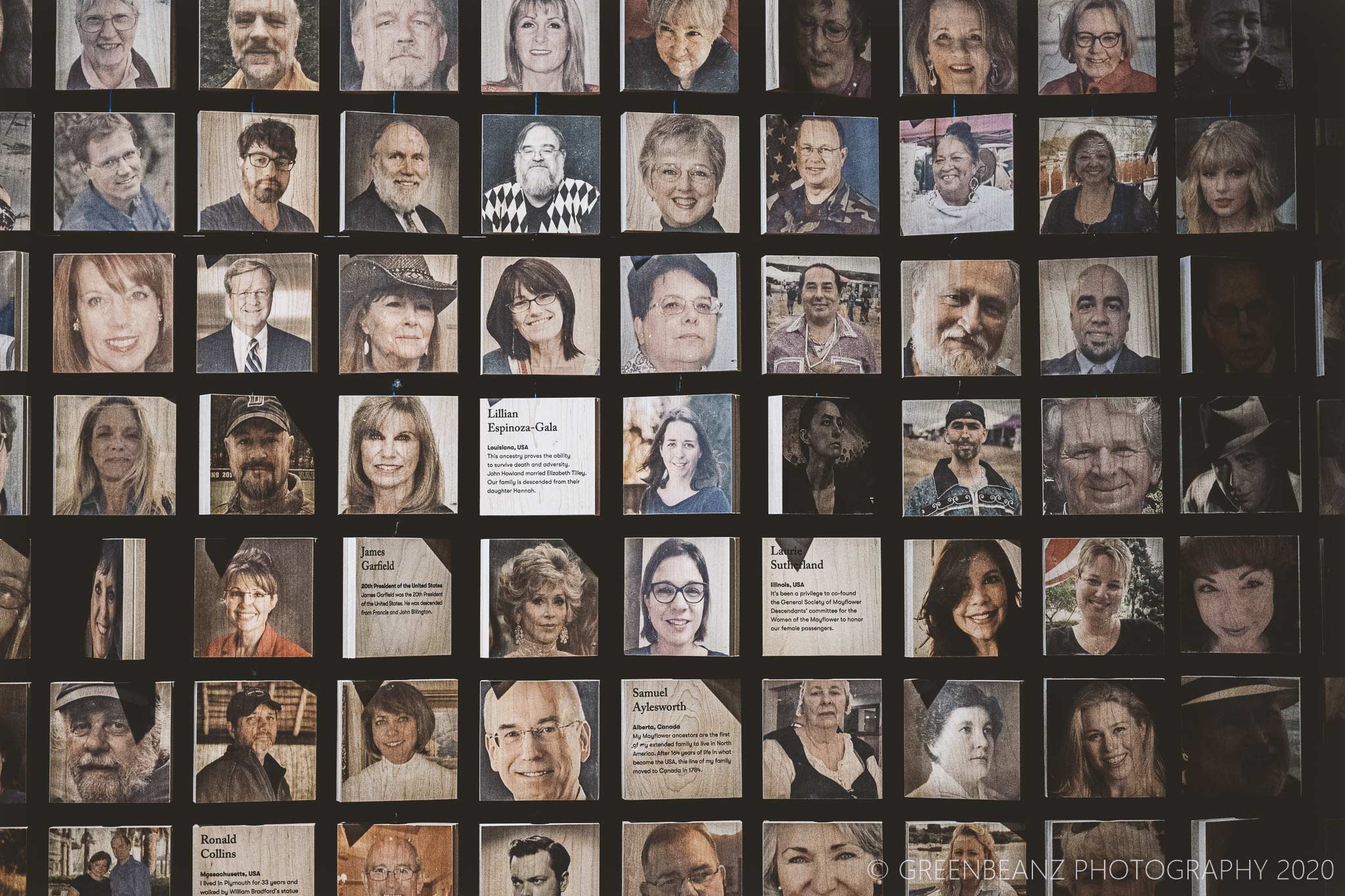 ABOVE : Mayflower Ancestors at Mayflower 400 exhibition at 'The Box' Plymouth

So Alexandre da Cunha's 'Figurehead II' in the North Hall not only provides portholes thru which one can see the entrance to the permanent ' Port of Plymouth' exhibition, it is cast in concrete referencing the rebuilding that defines this city much like his work 'Affairs' hanging at the other end of the building in the South Hall probes the same very difficult questions Plymouth has wrestled with using Towels emblazoned with both national and commercial symbols to confront the ideas behind branding and boundaries, occupation and colonialism, national and commercial. The same tides pull you thru the Mayflower 400 space, with the floor marked in long sweeping pathways echoing voyages, though long ago completed, leaving deep marks that no ocean alone could ever wash away.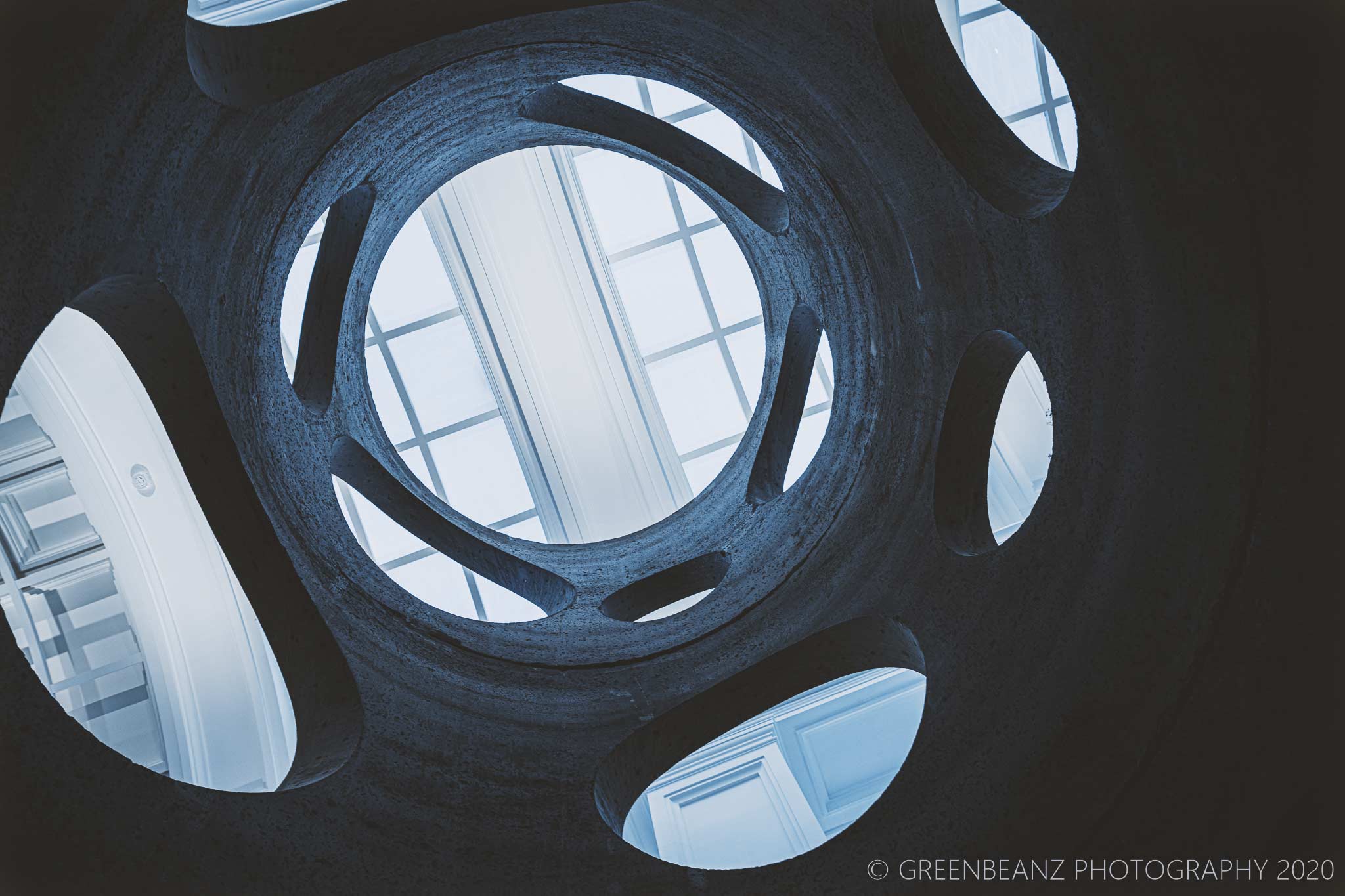 ABOVE : Alexandre da Cunha's 'Figurehead II' in the North Hall of 'The Box' Plymouth

It is the same outward looking vision behind the commissioning of Antony Gormley's 'Look II' on West Hoe Pier. Even the plans of 'The Box' provided in the map used to navigate your way around look like a ship shot from above. This voyage continues in reclaiming Tavistock Place as a Square outside, a place for community and the restoration of St Lukes across that piazza opening up another opportunity for visiting exhibitions.
Long may that voyage continue into a future defined by a generation that will now have an even greater opportunity to learn from shores of the distant past and current contemporary voices brought onboard to make waves in this city by the sea.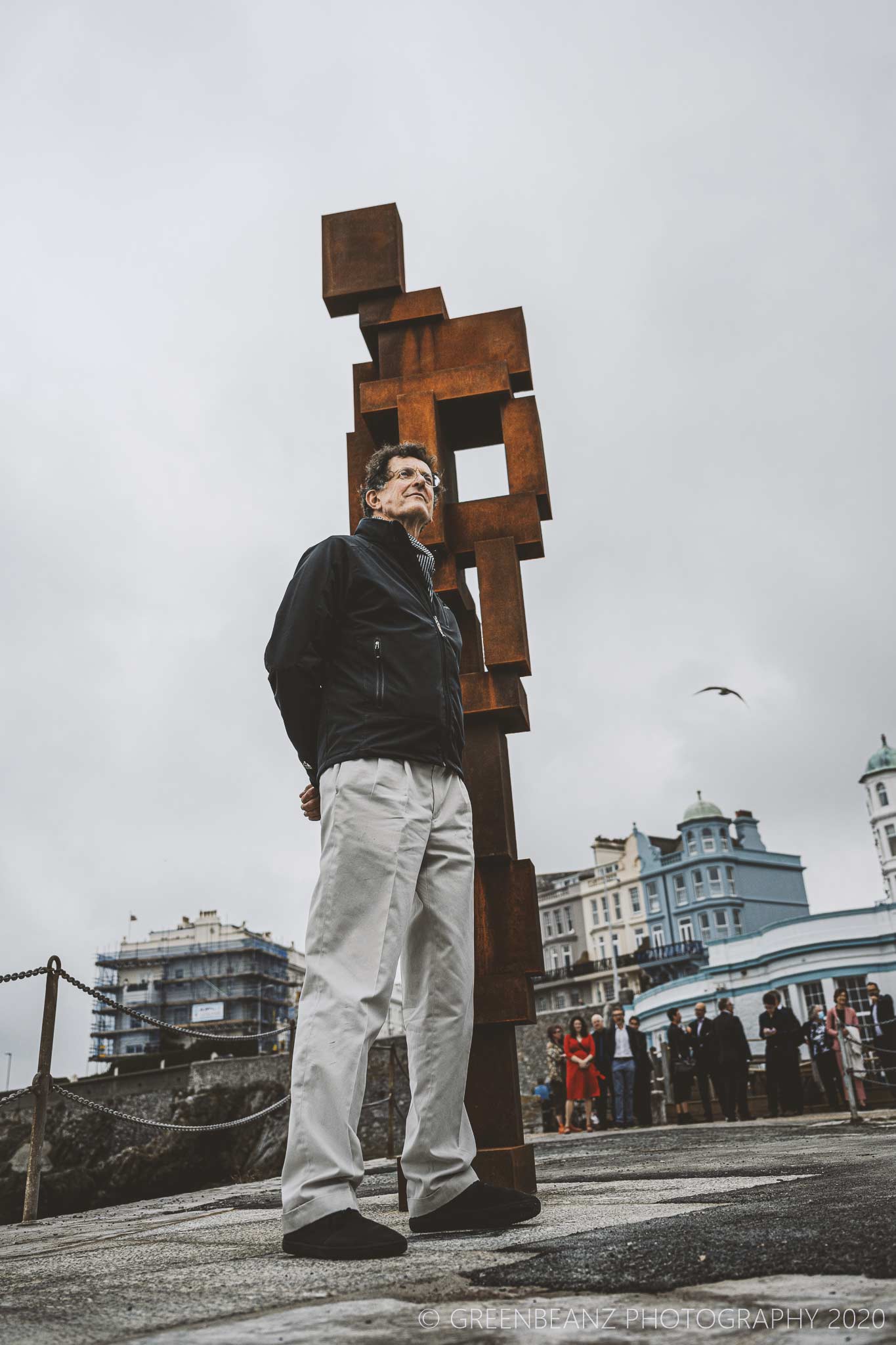 ABOVE : Sir Antony Gormley in Plymouth 22/09/2020

I talked to Sir Antony Gormely on West Hoe Pier about his work 'Look II'
1. Do you think sculpture of the human form in a public space like this provides us all with a means of meditation, a way to 'still the mind' by focusing on a body that is outside of our own, and not our own personal bodies thru which we experience the world?

" (Wow that's a long question) ..The difference between this and a statue, is that this is not a particular body. It is a structured body that is entirely abstract. What it is waiting for, is for you to project onto it your feelings of what it feels like to live inside a body, and that is why it is made like a piece of architecture rather than being bones, muscles and skin. I think that there is an invitation for the work to kind of interpret 'How is it that these blocks that are placed one on top of the other can make you feel things' but I think they can, but they are not declared and they need for you to spend a bit of time, walk around it, and say' Oh yeah it looks like it is leaning forward, leaning into the horizon, what does that mean? Well It's called look, so it is looking and then kind of..can you feel that, what does it feel like in your own body when you are seeking something that is far away. The work in a sense is inviting a conversation with the viewer that isn't about 'Oh there is a statue or a picture of Sir Francis Drake and I know who he was a 16th century bloke who went over to see ...it's nothing to do with that, it is a bigger question. It is almost like a question, a materialised question 'What is a human being?' and 'where does a human being live?' Human beings live first inside a body but then a body is dependant upon it's habitat and here,, that second body the body of the habitat, is used to convey something about what it feels like to live in a body"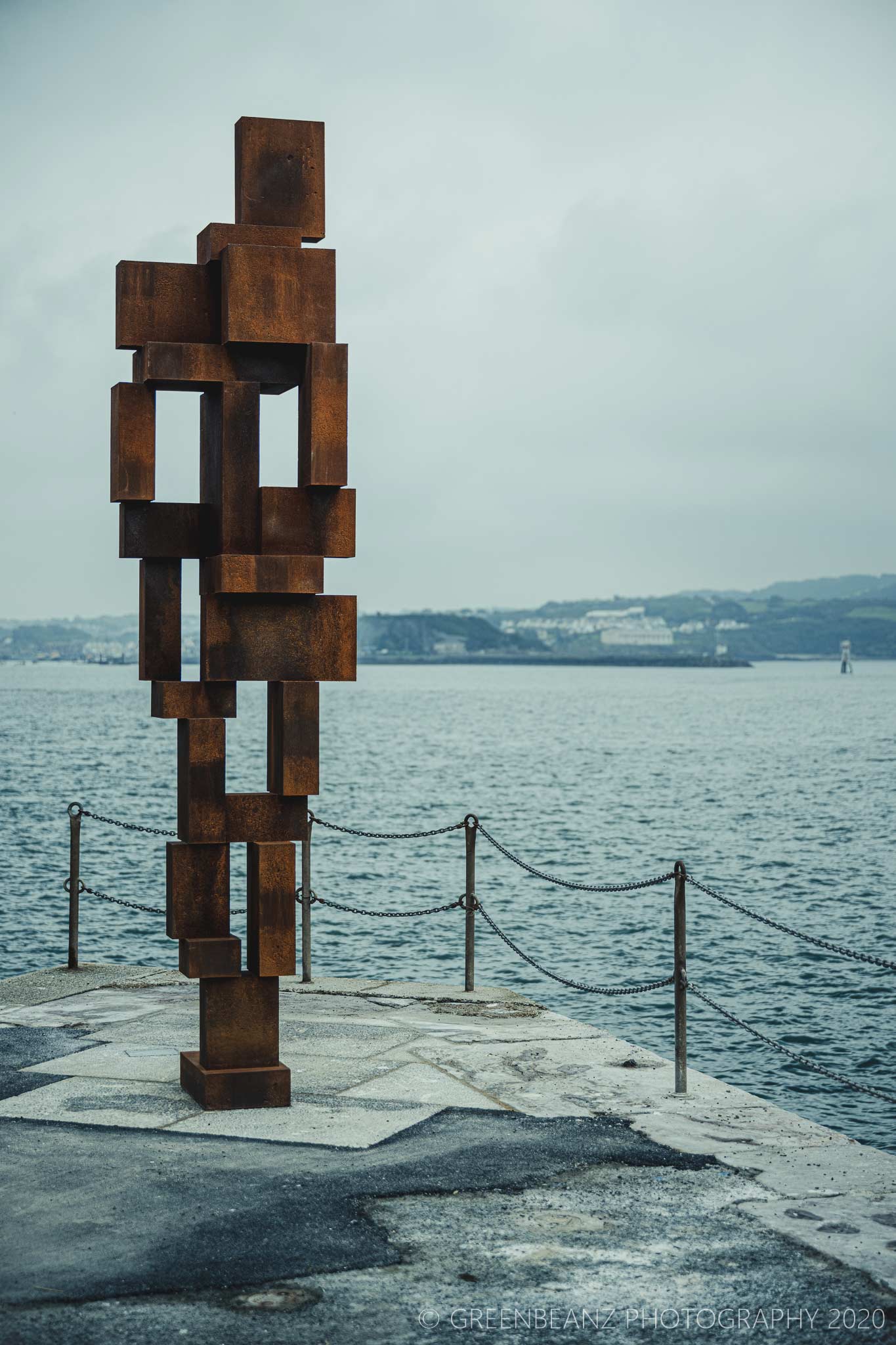 ABOVE : 'Look II' Commissioned by 'The Box' by Antony Gormley

2. Can you tell me about the experiences that made you want to become a sculptor?
"Oh..I just love making things. Even though I spend a lot of time talking to people like you, I think that sculpture,... speaks without words and in a more intimate way than any other form of communication that I know."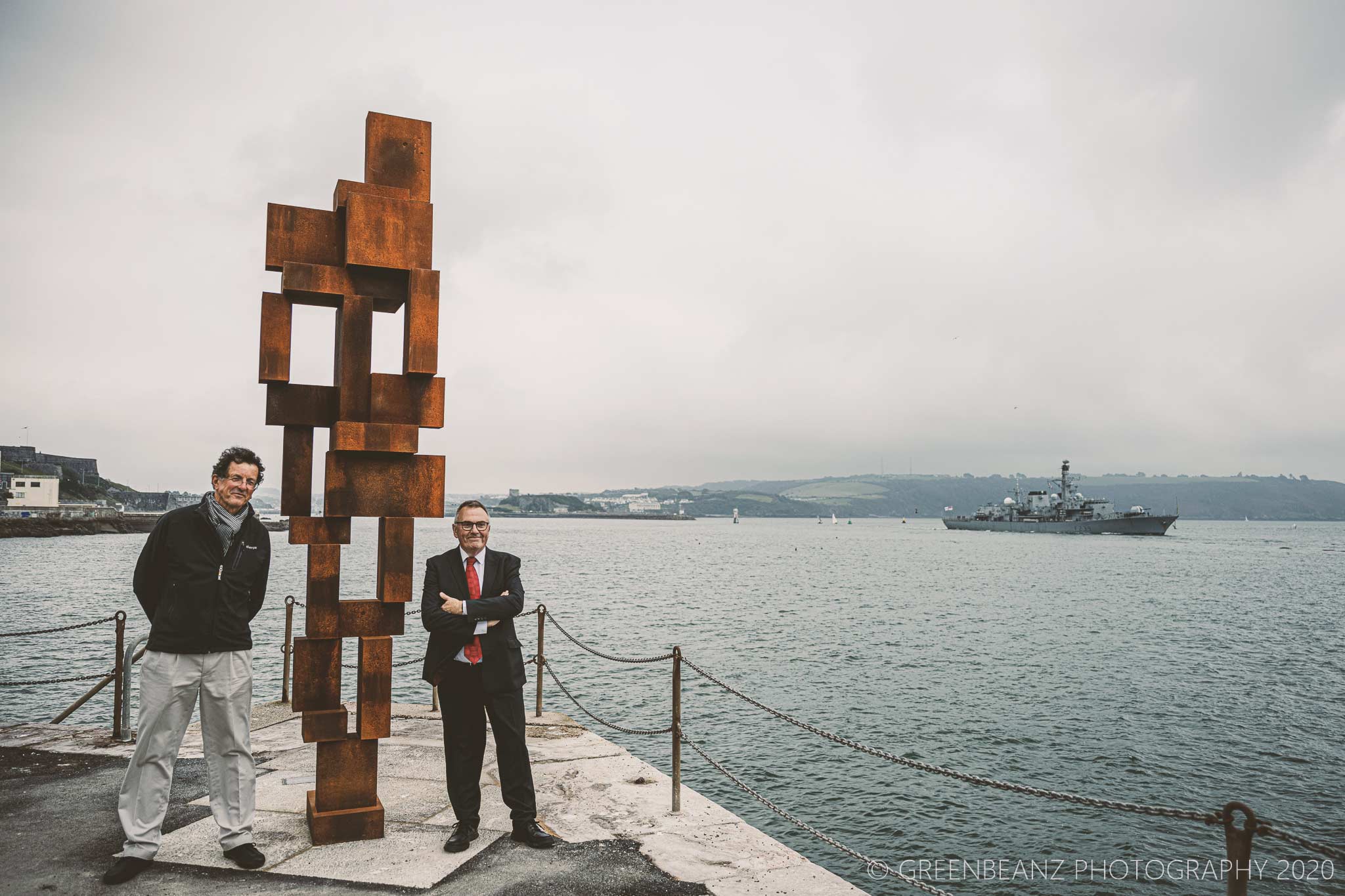 ABOVE : Sir Antony Gormley (left) and Tudor Evans (right) Plymouth 22/09/2020

3. Do you think the need for social distancing , particularly an initial period of enforced lock down, has made people more receptive to the value of reflection on their own place in the environment? How has it affected your own work with the new rules of engagement?

"It's a good question, a good question. In a time where in a way we are all invited to be suspicious of each another, because we don't want to catch Covid 19, I think it makes all forms of intimacy so much more valuable.

ABOVE : Sir Antony Gormley in Plymouth 22/09/2020

I think that in a time where everyone is on 'Zoom' in 'Teams' and on screen kind of digital communication, actually being able to come up to a three and a half ton object and touch it, feel it's coldness and actually have a palpable connection with a real thing . I think that is more valuable than ever. It is ironic that this sculpture has come here, this brutally present mass of stuff at a time where everybody is actually being encouraged to be virtual."

</p>
---